Above we see one of the most challenging works of radical literature available in no, fuck it, I'm sorry - this is just sheer self-indulgence leading into the U.S. holiday weekend. It's a magazine for, like, babies. I went to the Comic Arts Brooklyn show a few weeks back -- recorded a podcast about it and everything -- and one of the things I bought in the surrounding area, while I was in town, was this: the tinsel-strewn Winter Holiday issue of Mebae, a Shogakukan magazine aimed at little, little kids. Ages 2-4. I'm 35.
I swear, I had a plan.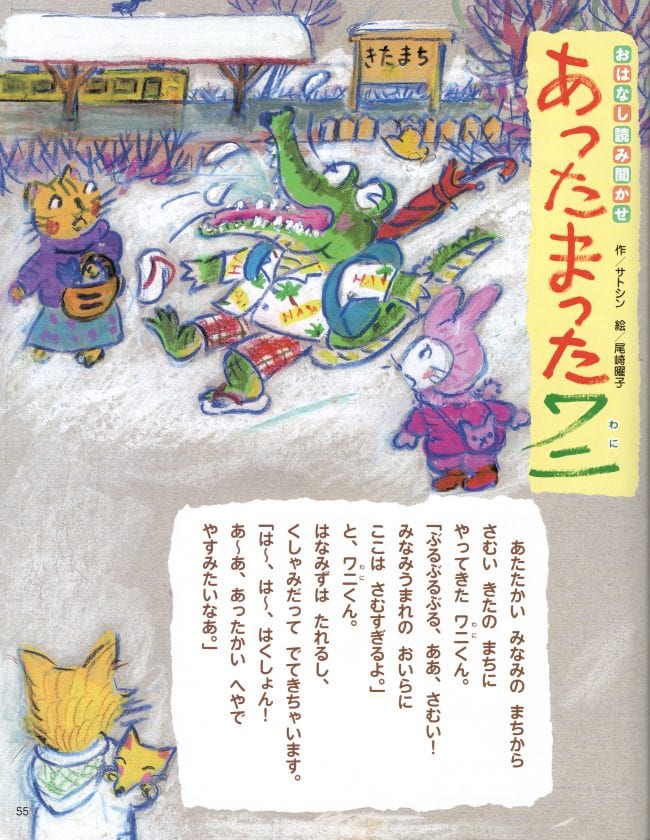 Mebae is not a manga magazine; it's a general purpose children's grab bag, albeit with some occasionally nice art. This, for instance: a story about a misunderstood crocodile illustrated by one Yoko Ozaki with maximum levels of high-def paint texture observable on the page. From the enormous block of text we can quickly ascertain that this is not a magazine to be read by children, but one to be read with them. Unfortunately, I had assumed I would be getting a *very* easy-reading package, rather than something pitched down to toddlers from an (admittedly none-too-strenuous) level of competency.
Basically, I had wanted to read the magazine for babies, as a baby, and thus convince myself that reading was within my skill set.
Oh sure, there's still some things I can do. Real brain-teaser here. Swear to god, I didn't peek at the answer!
Here's Doraemon laying down some natural facts. Lots of valuable characters are present in this package, to prepare your child early for a system of navigating life through the intermediary lens of commercial properties. Crayon Shin-chan is in here. Yo-Kai Watch.
Thomas the Tank Engine, looking gritty as fuck IRL. This is an advertisement for a "Day Out With Thomas" event with the Ōigawa Railway; one of those things where they slap the train characters' faces on vehicles and haul families around on a journey of wonder. There's a Thomas and Friends picture story in here too, where you get stickers from a sheet in the front of the magazine and paste them down in the story, but I think an advert will prove the most relevant image. Useful engine he is, Thomas is actually taking us toward the true objective of Mebae.
BUYING SHIT! BUY BUY BUY BUY BUY SOME SHIT, MOM! DAD! Setting aside all the 'normal' ads in this magazine -- to say nothing of the ubiquity of marketable characters, which in effect transforms everything except the crocodile story into a tacit ad -- there is also a 16-page insert toy catalog. I like this spread the best, because the little girl holding the toy frying pan looks completely pissed off and the art department wasn't going to fuck around with re-shoots, hell no. There's too much money on the line, too many brands to service.
And I haven't even gotten to the star of the show.
Anpanman is a pastry-headed sweet red bean superhero created in 1973 for children's picture books by artist Takashi Yanase. The character has handily outlived its creator, and continues to enjoy high visibility in Japanese media. I bought Mebae for Anpanman. Specifically, for the magazine's furoku - its special gift. A genuine, fully operational, build-it-yourself Anpanman papercraft gatcha machine. A 'gumball' machine in the American parlance. If you glance back up at the cover, it's right there in the center of the image. Just turn the smiling knob and the whole Anpan crew tumbles out in plastic ball form, one by one.
I think Chris Ware built one of those. I don't have my ACME Novelty Library back issues in front of me, but I remember reading somewhere that he once built his own gumball machine, and that it ejected little comics for visitors to his home. I've never done any of the craft projects that used to occupy so much aesthetic space in ACME; they were real, all of them (I'm told), but they were also metaphors for chasing complicated obsessions in the opposite direction of emotional confrontations with loneliness and mortality. To build these toys was to specifically enter Ware's headspace, voluntarily surrendering hours of your time inside the skin of his characters, who might season their directions with an offhanded account of the death of their beloved grandparent; to best communicate this detachment, Ware demanded genuine replicative labor of his readers. And if the reader was not adequately skilled, the narrators, "Ware," would seem all the more purposefully solitary and aloof.
It always asked too much of me; all of those projects were so difficult, when I encountered them as a teenager, that my access to Ware seemed partial. This feeling matched the fearsome and diagrammatic quality of his art, especially in Quimby the Mouse. But Anpanman - him I could handle. I'm 35 years old. This is a magazine for babies. I will build the gatcha machine, and in doing that I will feel I have accessed something of the Japanese information so frequently denied me by the enormity of language. With the eyes of a child, I will have Learned Something.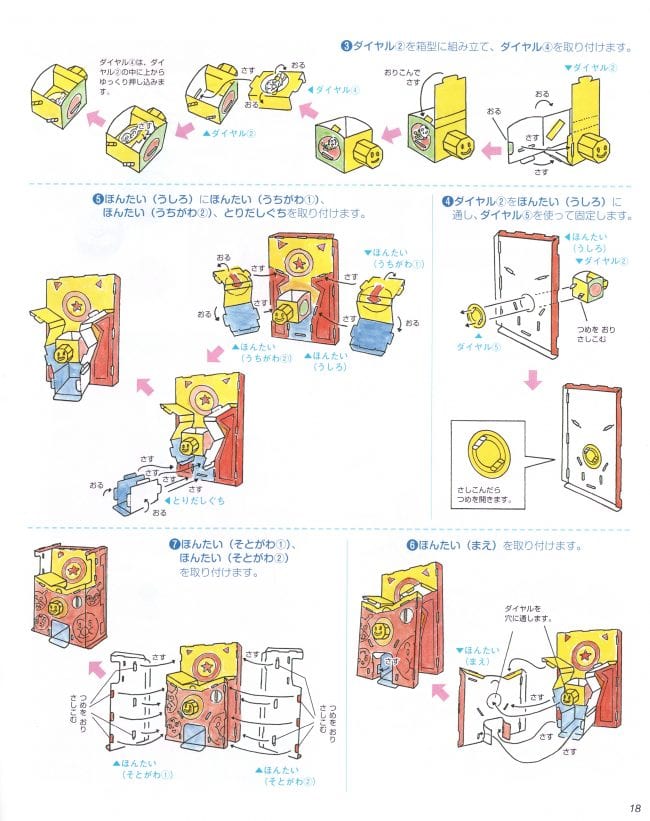 The final insult came in the instructions for building the machine; not only was Mebae expectant of some learned parental eye on its glossy color pages, but the assembly guide was included not with the magazine proper, but in the pack-in parents' guide that comes with a lot of these kiddie loot crates, usually a flimsier sub-publication inside the actual magazine through which Mom and (maybe) Dad (but really Mom; gender norms are typically in full force with these mainstream entertainment items) can learn about tasty foods and life health tips and etc. The directions are not actually that difficult to understand, but it's a pretty complex procedure, building a cardboard operational gumball machine. There's even a video on the magazine's homepage if you get really lost. I haven't yet succeeded.
But you know what? It's all right.
So determined is Mebae editorial to offer kids hours of occupation for their parents' 690 yen, there are sub-crafts available that kids can actually do. Above we see a Hello Kitty jewelry box I put together. It technically opens, but the system of tabs rigged together to keep the chest from springing apart is delicate enough that I treat it as a cursed item.
And look at this! An official, VERY BASIC Anpanman holiday diorama. God, it is the saddest fucking thing. I didn't even learn anything; you just plug the matching bits together and POW. I feel like I'm circling something, though. That I'm nowhere near where I want to be, but I'm doing something nonetheless. Amassing, in the process, a simulacrum of accomplishment, a little interface with a capitalist world in which friendly marketable characters manifest to cheer me, a little bookshelf community. God, this is the illusion, isn't it? A cardboard city... but it wasn't Chris Ware who built that... no-- it was...
***
PLEASE NOTE: What follows is not a series of capsule reviews but an annotated selection of items listed by Diamond Comic Distributors for release to comic book retailers in North America on the particular Wednesday identified in the column title above. Be aware that some of these comics may be published by Fantagraphics Books, the entity which also administers the posting of this column, and that I also run a podcast with an employee of Nobrow Press. Not every listed item will necessarily arrive at every comic book retailer, in that some items may be delayed and ordered quantities will vary. I have in all likelihood not read any of the comics listed below, in that they are not yet released as of the writing of this column, nor will I necessarily read or purchase every item identified; THIS WEEK IN COMICS! reflects only what I find to be potentially interesting. You could always just buy nothing.
***
SPOTLIGHT PICKS!
Seth's Dominion: SETH! HOLY FUCKING SHIT I DID IT, I SEGUED THAT THING INTO COMICS, HA HA HA HA HA HA HA HA HA HA HA HA HA HA HA HA HA HA HA! Whew! Anyway, yeah - this is real. The first-ever DVD release from Drawn and Quarterly (region-free, NTSC), this package not only includes the 2014 National Film Board of Canada documentary from director Luc Chamberland (with a making-of special and various bonus features), but surrounds the disc with two discreet physical supplements on opposite ends of a hardcover book-cum-case. A 40-page glossy section presents photographs from all over Seth's life, punk period included, while another 40-page block offers samples of his work in comics, illustration, roller derby logos, etc. There's also a new two-page stamp comic on the topic of the film - and around us, of course, is the cardboard city of Dominion. No word on whether delicious red bean paste is involved; $29.95.
The Complete Peanuts Vol. 26: Comics & Stories: Aw, let's make it an all-Seth spotlight; one of his signature works as a designer, after all, is the comprehensive decade-plus Fantagraphics effort at collecting the entirety of Charles M. Schulz's revered newspaper strip... and this, dear reader, is the final volume. Actually, the strip itself ended in vol. 25, so these 344 pages will be occupied by "all of Schulz's non-strip related Peanuts art: storybooks, comic book stories, single-panel gags, advertising art, book illustrations, photographs, and even a recipe." Afterword by Jeannie Schulz, wife of Charles; $29.99.
--
PLUS!
Love in Vain: Robert Johnson, 1911-1938: Whoa, hey - remember King of the Flies, the droll and Burnsian French album series Fantagraphics released two albums from about half a decade ago? The third and concluding installment of that has not yet manifested in translation, but this is a newer (2014) work from the same artist, Pascal "Mezzo" Mesemberg. Now he's teamed with writer Jean-Michel Dupont for a 72-page study of the titular American blues legend. A Faber & Faber hardcover release, 11.8" x 7.6" in landscape format. This is going to look pretty nice; $29.95.
The Palace of Champions: New from Conundrum Press is this 9" x 14", 64-page color hardcover from Henriette Valium, a longtime post-underground charger from Quebec, working in a wriggling fury of lines and twisted faces. Translated by Peter Dubé, this edition will also feature an interview with the artist, still elusive (I think) to many English readers; $25.00.
So Buttons: Man of, Like, a Dozen Faces: I often see issues floating around from this long-running slice-of-life autobio series fronted by Jonathan Baylis, who works with a number of notable artists. This 184-page Alternative softcover features appearances by Noah Van Sciver, Fred Hembeck, Victor Kerlow, Sam Spina and others, although from the looks of the contents at the link the most frequent collaborator here is T.J. Kirsch; $20.00.
The Realist Cartoons: Another Fantagraphics reprint project, though a bit more outré than Peanuts. Founded in 1958 by Paul Krassner, The Realist produced 146 issues of satire, criticism and provocation over nearly half a century. You will maybe best remember Wally Wood's drawing of various copyrighted Disney characters engaging in massed sexual and scatological acts from those pages, but there were many other cartoons from the likes of Robert Crumb, Art Spiegelman, Trina Robbins, S. Clay Wilson, Jay Lynch, Nicole Hollander, Jay Kinney and Skip Williamson, among others. An 11" x 12", 320-page hardcover compiles these works; $44.99.
Centifolia Vols. 1-2: These books aren't actually new -- the originate from 2008 and 2011, respectively -- but it's been a while since they've been around, and I'm sure there's lasting interest in private sketchbook and illustration work by the well-regarded Stuart Immonen, an artist who steps in and out of mainline genre comics with no small ease. AdHouse publishes both at 128 pages (32 full-color) each, 8" x 10.75". Some samples; $19.95 (each).
Valérian and Laureline Vol. 13: On the Frontiers (&) XIII Vol. 21: Return to Green Falls: Two continuing BD translations from Cinebook. I saw the Luc Besson Valerian and the City of a Thousand Planets movie trailer the other week; it certainly looks like a whole lot of money got thrown at this thing, although I'm not crazy about either of the scowling leads - I think Cara Delevingne is frowning harder than Louise Bourgoin in Besson's Adèle Blanc-Sec movie, where it would have been more appropriate. Anyway, On the Frontier is a 1988 album, and the first of the three previously collected in English by iBooks back in '04, if you're keeping track. Return to Green Falls is a 2013 installment of the long-running espionage series, created by Jean Van Hamme & William Vance, but now administered by writer Yves Sente and artist Youri Jigounov (with colorist Bérangère Marquebreucq); $15.95 (Valérian), $11.95 (XIII).
Chew #60: I tend to mention a lot of Image first issues in this column, so I feel it's my responsibility to occasionally make note of a final issue. A high-concept crime series about an FDA agent who receives psychic information from consuming foodstuffs, this popular John Layman/Rob Guillory creation of 2009 stands in retrospect as one of the earlier signals that Image would soon occupy the askew genre comics territory once occupied by Vertigo - and 60 issues does seem like a classic 'Vertigo' series length. A double-sized finale; $5.99.
Peanuts Every Sunday Vol. 4: 1966-1970: Oh no no no, Fantagraphics isn't *actually* done with Peanuts. This week alone sees the release of two gift boxes (vols. 5-6 & vols. 25-26) and a softcover edition of vol. 6 of the main series, but what I'll highlight here is the latest in the publisher's side-series of oversized (13.25" x 9.5") color hardcover collections of just the Sunday strips, here running to 288 pages; $49.99.
Watchmen Noir: Finally, in case you have some need in your life for a version of Watchmen that strips out all color, leaving only Dave Gibbons' inks below the balloons and captions, you may now elect just such a consumer option. Probably a more interesting release than the one DC put out last week, but I like my hot yellows and Martian pinks just fine; $39.99.
--
The little creatures on the front page this week are from Mofy, a line of readily exploitable cross-platform characters created by Aki Kondo and Sony Creative Products Inc. for the purposes of capturing your money as cotton soaks blood. Their positioning on the front cover of Mebae is at the extreme lower left corner. Everything inside the magazine is stated through icons on the cover. As a work of design, it is chaotic, but only in terms of the disorder latent to statements of absolute totality. This is the whole universe, to which you may buy in.