Above we see two of five comics panels drawn by David Lynch, who came to mind while filling out my collection of the Dark Horse anthology Cheval Noir, one of the longer-lived Eurocomics translation forums among North American publishers, having released 50 issues between 1989 and 1994. Many (though not all) of the serialized albums were stripped of color, only to be printed in complete form by NBM; in this way, reduced but very readable editions of otherwise elusive works from Schuiten & Peeters or Bernard "Cosey" Cosendai (among others) are obtainable in English, along with the occasional odd treat like Arizona Love, the final volume of Blueberry to involve the participation of co-creator Jean-Michel Charlier, who died in '89.
But then there was Lynch's The Angriest Dog in the World, which originated in the LA Reader in 1982, around the time Lynch was working on the script to his movie adaptation of Dune. On first blush, it could be said the strip took a certain DIY ethos to grotesque extremes, in that Lynch only ever drew five panels of comics -- the introductory narrative caption and four scenes of a dog in a yard -- swapping out punning or non sequitur dialogue to create new installments. Truthfully, by the time Dark Horse picked it up in '91 Lynch's post-Twin Peaks celebrity had grown to a point where the strip perhaps made for an easy means of putting his name in the front or back cover list of contents for every issue, to the dismay of critics and readers alike; I can't find the pertinent back issue, but I'm pretty sure Bart Beaty trashed it really hard in the Journal, while the issue #31 letters column (only the second letters column Cheval Noir ever ran) sported reader Chris Houghton's declaration that he couldn't possibly support a comic featuring Lynch's "useless, idiotic, CON GAME of a strip."
Today, of course, the pasted-down, repetitive structure of The Angriest Dog in the World has found some purchase in new generation DIY webcomics, heavy on repeating clip art, or even reliant on the same art and layout over and over, like Ryan North's Dinosaur Comics (which is well aware of its predecessor). Yet repetition, it should be said, was of enduring interest to Lynch, seemingly as part of some fascination with comedic structure rather than strictly a game played with the comics form.
At the same time The Angriest Dog in the World ran in Cheval Noir, Lynch and Mark Frost had begun pursuing their television follow-up to Twin Peaks, the regimented '50s live television-themed sitcom On the Air. It was truly a disaster of legend, loathed by virtually everyone who saw it upon its 1992 release, which only lasted for three summertime Saturday death zone broadcasts (out of seven finished episodes) before ABC pulled the plug. I'm indebted to Brian Nicholson for clueing me in to the underlying joke of On the Air: of its seven episodes, six share exactly the same basic structure, setting up preparations for a live broadcast of a television show in the first half then showing it all going wrong in the second half.
Yet it's a very Lynchian comedy, despite the co-creator only co-writing two episodes and directing one -- interestingly, the second "Lynch" episode is directed by Jack Fisk, an Eraserhead crony better known as an art director/production designer on various Terrence Malick, Brian De Palma and Paul Thomas Anderson features, along with Lynch's subsequent Mulholland Dr. -- in that the travails of the show-within-the-show, headed by a quintessential girl naif, always somehow add up to success, no matter how badly everyone screws up. The 'comedy' -- the happy ending -- is assured by the repeating structure of multi-camera network television sitcoms; Lynch and co. make this repetition the very center of the program while overloading it with loud slapstick, goofy sound effects and running gags, assuring the audience that optimism is nevertheless not unfounded, and serenity underlies these harried activities.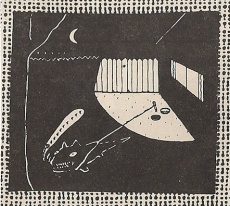 Something of a response, I'd say, to the eternal struggle of the dog approaching the state of rigor mortis; his comic strip home is an endless cycle of self-defeating fury, in no way reacting to the unseen activities outside the frame, which are always diverse. Lynch has characterized his comic as stemming from an angry period in his own life, overcome through the meditation he's fond of promoting today. Perhaps he still thought fondly enough of Twin Peaks to make his second television show about success in spite of it all, though circumstances rendered it less a mission than a reminisce. Which is appropriate for a period show, or potentially a comics anthology devoted to reprinting older works, translated, if not from French, than a past psychological disposition.
***
PLEASE NOTE: What follows is not a series of capsule reviews but an annotated selection of items listed by Diamond Comic Distributors for release to comic book retailers in North America on the particular Wednesday, or, in the event of a holiday or occurrence necessitating the close of UPS in a manner that would impact deliveries, Thursday, identified in the column title above. Not every listed item will necessarily arrive at every comic book retailer, in that some items may be delayed and ordered quantities will vary. I have in all likelihood not read any of the comics listed below, in that they are not yet released as of the writing of this column, nor will I necessarily read or purchase every item identified; THIS WEEK IN COMICS! reflects only what I find to be potentially interesting.
***
Since there's really not a large number of books arriving at comics stores via Diamond this week that look interesting -- which isn't to say the books that do arrive might not be especially interesting, mind you -- I'm gonna to a double spotlight this time, half of it focused on new comics this week that you or your shop will basically have to order from the publisher. Unusually strong on that front, oddly!
***
SPOTLIGHT PICKS! (non-diamond division)
Gangsta Rap Posse #2: In which Benjamin Marra returns to 1991 for continued adventures of America's most beloved music outfit, lyrics from which are only ever 100% accurate autobiographical accounts of true life adventures. This issue sees Nazi punk bend the knee while a '70s funk icon declares all-out war over unlicensed samples. Furious excess from a parallel world where the b&w boom never cooled, if prior releases are any indication. Available as always through Marra's Traditional Comics, although I'll probably mention it again should Diamond relay it to comic book stores. Preview; $3.00.
A Ditko #14: Only the latest release from this old-timey 32-page comic book anthology series for Steve Ditko, who now appears to have dispensed entirely with prior issues' tangled titling schemes for a simple approach emphasizing the sheer volume of materials released since 2008. The cover art promises appearances by 1930s girl hellraiser Miss Eerie -- because strong female superheroes ain't no thing in the Avenging World -- and sentient teleportation device the Cape, which was definitely not the basis of the recent NBC program. Seriously, a bunch of those 52 new DC series aren't even going to reach an issue #14, and they've got a multinational entertainment conglomerate behind them. Published by Ditko and Robin Snyder, purchasable online here; $4.00.
--
SPOTLIGHT PICKS! (classic style)
Hark! A Vagrant: "Everyone likes Kate Beaton," he said, observing the SPX signing line curling out the showroom door. If you peeked through several ajar side doors all the way down the side of the room you'd inevitably see more and more of the line. It was like a sight gag. "There's one per generation everyone agrees on, and she's the one." This 160-page hardcover is her first release with Drawn and Quarterly and her second total collection of history and pop cultural-based comedic webcomics (with commentaries and, I think, some new stuff), following 2010's Never Learn Anything From History. You'll get no contrary sentiments from me, I like this stuff. Samples; $19.95.
The Book of Human Insects: There was also a time when everyone liked Osamu Tezuka, but this 1970-71 serial comes from an anxious time in the life of a youth comics master, suspicious that the maturing focus of Japanese manga was leaving him behind. Publisher Vertical has made something of a cottage industry out of all-in-one editions of these gekiga-inflected Tezuka works, and this particular tome's unusually refined jacket copy -- seriously, it's better written than three-quarters of the reviews I'll see -- promises a uniquely self-referential embrace of the dark, as a metamorphic/parasitic femme fatale author and stage performer brings ruin to all, inevitably invoking Tezuka's own love of theater and bugs of all sorts. It's 368 pages, in hardcover; $21.95.
--
PLUS!
The Best American Comics 2011: Where the hell did this come from? Jesus. But anyway, yes, here's the latest in the annual Houghton Mifflin best of sampler series, with entries by Joe Sacco, Jeff Smith and Dash Shaw among undisclosed others. Selections by Alison Bechdel, from the master list by Jessica Abel & Matt Madden; $25.00.
Bakuman Vol. 7: Manga readers seeking something more contemporary might want another look at this well-regarded breaking-into-comics-as-sports-manga series from Death Note creators Tsugumi Ohba & Takeshi Obata, already up to vol. 15 in Japan and still going; $9.99.
Stargazing Dog: Or, perhaps they might witness aforementioned Eurocomics specialist NBM's debut manga translation (after several Korean comics releases), a 128-page tearjerker of a man lost in life, with only a not-angry-at-all narrating canine companion to inspire him. From artist Takashi Murakami (no, not that one). Preview; $11.99.
Roger Langridge's Snarked #1: New from Boom!, an ongoing Langridge series romping through the worlds of Lewis Carroll. Your new series choice. Samples; $3.99.
Fantastic Four: 1234: Ah, Jae Lee. One of the youngest and most ragged of the Image generation superhero artists, Lee became well known for modifying his style into a handsome, heavily realist approach which then plunged further and further into theatrical spatial concerns and shadowplay, as the cinema had never touched comics though photography somehow did. He doesn't seem to do all that much interior art anymore, although his influence is still felt; actually, Andrea Sorrentino's art on DC's I, Vampire last week read less like influence than full-scale homage. This is a fancy hardcover edition of maybe Lee's finest hour, a José Villarrubia-colored 2001-02 miniseries also notable for one of writer Grant Morrison's attempts to step outside his contemporaneous comfort zone (or maybe back into the interrogative zone of Arkham Asylum) by lingering moodily on the psychology of each member of the Lee/Kirby team, one per chapter. The book is bulked up with an addition Morrison rarity from Marvel Knights Double Shot #2 (2002), a Nick Fury short drawn by Manuel Gutierrez; $19.99.
All Star Superman: Speaking of Morrison, this Frank Quitely/Jamie Grant collaboration should require no notation whatsoever, save to note the fact that it's in softcover and now complete in one 320-page volume; $29.99.
Modern Masters Vol. 26: Frazer Irving: Finally, your book-on-comics of the week -- although Norton does have a revised edition out of Will Eisner's Comics & Sequential Art, if you don't have/no longer want the prior edition from '08 -- another one of those heavily illustrated TwoMorrows interview books, this time focusing its 120 pages on the career and process of one of the most interesting stylists working in superhero(-ish) comics today, most recently notable for Batman & Robin and Xombi. Introduction by frequent collaborator Grant Morrison. Preview; $15.95.