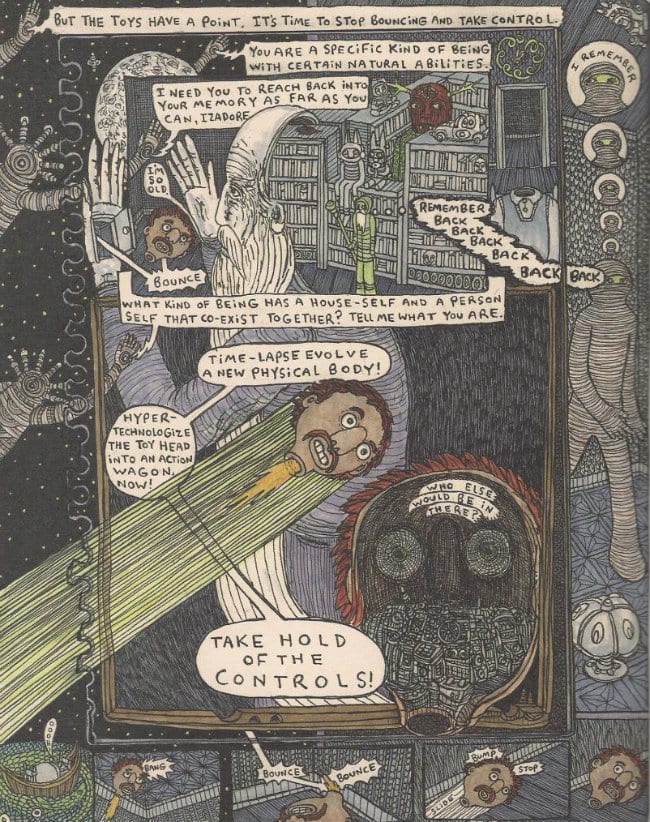 This is one of those weeks where about a dozen potentially interesting books seem like they might show up in stores, although Diamond does not seem to want to confirm any of them. Six Drawn & Quarterly releases, including that Adrian Tomine illustration book and the first Pippi Longstocking release, the Françoise Mouly-driven Best American Comics 2012 hardcover (contents here), a whole bunch of manga - and, Theo Ellsworth's Euro album-format The Understanding Monster Vol. 1, a Secret Acres release and unquestionably the most relentlessly psychedelic comic I've encountered in 2012, pitched somewhere in between the handmade decoration of Lynda Barry and the textured sci-fi chaos of Brendan McCarthy circa Freakwave, with lunges into post-underground Psychedoolia merriment and... I dunno, Joseph Cornell's boxes. And Toy Story. I'm kind of at a loss for words, or even a plot summary - please allow the above image to make do while I try to figure something out.
***
PLEASE NOTE: What follows is not a series of capsule reviews but an annotated selection of items listed by Diamond Comic Distributors for release to comic book retailers in North America on the particular Wednesday, or, in the event of a holiday or occurrence necessitating the close of UPS in a manner that would impact deliveries, Thursday, identified in the column title above. Not every listed item will necessarily arrive at every comic book retailer, in that some items may be delayed and ordered quantities will vary. I have in all likelihood not read any of the comics listed below, in that they are not yet released as of the writing of this column, nor will I necessarily read or purchase every item identified; THIS WEEK IN COMICS! reflects only what I find to be potentially interesting.
***
SPOTLIGHT PICKS!
The Carter Family: Don't Forget This Song: A work of history in several ways, as art comics devotees will no doubt recall David Lasky's and Frank M. Young's Carter Family bio-funnies from the landmark Kramers Ergot 4 back in the Year of Our Lord Two Thousand and Three. This 192-page color Abrams hardcover now stands as the fullest realization of that impulse, the pair having worked with their publisher for over half a decade, eventually financing the completion of the work in '11 via a Kickstarter campaign. Learn the tale of the early 20th century country music superstars through a series of warm, period-appropriate strips 'n stories, then blow your damn ears out with the enclosed 18:05 sampler CD. Very engaging stuff. Official blog, review at this site; $24.95.
The Nao of Brown: Abrams is also distributing this UK-born SelfMadeHero release, a 208-page return to comics for Glyn Dillon, something of a momentary force in the Brit-minded comics memory, having done some 2000 AD and Deadline work, and drawn a bit of Pat Mills' Third World War in Crisis. Stateside, he made a few Vertigo appearances too: Gaiman's The Sandman; Ennis-era Hellblazer; Peter Milligan's Egypt. This will certainly be his biggest showcase, an expansive, 8" x 10 3/4" watercolored story of a creative woman bedeviled by "violent morbid obsessions" and seeking satisfaction in love and meditation. Official site; $24.95.
--
PLUS!
A Wrinkle in Time: A pretty big week for YA releases, headed by this 392-page(!) hardcover Farrar, Straus & Giroux-published comics adaptation of the 1962 Madeleine L'Engle fantasy classic. The artist is Hope Larson, '00s book-format indie comics fixture and recent debutante filmmaker, who is rapidly building momentum on the kid-friendly comics scene. Preview; $19.99.
Nobrow Vol. 7: Brave New World: So, to reiterate what I wrote back in August about this newest eponymous anthology from the high-profile British art comics publisher, I do wonder if the package's segregation of comics and purely illustration work into flip-side segments doesn't encourage seeing one side as a stone weighing the other down, although certainly the comics stuff is very good. The theme is Brave New World, and there's fantasy, drama, reminisce, satire - plenty of etc., featuring Joseph Lambert, Jillian Tamaki, Anders Nilsen, Eleanor Davis, Michael DeForge, Ethan Rilly, Tom Gauld, Domitille Collardey, a special appearance by Joost Swarte, and many other cartoonists and illustrators over 128 color pages. Samples; $24.00.
Sailor Twain: Being a First Second compilation of a webcomic by... saaay, isn't this guy doing the Cartoonist's Diary this week? Nice tie-in. So yeah: Mark Siegel, 400 pages, seafaring scenario with a mermaid and all that stuff. (The same publisher also has Broxo, a fantasy comic by one Zack Giallongo this week.) Samples; $24.99.
Little Death: I could be wrong, but I do believe this is the first comics release from a new UK publisher, Soaring Penguin Press. They look to have started off with some continental stuff, a 96-page compilation of short, mostly wordless funny works by Austrian artist Thomas Kriebaum, who sets a lil' version of inevitability into many inopportune situations; $14.99.
Crusades: In other Euro-news, Humanoids offers up one of their all-in-one collections of an unfamiliar series, this time a 280-page Knights Templar outing anchored by manhua artist Zhang Xiaoyu, with writing by "Izu" and English-to-French comics translator Alex Nikolavitch, the latter of whom I believe wrote some Spawn in the '00s. Obviously, cultural boundaries will be duly transcended. Preview; $34.95.
Judge Dredd: The Restricted Files Vol. 4: You know, contrary to the popular narrative, Dredd didn't do *that* badly in financial terms; with an estimated worldwide take of $21 million so far, it's handily improved on the theatrical grosses of Punisher: War Zone and The Raid: Redemption, probably its two closest relations in recent comic book shoot/hit cinema. Of course, it also cost more than those films... a good bit more than $21 million, actually. It's not all that surprising, I suppose - a first weekend take may be driven by hype and promotions, which I suppose didn't stick in the North America, but sitting through the film (opening night, of course) I understood quickly that this was the sort of aggressive genre work that would not transition to the U.S. mainline. It's an action piece, yes, but possessed of the sort of leering fascination with the textures of violence that distinguishes the hardcore nerd product from miscellaneous geeky things; at times it felt more like an Avatar comic sprung to life than 2000 AD (but see frequent Judge Dredd writer Al Ewing's explication of the production design as reminiscent of mid-'70s 2kAD predecessor Action advanced to the present).
Still, Dredd at least has an arguable thematic purpose for its heightened spatter, which comes part and parcel with the druggy, faintly hallucinatory tone of the film; much of this Mega-City One is hazy and overcast, with sudden instances of super-clarity popping through, like the searing H.G. Lewis red of the blood, as if you're seeing a driver's safety film where the corpses have been retouched with red paint to heighten the alert. It's an anxious, nervy tone, exploding every so often into full-blown sequences of altered reality heavily reminiscent of the opening reel to Lars von Trier's Melancholia, only with, say, a bullet ripping half a man's face off just like that, so you can count every damn tendon criss-crossing his ruined cheek. Yet if you feel grossed out by this approach, note that Dredd and his criminal nemeses are but the blunt source of the sensations, while good Judge Anderson, the psychic, can actually control the flow of hapless reality; she *feels* everything, and it's exactly this attitude that empowers her to know compassion for the creeps, thereby positioning the very mise en scène of Dredd as in conflict with the crisp authoritarianism of the title character. Call it empathy through vicarious Thrills - a very Alan Grant approach to Anderson, in a movie too often discussed only in terms of '70s John Wagner & co.
So concludes another edition of Dapper "Dan's" SuperMovies (NOTE: DOES NOT CONTAIN DAN). Rebellion has released a 272-page compilation of uncollected Judge Dredd specials & shorts from across the '00s, the title of which is three paragraphs up; $31.99.
Judge Dredd: Cry of the Werewolf: And here's a special 128-page Halloween-ready collection, published near-simultaneously by Rebellion (UK) and Simon & Schuster (NA). The theme is werewolves OF THE FUTURE, with the anchor story being a 1983 serial by Wagner/Grant, with art by Steve Dillon, brother of the aforementioned Glyn; $17.99.
Shakara: The Destroyer: I think an S&S edition of this was supposed to come out at some point too, but maybe it was postponed? Anyway, from the price I'm presuming this is Diamond importing Rebellion's version of the second half of a more recent 2000 AD serial (following up from last year's Shakara: The Avenger) by Robbie Morrison & Henry Flint, basically a good excuse for Flint to draw striking images of funny destruction against a cosmic backdrop; $23.99.
Creepy Comics #10: This is Dark Horse's ongoing revival of the old Warren magazine standard, notable this week for doling out an old-fashioned 'themed' issue - all-Lovecraft, all over. New work is promised from Richard Corben, working with John Arcudi, while Peter Bagge(!) draws a piece by Dan Braun and Warren veteran Doug Moench collaborates once again with Kelley Jones. Samples; $4.99.
Creepy Archives Vol. 14: But if it's old stuff you want, here's issues #64-68 of the original, with art by Howard Chaykin, Paul Neary, Esteban Maroto, Tom Sutton, Richard Corben (The Raven), José Ortiz, John Severin and others. Samples; $49.99.
Daredevil: End of Days #1 (of 8): Your mainline superhero pick of the week, seeing Brian Michael Bendis in a reflective mood - supposedly this is the official, canonical (albeit flash-forwarded) endgame for the character which helped launch him to the top of the genre game lo those many years ago, boasting art by many veterans of the title, such as Klaus Janson, David Mack (also co-writer), Alex Maleev and Bill Sienkiewicz. Preview; $3.99.
White Clay: Woah, an indie comic book! I recall Thomas Herpich from his magazine-sized Alternative Comics releases Cusp and Gongwanadon from about a decade back, although I guess he's better known now for writing and design work on Adventure Time. Anyway, this is 32 pages of AdHouse-published stories you haven't seen before. Samples; $4.95.
The Complete Flash Gordon Library Vol. 1: On the Planet Mongo: Celebrating the gala 100th reprinting of Alex Raymond's Flash Gordon! Aw, but I don't begrudge the United Kingdom getting an 11" x 10" hardcover line of their very own - this is a Titan production, compiling 208 pages of scantly-clad couples dangling over broiling baths of leaping, snapping serpents. Introduction by Alex Ross; $39.95.
Percy Crosby's Skippy Vol. 1 Daily Comics 1925-1927: Finally, how can you do without Percy Crosby? The question needn't be answered, as IDW is serving up 328 pages of mad jazz age laffs just for you, bottomless-pocketed sweet soul; $49.99.
--
CONFLICT OF INTEREST RESERVOIR: PictureBox is being a little cheeky with the title of its new 120-page Sammy Harkham collection Everything Together, as it is not a comprehensive compilation of the Kramers Ergot progenitor's short stories, although you will get to enjoy Poor Sailor, the Drawn and Quarterly Showcase-originating Somersaulting, and a selection of other pieces; $19.95. Even more elusive is Negron, an 80-page debut book for Jonny Negron that disregards much of his comics work in favor of selected stories and scads of illustrations aimed at conveying the admired young talent's personal aesthetic; $19.95. There's also a hidden comic in the dustjacket. See, it is worth reading all the way down to the bottom!