Come... walk the path to my house of goodies...
***
PLEASE NOTE: What follows is not a series of capsule reviews but an annotated selection of items listed by Diamond Comic Distributors for release to comic book retailers in North America on the particular Wednesday identified in the column title above. Be aware that some of these comics may be published by Fantagraphics Books, the entity which also administers the posting of this column. Not every listed item will necessarily arrive at every comic book retailer, in that some items may be delayed and ordered quantities will vary. I have in all likelihood not read any of the comics listed below, in that they are not yet released as of the writing of this column, nor will I necessarily read or purchase every item identified; THIS WEEK IN COMICS! reflects only what I find to be potentially interesting.
***
SPOTLIGHT PICKS!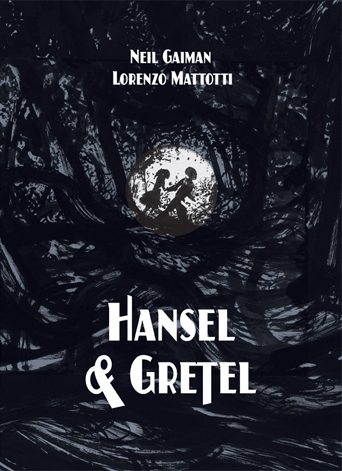 Hansel & Gretel: You all know we love European comics here in this column - that and my widely-tolerated "charm" are what set us apart. But sometimes the borders between peoples grow hazy and dim! For example, this Toon Books release began life as a suite of inkworks the great Lorenzo Mattotti created for a 2007-08 New Yorker-facilitated exhibition of pictures commemorating the Metropolitan Opera's holiday production of Engelbert Humperdinck's Hänsel und Gretel. Subsequently, in 2009, the French publisher Gallimard released Hänsel et Gretel, a storybook which showcased an expanded selection of Mattotti pages alongside a Jean-Claude Mourlevat translation of the Grimm Brothers' tale; an Italian edition followed (and maybe more I've overlooked). Now the work returns to the U.S., with an entirely new text composed by Neil Gaiman switching off double-page spreads with the pictures - so, two pages of Mattotti, two pages of Gaiman, and so on for 56 pages, unless you opt for the special extra-large edition, which stands 9.125" x 12.625" (as opposed to the standard edition's 7.2" x 10") and throws in four added pages of supplements and a die-cut cover. The movie rights, you will be excited to learn, have already been sold; $16.95 (small), $29.95 (big).
The Leaning Girl: Ahh, and here comes François Schuiten & Benoît Peeters with a 1996 installment of Les Cités Obscures, their shared traipse through the fanciful (and not infrequently allegorical) urban environs of a world parallel to our own. I wrote about it here - the English-language publisher is Alaxis Press, which funded its edition through a Kickstarter campaign which shipped the goods to backers earlier this year. Now Diamond brings the 9" x 12", 176-page softcover iteration of the project to comic book stores. I liked it a bunch; not only do you have Schuiten detailing numerous and varied locations in some of his lushest b&w, but Marie-Françoise Plissart contributes photo-comic segments featuring the body and paintings of Martin Vaughn-James, creator of the excellent 1975 proto-graphic novel The Cage. For his part, Peeters careens from Mélièsian high-science adventure fancy to the emotional (and sexual) coming-of-age for his girl protagonist, who leans eerily and inadvertently in a world that'd prefer to straighten her out. Further releases are planned, hopefully soon to follow; $29.99.
--
PLUS!
One Year in America (&) I Remember Beirut: Two concerning memory here. The former arrives from Canada's Conundrum Press and artist Elisabeth Belliveau, 112 pages depicting "life after art school, marriage and divorce," across one year's time. The latter is a new release from Zeina Abirached, following the 2012 translation of A Game for Swallows. This one is a 96-page Lerner release, compiling memories of a youth in Lebanon in the 1980s; $17.00 (America), $9.95 (Beirut).
Best of Enemies: A History of U.S. and Middle East Relations Vol. 2, 1954-1984: As you may realize, the artist David B. continues to influence cartoonists worldwide. This is his newest comic, just published in France earlier this year, continuing a nonfiction collaboration with writer Jean-Pierre Filiu as to the associations between two distinct places on the globe. From SelfMadeHero, 112 pages at 6 1/2" x 9 1/2", distributed Stateside by Abrams; $24.95.
Showa 1944–1953: A History of Japan Vol. 3: Also historical, but considerably more autobiographical, Drawn and Quarterly returns with another heavy package (536 pages) of Shigeru Mizuki's manga, this time covering the culmination of a wartime experience that left him grievously injured and the effects of occupation on the Japanese society; $24.95.
The Garden of Words (&) Blade of the Immortal Vol. 30 (of 31): Vigilance: More manga, from the stalwarts at, respectively, Vertical and Dark Horse. The Garden of Words is a 2013 adaptation of a short anime film from the same year, directed by Makoto Shinkai, a specialist in plaintive gazes against rich background art. ("When a high school boy skipping class to sketch shoe designs and a taciturn woman drinking a morning beer meet in a Tokyo park, they say little, but the woman bids farewell with an ancient tanka poem. Will the boy figure out the poem's meaning—and its corresponding response—before it's too late?") Shinkai is credited with the story here -- as he was in Vertical's manga release of the earlier 5 Centimeters per Second -- with one Midori Motohashi supplying the art. Blade of the Immortal also had an anime once (not well-remembered, I don't think), but the emphasis has always been on Hiroaki Samura's original comics, now nearing the conclusion of their English distribution. Blade preview; $12.95 (Garden), $19.99 (Blade).
The Chimera Brigade Vol. 1: Titan Comics keeps bringing over these French hardcover genre albums, so I'll keep listing 'em. This one is a 2009-10 WWII superhero riff from writers Serge Lehman (novelist and scriptwriter for the Enki Bilal film Immortal) & Fabrice Colin (also a prolific novelist), and artist Stéphane Gess (who did a hugely odd, satirical '90s SF trilogy, "Teddy Bear", which Heavy Metal translated to English), with elements of literary appropriation a la The League of Extraordinary Gentlemen. It looks like 48 pages are in store, so there should be six of these in total. Samples; $9.99.
Thought Bubble Anthology 2014: Beginning just as Comic Arts Brooklyn runs its programming, on Sunday, November 9, and continuing for all the following week, Leeds' Thought Bubble festival enters its eighth year. As I am a man of extraordinary means, who fills trick-or-treaters' bags with stacks of hundreds, I will be sure to come down as soon as my schedule aligns, but until then Image remains steadfast in releasing the official show anthology, a newspaper-format color showcase for guests like Emma Rios, Cliff Chiang, Tim Sale, Boo Cook and others, alongside winners of an art competition. It's 32 pages, with proceeds going to charity; $3.99.
True Stories #1: Being a 48-page comic book from Alternative Comics and Derf Backderf, he of My Friend Dahmer, although these scenes-from-the-life pieces are taken from his long-running (and recently-concluded) strip The City. I believe this was out and around at SPX, though now's when to check your store. Samples (scroll down); $5.99.
The Savage Dragon #199: If you're around my age, and you read comic books in junior high or fifth, sixth grade or something, I'm betting you have a passing familiarity with The Savage Dragon #7, a cataclysmic all-splash issue that culminated with Erik Larsen's title hero memorably impaled on a spire. I recall the letters page (or was it a later page?) discussing the history of all-splash comics, though I confess Walt Simonson didn't mean much to me at that time. Anyway, Larsen is still writing and drawing the Dragon family today, and this almost-an-anniversary issue is set to be an all double-splash special, stoking the memories of this old-time reader; $3.99.
Tuki Save the Humans #2: I also learned all about self-publishing from the back cover of Shadowhawk. Jeff Smith was among those featured favorites, and here too is him this week, his Cartoon Books still handling his newest work, i.e. the print edition of a webcomic about one man's dangerous adventure in the mists of pre-history; $3.99.
Sensation Comics Featuring Wonder Woman #3 (&) Justice League Dark Annual #2 (&) Vertigo Quarterly #3: Yellow: But there's other mainline comic book publishers in the world - here's three from DC, all sporting veteran artists. Sensation Comics (a digital-first anthology title) boasts a new short by Gilbert Hernandez, who is now batting an even .500 for appearances in my six most recent columns. Justice League Dark Annual features art by Klaus Janson (in collaboration with John Stanisci) - a widely-appreciated genre comics hand. And Vertigo Quarterly should have some work from Bill Sienkiewicz among its 80 pages of color-themed offerings; $3.99 (Sensation), $4.99 (Justice), $7.99 (Vertigo).
[a veritable avalanche of fantagraphics releases] - Okay, damn. Gonna do this Tom Spurgeon-style:
The Complete Peanuts Vol. 22: 1993-1994 - $29.99
Peanuts Every Sunday Vol. 2: 1956-1960 - $49.99
Pogo: The Complete Syndicated Comic Strips Vol. 3: Evidence to the Contrary - $45.00
Walt Disney's The Don Rosa Library Vol. 2: Uncle Scrooge and Donald Duck Return to Plain Awful - $29.99
Palestine - $24.99
Set to Sea - $14.99
Sock Monkey: Into the Deep Woods - $16.99
I've omitted various Disney and Peanuts gift boxes, as well as reissues of prior Peanuts collections. Heaven knows you'll have enough of Schulz on your hands with the two books I've listed, continuing two distinct reprint modes. Pogo should also be self-explanatory (it's stuff from 1953-54, with McCarthy era satire) as well as the most recent Don Rosa reprint book. Both Palestine and Set to Sea are softcover reissues, pertaining to Joe Sacco and Drew Weing works. The newest-of-new items is the Sock Monkey, however - an 80-page illustrated storybook that finds creator Tony Millionaire in collaboration with Matt Danner, a director on The Drinky Crow Show at Adult Swim. Preview here.
Basil Wolverton's Weird Worlds Artist's Edition: "Golly Mr. Punkin, this is a fuckton of comics!" I know, sweet one, but we're almost finished. Finally-- well, I'll put it like this: I don't think Basil Wolverton is gonna suffer from having his one-of-a-kind vision reproduced at 15" x 22". Plenty of room for all the spaghetti and meatballs! Expect 176 pages purportedly showcasing various moods, ranging from the cockeyed SF of Spacehawk to the verbal roughhousing of Powerhouse Pepper to some of those good Christian apocalypse drawings. From IDW, as always - I think a second, landscape-format volume is due later; $125.00.