Seattle has a new underground comics scene. One is tempted to say "again," recalling the boom of the 1990s with Peter Bagge, Jim Woodring, and the like. More accurately, the scene has endured. For a while now, participation in the Seattle comics scene has not been dependent on being a published cartoonist. Rather, it's something one does, at one's own level and the hell with commercial or social restraints. This attitude has nurtured a vibrant sub-culture that is only just now emerging. What we are seeing in the last year or so is the latest natural engorgement of talent and effort coalescing and expanding, like a pustule that could someday pop in goopy glory (goop is a quality that frequently occurs in the work of a cluster of the emerging new Seattle cartoonists who seem to delight in grossness and disfigurement, perhaps inspired by the twisted, organic forms found in the comics of  Bagge, Woodring, and Co. -- and maybe even their Pacific Northwest forebearer, Basil Wolverton, who made his home in Vancouver, Washington and created what has been called the "spaghetti and meatball" school of art).
Seattle Comics People: 2014
There are suddenly a lot of Seattle Comics People, and this small army of people fiercely wielding pens, pencils, and mouses is starting to get some attention.  The richly weird and productive comics scene from the underground to the mainstream is the subject of Bezango, WA, an upcoming documentary by Ron Austin and Louise Amandes that includes interviews with about 75 Seattle Comics People. There's Short Run, a luminous, visionary annual Seattle small press festival that features hundreds of local handmade comics and their creators (not to mention transcendent hair-brushing techniques and prom dances). There's DUNE, the year-and-a-half old, beer-soaked monthly jam at a cafe near the University of Washington, where at least 50 cartoonists gather and feverishly create comics, which are then collected into a zine published by Max Clotfelter and distributed only to the people who attended. This event and the current Seattle comics scene in general got a cover story in the Pacific NW magazine (with art by Ellen Forney) that came with the Sunday Seattle Times on March 28, 2014. The article echoed what many are observing; the city appears to be in the midst of a new grassroots comics renaissance.
In the middle of it all, standing in Seattle since 1989, is Fantagraphics. The presence of a major comic art publisher acts as a magnet of sorts, attracting cartoonists from all over the globe, some of whom creatively exchange ideas and energy with Seattle Comics People, and some of whom stay.  Perhaps having a major comics publisher in Seattle also energizes the creative people who live in the area.
And then there's enough well-established comics people living in or around Seattle to populate a small town. These folks are both examples and mentors for each other and many of the new folks. All of these factors appear to be mixing and creating a new scene.
The current upswing of the cycle is different, this time – at least, so far. Instead of major stars, what we have is an impressively large mass of people who love drawing comics. The group, however, is anything but homogenous. They make comics about anything and everything in a bewildering variety of formats, styles and approaches.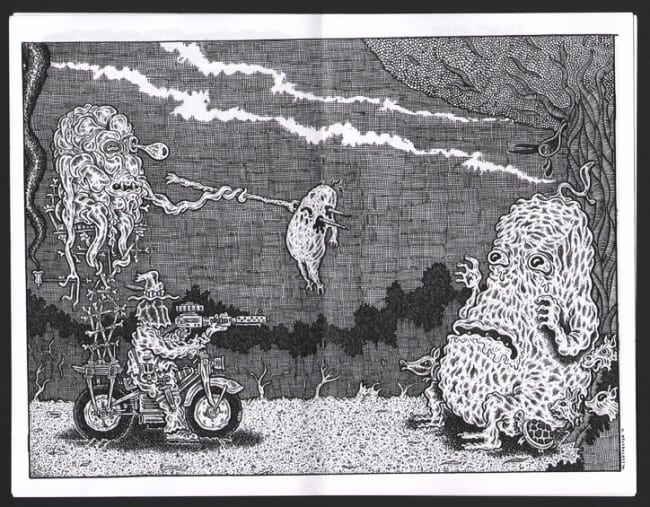 There are some noticeable clusters, such as the aforementioned "goop art school," and the ever-present auto-biographical storytellers. They create support groups and use Web meeting groups and social networking tools to get organized and connect. Currently, there's a publishing co-op in Seattle that produces a regular free comics tabloid, The Intruder. The latest issue has a cover comic depicting a loopy imaginary science fiction/vampire movie starring Lee Marvin, Diana Rigg, and Jack Palance by Eisner-Award winning Seattle comics creator David Lasky (The Carter Family: Don't Forget This Song).
Some of the Seattle Comics People – although not nearly as many as one would think -- display ambition and no doubt their work will gain larger and larger readerships as they steadily develop their craft. Some of them cross over with the fine arts world. A few even know how to get grants to support creating something more than a mini-comic. Some work day jobs and draw mini-comics by night (or vice versa). Some just draw comics with their pals, and the heck with publishing much of anything. You draw comics the way you'd sing a song or play a game with friends… it's just something fun to do.
Many of the Seattle Comics People seem to be casually and comfortably approaching creating handmade comics the way one might take up knitting or ceramics. And some seem to be mad geniuses, throwing off sweat drops of effort and inspiration. Many of them know, or are rapidly learning, a thing or two about design and storytelling.  The ages of the participants range from grade school to somewhere around sixty. About half of the Seattle Comics People are women… and that's something, new too. When you spend any time with these groups, it becomes obvious that they are organized around a unifying concept: comics matter. One realizes that it's not publishing, academia, and critics that will make comics an art form; it's the way the form is perceived and approached by people in general that will transform the medium, the market, and the massage. And that change in perception appears to be happening. Sure, folks have created underground comics almost since they first emerged in sub-literature. This time, though -- the underground isn't hard to find. In fact, the Seattle Times found it -- and that means it ain't that hidden.
This cartooning population explosion/paradigm two-step is the fruit of the last 20-30 years of comics publishing – in print and on the Web. A whole generation has grown up in a world where comics are not just about buying and reading magazines that feature superheroes, funny animals, and perky teenagers. They know comics are richly varied vehicles for storytelling of all kinds. They see comics as a thing you do, as much as a thing you buy – perhaps even more so.
A great deal of the material currently being produced in the underground Seattle scene shows promise, but very little of it is accomplished or mature enough to compete with today's well-established comics auteurs. Many of the practitioners have yet to put in the thousands of hours required to get good at it, and -- to be honest -- only a few of the self-published and small press comics I've read address themselves to themes of any consequence. However, all that may be coming just around the bend. In this moment that's hardly the point. The scene is the point; right now… the people – not the person. This scene – played out in Seattle and, one hopes, numerous other locations is certainly extending, and perhaps even changing comics as an art form.
 Exterminator City
Recently, the Seattle underground comics scene spawned Exterminator City, a fascinating tiny neighborhood event that occurred on a rainy Saturday, in which a small group of people sold, traded, and gave away their handmade comics. Incredibly, this event occurred five blocks from my home. Exterminator City is the brainchild of Seth Goodkind, who turned a shared studio space located in the Greenwood neighborhood of North Seattle into a good old fashioned day-long zinefest. In a public statement, Goodkind writes that Exterminator City was inspired by Short Run, the annual Seattle-area Short Run small press festival and its goal was to "take the mystery and solitude out of underground comix."
The event, held on April 5, 2014 included 25 artists and visual storytellers including:  Angela Boyle, Laura Davis, Karsten Foerster, Erin Fox, Noel Franklin, Paige Fukuhara, Seth Goodkind, Michael Heck , Jessica Hoffman, Ben Horak, Mari Ichimasu, Kalen Knowles, Brittany Kusa, Megan Noel, Michael O'Driscoll, Marc Palm, Justin Quinlan, Andrew Schons, James The Stanton, Scott Travis, Eli Tripoli, Phill Tuma, Jerry Vorhies, Eli Wolff,  and Aaron Wright.
The event was promoted on a poster illustrated by Justin Quinlan as an "underground and indie comics" festival. The festival was underground in more ways than one. While the artists and many of their culturally abrasive approaches are indeed underground relative to the tastes of the mainstream, the location of the event was literally underground, in what one participant described as "a concrete wind tunnel." I entered it from the ground level, in back, through a large garage door that I accessed by walking down stairs and then across a barren lot. A hand-lettered sign on a sheet of typing paper marked the spot. A narrow path that led uphill to a street-level entrance was lined with Seattle Comics People and their little tables piled high with freshly folded and stapled comics and zines.
Being somewhat like a man who took a nap in a barren field and woke up to find it blooming with flowers, I am not at all part of the Seattle Comics scene – and therefore, with the exception of one person, was meeting the participants for the first time. The books I chose and will write about represent a selection made not because I knew the artists, but because I was intrigued enough to purchase the work (or, in two cases, take a free copy). There were more than 100 different comics and zines available, and about 10 of them followed me home. There were also art prints, stickers, original art, and even a box of free mainstream comics (I didn't see any takers).
About one-third of the participants were women. One is tempted to divide the artistic styles present in the works sold at Exterminator City along gender lines. One the one hand you have the grim, violent work of the event's founder, Seth Goodkind…
… and other the other you have the sweet-natured, fanciful Tove Jansson inspired comic about a drunk mermaid, Linda Coconut in the Deep Sea Labyrinth by Mari Ichimasu, who happily told me that Exterminator City was her first experience selling her comics. (You can see an excerpt from Sanpomichi, her stop-motion animated film featuring a human-mouse character here).
But it's not always as simple as that. For example, a comic with the unpronouncable title of STR NTS #2 was shyly offered to me for free by the comic's creator, Andrew Schons, who described the comic as "some stuff that happens with these people in a space ship." You can get a sense of his self-depreciating style in the unpunctuated, all caps text from his intro:
"THANK YOU FOR READING THIS COMIC IT MEANS MORE THAN YOU COULD EVER KNOW WHICH PROBABLY DOESN'T MEAN ALLTHAT MUCH TO YOU – IF YOU THINK I DID A SHIT JOB WITH THIS THEN PLEASE LET ME KNOW AND TELL ME WHAT I SHOULD WORK ON BECAUSE CONSTRUCTIVE CRITICISM IS ALWAYS A GOOD THING…"
STR NTS #2 is as much a punk statement as it is a story to read. It's a feeling. I realized later, when I absorbed this book, that it was as if I had stepped into the pages of an early issue of Love and Rockets, bought an underground, handmade comic from one of Maggie and Hopey's acquaintances, and then came back to my world. The comic has violence and swearing, but there's that not what makes it edgy. There's something fragile and brittle about it. It's not the muscular, fleshy work of many of the young men I encountered, but rather a stark, upsetting work. Schon also had available a sizable. dense journalistic zine exploring a violent and disturbing event that occurred in Seattle several years ago. Underneath the bold, primitive art there's a sensitive, thoughtful artist looking at some of the bigger issues.
And then there's Angela Boyle, a comics creator who dabbles in goop art, but mainly plays with autobiography and zoological illustration. Boyle sold me a copy of Spaz Hands Vol. 1, a large 8.5 x 11 comic that sports a cover which shows a cutesy drawing of Angela (so far, so female). But wait, what? There appear to be long ropes of her intestines stretched from her mid-section… and when one turns the book over, they are being playfully tugged by a cute dog (who figures largely in her life and work).
Boyle, it turns out, is one half of Flying Dodo Publications, a small press company she manages with her partner, Abe Olson. Their table had, by far, the most product – and one chooses this word carefully, as several of the publications seemed a bit overly rushed to press. Boyle's newest comic was, delightfully, about horseshoe crabs, and she had for sale color posters about these curious creatures, as well as a poster about tapirs. Her main work, however, centers around what she calls "auto bio comics." In Spaz Hands, Vol. 1, a collection of daily web comics, she combines elements of the "goopy school" with humorous vignettes of her life. One day, she might draw a rather profound, if disgusting page in which a hideous, fat, naked old woman engulfs her.
The next day, she might discuss her partner Abe's hearing issues (one I share) and end with a fart joke. Her art style in these hastily drawn pages has a deceptively casual appearance, but I went for the book, which cost me $8 of my allotted $30 budget, because it offered something that I value: narrative. I was not disappointed -- the book is a good read. While I appreciate nice drawings, I wanted to spend my hard-earned dollars on narrative.  In fact, one might characterize my search through the tables as a quest for a good story to read. What I mostly found were collections of nice (and, unh, not so nice) drawings with little or nothing to offer in the way of intelligent visual storytelling. When faced with limited money and too many choices, I learned something: I'll choose a sloppily rendered narrative over some nice drawings every day of the week.
Of course, it's not too much to ask for both. One such find was Gone Girl Comics #1 by Noel Franklin, a collection of six nicely drawn, evocative stories that relate to Seattle. Franklin, who holds a degree in print-making, draws very well. While some of the pieces offer poetic linkages (one such piece, "Above Seattle" visualizes a poem by David Lasky) rather than cause-and-effect storytelling, there's a richness of characters and setting that is rewarding -- mainly due to the strength of Franklin's drawing, which engages the reader in a visual conversation. In "Seagulls Screaming," for example, Franklin's rendering of a seagull's wing is echoed in the way she draws city streetlight filtering through a set of Venetian blinds at night.
Another score made out of a desperate search for more things I could read, and not just look at, was the anthology zine, Milk and Carrots #2, which contains a blissfully coherent, funny, and well-done six-page story by the Seattle cartoonist with an article-enriched moniker, James The Stanton.
The story, part of Stanton's long-running "gnartoons" series, tells of an encounter in the Pacific Northwest rainforest with a magical gnome. The hikers, who also encountered some mushrooms, realize later the gnome was a lost, seven-year-old autistic child. One panel in the story seemed for me to encapsulate the character of many of the Pacific Northwest cartoonists, who are singular in their styles and subject matter: "They all wandered into the woods in their own directions, exploring the immediate area."
I only knew one person at Exterminator City, the tall, bearded Georgia transplant, Max Clotfelter. Max started and runs the monthly comics jam, DUNE, which I'll write more about in a later column. Max was not one of the folks selling comics, but he was handing out to various folks, including me, a few copies of Andros #5, a comic he published in 2011.
Clotfelter's comic is a prime example of the goopy school of comics art (Stanton is another). His work is rewarding to read, however, because it also offers solid narrative, humor, and "auto bio," so you feel like you get a lot in this package. What impresses the most however is the persistent sense of remarkably pungent discomfort and shame that permeates the pages of this zine. In the way that the comics of Charles Burns and Rory Hayes both entertain and disturb, Clotfelter's best work oozes and smears, while laughing. In "Getting Off On The Bus," he (almost) wordlessly portrays the horror of being forced to watch a weird man jerk off in front of him. Clotfelter's drawings in this 2-pager possess admirable halluncinatory intensity.
On the night of March 16, 2014 Max Clotfelter, James the Stanton, and Marc Palm participated in an evening of live performance art at the Vermillion Gallery in Seattle. The trio, all Intruder contributors, bridged improvised music and spoken word performances by creating giant, oozing cartoon monsters on the spot. A press release announced that "it should be a real weird mess." That phrase: "a real weird mess," epitomizes the underground comics scene in Seattle -- and indicates that many of the participants are consciously and deliberately embracing the odd, the strange, the fleshy, and the repulsively moist. Some of this art feels like the love child of Big Daddy Roth and Hieronymus Bosch.
One of my favorite finds of the day -- and something entirely different --  was the unique mini-comic, dog! by the six-year old Ben Horak.
That is, a comic the currently twenty-something Horak drew when he was six. The book contains a beautifully drawn screwball story about a mailman and a dog in a comically escalated conflict. It seems to me the comic may be touched up a bit, perhaps re-lettered… but the drawings are pure and brilliant, and kudos to both the six-year old Horak for embracing sequential narrative and that great engine of stortytelling: conflict, and to the current Horak for being able to honor the beauty of his early work.
Of all the comics I acquired at Exterminator City, the one that most interested me was  Journal, by Kalen Knowles (who also cites Tove Jansson's Moomin as an inspiration), who kindly drew on the cover of my copy.
Having just scored the kid-authored dog!, I was intrigued when Kalen told me it was a first-person narrative by an 11-year old. The pages have a nice mix of drawings and text in a layout similar to the Wimpy Kid books. It wasn't until I sat down to read the book that I realized the story is a richly imagined first-person account by a young, octopod-faced alien named Atticus who exists in another time and place entirely different, and yet reflective of our own. It was a delightful surprise to discover, finally, a handmade comic that offers a coherent, imaginative, well-told, long story.
There's a bit of  the Seattle Goop Art School in Knowles' work, too, as seen in this one-pager found on his Tumblr site. The page, entitled "A Marvelous Fight," is a psychedelically-colored go for broke slug-fest between what appears to be a giant, gooey shit-monster with a metal claw and a rejected robot design from "Lost In Space." The bombastic visuals and dialogue are straight out the Marvel playbook. Nonetheless, Knowles cannot resist injecting his own brand of sweetness (very much in display in Journal) into the sequence, as the robot gets upset when the shit-monster falls into the proverbial vat of acid: "I hope not death! He's not THAT bad!" In the last panel, we learn the goopy monster is a robot covered in dripping globs of crap.
In forty plus years of reading and making comics, I have never even heard of a neighborhood mini-underground-indie comics festival before. I hope there's more. I went, and scored a small pile of provocative, inspiring, and disruptive comics – most of which were created five minutes ago by artists who could care less about commercial appeal. Oh yeah, and there's probably less than 50 copies of most of these comics in existence. You can have San Diego. I'll take Exterminator City any day.