One of the nation's great cartoonists is dead. You can deny it if you want. I tried. But it didn't help. Richard E. Locher, 88, died of complications from Parkinson's disease Sunday, August 6, at Edward Hospital in Naperville, the Chicago Tribune reported. He had lived in Naperville for more than 45 years.
"Dick was one of the best cartoonists in the nation," said Tribune Editor and Publisher Bruce Dold. "He was also one of the nicest people who ever walked through the Tribune newsroom. I most admired the richness of detail in his drawings. His work was funny and incisive, and his message often carried a hard pop, but his artwork was always incredibly elegant."
For almost thirty of his four-plus decades as a cartoonist, Dick Locher simultaneously went after corruption and criminality among politicians in his political cartoons and slightly more overt outlawry in the Dick Tracy comic strip.
Locher was one of the merest handful of newspaper cartoonists who did both editorial cartooning and comic strip cartooning: he started doing political cartoons for the Chicago Tribune in 1972; he inherited the iconic cops-and-robbers comic strip a decade later. He drew them simultaneously for 28 years, rendering the strip in a markedly different style than his editoons.
Locher was courtly in manner and mein, but his easy-going wit made him eminently approachable. "Editorial cartoonists," he was fond of saying, "are the towel snappers of journalism."
And that's not all: "We watch the battle from the hillside, and when it's over, we run down and shoot the wounded."
He had a million such quips. He did four-five editorial cartoons a week for distribution by Tribune Media Services. "Ideas are like grapes," he said, "—they come in bunches but don't last."
The more vituperative the cartoon, the more phone calls he got. "They question my eyesight and my brain," he said. "You're not a political cartoonist if you don't get any death threats." He received at least two. Success! But that's part of the job assignment: stirring up controversy, provoking thought and comment: "If you go down the middle of the road, you get hit by cars on both sides," he'd say. "Being an editorial cartoonist is like the blind javelin thrower at the Olympics: we don't win a lot of awards, but we keep the crowd alert."
Locher had an distinctive way of acknowledging a good deed or good work. Looking the perpetrator in the eye, he would confer his verbal laurel: "Nice work—take the rest of the day off." He leaned right, but he went after even Saint Reagan on occasion. Locher's bellicosity in editooning is deceiving. His editorial cartoons are tough-minded as well as funny, but in person, Locher was one of the last genuine gentlemen of the profession, full of years and wit, reason and compassion. And talent. Over the years, Locher reckoned he had more than 10,000 cartoons published. "That's a whole lot of getting mad six times a week," he said.
Locher racked up his share of awards and honors, including a Pulitzer in 1983. "I'm still numb," he said when notified that he'd won. "I'm waiting for someone to come in and say they made a mistake."
He served on the board of trustees of Benedictine University in Lisle and received honorary degrees from Loras College and Benedictine University. He had a private lunch in the Oval Office with President Ronald Reagan; and he created the coveted John Locher Award for college cartoonists to honor the memory of his deceased son, who once assisted him on Dick Tracy. And he painted and sculpted.
He made several small bronze sculptures of presidential candidates. He designed the Land of Lincoln Trophy (modeled after Lincoln's hat), which has been awarded to the winner of the Illinois-Northwestern college football game each year since 2009. And the muse continues to pursue him: in his hometown of Naperville, he worked with Jeff Adams, owner of inBronze, a foundry, to perfect a statue of the founder of the town, Captain Joseph Naper, who started the place in 1841. Naper wasn't Locher's first larger-than-life statue: in 2009 he finished a towering likeness of the iconic comic strip detective he drew for nearly three decades: Dick Tracy, like the Naper monument, is part of the city's Century Walk public art collection.
The idea for the sculpture was conceived by Naperville Century Walk Corporation president W. Brand Bobosky and the cartoonist. Locher had sculpted a Tracy maquette, and when he showed it to Bobosky, the latter thought it would make a beautiful life-size statue, joining the more than 30 public art pieces the Naperville organization has installed. Locher's concept was then turned over to Wisconsin sculptor Don Reed who transformed the maquette into the 9-foot tall, one-ton sculpture. Reed was intrigued with the challenge of capturing the structure of Tracy's angular face, the flow of his hallmark trench coat and the sense of energy and motion Locher conveyed in the maquette.
The bronze likeness is rendered in full color through the use of a chemical technique called "patining" that dates to Renaissance times. The accompanying photo graphs were taken in Reed's studio. On Sunday, March 13, 2011, the last Dick Tracy produced by Locher appeared in the nation's papers. For his last couple of years on the strip, Locher wrote it but it was drawn by his assistant, Jim Bozman.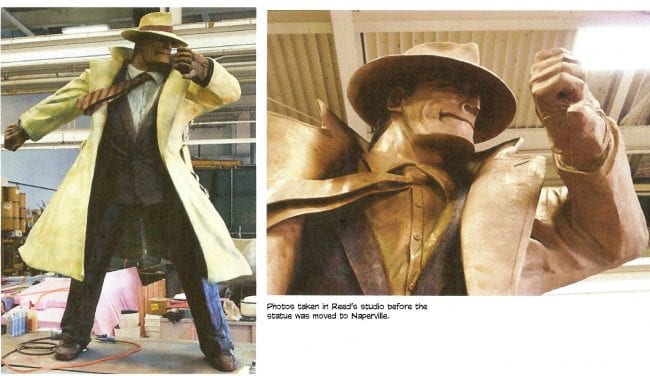 Born just two years before the cleaver-jawed sleuth's debut in October 1931, Locher told Michael Cavna at Washington Post ComicRiffs blog that it was time to move on; he planned to do "normal things" with his family, to travel and to paint the American Southwest. But he also continued doing editorial cartoons for distribution nationally by Tribune Media Services, not retiring from that until May 1, 2013.
Dick Tracy wasn't his only experience at syndicated stripping: for a short while in the late 1940s after he got out of art school (and before enlisting in the Air Force), Locher assisted Rick Yager on Buck Rogers. And just before he inherited Dick Tracy, he had been working with Jeff MacNelly, the other Chicago Tribune editorial cartoonist, on a topical commentary strip called Clout St., which he left soon after starting work on Tracy.  
Locher began drawing Dick Tracy after Rick Fletcher died in early 1983. Fletcher and Max Allan Collins had been doing the strip after its creator, Chester Gould, retired in 1977. Fletcher had been Gould's assistant.
"Fletcher died right at his drawing board," Locher remembered. "That was 1983. And the syndicate said, 'We can't let any water back up behind the bridge here,' and asked me if I would be interested. And I said, 'I already have a job.' I said, 'No, no. I didn't want to give up editorial cartooning.' The week before, I'd won the Pulitzer. I didn't want to give it up. [He grinned.] And they said, 'Well, take it on anyway; we'll get you an assistant.' So, I did."
And they did.
Locher continued with Collins writing until 1993, when the syndicate elbowed Collins out of the picture and hired Mike Kilian to do the writing. Kilian was a journalist by day, and by night, the author of a series of mystery novels set during the Civil War.
Locher's connection with Dick Tracy goes back to 1957, when he began a four-and-a-half year stint as Gould's assistant. "I had been in commercial art studio for about three years after I got out of the Air Force," Locher told me during our 1994 interview, "and I was teaching art at night—I was single—at the Chicago Academy of Fine Arts—and Coleman Anderson, who was Chet Gould's assistant at the time, was teaching there, and we went out and had dinner one time, and he said, 'Chet's looking for another assistant—he wants more than just me. Would you be interested?' I said, 'Yes—let me talk to him.' So I went out to Chet's house and met him for the first time. And he gave me a week's worth of strips, and he said, 'Go home and draw the figures—my figures, and I'll do the script.' And he did. Or rather, I did. And he evaluated it, liked it. And hired me. That was in 1957. I got married the same month I started with him."
Locher drew backgrounds in the strip. And then in his last year with Gould, he began doing some of the figure art.
Locher explained: "His wife Edna came to him and said, 'We're going to Hawaii.' And he said, 'No, I'm not.' He never took a vacation. Never. He'd take a day off, but no vacation. She says, 'We're going to Hawaii.' And he says, 'No, we're not.' And she says, 'Dick's going to put in the figures for you.' And he said, 'No, he isn't.' [He laughed.] He never let anyone touch the figures. And she insisted. So I did the figures while he was gone for a week. And he came back, and he looked at 'em like this [over his glasses], and he took a razor blade and scraped a lot of them off and said, 'Naw, that's not right.' But he didn't scrape all of them off. He liked some of my drawings. And he let me do more and more."
When they parted in 1961, Locher set up in Oak Brook his own art agency, Novamark,  which he operated until 1972, when he was hired by the Chicago Tribune as editorial cartoonist to replace the retiring Joe Parrish.
"I  got this editorial cartooning job with the Tribune because of Gould," Locher said. "Parrish, who was the reigning cartoonist at the time, retired; they had mandatory retirement at the time. And Gould called me up and said, 'Joe Parrish is leaving; get your ass down there with some editorial cartoons.' And I said, 'I've never done any of those.' And he said, 'Do me a favor and do about twelve of them and take them down there.'
"Twelve! In one day!" Locher exclaimed. "So as a favor to Chet— I had a good business going at the time out in Oak Brook, sales promotion, and we had great accounts: we had Standard Oil, Allis Chalmers, McDonalds, Cessna Aircraft—I stayed up to do twelve cartoons. Did seven. Couldn't do twelve if I had to. Brought 'em down to the Tribune, and they hired me. And it worked out all right. I sold my company to my partner five years later."
Born June 4, 1929 and raised in Dubuque, Iowa, Locher graduated from Loras Academy in Dubuque and then studied at Loras College, the University of Iowa, and the Art Center of Los Angeles before earning a degree from the Chicago Academy of Fine Arts. He spent two years on active duty as a test pilot in the Air Force and another 18 years in the Air Force Reserve.
I got to know Dick when in 1999 I joined the Association of American Editorial Cartoonists, of which he was a long-time member. At AAEC annual conventions, we hobnobbed at cocktail parties and during breaks, his wife Mary always at his side. But I had met him before, when I interviewed him in 1994. The interview took place in his office in the Tribune Tower in downtown Chicago.
When I came into his office, Locher was at his drawing board, finishing that day's editorial cartoon. He was correcting a misspelled word and muttering, "Was it Lincoln? No, it was Mark Twain who said it's a damn poor individual who can't spell a word more than one way." He grinned, fixed the error, and we talked about Dick Tracy.  
How, I wanted to know, did he do it—a daily comic strip and a daily editoon.
"Editorial cartoon in the morning," he said. "Get up at six thirty. Work 'til noon. One o'clock deadline. Then do Dick Tracy in the afternoon."
Then I asked: "How's it feel to be the steward of an icon? You're holding its fate in your hands."
"Yes," he said, "—you are, you really are. And it's a weighty, hefty thing. This American icon. It's like if someone took Grant Woods' American Gothic and made a comic strip out of it, if everyone agreed—you've still got to protect it. The syndicate looks at everything we do, and they look at it with a pretty critical eye. You have to use a political eye, a commercial eye—and with a storytelling eye. There's competition out there. To have been around for 63 years, that's pretty good.  
"You say 'Dick Tracy' to anybody in the United States," he continued, "and they know what you're talking about. They may not have read the strip, but they know who Dick Tracy is. Like Kodak. Like Kleenex. You might not use the product, but you know what it is."
He went on: "You can't have Tracy do anything out of character, though. People wouldn't believe in him. There used to be a ten commandments of things you couldn't do in a comic strip. All those have gone by the wayside. You couldn't show a character falling-down drunk. You couldn't show somebody being massacred by machine-gun—probably because of the St. Valentine's Day massacre here in Chicago. Couldn't show a couple in bed. Couldn't show the inside of a woman's thigh. Couldn't show a woman drunk. And you couldn't show somebody being stabbed. And Chester Gould never paid any attention to any of those" [Laughs].
"Yes," I said, joining in the laughter. "—as you were ticking those off, I was thinking of the incidents in Dick Tracy, which showed Gould just doing it." "Exactly right," Locher said, still chuckling. "He had somebody impaled on a flagpole once. That violates every rule there is. We can't show that now. We can't do that now. We can't show somebody being shot, directly. Syndicates won't stand for it. Readers won't either. We can show robbery. We can show rapes. We can show arson. But only on the front pages of our newspapers—not in the comic strips."
I remembered one of the big fascinations of Dick Tracy in the beginning—"that line that went from the muzzle of the gun to the villain's forehead and out the other side with a little of the bad guy's brain being sprayed out the other side, too."
"Right out the other side," Locher said. "Exactly right. There are so many groups out there now, just waiting for you to do something. And they'll boycott the paper, and they'll march out in front. And they just can't wait. And the syndicates say, 'We don't need that kind of aggravation. And what we don't need is a lost client paper.' Editors say, 'You're giving us so much aggravation, we'll just cancel.' So they don't want that. So you have to tow the line. Action like that happens off-screen. Sam Catchem can say to Tracy, 'Oh—nice shot, Tracy.' [Laughs] And that's a handicap to work under in a detective strip. Even in Sherlock Holmes on television, they can show somebody being killed. We can't do that. And boy that's working with your hand tied behind your back."
"Is Dick Tracy alive in your mind?"
"Absolutely. Gets up in the morning and shaves. Puts on deodorant."
"And when you're doing a story and you say, 'He would never do that—'"
"He would never do that. If he gets out of a parked car, would he open the door on the traffic side? No, he wouldn't." [Emphatically]
"He really is that straight arrow?"
"Absolutely."
Locher told a story to illustrate the task of the comic strip cartoonist—:
"My favorite story of all time is that one about the old Russian soldier in the field hospital. Laying there in bed. There was only one window. And his bed was next to it, so his job every morning was to describe what he saw out of the window to the rest of the patients in the ward who didn't have a window to look out of. So every morning, he'd start out—'Aw, the grass is pretty today. The sky is so blue.' Well, everybody wanted that bed so they could see out. Finally, the fellow in the bed next to the window died, and the next fellow got the bed. So he looked out, and there was nothing there but a blank wall. [Harvey laughs] And that's what we're doing: we're making something out of nothing."
Locher loved to tell stories, and he told me another of his favorites—:
I left Gould in 1961 and started with the Tribune in 1972. About ten years. He and I used to have lunch together regularly. And those weren't short lunches [laughs]. We'd get together at noon and probably break up around 3:30 or 4 o'clock. We talked about the good old days, and what fun we had when I was working with him, and all the things we used to do. Like the machine gun episode. Do you know that story? [I shook my head, No.]
We had to draw a machine gun one day. Gould said to me, "Up on the top shelf there in the closet there's a paratrooper's gun, and you might want to put that in the strip." This was a Monday evening, just as we were getting ready to leave the office. He said, "Why don't you wrap it up and take it home with you so that you can include it in Tracy?"
I climbed up and there was the gun, with clip but no bullets, and a police department tag on it. I imagined that he had gotten it from the police department to use as reference, long before I started to work with him. I wrapped it up in brown paper, got my briefcase full of drawings, and said, "Goodbye," commenting that I'd see Gould on Wednesday out at his place in Woodstock [where Gould worked every day of the week except Mondays and Tuesdays, when he went to his office on the 26th floor of the Tribune Tower].
I left the building and was walking toward Union Station, and when I was about a hundred feet out of the door, I heard someone say, "Sir!" Out of the corner of my eye I could see a police car nearby. I kept right on walking, and I knew these eyes were staring at the back of my head, but I kept going. Then I heard, "Sir, I'm talking to you."
All of a sudden, I was grabbed by the arm—gently but rather firmly—and a voice said, "Have you got a minute?" I said I was rushing to catch my train [to Naperville, where he lived], and the voice said, "This won't take but a minute—would you step over to the police car."
The officer said, "What've you got in the package?"
"Leftover pizza," says I.
"Would you show it to us?"
I thought this was ridiculous and that I ought to tell him the truth and take whatever was coming to me. I unwrapped the package.
"Sir," said the cop, "you know you can't carry a machine gun around on the streets in Chicago—that's totally against the law, and we're going to have to take you downtown."
I said, "Let me explain." And then both officers started laughing. Gould had called the police department and told them I was coming out with this machine gun in a brown paper bag.
Another of Locher's favorite stories is about the time he had lunch with fellow editooner John Fischetti and Chicago's most celebrated landmark, columnist Mike Royko. Locher didn't recount this yarn during our interview, but he told Kathy Millen at the Naperville Sun when she interviewed him about his impending retirement. Here's Millen telling Locher's story—:
During his early days at the Chicago Tribune, Sun-Times cartoonist John Fischetti, whom Locher had never met, invited him to lunch. He joined Fischetti at a nearby restaurant and was excited to learn that columnist Mike Royko was going to join them.
Royko arrived and welcomed Locher to the Chicago journalism cabal. They had lunch and chatted. All was going well until Royko casually remarked that Fischetti's cartoon that day was awful. Fischetti responded that his work didn't stink as often as Royko's did. Tempers flared as they continued to trade insults, and Locher reconsidered his choice of profession.
Locher took up the story: "Mike said, 'John, you are finally getting to me,' and he picked up a hard roll and threw it at Fischetti. John then grabs Royko by the tie and drags him to the front door. When they got to the front door, they turned and waved to me as the waiter brought the check to our table."
Royko and Fischetti exited, and Locher paid the bill.
"What marvelous stories we have," Dick Locher exclaimed. "—what marvelous vignettes, what marvelous characters who have drawn comics. Incredible people. A breed all to themselves."
"This is so much fun," Dick said once, referring to a lifetime drawing pictures "I'm the luckiest guy in the world. I never went to work a day in my life." Locher, who had been in frail health for the last few years after surviving a bout with cancer, long regarded himself as just the steward of Chester Gould's creation, and he aimed simply to maintain the legend. As his tour with Tracy ended, Dick looked back affectionately on their years together.
"He's 80 years old and he's still humming; he's vibrant. He's not dead: he's alive and well," Locher told an interviewer. Locher's job, he felt, was to keep Tracy as Tracy-like as possible, which he did by hanging the detective off a cliff every day. "We have to make sure readers come back tomorrow," he said, "—to see what happened."
The cliffhangers and death traps are the reality in the strip, and over the years, Tracy assumed the reality of a friend. "For a long and wondrous 28 years," Dick said to me, "I've been in the right-hand seat of Tracy's squad car," he added, deploying a heart-felt metaphor. "I can only hope that in this time I've entertained my readers and lived up to the lofty expectations of Chester Gould's glow. It's been an incredible ride. As a person I understood Tracy and he understood me. But when you get to that next stoplight up there—Tracy! That's my corner. Let me out."
Take the rest of eternity off, Dick.