Crossing Borders
Peter Kuper also drew stories about his travels to other countries. When he was ten years old, his father took the family on a yearlong sabbatical to Israel, and Kuper recounts his experiences there in several stories for the oversized comic magazine Blab! He also described his travels in Africa and Asia with his wife in ComicsTrips: A Journal of Travels Through Africa and Southeast Asia. More recently, he created Diario De Oaxaca, a combination journal, sketchbook, photo album and comic book based on his family's relocation to one of the poorest states in Mexico from 2006 to 2008.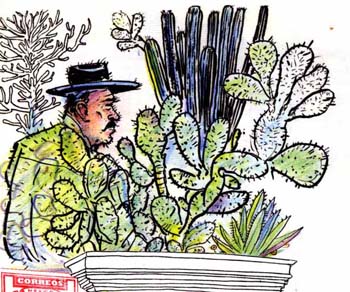 "Diario de Oaxaca is the result of being in the right place at the wrong time," wrote Kuper in his introduction. "When I moved to Oaxaca with my wife and daughter, I wasn't looking for trouble; on the contrary, I was hoping for some escape. Escape from the United States under Bush's administration, escape from my workaholic schedule, escape from consumer culture and a ceaseless barrage of depressing news stories. A breather." He found his destination embroiled in an escalating battle between striking schoolteachers and the autocratic governor of the state, who had called in federal troops to break the strike. The text in the book is in English and Spanish and the art features local architecture, indigenous culture and graffiti posted by the striking teachers.
Kuper also drew comic stories about his formative years in Cleveland, Ohio, replete with sexual frustration, bullies, bongs, and big dreams, many of which were collected in Stripped: An Unauthorized Autobiography. He graduated to comics about mid-life issues in Stop Forgetting to Remember. This was familiar territory in autobiographical comics but Kuper infused it with an ironic self-appraisal and a willingness to laugh at his pain. He took his cues from Robert Crumb, who told him at age 13, "I don't think you should take comic books so seriously. I mean, dig on 'em, swap 'em, trade 'em, collect 'em, but don't take them so goddamn seriously! Comic and sci-fi fans of the world get laid!"
"He was absolutely correct," says Kuper, "about that last part at least, but it was years before I was able to take his advice."
Photographer Didier Lefèvre and artist Emmanuel Guibert collaborated on a unique hybrid project in The Photographer: Into War-torn Afghanistan with Doctors Without Borders. The book, which recounted an arduous humanitarian mission in northern Afghanistan in 1986, used both drawings and photos to tell the story, an interesting juxtaposition that brought an extra level of reality to the saga. His account did not recommend it as a path that tourists should follow, like other travel books. The narrator barely escaped his journey alive, and saw many others die and suffer during his expedition.
French Canadian cartoonist Guy Delisle brought himself and his point of view to the travelogue format with three books that describe his experiences in North Korea, China, and Burma. Shenzhen: A Travelogue From China was published after he came home from an overseas animation assignment in remote southern China, where he often felt loneliness and culture shock. He didn't plan on making a travelogue from his experiences, but that's what happened. "I was taking notes when I came back from China, it started as a short story in the magazine Lapin. I thought it would be funny to put myself in some of these notes that I've taken in China, so that's how I started the whole thing, not thinking that I'm going to do a book. It was just a few short stories."
Pyongyang: A Journey in North Korea came next after Delisle spent two months in that tightly controlled Communist state overseeing the production of children's animated films. An official guide and a translator always accompanied him to prevent him from interacting with any North Korean people outside of work and official ceremonies. He ditched his guide one day, which caused the poor man an anxiety attack for fear of punishment, and consequently Delisle felt so sorry for him that he never attempted to elude him again.
"I have bits of journalism in it because I have to convey information in the book, like how they distribute the food and this and this, but it's a really small part of the book," says Delisle. "There are maybe five or ten pages of explanation about North Korea in the book on North Korea. The rest is more about everyday feelings and the impressions I had about the people. I'm much more of a traveler than a journalist and much more of a daydreamer. The best description I can make of my book is it's a big postcard I would send to my family. In that postcard I put everything I find funny, strange, interesting and I want to explain a few things, but for me it's very far from journalism."
One of his earliest inspirations came from Marcel Gotlib, a French cartoonist who placed himself in his own cartoons in the album Rubrique-á-brac, and later expanded on this idea in l'Echo Des Savanes magazine. "He would portray himself as a very pretentious artist. He was almost like Leonardo de Vinci in giving advice. He would use autobiography but almost in a fictional way. His portrayal was completely different from himself. I guess I must have been influenced by that, because once you read that, you know that you can do that with autobiography and that's interesting."
"Of course I've been influenced by Maus. It was the answer to what a lot of people in my generation were asking themselves. We were sure that comic books could be much more powerful than what we saw at the time. We knew it was a great media and we could go much further that what we were reading. He was the answer to that because the book was so powerful. Everyone of my generation remembers that book as a very important step in their reading of comics."
Burma Chronicles, published in 2010, contains fewer bouts of alienation since he travels this time with his wife, an administrator for Medecins Sans Frontiere and his infant son Louie. Joe Sacco himself reviewed the book for the literary review The National.
"Guy Delisle has entered the comics scene like a breath of fresh air, and may all young autobiographically-minded cartoonists fill their lungs with his example," wrote Sacco. "With endless curiosity but without seeming to try too hard, Delisle lives a life worth documenting. Delisle managed to wring the full potential from the comic-book form, which can thrust the reader into a foreign place from the first panel."
Delisle's first two travelogues were published by l'Association, a French publisher founded in the early 1990s by several cartoonists who also work in the autobiographical field, including Lewis Trondheim and David B. (Pierre-François "David" Beauchard).