Back up. How did New Treasure Island come about?
This is a complicated topic. A complete account would require sifting through much prior literature, as well as detailed research into the art history of mid-century manga form and the still obscure world of immediate post-World War II manga making and publishing. Presented below is a skeletal synthesis of the most up-to-date scholarship, relying primarily on the labor of scholars Takeuchi Osamu and Nakano Haruyuki, as well as the writings of the two artists involved. At the end, I will propose my own modifications to the story, based on hard evidence that Tezuka and/or Sakai Shichima were looking at American comics. In a previous essay, I argued that Donald Duck Finds Pirate Gold (Dell, 1942) informed the manga's "treasure island" theme as well as its rendering of body and movement, and potentially its "cinematic" passages. This time I will show how a second Disney comic book, Mickey Mouse Outwits the Phantom Blot (Dell, 1941) was the template on which the manga's first pages were conceived – a finding which may not require a radical reordering of the narrative of the manga's genesis, but nonetheless does short-circuit some of the well-meaning but ultimately misdirected attempts at constructing an art history for its opening sequence. It should also help cut through the smokescreens set up by Tezuka himself.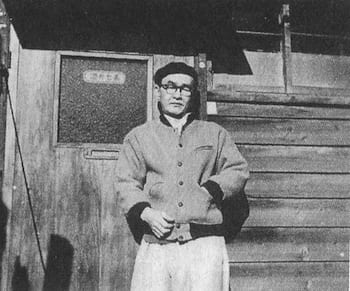 It is absolutely essential to know: the initiator of the project was not Tezuka. It was his collaborator Sakai Shichima (1905-69), Tezuka's senior by twenty-three years and a man with serious connections and position in Osaka manga publishing. Until recently, Sakai had been practically erased from manga history. Neither Abiko nor Ishinomori seems even conscious of his existence in their praise of "Tezuka's" New Treasure Island. In 2004, this wrong was strongly righted by Nakano Haruyuki's The Unknown Manga Artist: The Story of Sakai Shichima, a groundbreaking study providing the first distinct portrait of this central but blurry figure. While the following synopsis of Sakai's career leans heavily on Nakano, I am forced to disagree with some of his conclusions regarding New Treasure Island based on my own research into comics-manga relationships. He casts much doubt on Tezuka's monopolizing claims of authorship, but I think one can go even further and make room on that pedestal for Sakai.
Sakai had worked for many years as both an animator and cartoonist prior to New Treasure Island, earliest for the animation department of the Nikkatsu Studio in Kyoto, which he joined in the summer of 1934, leaving the following year after the department's dissolution. Of the films credited to Sakai, most accessible today is Ninja Fireball Kid (Ninjutsu hinodama kozō, 1934-35), a series of short films showing the influence of the Mickey shorts, very popular in Japan by the early 30s. After Nikkatsu, Sakai drew manga for various Osaka publications, primarily the adult humor magazine Osaka Puck. As war in China intensified in the late 30s, he along with many other area cartoonists made a tidy living drawing manga to be sent to soldiers on the front and for militarized boys and girls at home. (The cover of one is shown below.) In 1941, he was hired as an animator for the Japan Movie Science Research Office (Nihon eiga kagaku kenkyūsho). There he worked on propaganda films romanticizing the naval air force. He left the studio in 1943 and returned to cartooning.
Like most artists – like most Japanese – Sakai was out of work after the war. He began making the rounds of the American military camps and the hotels used by Occupation soldiers in the Kansai region. Sometimes he made money by performing, drawing blindfolded on stage. Primarily he drew portraits of GIs, a not uncommon way for Japanese artists to piece together a living in these years. The photograph here shows Sakai in the hoary Nara Hotel, purportedly in 1947. (Note: if anyone reading this has a father or a grandfather who was stationed in Japan during the Occupation, and in their personal belongings remains a pastel, ink, or pencil portrait from this period, I would love to know. Art historians are looking for this material.)
In addition to portraiture, Sakai drew manga. As it had been in the late 30s and early 40s, his work was split between manga for adults and manga for kids. On the adult side, Sakai drew for mystery monthlies, characteristic period publications like Democratic Nippon (Manga Minshū Nippon), and most importantly Manga Man. This thin rag of a paper, founded in May 1946, was one of the many new adult cartoon magazines of the early postwar period, focusing on single panel satires of social issues, and marketed partially to young and aspiring amateurs whom the magazine corralled through membership fees and club meetings. The association behind this venture was called the Kansai Manga Man Club. Sakai presided over its meetings. It was to him that many neophytes turned for advice, even seeking him out at home, which Tezuka – Kansai Manga Man Club member no. 2 or no. 3 depending on the source – did for the first time in the summer of 1946, in early July to be more precise. In a drawing in his diary from August 20, Tezuka shows Sakai at the center of attention at one of the meetings: showing up noticeably late, conducting crits of young members' work, speaking to a deferentially seated Osamu about possible work, drawing his soon-to-be collaborator's portrait.
On the kid's manga side, Sakai's work comprised primarily small booklets, typically no more than twelve or so pages, ranging from traditional folktales to sunny, mildly moralizing talking animal stories. His most important work would be done with Ikuei Shuppan, an Osaka house whose name signified the kind of books it put out: "Educational Publishing." In the summer of 1946, Sakai was put in charge of a new kid's manga magazine from Ikuei, titled Hello Manga, its first issue appearing in November 1946. The magazine was primarily drawn by Sakai under various names, and contained material similar to that found in the artist's booklets. Associates of the Kansai Manga Man Club helped to fill out the remaining pages. Some of Tezuka's earliest published work appeared there, in Hello Manga, under Sakai's editorship and guidance. The magazine, Tezuka recalled in an interview in 1988, "was filled mainly with four and eight panel manga, boring manga. A bee is running a honey shop, and all the other insects come to eat there. 'Your honey's really good,' says one. 'That's because my honey is pure,' and that would be it. What's funny about that? Ha ha ha." Like other things involving Sakai, Tezuka did not recall Hello Manga kindly.
But at least one good thing came out of working with Sakai and Ikuei Shuppan. In the seventh issue of Hello Manga (February 1947), there is a half-page advertisement for a new "200 page great adventure manga story," featuring "Battles between Tarzan and Pirates!" This was, of course, New Treasure Island, "composition" (kōsei) by Sakai Shichima, "pictures" (ga) by Tezuka Osamu.
The credits are as ambiguous to someone who reads Japanese.
Tezuka's otherwise well-kept diary is missing the months of September, October, November, and December of 1946. Not only are these months – the very months in which New Treasure Island was created – missing from that portion of Tezuka's diary first published (after being edited) as back matter to the remake of New Treasure Island in 1984. According to Tezuka Pro, they are also missing from the actual notebooks. To what force of accident or intention are we to ascribe this misfortune? Is a notebook missing? Have pages been torn out?
The last published entry for 1946 is dated August 28. "I played piano for a bit at the YMCA," presumably the same YMCA where he had crossed paths with the comic book-reading Opera Joe in the spring. "On the way home I bought a copy of Liszt's Love Dream in Sakurabashi. Four pages, 5 yen and 3 sen. When I got home, I found Mr. Sakai there. We talked about this and that before Mr. Sakai told me he had come about our collaboration on New Treasure Island. He left at around 8."
This is the first mention of the book. The Japanese is not clear whether the collaboration and title were first proposed here or previously. In the Kansai Manga Man Club cartoon from August 20, Tezuka depicts himself being "asked by Sakai to do a manga." It does not say collaboration. But since Hello Manga was already in the works, and the only other project Tezuka did for Ikuei Shuppan – which is to say, the only other project he did via Sakai – was New Treasure Island, that could very well be the request depicted.
Not that such a sketchy caricature is to be trusted for anything, but what is that in Sakai's hand? What is that floppy American comic book-sized pamphlet? What is he pointing at so intently, as if to say "Kore da" – "This is it, this is what I want."
Nor should too much be made of the following detail from August 8 – but what perfect timing. On other days, Tezuka reports chatting freely for hours on end with Sakai about animation, picture books, and other area artists, this from their very first meeting at the elder's home in July of 1946. But then in the days leading up to New Treasure Island, something else came up. August 8:
Around lunchtime, went to Sakai's place in Tamade. We talked about various things, and then I gave him the artwork for Hello Manga. We beat up on American comic books until 3:30, and then I went to Nanba to watch A Ghost Walks the Streets of New York [Here Comes Mr. Jordan] for the second time. At night, [the Japanese version of Carey Grant's] The Dancing Caterpillar [Once Upon a Time] aired on the radio for the first time in a long while. Ghosts walk, caterpillars dance, those Yankees sure are funny.
Belittling American comics? Judging from what they produced in the following months, it was an uncharacteristically unkind afternoon.
Without full access to Hello Manga at present, I cannot do the detailed research one should to assess this key moment in manga history. But I will note a few things here. The magazine was not only titled Hello Manga, but its back cover offered very basic English spelling and vocabulary lessons, showing how to spell Japanese animal names in Roman alphabet, for example, or using picture charts to show how to spell and pronounce familiar things like cloud, moon, rain, fish, bird, mother, grandmother, aunt, uncle, and so on. "Can you speak English?," asks a Sakai-drawn boy on the back of issue no. 3 (December 1946). "Yes, I can a little," responds his G-I-R-L friend.
In other words, Hello Manga was a magazine not only designed to appeal to Japanese kids under the Occupation, enamored as they were with the tall American soldiers that walked their streets, crying for the sugary tokens of American consumerism the Yanks brought with them to disperse as good will. No one knew at this point how long the Occupation would last, how deep its effects would be. Might Japan become an American colony, or even part of America as Korean had just been of Japan? Would its children be prepared to thrive in this new – not just Americanized Japan, but in the sense that one speaks of British India – American Japan?
If English was a necessary feature in this project of assimilation, so was American culture. There are small articles in Hello Manga (as there were in most other magazines at the time) about fascinating events and everyday life in the United States. There is one about "American kids." There are cloying Christmas features.
The artwork also pursued Americanization. In a previous essay, I pointed out that some of Tezuka's work for Hello Manga suggests the influence of Walt Disney Comics and Stories. If that is indeed the case, it is possible that one is seeing the first signs of influence from the American comic books he received from Opera Joe, reportedly in the spring of 1946. But there is another possibility.
Tezuka reports having looked at American comics at Sakai's apartment on August 8. Apparently there was enough to sustain conversation for an hour or more. Tezuka might have had his own liaison, but there is a parallel story in Sakai's biography, as related by artist Nishigami Haruo in "A Study of New Treasure Island" (1968), the first serious essay on the manga, based on talks with Sakai, written shortly after Nishigami had worked for Tezuka's Mushi Pro.
Let's look at the drawing of New Treasure Island a little more closely. One can definitely see the influence of foreign comics. Tezuka Osamu's figures have only four fingers, in the Disney style, and the rounded lines are the very stuff of American gag comics.
After the war, when American troops came and occupied Japan, a fair number of American comics also came into this country. However, in 1945 and 1946, these comics were not widely known.
Once, when Sakai Shichima was at a Kyoto hotel drawing portraits of the Occupation troops, he found a bunch of comics in the hotel's lobby and thought, "This is it!" He got hold of these comics, took them to the young Tezuka Osamu, and said let's go with this. This was a time when everything and anything foreign was accepted. All something needed was text written horizontally for Japanese to think it was top-class. It was against the backdrop of that fashion that Tezuka, in combination with his own upper class upbringing, developed a truly unique line, which in turn appeared in New Treasure Island.
On the basis of interviews with Sakai's contemporaries in the 90s, Nakano Haruyuki likewise claims that Sakai began recommending American comics style to artists in the Osaka area, both those his own age and younger ones like Tezuka.
I recognize that it's opportunistic to make too much of Tezuka's sketch. But that image showing Sakai sitting there pointing at a floppy American comic book-sized pamphlet, with Osamu looking on from the side: wouldn't Nishigami's words – "He got hold of these comics, took them to the young Tezuka Osamu, and said let's go with this" – serve perfectly as a caption?
But it's one thing to have capital. It's quite another to know how to invest and profit from it.
(Continued)