In 2002, The Comics Journal (issue #242) interviewed Lawrence Klein, a New York lawyer who had conceived an ambition to launch a comic-art museum and annual festival in Manhattan at a time when two East Coast comic-art museums had just closed their doors for good and the debris had barely settled from the destruction of the World Trade Center. The Journal had a lot of skeptical questions: Why did he think his Museum of Comic and Cartoon Art would succeed where others had failed? How was he going to attract funding when the most prominent member of his board of trustees was cartoonist Ted Rall, who had just un-endeared himself to America by satirizing the venality of 9/11 widows?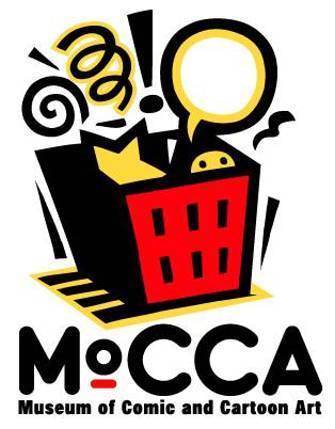 Ten years later, Klein is entitled to have the last laugh. Although he had handed the reins of the museum to others by 2008, the museum is alive and … pretty well, all things considered. The MoCCA festival has flourished and a series of varied educational programs sponsored by the museum continues to thrive. As for the museum itself, well, at least it's still here, and that's more than some comic-art museums can say. It hasn't gone virtual the way Kevin Eastman's Words and Pictures Museum did in 1999. And it hasn't been absorbed by a university like Mort Walker's Museum of Cartoon Art, now a resident of the Ohio State campus. But if MoCCA is a success story, it's also a story of compromises and struggle. It's a story that may have much to tell about the place of comics in the East Coast art world. Because, for better or worse, MoCCA is the high-water mark for the level of respectability that comic art has been able to carve out for itself in its home town.
On the occasion of MoCCA's 10th anniversary, therefore, the Journal decided to take stock of what the museum has accomplished and what it has failed to accomplish. The short answer is that it has survived and grown in various ways, but if a museum can be judged by its art collection, MoCCA has fallen short of the mark originally set for itself. Unlike most museums, MoCCA had no collection when it started, but Klein told the Journal back in 2002, "I'm certain the collection will come together." Building a collection is among the goals posted on MoCCA's website. But 10 years down the road, the museum is still not in a position to adequately build, store or display its permanent collection. Its resources are so limited that even when a major, historically important collection has been donated to MoCCA, the museum has had to break up the collection and sell off parts of it. As much as the museum aims to serve the history of comics, its survival has sometimes depended on actions that have damaged the record of that history.
In the report that follows (and in the accompanying interview with Lawrence Klein), we will try to understand how MoCCA has arrived at its current situation, a state of affairs that is both admirable and deplorable.
•
The trauma that was 9/11 created many of the conditions that allowed both the museum and the festival to come into being. Klein's intellectual-property company, Visualization Technology, was located so close to the World Trade Center that it was cut off from electricity for months following the terrorist attacks, effectively putting Klein out of business and leaving him with time on his hands. At the same time, New York's alternative-comics community discovered a new cohesiveness. The annual Small Press Expo had been scheduled to take place Sept. 14-16 in Bethesda, Md, but with air travel suddenly a question mark in the days after 9/11, the event was canceled. On Sept. 12, however, Matt Madden and Jessica Abel were already on the phone with Charlie Orr, asking if they could use his Greenpoint loft to mount a local indy comics gathering. Hundreds showed up Sept. 16 for an impromptu event calling itself SPX-iles. Kristen Siebecker (then promotional assistant for cartoonist Alex Robinson), who had witnessed the kind of response Madden and Abel had generated in a matter of days, approached Klein about organizing a permanent annual New York festival, and MoCCA was born. It turned out that New York was hungry for an opportunity to recognize its alternative comics scene and the MoCCA Festival, which began as a fundraiser and public relations event for the proposed Museum of Comic and Cartoon Art grew year by year into a high-profile happening in its own right.
The festival has had its ups and downs, culminating in a critical mass of complaints in 2009: Late start, not enough garbage cans, overpriced dealer tables and badges, poor communication, inadequate PR, and the suffocating heat of the insufficiently air-conditioned 69th Regiment Armory building in June. Not helping matters was MoCCA President Ellen Abramowitz' head-in-the-sand press release after the show celebrating its "tremendous success" despite a few "warm moments and other minor glitches." By simply moving the festival date to April the following year and each year thereafter, the sweltering heat was avoided without having to bring in expensive air-conditioning equipment. No longer threatened with heat stroke, festivalgoers have been in too good a mood to gripe and overall online comments have been favorable for a change.
The relatively high fees charged to festival participants remain a sore point, but Abramowitz reminds critics that the festival is not a for-profit operation like some comics conventions. The funds it raises go to support the Museum of Comic and Cartoon Art. Longtime MoCCA Trustee Jim Salicrup told the Journal that the bulk of the funds that keep the museum afloat come, not from the $5 donations requested of museum visitors, but from the proceeds of the festival. Some have objected to the unfairness of charging hefty fees to struggling alternative cartoonists and publishers in order to fund a museum that gears its exhibits to broad audiences rather than to indy aesthetic values. Ironically then, the museum is a rare instance of the alternative community subsidizing a more mainstream enterprise.
With longtime Marvel editor and writer Danny Fingeroth appointed to direct it, MoCCA's other offshoot, its educational series of workshops and lectures, showed every likelihood of courting New York's large mainstream superhero publishers. In fact, MoCCA's administrators have described it as "balancing" the alternative emphasis of the festival. Indeed workshops by superhero-comics creators have been a mainstay of the educational programming. But, remarkably, the series has consistently mixed in quirkier sessions by people like R. Sikoryak, Peter Kuper and Bill Plympton. According to Abramowitz, the more alternative programming has held its own with the mainstream-focused classes and has regularly drawn substantial audiences.
The educational series, like the MoCCA Festival is an undeniable success, but there is a limit to how much success can be allowed it. The lectures and workshops are not held in some nearby lecture hall; they take place in the same space where the art is hung: the museum. When a class or workshop is held, rows of chairs are dragged out and set up in every available inch. According to Salicrup, although the educational events can draw anywhere from three people to more than 60, the museum strains to allow more than 20 bodies in the door at one time. According to Salicrup, "We've had programming where so many people showed up that we've had to close the doors. Some events we've declined to have, just because we knew they would be so popular that we couldn't accommodate the crowd."
Something funny happened along the way to success: While the MoCCA Festival and educational programs were drawing larger audiences and increasing media attention, the museum that they had been intended to support and promote had come to take a back seat.
•
Consider the Museums of Comic and Cartoon Art of two alternate universes. In one universe, as reported on various obscure but enthusiastic websites (replicated verbatim on faveeo.com, furniturefashion.com and others), "Comic or rather 'graphic novel' fanatics will soon get to share their love with like minded fellows and no I don't mean Comic-Con. The proposed Museum of Comic and Cartoon Art MoCCA will sited [sic] on a 14000sq ft lot in Manhattan's lower east side near the Williamsburg Bridge from Brooklyn and seeks to be a hub for the most comprehensive comic and cartoon art collection. The design proposal lists spaces for gallery, classrooms, café, retail, theater, lecture hall, IT/computer lab, offices, archives, workshops, library, conference and convention center, and the idea to have a fully immersive environment. The project has been conceptualized by architects Reid Ynstrom and Alessandro Ortiz and I can't wait to see it take shape" [sic throughout]. Unfortunately, like many Web news reports, this one was half-cocked. It turns out that the described museum was simply an entrant in a Web-sponsored contest to design imaginary facilities for MoCCA. Ynstrom and Ortiz were not even the winning architects.
More about the contest and its winner shortly, but first, consider the Museum of Comic and Cartoon Art of a second universe, which happens to coincide with our own impoverished reality:
A visitor to the museum between Prince Street and Houston Street in Manhattan's SoHo neighborhood is likely to walk past it a time or two before finding a nondescript, unmarked doorway between other business fronts. Inside, MoCCA can be found on a list of numerous building tenants next to an elevator. The museum itself occupies the first suite after the visitor steps off the elevator on the fourth floor. It is a quietly lit gallery space occupying about 975 square feet.
Comments by tourists on Yelp include the following:
"The exhibit area is so dense and really kinda tiny, so you feel like you're browsing through the private collection of the hippest person on the planet. One slight drawback is it's a really difficult place to find. There are no signs for it at street level and you have to enter a large office building, search for it on a directory and check in with a desk guard before riding the elevator up." (Posted June 20, 2010 by John W.)
"This place has the weirdest hours and they don't have them listed on the door. Sometimes even when I check online and head over it turns out to be closed." (March 5, 2010, David A.)
"I think this museum is so important but it's so damn small, there's not enough room for anything!" (March 29, 2010, Lauren M.)
"A very nice cozy space, but don't expect to see any signs in front of the building indicating that the museum is there. It is very very small. There is a salon in the same building that will wax your butt cheeks." (Nov. 26, 2006, Henry Y.)
More than one visitor reported having their arms twisted to get them to fork over the $5 suggested donation.
When the Journal pointed out that the museum doesn't exactly jump out at you on the street, Abramowitz said she was well aware of the problem: "That's an issue that we get a lot. The question is: How come you don't have signage, how come you don't have a banner? And that comes down to a price issue and also an arrangement with the landlords. The landlord, at one point, had an arrangement with another large tenant, a bank for instance, who singly had the only right to have signage and a banner up. If we put a plaque on the front of the building, if they allowed us, we'd probably be paying a fee per month on it. Because when we've had some special events, they let us put up banners out front. But it is difficult to find. I agree and I heard that. I hear it."
Not all the comments have been unfavorable. Several visitors who were able to find their way into the museum described the staff as helpful and knowledgeable and many found the exhibits, small though they may be, entertaining, informative and aesthetically impressive. When the Journal visited the museum last year, the exhibit was "Will Eisner's New York: From the Spirit to the Graphic Novel". Leaving aside the questionable ethics of having the show curated by Denis Kitchen, who, as agent and publisher for the Eisner estate, stands to profit from the promotion of Eisner's work, the exhibit was intelligently focused on Eisner's representations of New York and included work by artists influenced by Eisner.
There were no other visitors when the Journal was there. Museum registrar Mell Scalzi showed the Journal around and did her best to answer questions. The Journal asked about the controversy that had surrounded a recent Archie exhibition in which pages of art for the comics were displayed as corporate-owned properties with no identification of the artists who had done the work. Scalzi had only a vague recollection of the incident, but Dan Nadel (PictureBox publisher and TCJ.com co-editor) remembered it very well:
"I went to the Archie Comics show about three weeks into the run. There was no credit for any of the artists on the wall. There was a handout on the desk with credits, but nothing on the wall and also no explanation as to why Archie still had all of this art. (It all came from Archie). In particular, there was no mention of the way the company treated its artists, like Dan DeCarlo (i.e. like shit)." When the lapse was pointed out, the museum did correct the attribution error, adding labels crediting the creators for their respective works. Nadel posted a critique of the show, and later found himself blackballed from participating in panels at the MoCCA festival. According to Nadel, "I pitched a panel to Brian Heater [festival programming coordinator] and he told me I was not allowed to be on any panels."
Heater, noting that he has no official connection to MoCCA, did not confirm or deny Nadel's account and declined to comment on where such a directive would have come from. Salicrup acknowledged that Nadel was persona non grata at MoCCA that year. "We're all human," he told the Journal. "We're going to get mad. And we have such a limited number of panels, it would have almost been ironic if we had said, 'Let's find the people who are the most critical of us and give them a panel.'" Salicrup added that MoCCA has no hard feelings toward Nadel today.
Asked about MoCCA's ongoing policy on crediting artists, Abramowitz told the Journal, "All creators are credited unless they cannot be attributed, in which case we will indicate that on the subject card. Giving creators credit is of utmost importance!" The Journal asked if corporate pressures ever influenced the content of the exhibitions and Abramowitz said simply, "No." Abramowitz, Salicrup, and Klein all told the Journal that the museum has not been corrupted by big-money donations from the large comics publisher partly because there hasn't been any big-money donations from the large comics publishers.
Currently running at MoCCA until April 29 is a Batman exhibition (including work by Batman artists, Chip Kidd's collection of 1960s Japanese Batman memorabilia and items documenting the inspirations and career of Batman producer Michael Uslan) and The Art of Howl (featuring background drawings for Eric Drooker's graphic-novelization of Allen Ginsberg's epic poem). Each of these shows is one in a perpetual series of temporary and visiting exhibits. Whenever you go to MoCCA, you will see an exhibit that is passing through on its way to somewhere else; you won't see the museum's permanent collection. Scalzi explained that the permanent collection was in storage. When the Journal asked about where it was stored, Scalzi, not wanting to tempt burglary, was reluctant to identify its exact whereabouts. In facilities as small as MoCCA's, however, it wasn't hard to narrow down the possibilities to a doorway that Scalzi admitted led to the resting place of the museum's permanent collection. This door was in a moveable wall that did not extend all the way to the ceiling, which meant it was possible to see over the moveable wall to the back wall of the storage area. The entirety of MoCCA's permanent collection, everything it has accumulated in its ten years of existence, inhabits a space roughly the size of a walk-in closet.
(continued)