Headhouse Shambles is, apparently, the oldest open-air market in America whose structure is still standing. Arcs made of brick provide a roof for a section of a median on Second Street, directly adjacent to a Wawa. The Headhouse Farmers Market is held there on Sundays, but on Saturday, October 2nd, 2021, it hosted the Philly Comics Expo, PCX, a small press comics festival - an occasion for cartoonists to meet and socialize and trade their wares outside the stifling air of hotel basements the COVID-conscious would prefer to avoid. The presence of a roof overhead would serve to shield from any rain that fell, but that Saturday was accompanied by clear skies and a temperature comfortable enough for short sleeves.
"This is the most comfortable I've ever been at a show," said Sara Lautman, New Yorker cartoonist and forthcoming Diskette Press graphic novelist, who drove up from Baltimore with her recently-acquired dog, which she walked outside the show's perimeter.
A few blocks south and to the west of Headhouse Shambles is the storefront of Partners and Son, a comics store and art gallery where wax rubbings of the woodcuts John Vasquez Meijas used to make his book The Puerto Rican War hung on display. Store proprietors Gina Dawson and Tom Marquet organized the show, emphasizing local artists. In the age of Instagram promotions, word quickly spread via DMs to various people who knew each other from the internet and had never hung out IRL before. This was the first time exhibiting for Eddie Raymond of the zine Strangers, who in the past year has branched out into comics distribution and publishing, and drove down from New Haven, Connecticut.
I don't think the goal of PCX was to fill the role of the established small press cons that were cancelled this year: your Small Press Expo or Comic Arts Brooklyn. To me it seemed like a classic "small show" or zine fest, which would generally not receive any sort of press coverage were larger scale events not currently discouraged. Aside from the open air setting, a small show like this is implicitly COVID-conscious simply by not creating any professional obligation to attend. I can't presume that the exhibitors weren't motivated by commerce, but I do think the social aspect, after a year of quarantine, constituted a larger part of the show's appeal.
Partners and Son, in good standing with the South Street Business Association, negotiated the booking of the Headhouse Shambles space. Initially, the asking price to rent the space for the day was $700, which was presented as a cost that could be passed on to exhibitors if the organizers charged a $25 table fee. Congratulations are due to Adam Buttrick and the Festival Workers Association for the way they've shifted the discourse, because Marquet and Dawson did not think charging table fees seemed ethical; they negotiated their rental of this public space down to a cost of nothing, aside from paying an employee to work for the day. Things came together quickly enough I don't think many exhibitors worried about having a book finished in time for the show, although it's also true that current supply chain and shipping issues may have made this an unattainable goal for those who do their printing abroad.
Brian Baynes of Bubbles drove up from Richmond, Virginia. M.S. Harkness flew in from Ohio, and when I spoke to her, she had already made enough money to cover the cost of her return ticket. I did not travel very far at all, and showed up around 2:00 PM. Tables were taken down at 4:00. This didn't give me time to introduce myself to the work of as many strangers as I would have liked, but artists were able to sell some work to the store that put the event on.
Unlike SPX or CAB, there was no real larger publisher presence, save for the local Beehive Books, selling copies of Ronald Wimberly's newspaper LAAB and their lavishly produced "Illuminated Editions" of public domain books, like Margaret Cavendish's 1666 novel The Blazing World, now newly-illustrated by Rebekka Dunlap. Mike Dawson came across the river from New Jersey with copies of his First Second book The Fifth Quarter, and the table representing Partners and Son had some books for sale from Fantagraphics and such by artists not otherwise exhibiting. Charles Burns was walking around, as was Ben Passmore.
After the show, TCJ contributor and Domino Books proprietor Austin English tweeted: "I talk about this all the time, but when I'm at comic shows now, it is amazing how surging with real creativity comics is, with examples of unique cartooning at almost every table - while simultaneously the non negotiable public norm for the industry increasingly becomes staid work. It's potentially a very interesting moment for self published comics, as there's almost no hierarchy or institution to aspire to exactly, just the example set by other artists in whatever specific loop you happen to be a part of... or whatever lack of a loop you're up against."
A week before the Philly Comics Expo, an outdoor event called the Big Milk Xpo made its debut in New York, and Austin's judgment surely applies there as well. At that show, a new publisher called Cram Books, run by Andrew Alexander, featuring a logo designed by Max Huffman, debuted its first book, a collection of autobio strips by Angela Fanche titled Me & Night. I knew Fanche was an artist I wanted to talk to. I didn't anticipate her book being such an awkward art object. It has a risograph printed cover that wraps around (but is not bound to) the stapled contents of the book, which are on uncut pages that make it bulge in a way that is difficult to shelve. It costs $35. I was flustered, but undaunted. However, since the book was new, and I'd only read a zine or two of Fanche's previously, I chose to speak with her about a stray comment she'd made on Twitter, about Anke Feuchtenberger, in the hopes that talking about her admiration for another artist would provide insight into her own work.
* * *
[ANGELA FANCHE INTERVIEW]
I wanted to talk to you about something you said on Twitter about Anke Feuchtenberger, where you said there's this quality to this work you were inspired by and wanted in your own work.
Angela Fanche: The immediacy.
What is it that you want your work to do? Or what are the tones or feelings that you want your work to get across, if you're not going to do autobio anymore?
This book, Me & Night, is just the closure to it as a project. It's something else I'll do because it's fun, it's just a habit for me, it'll just be personal. But with [Feuchtenberger's] W The Whore, there's an immediacy, but it's so succinct. The message is clear, without being direct in any way.
Earlier this week I was flipping through her book Somnambule, do you know that one? As I was reading it, it reads so simply in a way, but it's so weird that it clears your head.
I know it's visually completely different, but I would just to say I love Julie Doucet, and the work gives me the same exact experience where a message behind what the artist is trying to achieve is clear to me. I know who you are as a person without you telling me who you are. You're just explaining it through other means. It's like water.
Both Julie and Anke, I think to a certain extent, do dream comics. I think that's maybe a part of it? Do you have any interest in that?
Yeah I've actually been working on dream comics recently, since I stopped doing autobio. Dreams, throughout human history I don't think we even know why we have dreams, and if there is a why.
I think we kind of do.
What do you think?
So the thing that I've heard and basically believe to be true, it's your brain digesting and processing of information so that it doesn't build up and become literally toxic? It's a way of cleaning out the chemical pathways you reexperience as consciousness again.
That makes sense. But don't you think it's interesting that the brain does dreams in order to clean itself out? Like, why does your brain choose to do that? It could just dump it. Why does your brain want you to experience it?
Sure. Right. It's just like, the relation of poop to food. It has to in some ways share the same substance as the waking world.
Yeah, it has to actualize itself. That makes sense. But it's just a phenomenon, I think. That's what I mean to say. Instead of saying why do dreams happen, it's just a phenomenon that it does. You know, after you say that, it does make sense. It's just the dumping of the mind, just the processing of your experience. Anyways, yeah. Dreams are so tangible. When Julie translates them into comics, she makes them seem more real. I feel like Anke, I feel like her work is already so dreamlike and surreal you're like "this can't happen." You're in a dream world. Whereas Julie Doucet it's like "this could happen. It's kind of weird and things are off, but yeah." It's very material.
Part of that is because of the body as subject matter, right?
Yeah, that's true. Julie Doucet's much more rich in material with her drawings and the way she does stories, while Anke's it's more bare, but it's rich in other ways, like texture.
The pacing's incredible.
I know. It's like mountains between panels. So much happens between the pageturns.
You should check out Somnambule. It's more like animation because there's less narration.
I will. Something I wanted to say earlier, I think Anke and Julie Doucet, it's true comics. It's not just words and pictures and then you combine them. They know that fluid, you know? They know how to really access true storytelling.
So when you're working on your work, how do you access that?
You have to be as honest with yourself as possible. You can't be cognizant of "oh, the words, and the pictures here! How they interact, like this!" You have to really feel them. I don't know, this is just me. But you have to really feel it, you know? I can't explain it more than that. You have to do the thought first, and then you draw, and they don't go the same way. You can't think and draw at the same time.
Does doing autobio and recollection make it easier? How is this gonna manifest in the new stuff?
When I did autobio, it's just my day, right? And it comes from a place of extreme loneliness, extreme sadness. Like I'm crying a lot in these panels. And maybe some people are like "That's not true! You can't be crying that much." And maybe I'm not. I don't know.
It feels like you're crying a lot.
Yeah, yeah. And even if the tears don't come out, I'm drawing it because that's what actually happening to me. That's my real world.
That's the visual representation of the internal soul.
Right. But I meant to say, my autobio comes, I would say, ninety, maybe ninety-two, ninety-three percent of it, I have to draw the day of. Because, that's like a dream I guess. That's my toxic thought. I was talking about this with Gabrielle Bell and she also agrees, she says she has to take notes, do sketches the day of, or else that feeling of the day escapes. And her autobiographical comics, it goes without saying, you know.
I think she's really good at the non-autobio stuff she's doing. That shit hits for me. Not that her autobio stuff is bad, she's just getting really good at telling a story.
Well, Everything Is Flammable, was that autobio?
Yeah, that's a memoir.
I loved Everything Is Flammable. And I feel like she has good recollection. She's very present when she lives her life. That's why her autobio comics are very... hers are clear in a way where it's like a real story being told. I can completely separate her and her drawing, because she can really actualize herself as a character.
Do you feel present in your real life?
I'm not observing it. She's an observant person. She's paying attention to all the details and she's taking notes. Like she's taking down, "Ok, that's happening. This is happening." I can't speak for her, this is just my observation, but I feel like she's present. I feel like I'm present in a different way. I'm absorbing. Like, ok, I don't know what's happening. But I'm going to figure it out later. It all becomes a feeling.
Like a zen thing.
I don't know. I would leave the experts to dissect myself.
* * *
Reading Me & Night after the show, as I was doing my own work of recollecting the festival in order to recapitulate it for this article, several panels struck me as applying to my own thought processes that it makes sense to excerpt them as a form of editorial illustration. Like this one:
* * *
The first comic I purchased at the fest was issue 1 of Fondant, by J. Webster Sharp; it was sold to me by Domino Books, as Sharp is an artist who lives in England and was not at the show. The inside cover says it was drawn from August to September 2021. The last comic I ordered from Domino Books online was Sharp's last comic, Pretty Flavours, which is marked as being drawn from June to July. Jemma's an exciting artist, with a pointillist style of rendering horrific sexual imagery, often in proximity to uncomprehending girlhood, reminiscent of early Renée French or Melinda Gebbie. These comics do not deal in linear narratives so much as they present associations. The art feels both Victorian and rotting away with decay. Uncomfortable feelings are rendered in a refined style. Fondant adds a layer where wished-for sexual debasement, women-as-furniture imagery, is located within a depressive's desire to exist absent of consciousness. Such elements are found in what the inside cover lists specifically as the second story, but there is a similar enough tonality at work for these pieces to flow into one another. This image is from the third story, "Space Chameleons":
While this story seems less sexual than the others, due the presence of lizards, something undeniably weird is happening to what would presumably at one point have been a penis.
It's worth noting the last image you see before closing the comic is a very well-rendered depiction of Charles Schulz' grave. Given the rest of the issue's contents, this image reads fairly ambivalently. It could be the document of a reverent sojourn to Sebastopol, California. It could be disrespectful or sacrilegious, "pissing on his grave," degrading both the man and the cross carved into his marker. Somewhere in between is that the truth of the comic and the truth of the grave is the same: there's no denying that Charles Schulz is dead.
* * *
Sharp's beautiful approach to horror strikes me as being in dialogue with the Philadelphia artist Henry Crane, whose comic Late in the Years I bought a month or so ago at Partners and Son; it blew me away with its visual impact. He also recently completed another zine of drawings, called People I've Seen. I really wanted to speak with him and introduce his work to TCJ readers. (Please note, the comic is too large for my scanner, around the size of Kramers Ergot 10, so the above image is a cell phone photo.)
* * *
[HENRY CRANE INTERVIEW]
First question is, how old are you? The drawing in the book is really fuckin' good, how'd that happen?
Henry Crane: Thank you, yeah. I'm 25. I've been working on it since I was about I was 21 or 22.
Late in the Years, specifically?
Well, both of the books. Late in the Years and People I've Seen kind of happened at the same time. So when I originally started it, it was intended to be more a way I could improve my drawing skills. I love comics but I didn't necessarily intend to want to make one. I more wanted to make one because I knew if I wrote a narrative story I didn't have drawings for yet I would be able to fine-tune the drawings I already do and have a big sellable portfolio, in comic form. So the story I was into too, when I came up with it. I knew it would have to be something I would be into working on for a long period of time, but I really wanted to see how much better I could get my drawing and painting abilities through a story.
But it's a horror story, horror imagery. Is that what you're primarily interested in, or what your other work was like? Did you go to art school?
I actually was in art school for a semester and then dropped out.
Which one?
PAFA [the Pennsylvania Academy of Fine Arts]. Then I dropped out to do EMT work actually, and then did that and then I guess I wanted also to have the comic. If I had a story coming out that I knew I had to do pages for it would keep me on the project, I wouldn't lose the interest in the craft by not being in school or something like that. With the horror stuff, I like horror type of media like movies, music, like everything like that. What's funny though is I don't — I really do like it. I like scary stuff, but I guess I don't make horror work with the intention of it being in the horror genre. I just feel like I make what I make. I know for some people that do more like romantic style stuff, it naturally comes out of you, you know?
It seems like it suits your style because of the heavy level of detail and dark lines.
No that's definitely true too. Originally when I started the project I actually had done the preliminary version of the book Late In The Years, like I'd drawn every single panel and everything and that too was all about improving the skill and everything like that. And with the style I was doing, the sharp, dense, thick black lines, I think it just worked in a way. I didn't necessarily consciously intend to write this dark story and have it just look good automatically, it was kind of like, "this feels like it's coming from the same place." I'm writing a story of nature imagery, stuff like that, that is gonna work. I don't know exactly what it's gonna look like, but it's gonna fit.
Looking at your style I was thinking of like Steve Bissette on Swamp Thing. But I don't know what you would say would be your influences or the comics you were into.
Mmhmm, mmhmm. With comics for me, I always feel like I'm lagging behind in comics knowledge that some people have that are really into it. Like, I love comics, it's definitely like I don't know any of them. I love Al Columbia, I love Charles Burns, I love Alan Moore's stuff. I think I end up reading more books than comics. But with the comic, with the horror stuff involved in it, with the imagery and the style and everything like that, I wanted it to feel unique in some way. I wanted to do horrific stuff in it, but didn't feel so in your face and like a horror comic. So a little bit more subtle. I actually wanted it to have more of a positive outcome at the end of it. That's why everything becomes so much more colorful and bright and everything like that. Honestly, I can't really say I have influences. I feel influenced by the music I listen to, movies, everything like that, but I guess when I'm working on something, I don't really have a person in my mind I'm trying to emulate or anything like that. Honestly I feel like I'm more just trying to get by with what I can do. I would love to make my stuff look like the people I like, it's just I like what I can do and I want to make that work. I want to make my skill work for what it can be, rather than than try to fit like another person.
* * *
I have my preferences for a certain level of craft, and work that falls within the context of certain easily-understood and already-beloved artistic lineages. Not all artists of interest to me share these biases, of course. Over the course of the weekend I heard numerous people speak admiringly about the Tinfoil anthologies, edited by Floyd Tangeman during his stint in the Bay Area. Tangeman was at the festival assisting with Domino Books, the distributor that I believe brought Tinfoil to wider attention beyond the west coast. The Tinfoil approach is youthful, brash, and unapologetically artsy. Its artists are trying something new, not necessarily in the field of comics itself, but maybe just in the sense that making a comic might be new for them. I would bet the overwhelming majority are not comics people, either in the sense of having grown up reading the things or intending to make the production of comics the primary focus of their artmaking or life going forward. It's an anthology that one doesn't read to locate their next favorite artist, but where the entire gestalt suggests a vision of what comics either could be or already are. (Although, for the record, Minnie Slocum's approach to shading and interest in decipherable narrative stands out to me. And Hope Kogod, whose work also appeared in an issue of the Bay Area anthology Freak, works with black and white in a way that's pretty understandable, even as it pushes against a sort of drippy, nonlinear approach to page layout I think is pretty interesting. I would love to see more longform work from these artists, but I have no idea if that's something they'd be interested in pursuing.)
For me, as a critic with an eye towards a reading experience, it is easy to look at Tinfoil and conclude "I can't make heads or tails of this." For an artist or practitioner of the form, it's inspiring in the pure art it represents, unencumbered by received notions of rules governing how things should be done. One person I overheard expressing admiration for Tinfoil, while also searching for individual back issues of Dirty Plotte, was Nick Bunch: seemingly the ringleader behind the Reptile House anthology, now seven issues deep. Issue seven features a color cover and a short story by Tia Roxae, previously interviewed at TCJ by Katie Skelly. I took a photo of Noel Freibert, wearing a Kazuo Umezz Orochi shirt, proudly showing off a piece of Roxae's art he had just bought, only to discover afterwards it was blurry to the point of incomprehensibility.
Reptile House, like Tinfoil, features many artists who use pseudonyms to present their work. Reptile House has folks going by aliases like mechanicalpencilgirl and Cum Mask, while Tinfoil has Fried World and Good Boy Evil. While the gestalt of Tinfoil comes together as an overwhelming thing, Reptile House is a bit more readily discernible in terms of its individual voices. mechanicalpencilgirl is working on a serialized story called "Maggot Cock", a tale of Cronenberg-esque body horror rendered via big anime titties, exposed buttholes, engorged cocks excreting bugs, and caterpillar worms with human faces. While other people's styles are more overtly humorous, the approach taken is over the top enough to coexist easily alongside jokes angry enough it's clear the artists aren't completely joking.
* * *
Bunch's Blood Horn was serialized in the first five issues of Reptile House, and is now collected in a larger, better-printed format. (I believe the original issues were run off on either a home printer or a Xerox machine, while this is professionally printed.) Bunch seems like a potential rising star. While there are traces of Doucet in his drawing, it moreso recalls Derf Backderf or Spain Rodriguez. Pages are heavy with black ink, as his cast of grotesques moves through energetic layouts. The story is a humor thing, of the "all the people I don't like either get humiliated or violently killed" variety, maybe comparable in tone to Evan Dorkin, with the figures of irritation updated for our moment: southern cops; coked-out and teen-chasing scenesters; nerds carrying Narcan. A mysterious and violent woman runs through it all, setting the plot in motion and standing above the fray; slashing throats, setting bombs. The shiny surfaces of black leather and gleaming knives create an immersive and movement-filled cartoon world, punctuated by recognizable depictions of Philadelphia locations and band logo lettering.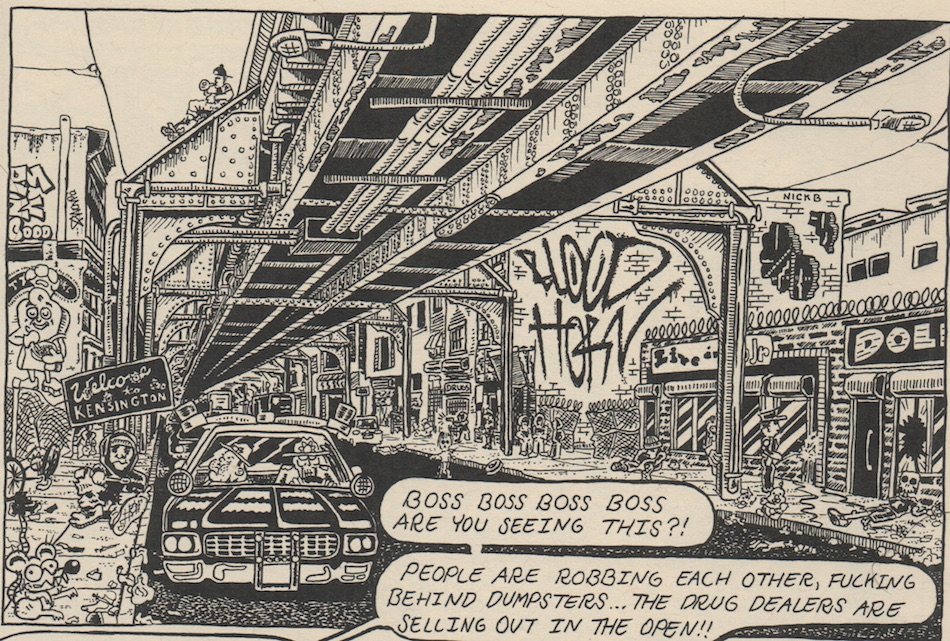 * * *
I didn't recognize the title My World's on Fire, How About Yours? as being a line from Smash Mouth's "All Star" until the zine's author, Ana Woulfe, explained the reference to me. Similarly, I'm not sure if I would've understood the zine's contents as deeply personal were it not for warnings in its text pieces to the effect of "this one's real intense, make sure you can handle it before embarking on this journey, I'll be funnier next time." It's true, the closest thing to a cartoon character we see has certain similarities to a Mark Beyer design, but most of the pages are given over to textured lettering with a scratchiness to it, capturing an inner world of anxiety and moving beyond it. Minimal text, writ large, helpfully supplemented by more editorial-style text, interpreting the internal process undergone as being a necessary part of the work of transitioning and moving on to a place of increasing comfort within one's body and the larger world.
* * *
Meghan Turbitt recently was awarded a Koyama Provides grant to work on her comics, and is working on a book proposal of comics about birth and motherhood. Your Pal! is a zine about Gwyneth Paltrow's wellness/influencer brand Goop, essentially an illustrated catalog of things you'd be e-mailed about were you on their mailing list, like jade eggs to put in your vagina. Some bits are very deadpan with few jokes added on Turbitt's end: Goop really does sell a twenty-four karat gold dildo. The bit about Cameron Diaz holding Paltrow down while she gets a bikini wax, however, is a narrative invention. The visual style is sorta comparable to Gina Wynbrandt, but with celebrity caricature in place of self-portraiture.
* * *
There's a bunch of neat little gags in A.T. Pratt's PPPPMMHHSSSS, including that the title on the cover is an abbreviation for something that gets revealed halfway through the reading: a time-release punchline. Pratt's cartooning seems heavy with the distortion of analog static, rendered in a chunky line that lends the same weight to the lettering as it does his put-upon characters. I'd previously read one of his strips in the Double Digest series, edited by Pete Faecke, but didn't realize that his self-published zines add pop-up book folded paper technology to his arsenal. This one seems built from large sheets of cardstock, printed with one color ink on each side, then cut and folded into a colorful construct of an object. There's precision engineering to the layers of cut paper, and something similar at work with the layering of silly gags. Sorta like if Jason Shiga's mind was working with Gary Panter's hands.
* * *
Bhanu Pratap's Dear Mother & Other Stories, published by Strangers Zine, is pretty much exactly my kind of thing, recalling various works I've written approvingly of in the recent past. The pacing and approach to drama is reminiscent of Kuniko Tsurita, while the figures have that well-established Richard Williams cartoon physicality constantly dipping into abstract variations you see in Max Huffman's comics. Dramatic lighting and perverse narratives lend these figures a glistening sexuality, emphasizing the bulbous surface of skin and the gushing fluids that emit under pressure, in a way filmgoers might see in Julia Ducornau's Titane, which was released to American theaters the same weekend as PCX. Here we get depictions of erotic acts like a sex worker cracking an egg with her vagina onto the face of a paying client, like an X-rated variation on a memorable scene from Tampopo. Comic sequences play out the obscenely physical in a way that verges close enough to abstraction to never feel pornographic. Here's a bit that's not unrepresentative, but nonetheless stays close to the PG boundaries of a John Kricfalusi episode of Ren & Stimpy:
The book almost certainly deserves to be written about in greater depth than one brief mention in the context of a con report. However, it did debut at the show, and it is not yet available to order online. I'm unaware of the size of its print run. Readers should be aware of it as soon as possible.
* * *
DJ Whoops by Otto Splotch was printed by Bred Press, a risograph publisher out of Chicago. Other zines of Splotch's were printed in China. Bright color seems a necessary part of Splotch's cartoon aesthetic, which might seem at odds with his stories about self-destructive New Orleans dirtbags. (This one's about a dude making beats for SoundCloud who becomes a celeb but fucks it up by getting plastic surgery.) The bright hazy gradients cast all the debauchery in the forgiving light of the frictionless experience offered by apps, placing us halfway inside the abstracted space of the cloud, even as we remain tethered to decaying meatbags. A couple pages bust out that post-Tim & Eric/Spider's Pee-Paw gross computer texture zone to depict the world more unsparingly: as a place where bodies course with toxic sludge.
* * *
Nicole Rodrigues' book Stages of Sleep/Crossover is flipbook-formatted, with a sewn binding bringing many different paper stocks together. A page of pink cardstock separates the conclusion of each side, while a vellum transparency briefly interrupts the narrative of Crossover. Rodrigues' images often configure themselves so that a landscape or background exists adjacent to a figure, though the rendering of each does not have them in proportional relation to one another. Eventually it struck me that I could be looking at studies for murals. Their text is minimal and ruminative, often resolving into rhyming couplets. The political perspective expressed, in favor of nature and addressing one's personal problems or complicity within destructive systems as the first step to healing the world, seems like something the WPA would approve of were it still in existence. The general feeling of despair that emerges leads the work into autumn-appropriate haunted house decor.
* * *
When I say that Charles Schulz is dead, I don't mean to imply his work no longer has value or emotional impact. Rather, I wish to highlight that the economic circumstances that allowed his work to flourish and find a wide audience no longer exist. To be syndicated in thousands of newspapers, each individually with print runs high enough to collectively get one's work into millions of homes, is no longer a thing that cartoonists can do. A more salient point of comparison for the work of those exhibiting at the Philly Comics Expo would be Charles Burns, but alternative weekly newspapers of the sort that featured his work and allowed cartoonists like Lynda Barry to find a readership barely exist anymore, with those few still extant sad parodies of what they once were.
For instance, I don't think very many people pick up copies of Philadelphia Weekly, technically available for free in newspaper boxes all around the city. I don't pick it up, nor do I ever see anyone else do so, nor do I see abandoned copies left on the bus or subway. The paper announced last summer they were going to pivot their editorial politics towards conservatism. The story I heard was that its ownership was upset by sympathetic coverage of a homeless encampment, and then announced their pivot with a Kickstarter to seek further funding from monied conservatives, with one of the reward tiers allowing the backer to write up to three editorials. When this move was announced, the then-editor-in-chief said he'd be stepping down, but obviously this sort of pay-to-play system would make such (paid) positions redundant. This is roughly following in the footsteps of the current model of LA Weekly, now owned by conservatives and shorn of its longtime reporting staff.
The argument for the new Philadelphia Weekly is that, in a Democratic stronghold like Philadelphia, to be conservative is "the new alternative". It's fascinating this argument dances around using the phrase "alt-right", which would seem to be right there, but that's now clearly a euphemism for violent white nationalists; this pitch was aimed towards earning the approval of the ownership class who considers themselves conservatives in a more classic mode. Presumably the times have changed so that the landlord/small-business-owner demographic now includes people who like Nirvana and the Ramones, and so are flattered by the idea that they are "alt." The counterargument, that in a Democratic party stronghold it is far more useful to have a newspaper engaged in examining the disputes between liberals and leftists in a Democratic primary than a press organ that urges people to engage in the futile act of voting for Republicans in a general election, means nothing to the people who seek to make their money by convincing individuals to pay to have their writing published in a rag no one reads.
Obviously, these sort of decisions bode poorly for artists and cartoonists; it benefits neither those of a left-leaning slant nor those that just want to be paid for their work more generally to enter into a pay-for-play system subject to the whims of an ideologue. These newspapers simply no longer offer a viable path to publication.
Perhaps you have seen, piled in corners of various establishments, tabloids that resemble alt-weeklies in form but are solely about weed, and thought these might be outlets that might be interested in comics. Philadelphia cartoonist Box Brown, who tabled at the fest, recently launched a comic strip, Legalization Nation, providing essay-ish, The Nib-style comics about the legalization of weed. You would think these outlets would be the perfect venue for such a comic, but it turns out these papers are funded by corporate cannabis interests that run in an ideological direction opposite to what Brown sees as the best path for legalization to take, in terms of the way they want to see the laws written to benefit them. I wish I could provide specifics on the points of divergence, but the exact message of Brown's infographics, and the larger context they address, are un-parseable to me as a disinterested outsider. Brown's strip is published independently online, via Patreon.
Bill Watterson -- not dead, very much alive, but having chosen to withdraw from public scrutiny -- once offered a bit of commentary in the Calvin and Hobbes Tenth Anniversary Book, writing "Newspaper editors sometimes seem to resent that they have to run comics. Well, sometimes I resent being in their newspapers," under a strip widely interpreted to be making fun of USA Today. I'm worried that in all the affronts to good taste and common sense we deal with regularly, we might have already forgotten that this past June, USA Today gave over their front cover to a series of fake news stories as an advertisement for a Netflix show. That show, Sweet Tooth, was based on a Jeff Lemire comic originally published by DC/Vertigo.
* * *
New to the Philadelphia area is Audra Stang. She strikes me as a very observant humorist, attentive to the sensitivities and insecurities of young people, particularly in work environments not often captured in comics. Her series The Audra Show has been a highlight of the current self-published minicomic landscape, with each issue running 24 pages of clear, evocative storytelling. Her stories take place in a small southern town called Star Valley. Some of these stories take place in 1988, and concern the relationships between people who work at a restaurant together. There's also a storyline taking place in 2008, that involves sci-fi technology and pop-punk bands. Another story taking place in Star Valley circa 2008, titled "Tunnel Vision", is being serialized in the anthology series Rust Belt Review edited by Sean Knickerbocker. It had been announced that the next issue of The Audra Show, issue 6, would mark a leap to the comic book format, and I'd hoped that publication would make its debut at the show. (It did not.)
There is traditional comics making craft on display in Stang's comics -- concise in their dialogue, ready with their punchlines -- in ways that do not interest all of the artists exhibiting at PCX. This doesn't mean her comics are better than those exhibitors, but her characters are easy to love, and it's possible to talk about the origins of them in a level of granular detail I wasn't necessarily able to speak with other artists about. Still, I feel that many of the ideas and feelings expressed by all of the artists I spoke to are applicable on a wider level than just referring to an artist's individual work.
* * *
[AUDRA STANG INTERVIEW]
I guess my first question for you is how was the fest for you? Did you sell stuff?
Audra Stang: It was good. I sold a good amount. It felt sort of like a combination of CXC and SPX. and CAB, actually. CXC and CAB. Where you get like that foot traffic, because CXC's at a library, but then you have the really nice curation that CAB has, where you're not getting Steven Universe keychains or anything, not that there's anything wrong with Steven Universe keychains. Maybe not at SPX though. Not to interrupt, but are you going to transcribe this?
Yeah. But I've only done interviews on Google Chat before, so I have no idea how well this will work, using a voice recorder app on my phone.
That's cool. Because I did an interview for [the monthly print zine] Hype Pup with Frank [Santoro] on the phone, where he had me on speaker and recorded the phone call and transcribed that for Hype Pup.
That's smart. Ok. So you're building a fucking mythos here with Star Valley, so there's like two timelines, two time periods, you're covering. So what's the motivation behind "these stories and these characters exist in the eighties, and this is more recent?"
I was working backwards developing the characters so initially the Owen character was imagined in his forties in 2008, but I wasn't satisfied with him, so I wanted to know more about him, so I worked backwards and then I ended up with this 1988 story that I just kind of ended up getting more into than I expected. Originally, "Little Minnow" [in The Audra Show issue 1] was going to be it, but then I became so engaged with Bea and the restaurant storylines because I was working in a restaurant that I just kept sticking with them. But initially it was the 2008, and working backwards from there.
So you're not working in restaurants anymore, you're doing embroidery. Which, congratulations, because the service industry is such a trap.
Yeah, it got especially bad at the pandemic. People would cough on me when I asked them to wear masks and it was weird, I wasn't making enough to do that. But with embroidery it's interesting because I majored in drawing and printmaking and then I worked in restaurants for a few years so with embroidery that combination of-- with printmaking, that [working with] repetitive object[s] and with kitchen, you're collaborating and working in a timely manner, everyone has to come to the window at the same time, and embroidery's kind of the same way where we're working through these jobs. But it's a very different experience. When I worked at Chipotle, I had 45 coworkers, and working in embroidery I have 4 other coworkers. But I also make make $16 an hour doing embroidery, and my starting wage at Chipotle was $10, which having just moved from Greensboro, I didn't even question. I was like, "Double-digit pay? Sign me up! Hire me right now!"
Greensboro, North Carolina?
Yeah, that's where I'm from and I lived there until I moved to Pittsburgh a few years ago. But I'm not living in Pittsburgh anymore.
Yeah. Your boyfriend's going to school in West Chester?
Yeah he had started at Pitt but West Chester is more bang for your buck, or how would you phrase it?
Payton, Audra's boyfriend, standing a few feet away: It's cheaper, and it's a quality education.
Audra: That's sort of like my deal with UNCG [the University of North Carolina Greensboro]. I had originally wanted to go to SCAD [the Savannah College of Art And Design] in high school, and I was interested in SVA [the School of Visual Arts] because I read Umbrella Academy and Gerard Way had gone to SVA, but then when it came time to actually look at the money, UNCG was $8,000 a year, and SCAD and all those other schools were like $40,000.
I feel like it's really fascinating how schools get kids to take on all this debt. When you're in high school you don't necessarily know how much money your parents make.
Oh, are you serious? I knew everything about how much my parents made. I always did. Sorry, I didn't mean to talk over you, but our house got foreclosed on when I was 10 and I was like right there, baby. And you know it's funny because I remember there was an episode of Lizzie McGuire where Lizzie overhears her parents talking about the bills and has an existential crisis and I was like "I can't relate to this at all!" They used to come repo my parents' cars, but we hid them in our backyard. We would hide 'em in an apartment complex next to our neighborhood and walk to our house from there so the repo man wouldn't take our trucks. Maybe don't... yeah, publish that. Make me seem hard.
I just mean that's why kids go into debt at school. You sign up for student loans, you're just 18, you're given a credit card, that's how student debt works; it's with people who don't know how money works yet. You don't know how hard it is to get a career in your field.
It even ends up being a detriment too because being so hyper-aware of my parent's finances maybe made me make a better decision in going to college, but I didn't get my first credit card until maybe a year or two ago, because I was like "I'm not going to take out credit cards, I'm not gonna get debt," you know. I'm sorry this isn't even about comics. But it is, because it's all about comics.
And check this shit I'm about to tie it back to: you were saying you got into the Bea character in Star Valley 1988, but the Margaux character it seems like you love drawing, and there's this class aspect to the compelling quality of a person who does not need to worry about money, and has insane power that then translates into sexual dynamics.
Yeah, that's pretty much right on the money. I mean I really like Eric Stanton's art and his stuff also focuses on different power dynamics. He started with the fighting women comics and I think he found success with the fighting women comics and then he moved more into the BDSM femme-dom stuff with, I think it was Irving Klaw, I'd have to look it up. I know he shared studio space with [Steve] Ditko for a while and that's how everybody knows him, like "Spider-Man's BDSM", you know, but yeah, applying that. My thought about Margaux is, you know originally my first story I did with Margaux was like, well actually this might be spoilers, so I won't talk about it but yes. Margaux has the money to play with people like they're not even people.
So you're doing this issue six. Funded via preorders. Which, as somebody who objects to Kickstarter on philosophical grounds, I feel like you're doing it correctly.
Oh no, you're gonna be mad at me then.
Are you gonna Kickstarter it?
I'm not gonna kickstart [issue] 6, I'm looking into other means of getting six printed because I only have the money right now to print a small number of copies, but the smaller amount of copies you print the more your unit costs. I'm looking into a collection of 1-5 that will likely be through Kickstarter but that's all I can really say about it right now. But 6 should be out in December, and then 1-5 collected will also be around December/January I think. Issue 6 is more of the 1988 storyline. There's like a brief 2008 glimmer in there.
Are you doing embroidery 40 hours a week?
No, right now I'm a shophand and I've been working the lower tier of my hours because there's a woman who's about to go on maternity leave, so once she departs for that I'll probably be closer to 30 hours a week, which was pretty similar to the arrangement I had prior to the pandemic, it's just that I was prep cooking instead of embroidering.
Is this less hard on your body?
I'm working it out. Right now my big struggle is finding a way to hold the scissor so that I don't have to bend my wrist. Like I'll switch off with the other workers like "why don't you cut for now and I'll steam and fold" because with a kitchen knife I got really good at you hold your wrist in place, you don't extend your finger, so I never had a problem with carpal tunnel as a cook even though I knew lots of cooks who did, but I haven't quite found the secret. I've been watching barber videos and people who cut hair for how they hold scissors to not get carpal tunnel. But in every other respect, like mentally, it's much much better. And yeah, honestly, Chipotle's the hardest job I've ever had. Even when I went from Chipotle to a from-scratch kitchen, working in that from-scratch kitchen was maybe 60% or 70% as hard as I worked at Chipotle. I mean they work you to fucking death at Chipotle. It's a lot easier and I make 16 dollars versus 10, and I get benefits, I had benefits at both jobs.
And you're working out the world in your head, you're able to delve into more?
Yeah, some of it's been worked out for a really long time. Some of these characters, versions of them have existed since I was 14 or 15 so I've literally spent half my life with these characters. Like Owen's one of my oldest characters. Margaux's one of my newest characters. I don't think Margaux came about until like 2017. I got fascinated with the TV show Moonlighting briefly and I watched all the b-plot episodes of Moonlighting because there was a point where Bruce Willis and Cybill Shepherd got along so poorly, and Cybill was pregnant and Bruce was working on big budget movies they gave the, for lack of a better term, "quirky secretary" a boyfriend character played by Curtis Armstrong, and there's entire episodes, or I think there's only one because people got so pissed about it, where Bruce and Cybill don't even appear and you have Curtis Armstrong and Allyce Beasley carrying the entire episode. And I love these episodes, the only episodes of Moonlighting I think I've seen are these ones. But I became interested in Cybill Shepherd, the actress. Like Margaux wears sneakers because Cybill would wear sneakers on set, because she was like "I don't want to wear high heels" and there's red carpet photos of her. And it's interesting now because I've noticed with zoomers the sneakers and dress thing has becomes a look and I think it's interesting that Margaux has this contemporary 2020 look kind of on accident. It all comes back around again, that's what my mom used to say.
The Rust Belt Review stuff looks good in black and white. I wanted to talk to you about black and white versus color. Because when I saw the color, I was like "this is some Frank Santoro school foreground vs. background."
It's interesting because it's a chicken and egg thing. Because the reason why I was drawn to Frank's work was because of how he uses color in abstract ways, which is something that I've always done too, perhaps in a different way than Frank but I've always thought of color as a leitmotif, so when I first saw Frank's work on Tumblr, like Cold Heat, that was kind of closer to what I wanted to make than what I was making. But I don't know. I think Frank helped me refine my sense of color that was already there, because it was less color I was struggling with than hierarchies of value. Because I might color a page and put it over to greyscale, and the whole thing is the same value because in color, yellow looks bright. You think "Oh yellow, it's so much brighter than everything else," and then you throw it in greyscale and it's a middle grey. So that was really more what Frank helped me with. I wasn't familiar with grisaille which is where they paint the paintings in black and white initially and then they add color to those black and white paintings. And that's also why I did "Tunnel Vision" in graphite, because I still feel value can be something I struggle with, and that I can-- not cheat my way out of it with color, but. Sometimes you don't realize value systems are completely off because of the way your brain works. Like the whole thing about how we're never supposed to use the color green, it has something to do with how, supposedly as hunter-gatherers, we became less attentive to the color green because we were seeing it everywhere, so our eyes were trained to be more drawn to red and yellow because that's where the berries and shit are, that we want to gather and eat. And now we're all like "you can't make an all-green painting." I don't know if you've ever heard that before, but that's a weird fine arts bullshit thing.
But you're paying for color printing?
Yes, kind of. I had been printing on my restaurant's menu printer. Which actually was not my idea. It was his idea. Gestures to boyfriend. He was working at the same restaurant as me. He was the upstairs line cook and I was the downstairs prep person, so sometimes we would work shifts together. And Payton has a better eye for business opportunity than me so he was like "Yeah man, why don't you just ask our boss if you can run off some books on his printer?" And then I did, until when the pandemic hit, they had to start cracking down because I was also printing more and more books. We didn't realize they were renting the printer and paying by print and they didn't realize how much we were printing. I felt really bad about it, but they were cool about it. Once the pandemic started, I didn't have access to that printer anymore so I used one of my relief checks to buy a Brother business-level printer that can take the high-volume toner cartridges. Get this, I did the math: on a standard toner cartridge, which is what I could initially get this month with the supply chain issues, and why I have so many backorders right now, was I could only get standard ink cartridges, which will yield me about five copies of each book. So you end up with about 25 books with that. And then with a super-high-yield cartridge I printed 160 books and I still have about half to two-thirds of them left. So it's like the "broken boots" theory shit where if you have the money to put down to get a printer that can take high-yield cartridges, your unit price will be fuckin incredible. But you know, before I got laid off and I was getting relief checks, it simply was not feasible for me to be like "Yeah, I'm gonna put down 700 dollars that is one entire paycheck on a printer," but I paid it off in sales. I pretty much paid for it with Star Valley Stories, which was just a collection of comics from the Star Valley world that predated Audra Show and weren't in The Audra Show. I wanted to try something on my brand-new printer and I had all this material sitting that a lot of people hadn't seen yet. This is the first year that I have to report comics on my taxes because I had the money to invest finally.
Can you write the printer off?
I bought it last year in 2020, so I don't remember how-- this is embarrassing to say on the record, I should write it off but I have to look at how the tax dates work. I think, isn't it within April to April? I don't know man.
I'm fascinated by the idea of writing stuff off because if you're a working class person you don't have an accountant to tell you, yes you can write that off, and in fact, you should.
I was surprised to learn today about what all you can write off as research. It is legitimately research. But because it's something I enjoy, I guess, I always just think of it as something I would be doing anyway. But it makes sense.
* * *
I spoke to Audra as the festival ended. I saw Angela Fanche and Ana Woulfe riding off, away from South Philly, seated on the back of a flatbed truck. It would be hours until the sun set, and it did not feel like the day was over. A bar a few blocks away had provided drink tickets for an afterparty. Plenty of people passed; the bar is not an appealing prospect for many. Proof of vaccination had to be shown to get inside. Outdoor seating was available, on a segment of South Street that two years ago would've been reserved for parked cars.