The generation that has a hang-up about manga, it is limited to a handful of orthodox painters. 
Shinohara Ushio
Left Hook Manifesto, 1965
Even if you know only the first thing about postwar Japanese art, the name Shinohara Ushio (b. 1932) should be familiar. He's the spunky bantam-weight with the mohawk who, in the early 1960s in front of flashing cameras and copy-hungry journalists, interpreted action painting as a sport, wrapping sodden rags around his fists like boxing gloves to decorate sheets of paper and cloth swatches with a series of oversized black and white splats. The "rockabilly painter," as he was called, was featured many times in tabloids and on television as a representative of the new wave of Japanese youth.
His CV: In 1952, Shinohara entered the prestigious Tokyo Art Academy, staying for six years but never graduating. In 1955, he began performing and exhibiting junk sculptures in the seminal, non-juried Yomiuri Independent exhibitions. In 1960, he made his first boxing painting and helped found the Neo Dadaism Organizer, joined by equally famous artists like Arakawa Shūsaku and Akasegawa Genpei. In 1963, he was exposed to American proto-Pop and started creating sloppy, conceptual replicas of Robert Rauschenberg's and Jasper Johns' work. He called it "Imitation Art." In 1965, he turned to making paintings and drawings based on late Edo kabuki and ukiyoe prints. In 1966, Japan's leading art magazine, Bijutsu Techō, invited Shinohara to narrate his life as a hipster artist and leader of the country's Neo Dada movement. It was serialized under the title The Avant-Garde Road (Zen'ei no michi). In 1968, it was extended and illustrated and published as a book, a Sixties period classic.
In 1969, the artist received a grant from the JDR 3rd Fund to spend a year in New York. Short-term stay turned permanent once a green card arrived the following year. In 1975, Shinohara had his first show in New York of drawings, paintings, and Big Daddy Roth-esque motorcycle sculptures made primarily out of cardboard, paint, and plastic knickknacks. In 1985, he published New York Jirōchō with Kōdansha in Japan, a ribald account of daily life in the seedier parts of the Big Apple. The same year, again with Kōdansha, he published a second book on the topic, New York is Mad Again Today (Nyūyōku wa kyō mo taihen da), a collection of anecdotes and fun and fugly color felt-pen drawings, the style of which was partly inspired by an encounter with S. Clay Wilson's comics soon after arriving in New York.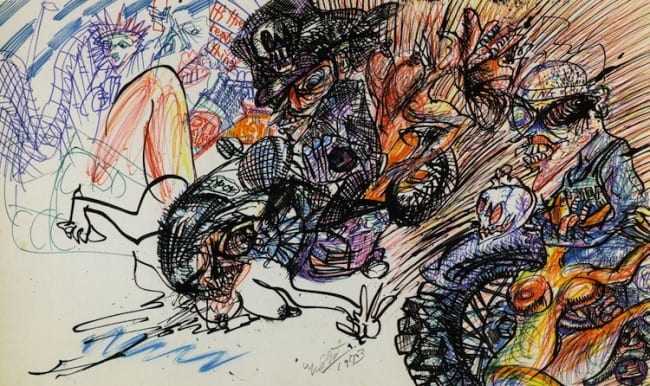 And now last summer, he and his wife Noriko – who is also an artist – were the subject of a charming documentary by Zachary Heinzerling: Cutie and the Boxer (2013). It was nominated for the Academy Award for Best Documentary. I recommend you see it.
So Shinohara's reputation as an artist is firmly established.
But as a cartoonist?
I have to admit that, until recently, I was only mildly interested in Shinohara's work. Exhibitionist action painting? Art stunts for the press? Tongue-in-cheek renditions of American Neo Dada? Ukiyoe Pop? He might have been the first out of the gate in Japan with some of these things, but a limited idea is a limited idea however original it might be. Even as an art historian, the oeuvre of Shinohara that usually gets touted leaves me feeling indifferent. In looking at his famed Tokyo-era work (1958-69), my brain sets off reluctantly on an obligatory jog connecting the dots on a global art map whose contours remain largely defined (for these years) by a Euro-American trajectory of abstraction, happenings, and Pop.
Shinohara's relationship to "youth" – as a biological and mental state of being, as a social and cultural category – seems a more promising line of inquiry to me. From documentary footage and photographs, it looks like he was a party animal, twisting madly to music with beautiful young people, spraying bikini girls in paint with a fire extinguisher. Hyperactive and extroverted personality inundates his work. Appropriately, as a young man he was an avowed fan of Okamoto Tarō's joie la vivre aesthetic philosophy – "the art of today should not be skillful, should not be pretty, should not make you feel good," Okamoto wrote in 1954 – to which Shinohara added another threesome, "directness, velocity, and excitement," after seeing the Frenchman Georges Mathieu action-paint in a department store window in Tokyo in 1958. In his mid-thirties, with a career established, Gyū-chan (The Bull, as he is affectionately known) came up with his own personal trinity: "Be speedy, beautiful, and rhythmical."
Rather than Neo Dada or Pop, it might be more appropriate to call Shinohara's work Hipster Art (I am not using the term in a derogatory sense) for its passionate depiction, appropriation, and physical embodiment of contemporary youth culture. His early work, for example, is oftentimes discussed in relationship to the so-called "sun tribe" (taiyōzoku) subculture of the mid-late '50s, memorialized in the earliest Nikkatsu Action films (Crazed Fruit and Season of the Sun, 1956). The name was used broadly in the press, but "sun tribe" referred specifically to bored and affluent teenagers wreaking havoc at the Shōnan seaside, south of Tokyo. Their taste in clothes and entertainment was seen as garishly American. Shinohara's circuit appears to have been more urban, and potentially less class specific.
Amongst the many ink-and-watercolor drawings Shinohara made in the late '50s depicting hip young Japanese chilling and brawling, there is a self-portrait titled "Danmo and Beat Painter." Shinohara is the "beat painter." Behind him there is a poster reading "Art Blakey, Big Funky." That and presumably the music wafting invisibly around them is "danmo," a hip inversion of "modan," as in "modern jazz" – similar in spirit to the British "Mod," a group that also originally emulated the Beats and burned hours in jazz cafes before moving on to rock. The poster is portentous. In 1960, Shinohara, already known to the press for his obnoxious hairstyle and exhibitionist performances, was singled out by reporters to lead an entourage recruited from a Shinjuku jazz café to go and greet Art Blakey upon his landing at Haneda Airport, the first visit by an American jazz band to Japan.
When I met Shinohara in New York during Polar Vortex 2014, I asked about these drawings. While benefiting from participant observation, he said that they were motivated primarily by the desire to capture the energy of pulp fiction in pictures. He dreamed of drawing illustrations for major literary magazines like Bungei Shunjū and Hōseki. The story that inspired him most was Ōyabu Haruhiko's The Beast Must Die (Yajū shisu beshi, 1958), initially published in Ōyabu's college literary journal (Waseda) before being reprinted for a mass audience in the Edogawa Ranpo-edited Hōseki. The story and its sequels, whose impact on contemporary film and manga was quite large, follows a graduate student who lives a properly diligent life by day and one of unrepentant theft and murder at night. Though titled after Nicholas Blake's novel, The Beast Must Die is more Mickey Spillane does James Dean than it is Blake's elaboration of noir-variety, murder-within-a-murder thriller. Lots of meanness, lots of coldness, lots of disdain, on the other hand lots of fancy cars and accessories, and almost no angst. Ōyabu's angry young man fashions himself a Dostoevsky-Nietzschean superman above moral order, but blood is shed for a very un-Nietzschean end: for kicks.
I have not seen the original Hōseki issues or the early book editions of Ōyabu's The Beast Must to Die to say what the story's period illustrations looked like. However, the big-bodied, rubbery-limbed, wonky bleeding line, casual color-wash mode that Shinohara employed is probably within the same orbit.
It is recognizable as a looser version of mid-50s American "jazz" graphics, based on Ben Shahn's imagery and popularized by David Stone Martin's album covers. That mode was a dominant one in Japanese illustration and poster design, usurping the fine-line bishōnen illustration that was typical until the early 50s, before itself being usurped by the cutesy, flat, patterned Pop graphics of the mid-late 60s.
I don't have a good example from the late 50s, so what I am showing below instead is a page (courtesy of Tokyo counterculture scholar Steve Ridgely) from the original serialization of Terayama Shūji's first and only novel, the boxing and jazz-themed Ah, the Wasteland (Aa, kōya, 1965), illustrated by Yamafuji Shōji, an award-winning poster designer at the time and later a popular humor cartoonist. It has the merit of showing that the Shahn style was still being used in Japan in the mid '60s, and was still strongly associated with music and sporting culture . . . which I point out now for what follows later. Rooted in '30s socialism, the Shahn style after the war exchanged its populism for pop culture. Andy Warhol also started out in this style, creating a number of magazine ads and jazz album covers inspired by David Stone Martin. Warhol would ditch it in the early '60s for the packaged cheeriness of the supermarket, the seediness of newsprint, and finally for photomechanical reproduction. Meanwhile in Shinohara's hands, the style was steered aggressively toward expressions of unbound youthfulness, towards pop-fueled youth culture versus Pop Art's mediated surfaces.
Something dawned on me recently. Shinohara, born in 1932, would have been in his mid-late twenties when he made these so-called "sun tribe" drawings, and around 30 during the heyday of his boxing paintings. It might not be odd now for someone that old to be identified with youth culture. But I suspect back then, before affluence had become widespread enough to release multitudes of Japanese into prolonged adolescence (a la the fūten hippies of the late 60s or the otaku of the late 70s), such overgrown children were rare. Historians argue that even the notion of "seinen" as a distinct social category situated between children and adult emerged in Japan only in the early 50s. If that term slides from "teenager" to "young adult," by no means does it include a person in their late twenties. There are no explicitly seinen manga magazines, for example, until around 1968. And though they were widely read by people Shinohara's generation, they were marketed at men in their early-mid twenties.
Even today, at eighty, Shinohara is made to uphold this super­-seinen image. Curators and gallerists continue to ask him to do boxing paintings, which is sad, not only because the performances are tired (the fountain of youth does not spring eternal) but also because he has done so much else that, without being as visibly active, is far more lively. It's clearly a put-on now. But even thinking back to 1960, one has to wonder how organic really was Shinohara's relationship to contemporary youth culture, its fads, and its spontaneous expenditure of mass amounts of energies in partying, fighting, and sex. Though Shinohara was included in documentaries as "one of those young people" (aru wakamono tachi), I imagine the early twenty-somethings with which he mixed regarded him, if not an over-aged interloper exactly, at least a cool elder brother spending more time than he should with the kids. Shinohara was no High Art poacher of popular culture (his immersion was too great, his appropriations too participatory), but nor was he the direct artistic expression of youth culture itself. This contradiction comes out in the comics-related work I discuss below.
Personally it's hard to identify with this material. Since crossing thirty, expressions of youthful exuberance alone just do not cut it for me anymore. Liveliness is great for booze with buds – which seems to have been one of the core activities of the Neo Dadaism Organizer – but in art I want life in its warty complexity, not just its fun parts. "Be speedy, beautiful, and rhythmical," Shinohara proclaimed. His work is fast, yes. Beautiful, sometimes. Rhythmical, rarely. Energetic, certainly – which is ironic, because much of the work has limited horsepower. The Gyū-chan dynamo could have benefited from developing, over the course of the sixties, some sort of artistic transformer to more effectively channel the calories of his high metabolism twenties.
(cont'd)