Dick Lupoff and I were both science-fiction fans, part of a community known to us simply as "fandom." We initially met at a late '50s Midwestcon, an annual SF convention held in Cincinnati, where Dick was one of several Bermuda-shorts-wearing fans from nearby Indiana. It was a casual, incidental meeting.
But in the spring of 1960 I got a phone call from Dick. He and his wife, Pat, had just moved to New York City, and were looking to make contact with local SF fans. My first wife Sylvia and I had moved to the city the previous August, and were now well plugged into local fandom.
So we took the subway from our Village apartment to the Upper East Side, where the Lupoffs had a penthouse apartment on fashionable East 73rd St. I was a scuffling young jazz critic, writing for Metronome magazine, but Dick was making good money working for a major corporation. Sylvia and I wondered, on our first visit with the Lupoffs if we were out of our element. Their apartment had an outdoor terrace and a fireplace. Ours was a four-flight walk-up.
It didn't help that Dick and Pat identified strongly, politically, with another Dick and Pat – Nixon. They were Nixon Republicans and supported him over JFK in the upcoming presidential election. We did not. But they were nice people, and despite our differences, we became friends. Visits to their penthouse apartment were frequent.

I was at that time publishing a fanzine, Void, which I coedited with Greg Benford. By 1960 I'd been doing fanzines for the better part of a decade and was well known in SF fandom. Dick had done relatively little as a fanzine editor/publisher, but had the urge. That summer of 1960 Dick asked me about helping him do a fanzine of his own. I had a Gestetner mimeograph and ran off others' fanzines for them. (Early in 1961 I opened a mimeo shop on 10th St. in the Village to augment my income. It became a SF-fan hangout.)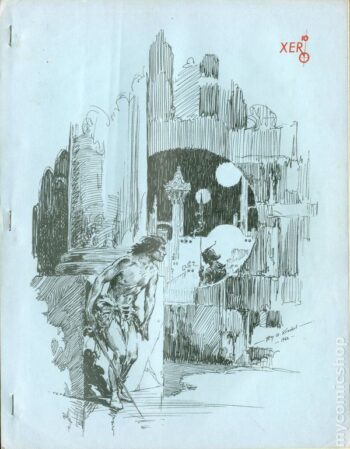 Dick had typed up the stencils for the first issue of his new fanzine, Xero. At his request, I took the subway to Pacific Avenue in Brooklyn, to a warehouse business called Pace Paper, and bought the required reams of mimeo paper for Xero. The first issue of Xero was thin, compared to subsequent issues, and memory tells me that the Lupoffs wrote most of it. Certainly the centerpiece of the issue was Dick's piece of comic-book nostalgia about "The Big Red Cheese," the original Captain Marvel.
No one then realized the subsequent impact of that piece. It didn't create comics fandom – which already existed – but it helped galvanize it. It sparked a wave of nostalgic interest in comics, mostly as relics of childhood, now fondly remembered, in SF fandom. SF fans had broad interests. Music was one, and comics turned out to be another.
In 1960, some of us had been comics fans for years. My friend Bhob Stewart created EC fandom with his fanzine, The EC Fan Bulletin. Bhob joined forces with Larry Stark and me to publish Potrzebie during the latter days of EC. EC fandom overlapped a lot with SF fandom, with some EC fans like Mike May becoming SF fans. Don and Maggie Thompson were SF fans who became comics fans around 1960.
This was the pot that Dick Lupoff stirred up.
I wrote the comics piece for Xero #2, "The Spawn of M.C. Gaines," an overly broad overview of the creation of comic books and superheroes. (I totally rewrote it for its book publication, focusing only on Superman and Batman.) The comics pieces in Xero were published under the running head, "All In Color For a Dime" and the series took off, with many fans clamoring to write pieces about their childhood favorite comics. One of them was Harlan Ellison, who was living just up my block at the time.
I mimeographed at least the first three issues of Xero, and had at Dick's request purchased the paper for the next issue when Dick did something I have never understood. Covertly, secretly, he arranged with friends living on Staten Island to mimeograph that and subsequent issues. I found out only when presented with a copy of the new issue. Why he couldn't bring himself to just tell me he'd made other plans, saving me the time and expense of a trip to Brooklyn to get paper he'd asked me to get, I'll never know. But there were other signs I failed to grasp then. They culminated when, in 1962 Sylvia and I amicably parted, but the Lupoffs decided I was at fault and a wife beater, and publicly shunned me. (For the record, Sylvia and I never fought and I never ever struck her.)
That led to a period of estrangement between us which lasted several years. Much happened during those years – the middle '60s – for both of us. The Lupoffs had two kids and moved from NYC to Poughkeepsie to work for IBM. Dick started writing and editing professionally, beginning with his interest in Edgar Rice Burroughs. I left jazz criticism for SF, selling short stories and novels, and I joined the editorial staff of The Magazine of Fantasy and Science Fiction in 1963. "All In Color For A Dime" became a book, collecting the pieces from Xero into All In Color For A Dime.
By then, we'd reconciled. Dick apologized to me for his behavior in 1961 and '63. His politics had shifted. He was no longer a Nixon Republican. Indeed, he was no longer a Republican. The '60s had caught up with the Lupoffs. They had become relaxed about things. It made them better people, better friends.
I became the editor of Amazing Stories and Fantastic magazines. Dick sent me an odd little story about someone named Ova Hamlet. I bought it and encouraged Dick to do more of them, which he subsequently did, ultimately collecting them into a book. The Lupoffs moved to California, to a house on the border of Berkeley and Oakland, where I visited them when I was in the Bay Area.
In recent times, Dick started a small publishing house, Surinam Turtle Press, or STP. He asked me if he could republish a book I'd done with Dave Van Arnam, Sideslip. I agreed and proofed the galleys. I doubt the book sold many copies in its STP edition; I never saw any royalties – or even a royalty statement. But it was a nicely produced print-on-demand book. It looks good on my shelf.
And now Dick is gone. How do I feel about that?
Well, somehow, while none of us was looking, we all got old. Old age has been catching up with us, and many of our peers and old friends are already gone. My friends from EC fandom, like Bhob Stewart and Larry Ivie, are gone now. And so is Harlan. And now Dick.

I remember Dick for his hearty laugh, for the odd stories he liked to tell – once, on adjoining stools in a bar he told me about a dream he'd had about pissing that never ended – and his generosity. He threw great weekend parties at his house in Poughkeepsie.
He'll be missed.
[Writer Richard Lupoff, one of the earliest catalysts of comics fandom, was among the first wave of fans to take comics seriously and who went on to write essays and critiques of comics, died Oct. 22 at the age of 85.]