Some revolutionaries wield cuteness and charm as their weapons of choice.
In July 2014, artist Rokudenashiko, aka Megumi Igarashi, was arrested on obscenity charges at her home in Tokyo. Her crime? Creating cute little anthropomorphic toys and other items designed from a mold of her own vagina. What specifically caught the attention of authorities was her design for a boat shaped like a manko (Japanese for "vagina") that she created with the support of a successful Kickstarter campaign. Because she enabled her backers to download the 3D art with which to create their own manko art, she was charged with "distributing obscene materials." Though the censorial forces against her are formidable, Rokudenashiko's outrage and fighting spirit spurred her to fight back, and in What is Obscenity? she tells the story of her incarceration, her efforts to clear her name, and much more: the book is a funny, smart, and pointed call to arms for freedom of artistic expression against antiquated and patriarchal repression. What makes Rokudenashiko's work all the more subversive and potent is that it is often flat-out adorable.
The book offers up concise background information regarding how sex and genitalia are viewed in Japanese culture, where any discussion of manko is strongly frowned upon. Rokudenashiko tells us that when she was young, she was taught to never even say the word aloud. In dissonance, the Kanamara Matsuri ("Festival of the Steel Phallus"), a Shinto celebration of the penis, is held annually in Kawasaki. Rokudenashiko instinctively knows that repressing the discussion of women's sexuality in general and criminalizing her celebration of manko specifically, are the culture's means of controlling and subjugating women.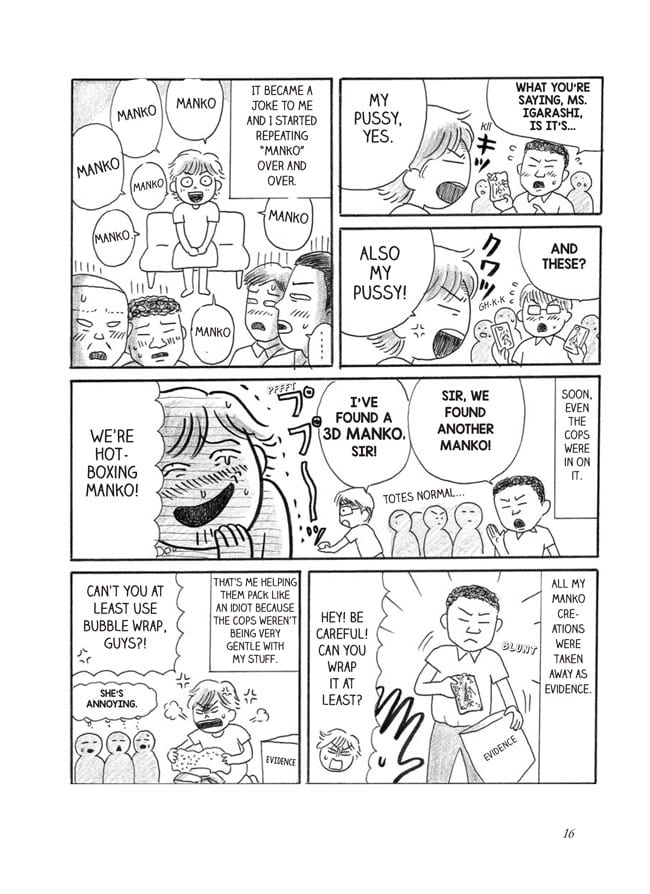 In her introduction, the artist explains her moniker: "Rokudenashi means 'useless' or 'good for nothing' in Japanese. Japanese mangaka (i.e., manga creators) make silly pen names for themselves all the time, so I made myself this silly pen name without much thought to it when I started my career in 'reality manga.' Manko art, as it happens, was also just a silly thing I did for the story." After her harassment from law enforcement, she doubles down with firm resolve: "I've decided to keep making even more ridiculous work with all seriousness… I am now joking around with every ounce of my body and soul."
The first section of the book consists of a series of four-page "What is Obscenity?" episodes, detailing Rokudenashiko's arrest and experiences in prison. The (shorter) second section features another series of four-pagers entitled "Why I Became a Manko Artist", which imparts with warmth and candor her often troubled backstory (including a failed marriage and a period of suicidal ideation), and both her artistic and political awakenings. Peppered throughout are short illustrated texts of additional cultural context such as the frighteningly high conviction rates of the Kafkaesque Japanese prison system, the enormously influential website forum called 2channel, and even the creation of "Mammy", a "Dairy beverage" popular in school lunches (now served up regularly to prisoners). These factoids support the larger narrative immeasurably, contextualizing the events and the larger Japanese culture for Westerners.
At one point, even while she's going through the trauma of being arrested, Rokudenashiko can't help but get excited over the fact that the experience will give her priceless material: "This is going to make an amazing comic!" That's an autobiographical cartoonist for you: a good story is a good story, whatever the personal cost.
Ultimately, Rokudenashiko's greatest weapon is her refusal to capitulate to the attempts at belittling and dismissing her: when she claims "Rokudenashiko"/"Good for Nothing", as as her own, she ties herself to a long and noble activist tradition of reappropriation (for example, feminists reclaiming "bitch," to express strength and independence, and the LGBT community's use of "Queer" to connote solidarity among its different factions and to state opposition to sexual binaries). Also, she tells us, "I've always liked to fight." The fact that the authorities prove utterly clueless about crowdfunding, among many other things, only strengthens her resolve and defiance. In one hilarious detail, she insists that everyone use "Manko" (her word) over "Genitalia" (their word) for a court record: "and that's how my statement came to be riddled with more pussy," she tells us, "than any other in history." She takes a particularly vengeful pleasure in hearing the court clerk reading the transcript aloud, forced to regale the room with the offending word, over and over and over.
Rokudenashiko's comics are spare and cartoony: she delineates even the most harrowing parts of her ordeal with charm and humor. In particular I found myself laughing while simultaneously wincing throughout the long section dealing with her incarceration; in presenting a horrible situation by accentuating its absurdity she further reclaims her personal power and agency.
Special mention should be made of the beautiful production of What is Obscenity?, helmed by the formidable Massive duo of Anne Ishii and Graham Kolbeins. The book is formatted like traditional manga—to be read right to left. The interstitial chapters (written by Ishii & Kolbeins) are attractively illustrated with full-color and B&W photos and illustrations, and the spare, elegant cover design by Chip Kidd pops. The back cover includes quotes from Margaret Cho and Jennifer Camper, women who have always used humor in their art as a tool of both defiance and enlightenment. Before the end of the book we are informed that Rokudenashiko has been arrested again (on December 3, 2014), but this time with ever-growing public support and media coverage. Her case is still pending. She tells us that when people ask, "Why are you so obsessed with Manko?" she throws it back at them: "Why are you so obsessed with it?" What is Obscenity? is groundbreaking manga–a brave, powerfully subversive political document. Its thesis can perhaps be boiled down to what Rokudenashiko's anthropomorphic manko states in a moment of revelation: "The power of Cute is mighty!" Indeed.