With their microscopic print runs and limited distribution, mini-comics are ephemeral by their very nature. For me, a really good mini is a prized possession, a rare little gem that I would be loath to part with. Michael Dowers has taken it upon himself to capture and archive some of these rarities for posterity, before they are forever lost to the ravages of time. His latest collection, Treasury of Mini Comics: Volume One, captures some very fine gems. The precursor is Dowers' 2010 collection Newave!: The Underground Mini Comics of the 1980s. Both books smartly honor the small, classic dimensions of the 4¼ x 5½-inch mini comic (enlarged to 5 x 6½ for the books) and both feature reprints of hard-to-find or forgotten titles, as well as interviews with important figures of the scene, both past and present.
Newave! was worthwhile mainly for its documentation of this vitally important sub stream of comics – it was in the '80s that the form apparently came into its own, and was finally recognized as a legitimate breeding ground for up and coming talent. The drawback was that much of the content fell short of the concept - perhaps a quarter of Newave came across as dated or slapdash, amateurish juvenilia. Happily, Treasury, which features comics from 1969 all the way up to 2011, feels much fuller in scope, more wide-ranging in style and content than Newave!, and with frankly better quality work overall. Contrasted with the almost entirely boys-club feel of Newave! – which likely reflected the reality of the mini-comics scene of the '80s - there are more women creators featured in Treasury (though still not that many); Leela Corman and Carrie McNinch are even featured interviewees.
If you've ever put together a mini-comic of your own or been a regular mail-order consumer of minis, you may experience some acute sense memories reading some of the interviews in Treasury (I sure did), especially when artists like Richard Krauss or Tim Corrigan talk about when and where they got hit with small-press zine fever, about getting those handwritten envelopes full of mini-comics magic in the mail, and the excitement and empowerment they felt fully embracing the DIY spirit. I loved seeing comics in here by folks whose work I hadn't seen in years. I'd practically forgotten all about '90s small-press mainstay Brad Johnson. He's represented here by Wurst Funnies, a welcome sampling of his ironically folksy weirdness. It's also good to see David Lee Ingersoll, who I best remember from the old Factsheet Five days. Here he's teamed with his brother Glenn Ingersoll for their oddly poetic The Ugly Dog of Heaven.
There are several more current cartoonists featured whose work particularly shines in the mini format. Kelly Froh offers up "Sadist Science Teacher", the true tale of a 7th grade instructor who made it his mission all school year to torment Froh for no particular reason. Froh makes autobiographical tales of woe like this all the funnier by deadpanning them as cosmic practical jokes played upon her hapless younger self. In the same vein, Noah Van Sciver offers "Complaints", a short and sweet breakdown of his miserable life, beautifully rendered, as always. A full issue (#11) of Carrie McNinch's great daily diary comic series You Don't Get There From Here is also featured. It's one of the darker ones, as McNinch was going through a particular brutal depression at the time, with some sunshine intermittently breaking through the gloom in the form of her cats, her friends, and the joys of music, food, and making comics. A full-color diary comic by David Heatley called Yesterday is less successful. His drawing is lovely and his voice always engagingly frank, but his tiny, scrawly text is hard to read for at least half of the 32 pages. I'd have loved it had I been able to withstand the eyestrain. Rounding things out in the important diary subgenre is an abridged version of issue 6 of Yeast Hoist, a nice effort from Rob Rege, Jr., who also provides the collection's swell cover art.
Other highlights include Valentine, a lovely, wordless piece of romantic melancholia from Leela Corman, also featured in a refreshingly frank interview. When asked by Dowers who some of the other women mini comics creators were who inspired her to draw her own, Corman replies, "I don't understand this question. It has nothing to do with gender. I don't buy comics based on the gender of the creator." She also has this bit advice for folks who want to get started in the DIY comics world: "Work hard. Be nice to everyone, don't be a drunk asshole, buy the biggest scanner you can afford." (Write that down, fellow artists - especially the scanner part.)
An issue of Chris Cilla's Moldy Fig (1995) tells the entrancing tale of a man who is suddenly, inexplicably driven to repeat the mantra, "There is no God but Allah and Muhammad is his prophet," without ever knowing why. It's smartly presented back to back with Jesus Delivers (1996), which features Jim Woodring teamed with David Lasky (color me impressed with that team up!) for what seems to me to be a satire of the infamous Jack T. Chick tracts. Both comics comment on the empty sloganeering that all too often substitutes for religious discourse.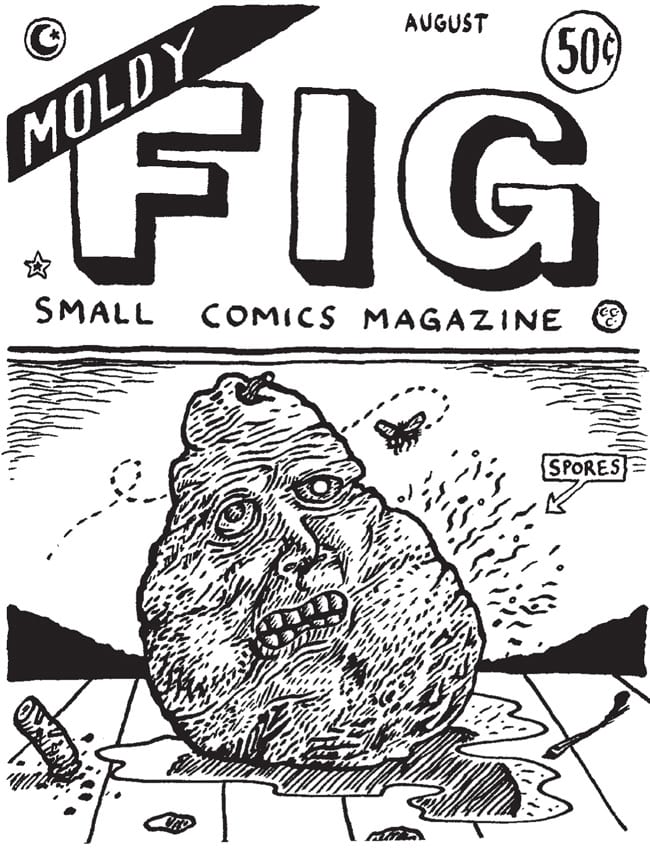 There are some excellent excursions into surrealist realms here from Roberta Gregory, Fiona Smyth, and Max Clotfelter with Marc Palm; a good dose of "Cynicalman" hilarity from mini-comics great Matt Feazell, an amusing tribute to Beatrix Potter from Mark Campos, a nicely-made Mixtape from Nate Beaty, and some charming early work from John Porcellino. The collection would not have felt nearly as complete without the inclusion of these small press mainstays. Within Treasury there is also the joy of discovering (for me) heretofore unfamiliar talents, such as Peter Thompson, with his strikingly presented I'm the Devil, Mark Connery with the awesomely stoopid humor of Rudy (if you like the comics of Liz Hickey you'll like this), and Karl Wills, whose art puts me in mind of Joost Swarte, in his tale of mean girl vs. mean girl, "Jessica's Good Deed". I could read a cart-load more of comics by all three of these creators.
All in all, this is a very worthwhile collection, handsomely produced. It builds on its predecessor by presenting more consistently good work and less of the let's-do-it-for-the-hell-of-it variety (don't get me wrong: the latter approach can result in all kinds of awesome. See Sam Gaskin's Gnomes from Oily Comics earlier this year for one fine example). I finished it feeling eager to see what's in store for Volume Two. There is also the tantalizing question of further archiving efforts. In his introduction, Dowers notes that one editor even suggested to him that there be an annual publication (à la Best American Comics) which focuses exclusively on the best minis of each year. "Good idea," Dowers deadpans. "Somebody should do it."