In her new graphic memoir, Elizabeth Beier lays bare her coming-of-age as a bisexual person, never shying away from the frequently embarrassing and often downright painful trials and errors of her journey. She earnestly soldiers on, bruised but undaunted. And like any good, self-respecting autobiographical cartoonist, she also fashions her experiences into an entertaining, poignant, and funny narrative.
I'd previously encountered several of the comics included here in two self-published floppies. Beier has strengthened and expanded the material for this book, gathering it into thematic sections introduced with impressively detailed splash pages, allowing them to build into a cohesive Bildungsroman.
The prologue describes Beier's childhood as marked by initial setbacks: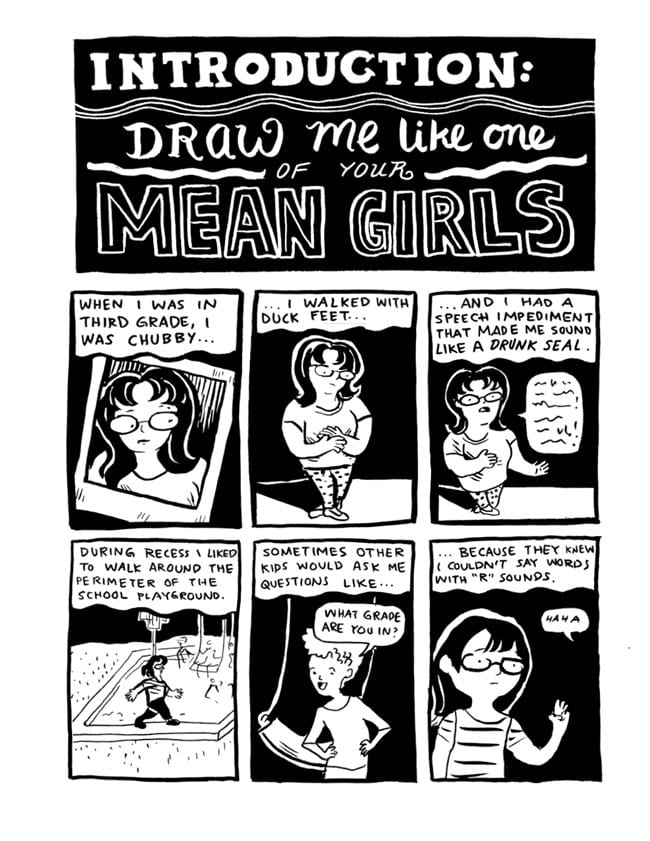 But early on, Beier learns she can use her artistic talents to get her classmates' attention by drawing free portraits of them. Years later, re-watching 1997's Titanic and seeing Leonardo DiCaprio woo Kate Winslet by capturing her likeness on paper, Beier has an epiphany (with one of the book's best lines):
The rest of Trials and Errors details Beier's two long years in the dating desert following a breakup with her boyfriend of six years: going on one OkCupid or Tinder date after another, and spending long nights prowling clubs and bars (including the Lexington, San Francisco's last lesbian bar, which sadly closed its doors in 2015). She meets some nice people, including a lovely, artistic woman who remains a good friend to this day. But Beier also endures some very unpleasant evenings: one with a woman whose idea of communication is a non-stop monologue, and another with a beautiful male-female couple who reject her for not living up to their high standards of hotness. With the benefit of hindsight, Beier makes clear that she was often trying too hard, pushing for sex/romance before allowing sparks to ignite organically (or not realizing sparks weren't going to fly in the first place). In one early instance, she finds an affable male who is perfectly open to making out with her, but in mid-smooch Beier has a sudden panic attack and has to bid a hasty retreat. In her hunger for physical contact, Beier has talked herself into wanting something she really doesn't want (been there).
Beier goes through enough excruciating angst and existential loneliness in her long sex-and-romance drought that when she finally gets something good going, we feel a genuine sense of relief and happiness for her. With her love life finally bearing fruit, her self-esteem improves, and she locates new talents within herself, winning a MOTH story slam in spring of 2016. Like many other artists, she comes to the realization that producing work does not define a person's worth: "even though drawing people is something I love and excel at, it's not something I have to do to be liked."
I like Beier's brushy, energetic drawings a lot. In the earlier stories, her rougher, more spontaneous line captures her character's flailing attempts at fitting in and winning the attentions of her crushes. As the narrative progresses, the captured-in-the-moment panels become more intentional, liberally fleshed-out with decorative embellishments to enchanting effect. It is always rewarding to follow a cartoonist's artistic trajectory as captured in a collection like this; though rendered with more care in later chapters like "Shiver Me Timbers" and "Smoother", Beier's visuals remain personal and evocative—not just pretty pictures.
After Beier gives her comics alter-ego a happy ending, she wraps up the book with an appendix of odds and ends, including a droll trio of strips dissecting the state of crushes (a subject with which she is all-too familiar), and a series of portraits and personal stories from the patrons she drew at the aforementioned Lexington Club. In these portraits, we see another dimension of Beier's development, expanding her horizons from personal concerns to embrace and honor a larger community. Which makes for a double happy ending.