Shimple Ain't Easy
Dear Diary - Today I saw a book of fine, gentle, and artful comics so stupidly packaged that it stands as a profoundly sad example of exploitation. I feel sick. I need a belly rub.
Mutts, Patrick McDonnell's sweet, smart comic strip has joyfully chased its tail across the funny page sections of newspapers and book collections for the last two decades. The strip, written and drawn by a cartoonist who co-wrote a deeply admiring biography of George Herriman (Krazy Kat: The Comic Art of George Herriman, 1986), has functioned both as a daily treat and as a deconstructed, minimalist heir to Herriman and Krazy Kat.
Even though Patrick McDonnell's Mutts comic strip is sublimely designed to work on multiple levels, it comes perilously close to losing its charms in the dumb, exploitative packaging employed in The Mutts Diaries, a collection that Andrews McMeel Publishing has created to launch its AMP! Comics for Kids imprint (what amperage or amplifiers has to do with comics, I'm sure someone will let me know). The mid-sized, cheaply priced trade paperback is, as the accompanying press release informs us, "a collection tailored for middle-grade readers."
Um, yeah. That's one way of putting it. One could also say The Mutts Diaries is a collection of comic strip reprints awkwardly shoved into a format that exploits the enormous popularity of the Diary of a Wimpy Kid series, made by another publisher. According to one source, the Wimpy Kid series is a $550 million empire. That buys a lot of dog and cat treats. To be fair, I – a 52-year old comics historian and writer – am not at all the intended audience for this book. Realizing this, I gave The Mutts Diaries to my 14-year old son to read, which he did in less than an hour. When asked about the book, he said he thought it was "okay," and shrugged his shoulders. Needing more, I then gave the book to my 13-year old stepdaughter, a middle-schooler, to read. After a few weeks, she had managed to get through a third of the book. When I asked her what she thought of it, she said she couldn't really remember any of them. I wondered if the book's format was too glib, too ephemeral for them to take it seriously.
As far as I am concerned, there's no shame in creating a quality imitation to make a buck. Heck, it's practically a tradition in American culture, and certainly a part of the DNA of American newspaper comics. In the early days of American newspaper comics, The Katzenjammer Kids became The Captain and the Kids, when Rudolph Dirks, the strip's creator had some financial disputes with his publisher (William Randolph Hearst) and joined another syndicate to create an imitation of his own strip. In 1937, Our Boarding House became Room and Board, when the funnies obsessed newspaper tycoon William Randolph Hearst hired Gene Ahern away from NEA to imitate himself, to name just one additional example of many.
The practice of co-opting a popular property through imitation occurs everywhere art intersects with business. We see this in comics, movies, and even literature. The Wimpy Kid series has a legion of imitators - The Dork Diaries, Middle School: The Worst Years of My Life, My Life as a Book, and so on. These books not only resemble school notebooks and lined paper, one of the visual tropes of the Wimpy Kid series, but they also employ a hybrid book-comic approach that makes them accessible to early readers. In fact, I am certain that my own son, who purchased the first Wimpy Kid book at a school book fair with his own money, was drawn to the book because it was a sort-of comic book that was also a book -- hence: fun and easy to read. The comic book connection is not accidental. The author of the series, Jeff Kinney, is a cartoonist. The editor of the series is Charles Kochman, who has his own imprint at Abrams books that is all about comics: ComicArts. The Wimpy Kid books, by the way, are actually quite funny and well done -- packed with jokes and cleverness.
However, we should not champion the Wimpy Kid books as something new under the sun. If one looks hard enough, one can find AMP!-ple diary-books for young readers that pre-date the Wimpy Kid series. For example, in my own middle school years in the early 1970s, I adored an illustrated diary-type book called Harriet the Spy, written by Louise Fitzhugh.
In comics, imitation abounds. The Katzenjammer Kids were in themselves an imitation of Max und Moritz, a comic series by the great German cartoonist Wilhelm Busch – making The Captain and the Kids a copy of a copy.
Then there's the floatilla of screwball, anarchic, prankster strips that were inspired by the success of The Katzies. Dirk's imitation, created from direction by Hearst, established a template for the humor comic strip in America for decades. Pratfalls, pranks, chaos, explosions, and spankings became the norm in humorous American comics from roughly 1900 to 1920. Looking at all this, one could surmise that a few good imitations are worth at least as much as one in the Busch.
All of which is to say that a well-done imitation is not without value. In some cases, it can be better than the original. The Mutts Diaries is not a good imitation. It makes no sense; there's no artistic reason to conceive of Mutts as part of the current diary book trend. The Mutts Diaries barely offers any diary-like structure at all. The book is divided into sections: "Mooch's Diary," "Earl's Diary," and so on. But the sections are diaries in titles only. They are actually just little collections of McDonnell's comic strips, from various eras, going back as far as the strip's early years. Well… okay. Reading the strips is fun, and I can live with a book that isn't what it claims to be, especially when the content is entertaining.
It gets worse. The strips are stuck on pages that have the requisite blue and red lines of classroom composition notebook paper. The Mutts comic strips lie on top of the paper like white tiles. The notebook conceit adds nothing, besides a rather ignoble attempt to capitalize on the impressive sales of the Wimpy Kid diary series. This is a shame, since the strip itself is quite noble. There's even more ignoble treatment, sadly. The comic strips are no longer strips. They are cut up to fit into the vertical format at the book. Why? Well, probably because that's the shape of a school composition book. The strips are mostly black and white dailies, but every once in a while, there's a page with a color Sunday comic. These are printed sideways, so one has to turn the book on its side to read them. And, because they have more panels, they are smaller. This book is kind of a mess.
The presentation calls to mind the old Peanuts paperbacks of the 1960s, in which Shulz's comics were cut up and rearranged to fit a prescribed format, rather than designing a format to fit the comic, as with Fantagraphics' acclaimed, and dignified presentation of modern times. The Mutts Diaries is as lousy a reprint presentation as the work of IDW's archival-quality Library of American Comics volumes are excellent. I doubt, however, the book's flaws will keep it from selling a bunch of copies, probably more than most reprint books in print today. After all, it has the turbo boost of the diary format, and it will likely be sold through middle school sales channels -- one would expect it to do quite well. Hopefully, readers will be encouraged to seek out more of the strips -- but even that would not excuse the crumminess of the book's format.
Even so – with all the dumb formatting this book displays, the strips within are still a joy to read.
Reading a good Mutts comic strip is like reading a good haiku. It's like pondering a Zen koan. Simple, yes. Also: profound. Mostly the strips in this collection celebrate silliness and practice radical self-acceptance. In this age of irony, the bravery to sincerely offer celebrations of simplicity without a trace of sarcasm is a tonic – and something our middle schoolers, as well as the rest of us, could use. Particularly poetic and tender are the strips involving a character known simply as "Guard Dog." Always and forever chained up, this brutish fellow melts when a little compassion comes his way.
And then there's the Herriman connection. McDonnell has absorbed elements of Herriman's style into his own comics.
Herriman was fond of drawing a page of panels with no borders and then heavily decorating just one of the panel borders. We see the same device in some of the strips in The Mutts Diaries.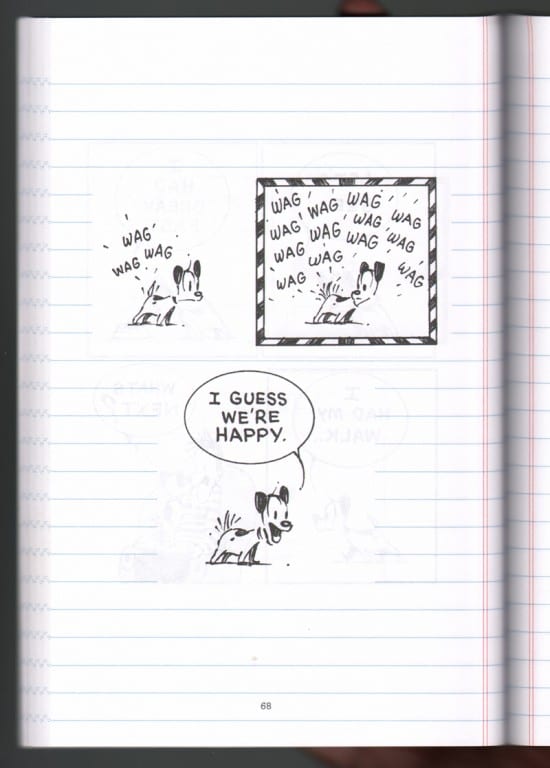 McDonnell's writing echoes that of Herriman, as well, with some amusingly eccentric pronunciations, such as Mooch's tendency to cutely add an "-sh-" into some of his words, as in "It does shmake it all better." Again -- I stress that the McDonnell version is considerably simpler than Herriman's waterfalls of creativity. Nonetheless, there is a very evident lineage in the two cartoonists, and if one knows Krazy Kat, then reading Mutts has some "bonus" features to offer.
In addition to using some of Krazy Kat's visual innovations, McDonnell has embraced the joyful, lyrical quality of Herriman's work that, for many of us fans, elevates the komic into greatness. Herriman's kat swoons with love and overflows with kindness and goodness. In the blood-soaked, brutal twentieth century, this in itself was a sort of subversion of the way things seemed to be. Many of the strips in The Mutts Diaries have a similar underpinning. In one strip, Earl and Mooch's images are distorted in fun house mirrors for two panels. In the third panel, one of them says (to the other, or perhaps to us), "Mirrors don't lie." And yet, they just did – so McDonnell, in a very quiet, very sweet way is suggesting we look deeper.
And looking deeper, past the cut-up comics, distracting and pointless notebook paper lines, and the lack of dignity or originality of the package itself, is unfortunately what one must do to appreciate the obscured treasures of The Mutts Diaries.