Kuš! comics are a great source for discovery, introducing readers to the work of previously unknown artists and offering the opportunity to sample a wide range of new comics, from traditionally rendered tales to those that traffic in unusual, adventurous, and sometimes downright esoteric storytelling structures. This latest quartet from the ongoing Kuš! minicomics series all feature lighter subject matter, while still presenting some unusual narratives and fresh cartooning. I was unfamiliar with all four of the artists featured in this quartet, but I'm happy for the introduction.
Day Tour by Mariana Pita (#67)
Portugal-based Pita delivers this funny tale featuring a childlike protagonist and her acerbic dog, presented in a dreamy mix of watercolors and colored pencils. Things begin with the girl seeing an online plea for giving blood: "Be a hero." This sounds like just the thing to her, so she leashes up her dog (though he tells her he has a game that night and needs to be home by a specific time) and sets out on the journey to the donor offices. Along the way, they stop and let the dog take care of his business (he helpfully cleans up after himself), figure out the subway route, observe the people around them ("So many thrashy people," she comments), and stop for a snack. The amusing and occasionally snarky interplay between the two feels authentic (despite the fact that one of them is, you know, a dog). When they finally reach their destination, things don't go quite as planned, but the girl remains philosophical: "It's ok, being a hero isn't easy." Pita judiciously anchors her very watery watercolors with colored pencils, with red (especially for the blood) being particularly effective. Her visuals, including the hand-drawn, cursive text, have a fresh, freewheeling feel, happily taking readers along with the protagonists on their journey. Day Tour could have come off as overly twee, but in Pita's deft hands it's an oddball charmer from start to finish.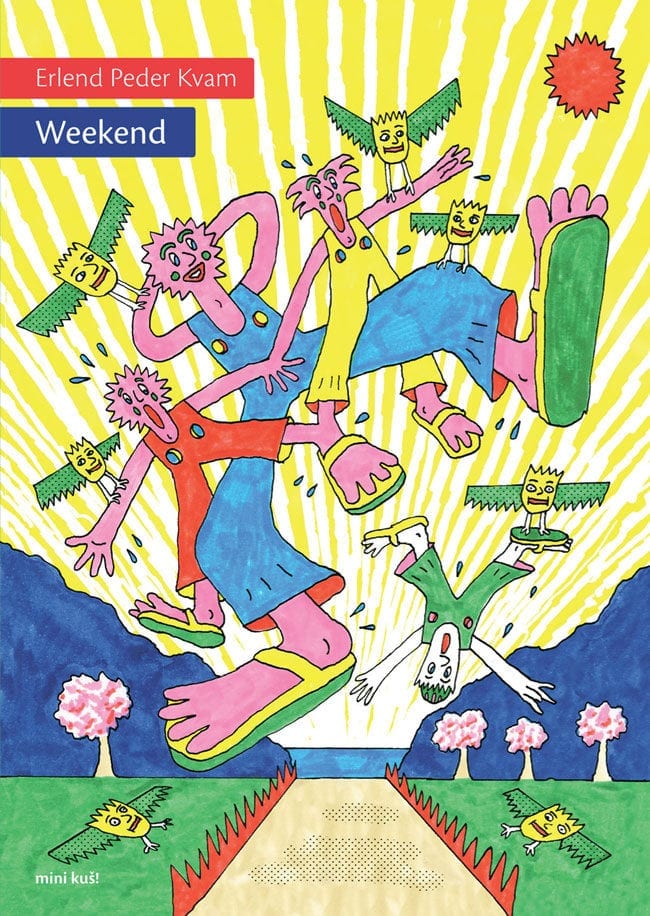 Weekend by Erlend Peder Kvam (#68)
Kvam, a Norwegian artist, crafted this colorful, winning nonsense detailing the happy weekend adventures of a spiky-headed fellow named Silvan, a business-owner with a clown-like appearance and a seemingly inexhaustible supply of happy-go-lucky energy. The free-for-all narrative involves Silvan entertaining a pair of young twins: he feeds them freshly-killed chickens for dinner, then supplies them with pen and paper with which to entertain themselves while he hits the gym. All kinds of weird things spin out from what the twins write and draw, including a bit of bloody violence, but it's all so silly and good-natured that the faint of heart need not worry (though I'll admit I find the characters a bit creepy-looking). Kvam clearly has fun drawing Silvan and company bounding across the pages, legs and arms comically extended, radiating vitality and movement. The boisterousness is infectious, and the dialogue has a likable, lost-in-translation feel (Silvan: "Entering our office really turns me into a childlike version of myself!"). The bright coloring appears to have been rendered mostly with felt tip pens, which works well with the naïve characters' wild, unpredictable shenanigans. I enjoyed this so much that I was moved to look up more of Kvam's comics online. As with notable cartoon artists such as Marc Bell and Mark Connery, the rest of his work traffics largely in bizarre, surrealist humor.
Maud by Marlene Kraus (#69)
The kuš! minis so often showcase offbeat, experimental work that it can be slightly startling to get the occasional straightforward-ish piece, such as this vivid, lightly comedic biographical account of a celebrated female tattoo artist, Maud Wagner (née Stevens), who lived from 1877-1961. As the story opens, the proto-feminist Maud is performing as a circus trapeze artist when she catches the eye of the handsome but egotistical Gus Wagner. She agrees to go out with him only if he will teach her how to tattoo. Thus begins their long-lived relationship in which they sire a daughter, who, as it turns out, is every bit as strong-willed as her mother. Barcelona-based Kraus, a tattoo artist herself, renders the story largely in striking hues of orange, lavender, and various shades of pink. Her cartoony characters have clearly outlined triangle noses, in the style of such artists as Lille Carré and early Lynda Barry, giving them something of an old-fashioned storybook feel, which juxtaposes well with Maud's deliberately contemporary dialogue. Throughout, Kraus emphasizes Maud's liberated attitude towards life, work, and relationships, offering a dynamic portrait of a woman we're happy to get to know. The cover portrait of Maud features her impressively detailed tattoos, underlining that Kraus was the ideal cartoonist to render this subject.
Worms, Clouds, Everything by Lote Vilma Vītiņa (#70)
Presented in the form of a letter from a hermit living "in the middle of nowhere," Worms, Clouds, Everything is a perfect fit for the kuš! format. Essentially plotless, the comic is the hermit's meditation on her relationship to nature, in particular to the rich variety of wild mushrooms growing all around her. At one point, the hermit describes eating a certain purple mushroom and having a woozy hallucinatory experience: "Snow fell from the sky. Worms crawled. Around my head a snake was hissing. I saw everything." This is the only eventful moment of the narrative; Worms is essentially a tone poem, its interior nature laced with a perhaps inevitable melancholy. Artist Vītiņa underscores the loneliness of the protagonist by rendering her as a diminutive, awkwardly childlike line drawing, always dwarfed by the colorful flora surrounding her—or alternatively, by expansive negative space. Each page of this mini is a different color, ranging from light grey to light lavender to a mushroom-y ochre, which adds to the story's lush, immersive atmosphere.