German cartoonist Max Baitinger resides in Leipzig, and, like his former fellow student at the city's Academy of Fine Arts, Anna Haifisch, is a co-founder of the annual local festival The Millionaires Club, which has featured guests like Gina Wynbrandt, Margot Ferrick, or Patrick Kyle. Baitinger just released his latest riso zine in the English language, entitled Alright. It tackles the same subjects he explored in his previous, German-language releases, Röhner in 2016 and Birgit in 2017.
While Röhner is a neuromantic relationship drama – read 'neuromantic' not in the definition according to Martin Heidegger but as a neologism here, made up of 'neurotic' and 'romantic' – spinning off from a ménage à trois to descend right into a geometrically configured hell, i.e. the comfort of demarcation, Birgit looks at first like a lightweight chamber play about the generational gap, but turns out to be a merciless cage match between late capitalism and employee's rights. Both works commonly feature a kind of picture poetry, a synthesis made out of a design vocabulary that is constantly out of line and streamlined simultaneously, featuring elegant and interwoven curves that whisper names such as that of the French-American sculptor Niki de Saint Phalle. Served with refined punchlines, Baitinger's comics often appear to be emanating out of a deep hypothermia.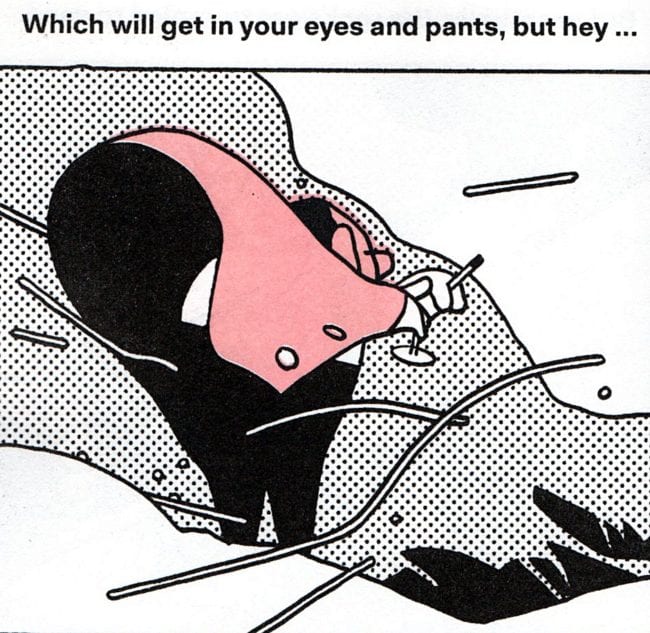 But what is Alright about? Once again relationships provide the basis for Baitinger's excursions into the things mankind is constantly struggling with, this time modern communication technology. They say a strong character cannot be bent, and remains true to itself and its shape over its entire life, but it's the opposite that's being depicted when Baitinger's characters try to stay in touch with the help of standardized interfaces – their bodies perform the oddest physical twists while being alone and on their own, only connected by devices forcing an autocratic presetting on consistently malleable personalities. The complementary words are stripped of any fillers, they evince an inborn inclination to submit one's self to an auguring stability and end the pressure of being exposed to an ever changing flow.
With Alright's color scheme picking up on Birgit's front and back inside cover, which was suggesting a witch-hunt atmosphere lit up by pyres and elevating it by making it more luminous, the theme of being ruled by screen-lit entities that allow us to stay in contact with each other without getting really close to the heart of it all is underpinned subtly through a color code, literally redlining others out.
The same goes for the design vocabulary used by Baitinger, wherein a priest-shaped figure's head is transforming into a globe-like appearance by an appropriate hairdo. This theme of being formed equally by sacred and secular influences surfaces once more in a well-balanced image, portraying today's culture as living off of formulaic blockbuster movies that turn up seasonally in an all-too-perfect symmetry.
There's a coda to that first part where the old buddy and the first-person narrator finally meet in real life – a somehow depressing term sounding like another level in a video game – and the protagonist is overrun visually by the dynamics of sheer unfiltered communication through the other character's overpowering visual presence. Finally, the narrator is back in his geometrical shelter, staring at his smartphone in graceful solitude. It's alright.