On April 7, 2023, the writer Rachel Pollack's wife, Zoe Matoff, shared on Facebook the announcement that Pollack had passed away:
I am sad to tell you that our beloved Rachel Pollack passed so peacefully and beautifully today at about 12:45 p.m. after a touching ceremony called Hand to Heart. Several of us stood in a circle. I had my hand on her heart. I began the circle by saying how much I love her and what she means to me. Each took their turn after me sharing their own feelings and appreciation of Rachel. I know that Rachel will continue to be a Light in this world and in the next. She will continue to inspire so many of our beloved Tarot community, the Science Fiction and Fantasy community, the Comics community, and the Transgender community for whom she shared so much respect and care. We have felt and cherished your love and prayers over the past months and years as Rachel experienced so many health challenges. We are One.
Every writer, especially those in the realm of genre, must meet the medium on its own terms. At the very least, the writer strives to entertain the reader. At best, the writer tells the reader something about the world. Adherence to convention is rewarded by the loyalty of the longstanding fans and probably editorial too. In comics, appealing to any sensibility outside of what's been established or addressing any subject matter beyond the scope of what has been agreed upon by decades of fandom can stop a career in its tracks. Unless it doesn't. It is the rare writer who brings as much of herself and her unique experience of living as Rachel Pollack did.
Pollack's work, like her life, flouted convention. Born in Brooklyn on August 17, 1945, Pollack, like so many of her generation, took up a lifelong pursuit of self-discovery. A devout Jewish attendee of an Orthodox shul until the age of 15, Pollack came out as a trans woman and a lesbian in 1971; by that point, she had already become a published writer of short fiction in the trailblazing New Worlds magazine, and soon after moved to the UK with her then-wife, Edith Katz. In 1973, Pollack and Katz moved to Amsterdam; Pollack would remain in Europe until the 1990s.
Throughout her career as a writer of fiction, Pollack's sensibility dovetailed gracefully with contemporary genre movements. Her initial forays in the short form came to bear amid the New Wave of the 1970s; she published three novels in the 1980s, one of which, 1988's Unquenchable Fire, won the Arthur C. Clarke Award. Then, in the 1990s, Pollack arrived in comic books as genre works began to explore the philosophical and the existential in thoughtful, nuanced ways under imprints like Vertigo.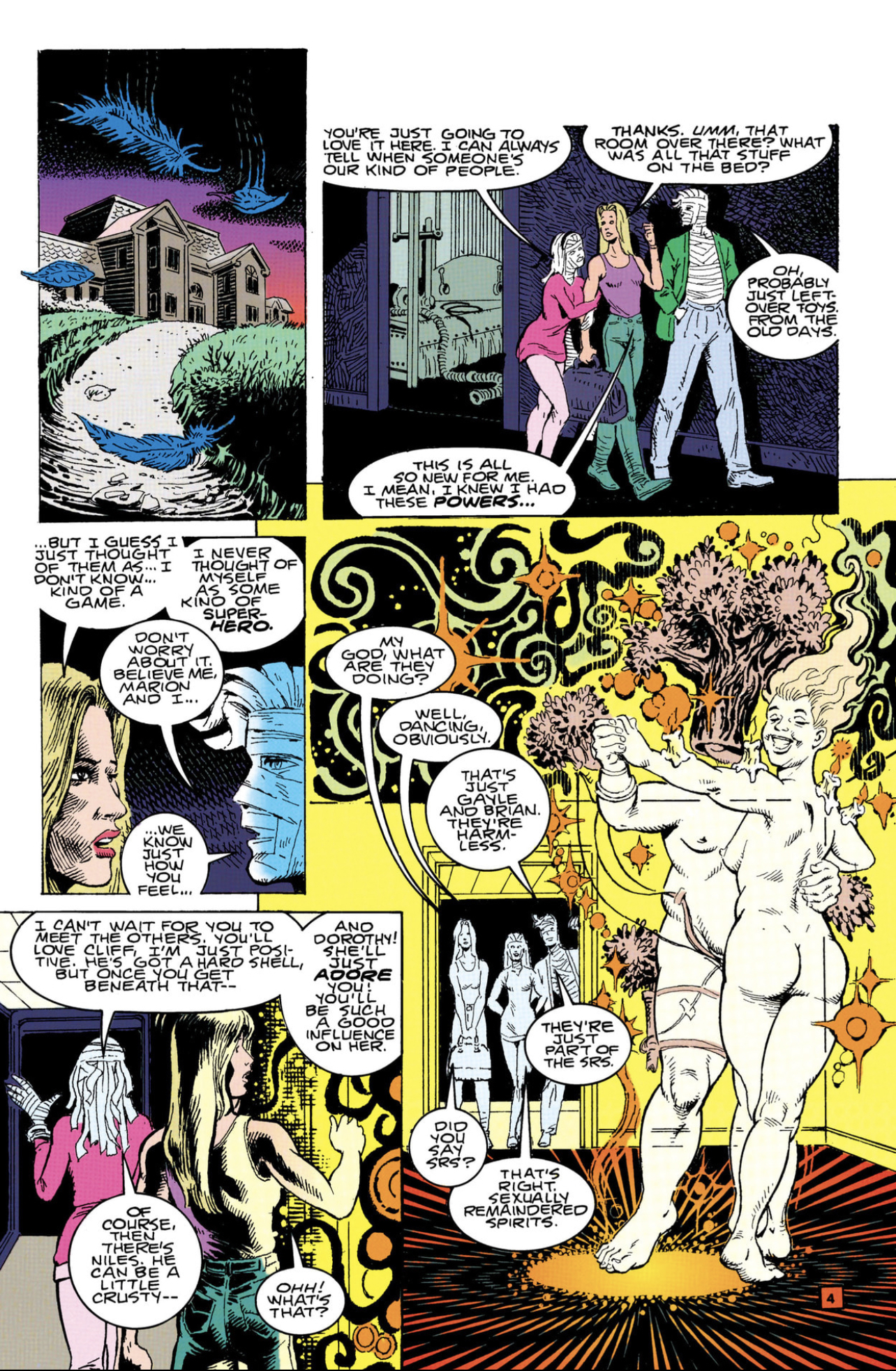 Comics were but a small part of her output, but Pollack's visitations to the territory had deep and lasting impact. A reader of comics since childhood, Pollack was introduced to the editor Tom Peyer at a reception for the Science Fiction Writers of America, and expressed her admiration for the writer Grant Morrison's then-ongoing tenure on Doom Patrol. Peyer encouraged her to send a sample script, as Morrison was leaving the title, and thus Pollack took on the unenviable task of following that celebrated run in 1993. She made Doom Patrol her own until the series' cancellation two years later, continuing to mine the philosophical subject matter that made the title a fan-favorite, while notably exploring facets of feminism and gender identity with the pioneering introduction of trans character Kate Godwin, also known as Coagula. Richard Case, Linda Medley and Ted McKeever were among the prominent artists who collaborated with Pollack.
Among her other notable comics were takes on Brother Power the Geek (with Michael Allred, 1993) and Tomahawk (with Tom Yeates, 1998) for the irregular Vertigo Visions line of one-shots; a 1995-96 run on New Gods with various artists; and Time Breakers, a 1997 SF miniseries with artist Chris Weston that upended time travel tropes. However, as Pollack would remark to Alex Dueben in a career-spanning 2022 TCJ interview, by the end of the '90s DC and its various labels had become less hospitable to "weird" writing: "To my view–and this is very much a personal view–they wanted to do stuff that was radical and still works within the mainstream of the line. Like Batman being darker. He'd been dark, but make him darker still."
But comics and prose fiction were not the limit of Pollack's talent. Her body of work, which sprawled in every direction, spoke of an artist who viewed whatever medium in which she was working as a vehicle to mine for deeper truths about herself. Since 1970 she had cultivated an interest in Tarot (or, "Tarot discovered me," as she told Dueben), and eventually became a world-renowned scholar. In 1980 she published the influential Seventy-Eight Degrees of Wisdom, one of many books on the subject of Tarot and spirituality; it remains in print today. Pollack also designed several Tarot decks, and authored an extensive accompanying text to the 1995 Vertigo Tarot Deck, illustrated by Dave McKean and devised with the writer Neil Gaiman. Pollack was also a poet, most recently collected an the 2009 chapbook Fortune's Lover, and won the World Fantasy Award for her 1996 novel Godmother Night. She claimed every territory as her own, challenging readers to meet her there. That she did it in such an entertaining and insightful manner was a testament to her immense talent.
Pollack was also a teacher, dating back to before she had published any writing; her talent is not only reflected in her extensive bibliography, but also in the knowledge she shared with her students. Along with Mary Greer, she spent decades helming Tarot seminars at the Omega Institute in Rhinebeck, New York. In 2002, Pollack joined the faculty of Goddard College, where she taught writing for 11 years in the Masters of Fine Arts program. She continued to publish fiction, and in recent years made a return to comics, with short stories in anthologies such as Mine! (with artist Fyodor Pavlov; ComicMix, 2018) and Dead Beats (with Doom Patrol's Richard Case; A Wave Blue World, 2019), and as co-writer with Joe Corallo of the 2022 comiXology Originals miniseries The Never-Ending Party (print collection forthcoming from Dark Horse). At the end of her life, Neil Gaiman took to announcing developments in her health; Pollack had been battling cancer of the lymphatic system for seven years by the time she entered home hospice care in March of 2023. She died on April 7.
In speaking with some of her professional peers, it seems that Pollack spent her life accruing students and turning them into friends. Some of them comment below, in her memory.
* * *
Tom Peyer
(writer/editor, DC/Vertigo & Ahoy Comics)
I've worked with a few—very few—writers as creative as Rachel, as knowledgeable about arcane subjects, and as witty, but none of them were as wise, or as kind. You can see all of those things in her best characters. Last year, her Doom Patrol belatedly got the attention it has always deserved with the publication of an Omnibus, and I think it meant a lot to her. I'm glad she got to hold it.
Terry Bisson
(editor of The Beatrix Gates, PM Press)

(written for Locus Magazine, used with permission)
Ah, Rachel. The Queen of the Subgenres. Tarot, Comics, Science Fiction. She was a vital presence in all three. I knew her only in SF, where she was an astonishing original, writing books no one else could have started, finished, or even thought of.
I was a newcomer, but we were instantly friends. That was 30 years ago. I sought her out because I knew she liked to work the edges, and that was where I was headed. I found her smart, funny, generous, and fiercely kind.
When I edited PM's Outspoken Authors series, she gave me The Beatrix Gates. In her memory, I submit the last Q&A from her interview in that book.
TB: Were you ever a Nice Jewish Boy?
RP: I've always been Jewish, even when I thought I wasn't, and I'm pretty sure I've never been a boy, even when I thought I was. As for Nice, I've always tried to be, but I've also always tried to be tough.
And tough she was. Hell, she beat cancer twice. It got her on the third try. It was a privilege to share her Earth time.
Joseph Corallo
(editor on the Mine! and Dead Beats anthologies, co-writer with Pollack of The Never-Ending Party)
Rachel is a comics lover going back to her early childhood. The most cherished of which were the Duck comics. Donald Duck and Uncle Scrooge comics by Carl Barks in particular, though she didn't know as a child that it was Carl Barks; she just knew that was the good Duck artist. She was particularly fond of Huey, Dewey and Louie, of which she had a comic strip prominently featuring them cut out on a mantel in her living room.
Other comics she loved in her youth were the old Archie Comics, Little Lulu and The Fox and the Crow, a now fairly obscure DC Comic. The Fox and the Crow were reimagined by Rachel as antagonists for one of her earlier Doom Patrol sagas with artist Linda Medley, who was one of the early nonbinary artists in mainstream comics.
We spent many hours on the phone and in person discussing the works of Jack Kirby, Steve Ditko and Gene Colan in particular. She had even reached out to Marvel in the early '70s inquiring about writing opportunities, but that didn't work out. She would later tell students of hers that she was teaching because she wanted to write comics, but she got rejected by Marvel. They thought that was so cool that she was that into comics.
Rachel was very proud of her comics work. She was thrilled to be back in comics and working with me and others including Tom Peyer and Justin Hall. She had a lot more stories she wanted to tell in the medium. One of the hardest aspects of Rachel's passing was she had so much more she wanted to do and so many more stories she wanted to tell. She had a very thorough outline for a graphic novel she had wanted to do for years. I'm hoping that it will see the light of day in the not-too-distant future.
Diana Green
(cartoonist, creator of Tranny Towers)
Rachel and I were both contributors to the political magazine TransSisters in the '90s. She was a writing contributor, and I was the staff cartoonist. I came to know her writing through her novels and her DC/Vertigo/Helix output. Time Breakers was a powerful series!
At the San Francisco Queers & Comics Conference (2019) we got together with another trans woman, comic artist and graphic designer Robyn Adams. The three of us were having such a wonderful conversation that we decided to skip that night's keynote speaker and go out for dinner. We spent three hours laughing and sharing insights on comics, SF, Tarot and the trans experience (whatever that is). Rachel had a deep loathing for George Washington!
I'm honestly not sure who the first trans woman to write trans characters was, me or Rachel. The timing is so close, I'd hate to put money on it.
Rachel and I talked about collaborating on a graphic adaptation of her lesbian fairy tale, "Black Rose and White Rose". I sent her some preliminary sketches, but she never got them, sadly. We tried to rekindle it a couple times, but her other projects and health issues made it impossible.
Every now and then, someone calls me a "pioneer". I think of Rachel Pollack and realize that I just got here. Her decades of creativity, sprituality and community support humble me.
Even though I'd not seen her for four years, I miss my friend.
Charlie Jane Anders
(writer of comics, prose and nonfiction; author of Never Say You Can't Survive)
Rachel Pollack was a pioneer in so many ways, but her work in comics still stands out - she burst into graphic storytelling with her colorful and confounding run on Doom Patrol, and in the process she carved a path for so many of us who have followed her. Her imagination was brilliant and incandescent, and I'm having a tough time imagining a world without her in it. She has a vital and essential place in the history of trans comics creators.
Justin Hall
(educator, editor of No Straight Lines: Four Decades of Queer Comics)
Rachel Pollack was the most interesting woman in the world because she was the most interested woman in the world. She had a mind that never stopped moving, never reached the limits of its curiosity; she was my writing mentor, but came to our conversations as interested in learning from me as teaching me. She was a gracious collaborator; she never worried about sharing ideas because she had more than any one person could use in a lifetime. She produced her stories like her favorite luxury pens produced lines on stationery: elegantly, profoundly, richly. She was a role model, an inspiration, a queer elder who opened up spaces through her strength and grace in which future generations could thrive.
She was an award-winning sci-fi, fantasy, and comics writer, creating the first trans superhero back in 1993 as one of the first openly trans creators in the comics industry. She was an expert on divinatory Tarot and Jewish mysticism, and one of the most interesting, kind, and brilliant people I've ever met. I went to Goddard College specifically to study with her and it was one of the best decisions I ever made. Meeting your heroes is not always a good idea, but there was no disappointment in meeting Rachel because she was as delightful and brilliant as her stories.