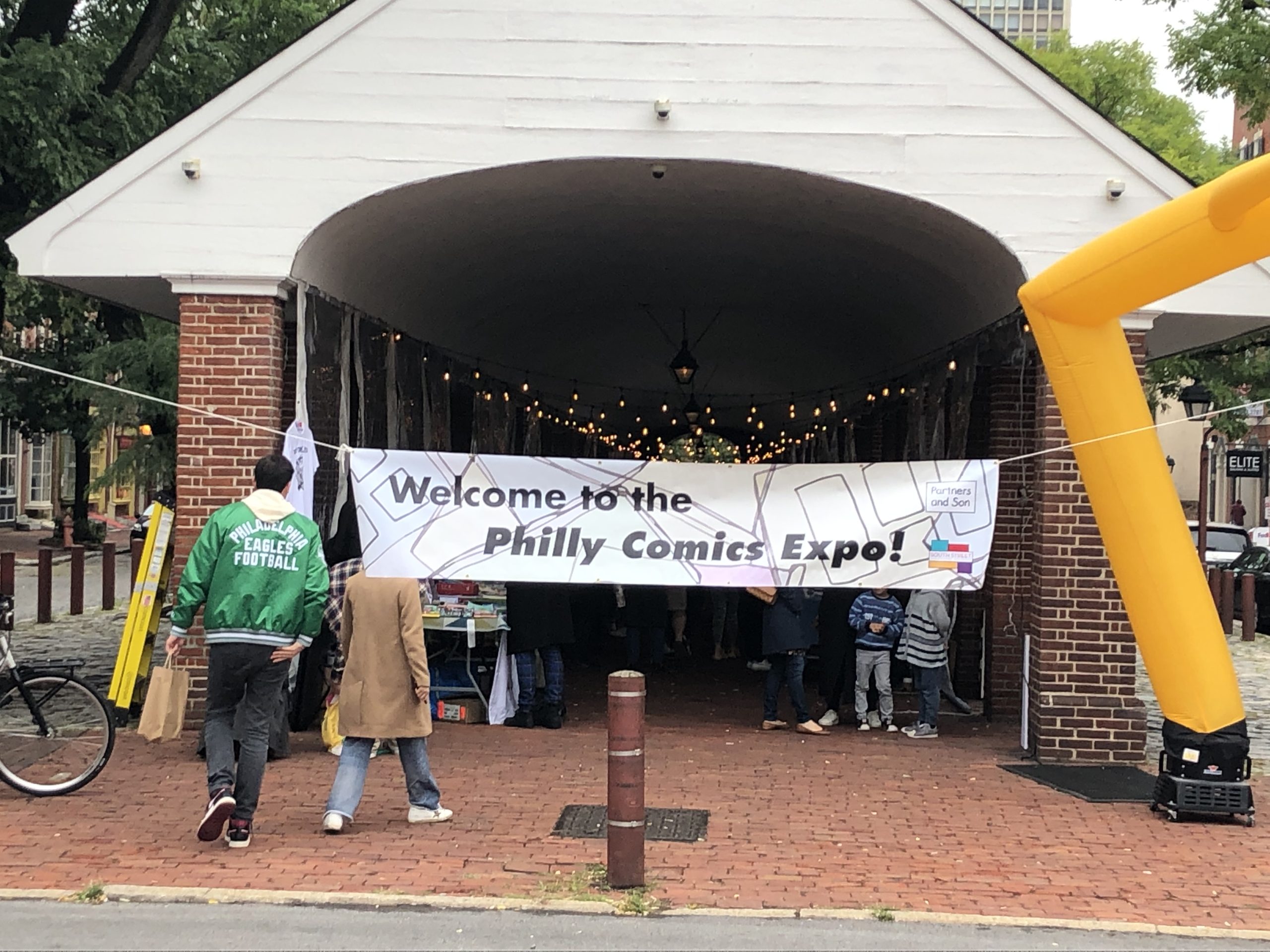 On October 1, 2022, the second annual Philly Comics Expo (PCX) was held inside the Shambles at the Headhouse street market at 2nd and Pine. The Shambles is a long corridor with an arched ceiling and open walls. Vendors are set up on both sides, 95 of them this year. It is not a room, it is a tunnel; you go in one end and come out the other, unless you duck between the tables to escape out the sides. There is no "programming" at PCX. There are no special guests. There is no entrance fee. There is no tabling fee, although I was told later that they ran out of tables and some of the vendors had to bring their own. There is no map. If you want to know where somebody is, you have to ask somebody else, although it is not very difficult to find anybody on this road. It started at 11:00 AM and ended at 4:00 PM, one day only. I was there for the last two and a half of five hours.
To the far left above, closest to you, we see the table for Partners and Son, the South Philadelphia comics retailer and art gallery that runs the show. Proprietors Gina Dawson & Tom Marquet told me (later, via email) that the show had significantly increased in size this year, up by almost 40 vendors, due to loosening COVID restrictions. Everybody who participated last year was invited to exhibit again, and invitations were then extended to other artists whose work is carried by the Partners and Son store. I've been to the store, which is quite small; their stock seems rigorously 'curated', and I got the impression that the exhibitors at PCX represent a somewhat broader manifestation of what you might find in book form at the retail space.
This is Nightcore Energy, reprinting a 2019 zine by the late Morgan Vogel. I was very happy to see the wares of publisher Organ Bank at the show: a variety of small comics and prose zines, 'horror' in the most refined sense of upset. Nightcore Energy, 24 pages, concerns the situation of young Nick, whose mother insists he suffers from Chronic Lyme, or that maybe he is autistic, or that something else is wrong with him, because all he wants to do is stay in his room listening to nightcore mixes on YouTube and watching anime. His mother contacts a mysterious therapist, who hooks Nick up to a bioresonance device ostensibly programmed to shatter diseases through sound waves, although what it actually does is cause Nick to hear the voices of a secret organization recruiting him for a special mission to create the ideal individual. He envisions a new crusade.
"My dad's guns weren't inside the cabinet, they were inside me," he tells the therapist of his most recent vision. "My body has always been connected to machines and responds to them with a horrific, violent, sexual feeling." The 'therapist' is pleased; in truth, she is a marketing agent exploring new frontiers of online schizo behavior as market research for the season's hottest new energy drink. The interplay between intense human pain and tragedy, its endless viral replication on the internet, the keen marketing of everything on the internet, and the exploitation of destructive behavior for political and financial profit was a continuing theme for Vogel; her "Crazy Frog September 11" shock video from years ago blended the Swedish ringtone mascot with footage from the Oliver Stone film World Trade Center–some shots are indistinguishable from actual news footage of deaths and injury from that day–to create an in memoriam cacophony of fictionalized and commercialized images. Similarly, Vogel here explores the causation of cultural marketers encouraging extreme and violent online behavior, unconcerned with the actual violence that ensures; violence that will never touch them, because they have got the bag. Nick is just a little thing. "I can feel myself transforming."
It was the weekend the aftershock of Hurricane Ian was supposed to hit the Northeast, but at 2:00 PM there was only a breeze drifting through the open walls of PCX. One exhibitor told me the stickers were blowing off his table in the morning, but it'd since calmed down. I didn't navigate directly down the corridor so much as I zig-zagged from table to table. This was also how the exhibitors had informally arranged themselves. At one point I stopped at the Deadcrow table to leaf through a book and one of the artists said "if you like that you'll like this too" and backed out through one of the open side portals and ran two or three tables down from behind to get another book from somebody else's table and bring it over.
This is the fourth volume of CLAMP, an anthology from George Olsen and No Good Books of New York. As far as I can tell, it was a show debut. A very thick and heavy 80-page stapled book, almost magazine-sized. A little more than half of it is illustrations from a variety of contributors, like a Le dernier cri publication, though not as confrontational in its aesthetics. Quite a few of the illustration pages look like sketchbook pages, or even school exercises. My copy also came with a tipped-in zine reproducing portions of a Chrysler automotive service manual from the mid 20th century, I suspect for its graphic qualities.
"This magazine has a strict mission of re-inserting the hand back into modern society. Down with the reign of vector lettering and designers who can't draw." So declares Olsen in an introductory editorial, and all of the images inside do have a handmade feeling. There is also a nine-page interview with the artist Nicolette Sloan; both her and Olsen were still in school until recently. I think almost everybody in this book is pretty young. There are 19 pages of assorted comics, including Caroline Cash, who just won the Outstanding Minicomic Ignatz at SPX the other week. A very dense four-page story by Andrew Alexander caught my eye. You'll have to click on it below to read it.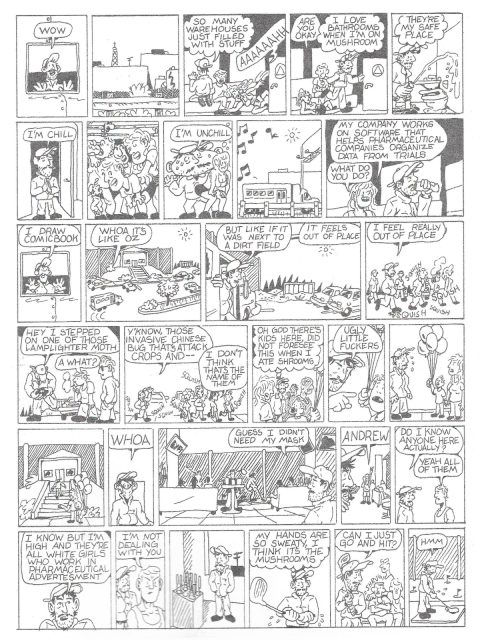 Peppered onto this comic about drugs and parties and dicks there's a running gag about various characters working for pharmaceutical companies. Despite having only 19 pages of comics, this is not the only strip in the book to make humorous mention of artists, writers, publishers holding down advertising jobs and trying (or not) to avoid compromising themselves too much. This latent understanding that cartooning is absolutely not going to provide material benefits to you is something that has existed as an atmospheric joke for decades, but in these strips it's treated as a necessary condition of existing, rather than as an ambient peril.
I wandered momentarily out a side portal.
"Hey," I said to a nearby exhibitor. "These people are gonna be pissed there's a comics convention at their wedding."
"That's Nick Drnaso," the exhibitor said, pointing.
"Really?"
The exhibitor's face blossomed into an extraordinary portrait of compassion.
"No."
There are not a lot of 'big' publishers at PCX. Domino Books may be one of the bigger names. Bubbles Fanzine was there, because they are everywhere. Philly's own Beehive Books had all their very fancy "Illuminated Editions" of old prose works standing up in a row. Ambling around, I decided to take up an open invitation to see the current exhibition at the Partners and Son store about 10 minutes away. This was not 'show programming', the store always seems to have an exhibition happening.
Charles Burns! Posters and prints by the legend himself. I picked up a Riso catalog, which contains a running commentary by Burns.
I remembered seeing some of these fake magazine covers in Joost Swarte's & Hansje (ex-Oog & Blik) Joustra's Scratches magazine. Only two issues of that ever came out; it was released in conjunction with the Frankfurt Book Fair, so COVID probably put a stop to it.
"This is a collaboration I did with Art Spiegelman when we stayed in Umbertide, Italy for one summer." So said the catalog. Side panels by Ever Meulen. The centerspread from RAW #7, 1985.
A 2010 silkscreen, "based on a poster I had when I was growing up called Fairyland... I spent way too many hours looking at it."
I was a comics blogger when Black Hole came out as a collected book. Both it and David B.'s collected Epileptic were published by Pantheon around the same time, 2005-06, and there was a vigorous debate over which was was better among readers of what was then called 'literary' comics. Ill-advised as it was, the books seemed well-primed for comparison: Black Hole with its traditional craft, its EC-informed narrative values; Epileptic with its layered, iconographic drawing, its digression-prone intuitive storytelling. American and French traditions colliding. I favored Epileptic at the time.
"David B. sucks," said an exhibitor known for controversial statements, back at the show. He smiled and shook his head. "Sorry."
In lieu of a map to the show, Matthew Thurber had hung an enormous map of an imagined neighborhood as part of his Pirates of the Condominium multimedia project, which deals with gentrification and imagination in Brooklyn. I picked up a recent issue of the Pirates zine, August 2022, which goes out to Thurber's Patreon subscribers. A good portion of it seemed to be preparatory art for Thurber's recent self-published book, Vector Hugo: The Epicene From the Epicenter. There's an almost Frank Stack-like texture to Thurber's unrefined doodling and character studies, and a great sense of humor to the arrangement of images. His whole table was filled with zines or writing and art from a myriad of contributors.
But at no time was I far away from a Pennsylvania artist. The Partners and Son proprietors told me that they still "for the most part" prioritize local artists, and thus I came upon Nate Garcia, one of the most-discussed of young Philadelphia cartoonists. His new comic is Gecko, drawn "after and before many shifts at the Philadelphia Zoo."
There is an eerie surface to Garcia's pages here - the colors are very flat and rich like animation cels, and characters are constantly in distress, shouting, crying or laying flat on their back. A lot of banter surrounds (but rarely acknowledges) the central drama of the story, which is that cowboy hero Alanzo Sneak's horse is terrified of a gecko. However, the horse is deeply upset when Alanzo inadvertently crushes the gecko; it feels guilt, perhaps, and Alanzo soon succumbs to a karmic malady. The story is pregnant with unacknowledged troubles, spilling eventually into lurid burps of gore. I've read Garcia's Alanzo Sneak from 2021 and Muscle Horse from earlier this year, and it is absorbing to follow how he develops his style from project to project. I hope there is a great future to embrace him.
Some artists lingered a while after 4:00. A very thin mist had begun to form in the air. I think there were tarps that would have gone down over the open sides of the Shambles if rain had started to whip in to wash away the comics. A few exhibitors had told me this was the first 'big' show they'd attended since the pandemic started. It was the first show I'd been to at all, and I'd enjoyed it very much. "Looks like the weather held out," Tom from Partners and Son remarked. "We're in the eye of the storm," I replied.
The sky pissed rain for the next three days.