Shortly after I met Sally Cruikshank she and I became an item. It was 1971, and she and her friend Janet, a chum of hers from Smith college, worked as barmaids at a place called Carter's Magic Cellar, which was connected to a nightclub called Earthquake McGoons. This was a jazz club run in part by Turk Murphy. Turk used to play trombone in the legendary Lu Waters Yerba Buena Jazz Band and I'd known him since I was a little kid. Turk gave Simon and me the big welcome, and for the next few months we just about lived at McGoon's while I courted Sally and my brother Simon wooed her friend, Janet. One of the things I did as I became more acquainted with Sally was to bring my little portable three-speed record player over and spin Armstrong Hot Fives and and Crosby records from the early 30s for her. That's a pleasant memory.
'71 was a weird year for me. I never had quite so many women coming and going, as I did that year in the apartment I shared with Gary. But I was still drinking too much and just overdoing it in general, hedonistically speaking. I was getting very little good work done (gosh, I wonder why?) and was generally pretty miserable.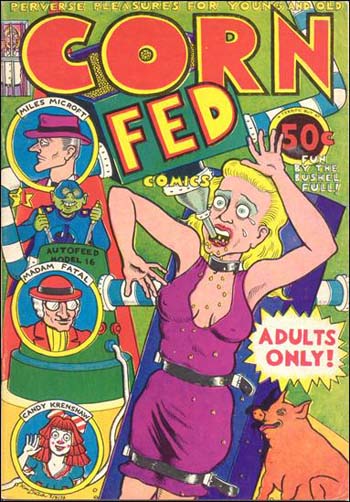 Sally had a sister in Portland, Oregon that she had a yen to see and suggested that we move there for a while. You know, it helped! I was finally able to get my first solo comic book going and, in general, I started to simmer down. Portland pot was pretty terrible compared to what I was used to, but that actually might have been a good thing too. I gradually began to get over the unfortunate idea that I had to be stoned on weed to be able to do comics. That was some sort of demented progress there. Pickings were good in Portland in terms of collectables. One day I found a 78 of a song called "This Year's Kisses". The best known side of this song is by Billie Holiday on a Teddy Wilson session. This version was done by a group I'd never heard of, Chick Bullock And His Levee Loungers on good old Melotone.
"Hmph, This guy is no Crosby," I thought, and I was about to give it the old heave ho when Sally said, "No don't. I think it's nice." I conceded the point. My relationship with Sally was interesting. I had been spoiled rotten in my girl relationships and I was still having problems with the whole concept of monogamy. I was also still bloody immature. I wasn't the loose cannon I had been, but I drank too much. Over time these things poisoned the well of my relationship with Sally. Still, for all of that, our common law union lasted eleven years, which was the record for me up to that time. I think what was good in our relationship was this: Sally is very bright; I would rate her as the best intellectual companion I had ever had up to that time.
After about eight-or-so months, we returned from Portland in '72, Sally with a new cartoon just about done and me with my first solo comic under my belt. What a grand and glorious feeling! Before settling down, we decided to take a trip back East for the summer. The two most memorable people I encountered during that trip were Sally's mother and Tony Eastman. The former was an aging Southern belle who seemed almost like something out of a story by Tennessee Williams. But she wasn't boring and I was actually inclined to like her. Under different circumstances I think we might have been friends. But the opposing roles we played in Sally's life pretty well precluded that. Still, it was easy to see where Sally got her brains from. Meanwhile, my childhood pal Tony Eastman lived with his wife, Sue, in a huge loft on Greene St in Soho. I hadn't seen Tony in about a dozen years and he was then 29 years old. And let me tell you, his record collection was now huge! Mostly rock 'n roll, some r and b and blues, and a smattering of old jazz. In the smattering was a tremendous 12-inch Chick Webb record of "I Want To Be Happy" with an Ella vocal and a stunning arrangement.
http://www.youtube.com/watch?v=LysB4Kt8joQ
But the main event was rock and roll. During that visit the music, like Tony, seemed like an old friend, and I spent many delightful hours listening to tons of it with him. He made a valiant effort to get me back on the rock 'n roll hot tomale train by laying tons of doubles on me but it didn't really take. One record that I was really delighted to get, though, was Eddie Cochran doing that electrifying number he did in the movie The Girl Can't Help It: "Twenty Flight Rock". He's really doing Elvis in that song, but doing it very well indeed.
http://www.youtube.com/watch?v=y-Es_mxFc9U
Speaking of Elvis. I figured that under the circumstance it behooved me to reciprocate. I gave Tony my Elvis Sun 78 of "Milk Cow Blues Boogie". It's by no means one of Elvis's better Sun sides, but hey, It's a Sun Elvis! Tony told me that, curiously enough, the Elvis Sun 45s were more valuable than the 78s. Still, it was a valuable record. I also gave him my Victor 78 of Elvis doing "Money Honey"; nothing wrong with that side. And best of all I gave him my English pressing of Elvis's "Santa Claus Is Back In Town". It didn't even come out as a single in this country and, I think, it's Elvis's best blues record. I figured Tony's collection was a better home for them.
When we got back to the Bay Area we settled into a Berkeley apartment right across the street from the Berkeley campus and lived there for the next ten years, which was my record for staying at a single address. There was a San Francisco FM radio station at the time called KMPX. They had initially made some noise some years earlier by being one of the first FM stations to go to an all rock 'n roll format. Now they were doing it again playing nothing but 30s and 40s dance band and jazz sides. I got turned on to many good things I didn't know about listening to that station, like the great English Ray Noble dance band sides, usually featuring Al Boley on vocals. I got to hear more dance band stuff good, bad, great and indifferent, than I had ever heard in my life! That is one thing you have to give the Bay Area: They party to a fault and life is cheap, but they are not culturally backward. Let me tell you, it gave me quite a charge to be walking down Market street and hear an old 1928 Paul Whiteman side with a Crosby vocal blasting out of an open store door. It only happened all the time in those days.
By this time Sally was getting a pretty big case of 78 fever herself. We subscribed to Record Research, which had monthly auctions, and Chick Bullock and His Levee Loungers sides started marching into our place on a fairly regular basis. I still wasn't too keen on Chick, but I had to admit that those Levee Loungers (often including session greats like the Dorseys and Bunny Berrigan) were not too shabby. She got one side of Chick doing Isham Jones' theme song, "Blue Prelude", that had this great moaning trumpet playing behind him throughout. I was sure it was Bunny, but one night a Berrigan expert listened to it and told us it was Manny Klein. Well, it was Manny Klein having one great day, and no mistake! I was filling in my Crosby sides both as a 20s band vocalist, as well as his early Eddie Lang era sides. I also started getting into Russ Columbo and Red Nichols and His Five Pennies (that was sort of a joke. You never knew how many "Pennies" would be on any given session). There had been so much good music out there! Mildred Bailey. The Boswell Sisters (three little girls from New Orleans) was the hottest sister act of them all and always recording with the very best. I was now thoroughly convinced that the real golden age of pop and jazz had come and gone years before I ever saw the light of day. It had absolutely nothing to do with nostalgia as far as I was concerned. It was all new to me! I was also making the interesting discovery that if you went back far enough, practically every star of note in music had their good period. When Perry Como was with the great Ted Weems band in the '30s he was vibrant and nothing like the droopy lidded TV star I grew up watching. And what about those droopy lids? If Bing smoked weed, which we now know he did, Perry Como must have! I was even getting a taste for Guy Lombardo and his Royal Canadians, perhaps one of the most maligned bands of all. It's not just some anomaly that Armstrong held them in a kind of reverent awe. In the late '20s and early '30s those guys were great. One night we went over to McGoons to hear a new group that R. Crumb had put together called The Cheap Suit Serenaders. I had kind of lost touch with Crumb. The big stumbling block that I had in terms of really getting to know Crumb was that I was just too damned in awe of him to ever really feel that comfortable around him. It was like knowing Mozart. And I don't feel that that comparison is a reach either. I didn't meet the other two guys who were in the group with Crumb that night, though subsequently they, particularly Al Dodge, became good friends. They were part of a circle of record collectors that began to cluster around Crumb at that time. Another part of this group was Terry Zwigoff who later joined The Suits. I already knew Terry, as he had printed my first solo comic, Corn Fed#1. He and Crumb had, by this time, gone pretty high end in their record collecting. Sally decided to hire Bob Armstrong and Al Dodge to do the music track of her new cartoon Quasi At The Quackadero, so I was soon seeing quite a bit of them, and Crumb again as well. Through Al Dodge I began to meet a lot more high-end 78 record collectors in and around the Bay Area. Very soon I had amassed more great high-end records than I ever dreamed of having or ever even knew existed!
Looking back on my dad's collection I was starting to realize that his pile was okay as a square-one for discovering all the great music of that bygone era, but it was merely the tip of the iceberg. Interestingly enough, back in Prague, he seemed to be coming to a similar conclusion and I was soon trading tapes back and forth with him. I was also coming to the conclusion that music was only one small part of a great cultural renaissance that had been going on in the early part of the 20th century. I realize that I am getting into subjective territory here. Nevertheless, this is my firm belief and it is a basic cornerstone that informs the work I do. I feel that what I grew up with were the dregs of a culture that had seen better days. I began to realize that if I wanted to really be familiar with what I perceived to be "the good stuff", I was going to have to start doing my own research. So, Brothers and Sisters, if you have made it with me this far and you don't get a single other thing out of all this, here is something you might want to think about. If you really want to consider yourself to be a well-informed individual, then my feeling is that it behooves you to do your own research. Beware of second hand sources, including me. There is still much out there that is undiscovered and overlooked.