I'm here in St. Louis at Washington University on a fine spring day.
Naturally any trip to the Gateway City must include beers with Kevin Huizenga and Dan Zettwoch. Duh.
But the big news was a fine trip I took with Kevin to go see an archive of work by Harry Tuthill, of Bungle Family fame. And here is the thing, as evidenced in this archive, between 1924 and 1930 Tuthill hand-painted every single one of his Sunday pages. I don't mean color guides -- I mean fully painted pages. One after the other. The only thing we can figure is that he simply liked to do it, as stats couldn't have been shot from the painted pages. That would have caused too much line distortion. Plenty of cartoonists hand-colored their pages, but usually (or maybe only) to give as gifts. I can't think of anyone who did it seemingly just for themselves, with no obvious purpose in sight. If anyone knows different, please let me know.
Have a look:
And a close-up: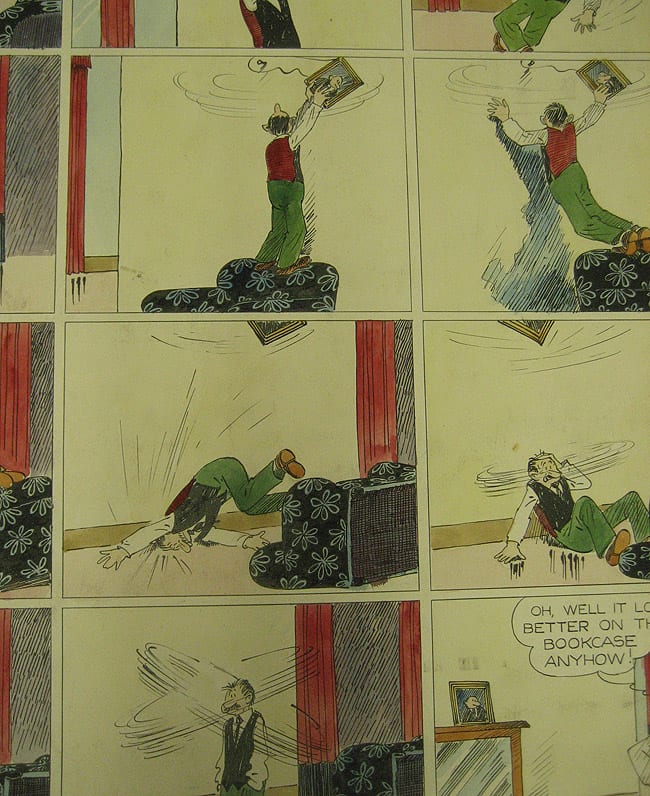 An excellent panel:
Here's another:
These pieces are just stunningly beautiful, and the attention Tuthill paid to fashion is remarkable. He had a loose, calligraphic line -- unfussy but in complete control. And, it turns out, a helluva way with color. Anyhow, more on this later. And yes, there'll be a book in it sometime.
Ah, ok, since you asked, here's one more:
And don't forget:
Meanwhile, just a couple of links today, as I'm on the run:
* Matt Seneca on Dash Shaw at Robot 6.
* Not comics, but highly relevant: Artist Richard Prince lost a lawsuit over an appropriated photograph -- the judge ruled that essentially the resultant artwork was not transformative, and thus not "fair use". Faire use is always a tricky thing, and these days, as so much artwork is based on the digital or photographic manipulation of extant imagery, it's getting trickier. And before I hear a word about Lichtenstein and Warhol, those works were obviously a whole other kettle of fish: painted and/or screened,  significantly altered, and recontextualized in scale and production. The Prince case is a mildly manipulated photograph of a photograph. Anyhow, it's interesting and the article at the link is a thorough investigation.
Finally, hot new content today:
Ryan Holmberg digs in deep and comes up with revelatory ideas and facts about late 1960s manga. Get in there and read.