The life of pioneering cartoonist Diane Noomin (1947-2022) was celebrated by her friends, family and fans at a memorial service held November 10, 2022, at the School of Visual Arts in Manhattan, where she taught comics to hundreds of young artists. Speakers at the event included her husband, the cartoonist Bill Griffith, cartoonists Phoebe Gloeckner and Jennifer Camper, comics historians Bill Kartalopoulos and Hillary Chute, Columbia University's Curator for Comics and Cartoons Karen Green, and cartoonist Art Spiegelman, who introduced Noomin and Griffith in the early 1970s.
"I wasn't even aware that I was being a matchmaker until the last time I was at Bill's house with Diane... and she brought it up," Spiegelman said of his pairing of the couple, so many years ago. "All I really remembered is, 'we'll have a couple of people for dinner, you know'... Bill had been living with us a little bit before that for several months... Bill had been reeling from a relationship that hadn't worked out and he was with us a lot, convalescing from it. And then you know, it was like... 'Oh, well, maybe [Diane and Bill] will get along,' you know. But I but it wasn't as conscious as all that... but it does seem that maybe I did arrange this... and I'm glad I did. But as Bill has reported to me... when asked, what she thought of Bill—Bill asked [Diane] that—she said, 'well, you were kind of snooty.'" The crowd laughed. "And it wasn't until a little later," Spiegelman continued, "that that they actually made the connection that led to a really lifelong, very solid and and moving relationship between them."
Gloeckner, who first met Noomin when she around 15 years old, spoke about how important her friendship with Noomin was to her. Like many of the speakers, Gloeckner reflected on Noomin's contributions as an editor, in helping to nurture the work of other.
"Diane was so encouraging, always, and I didn't even feel deserving of her attention," Gloeckner said. "I was really insecure. But she encouraged me, and my stories, like in the first Twisted Sisters... that was an anthology, including other artists... the story I wanted to do was a story that was a pretty rough story. A memory of a time that was kind of crazy, when I was a teenager. I was so nervous about it, because Penguin was going to publish this book, and... could we do it like underground cartoonists? Can we really draw anything we want to do, like we could in every other comic, like Wimmen's Comix? And I was so nervous because my story had penises and drugs, some violence, and it was very emotional. And Diane, said, 'sweetie, you can do what you want and you should, and this is great.' And I just remember feeling so surprised by that, because I was nervous that we would suddenly have to censor ourselves and be something else. But we didn't. No. She said, 'no, if they're not going to publish this story or anyone else's story, we're not going to go with them.'"
"She was one of the most incredible people I've ever known, and I love Diane, and I will miss her," Gloeckner said. "I do miss her."
Karen Green reflected on an event for Noomin's Drawing Power anthology in which she brought together a number of its contributors for a panel in New York City.
"Diane honored me greatly when she invited me to moderate the launch of Drawing Power," Green said. "I was really nervous because she'd invited 11 or 12 of the cartoonists in the anthology to be on the panel, and that seemed like a lot to wrangle. But it was so like Diane to bring together everyone she could find in the New York City area to put that focus on others, rather than simply on herself… and I'd like to take that thought to Diane's role as an editor… maybe it's not what everybody focuses on, since her comics were so great, but this was a woman who created anthologies that celebrated other women cartoonists, that amplified the voices of longtime cartoonists and new cartoonists, that created communities... and she had a talent, clearly a talent, for wrangling artists without alienating them."
Bill Kartalopoulos also spoke on Noomin's importance as an editor, particularly in her Twisted Sisters anthologies of the early 1990s, in bringing women's voices into what was then a bleak comics world.
"[Diane] was a real kind of take charge and make it happen sort of person, and that's so admirable," Kartalopoulos said. "Because Diane saw that this work was good, and that it was important, and that it was saying things that weren't being said in the larger culture, but she also perceived that the work was not going to find its ideal appreciative audience languishing in the back of male-dominated fanboy-oriented comic book stores. So she very consciously, I think, was thinking about the utility of an anthology, and she wanted Twisted Sisters to be a channel to the outside world of potential readers who might be ready to read adult comics made by talented women speaking impolite truths. So she made a deal with Penguin to publish a book, Twisted Sisters, that would collect work made by women in the alternative press. So the first Twisted Sisters book… came out in 1990, '91, and I really want to pause over that, because I want to pause to really stress the significance of that, because it's hard to remember now how few adult-oriented comics were being published by mass market publishers and distributed to mainstream bookstores in 1990… there wasn't much else out there in the Waldenbooks and B. Daltons of America that didn't look like a Garfield collection or a Batman book… and looking at that first volume of Twisted Sisters, I mean it was really just a very... a pioneering effort, and I'm struck by how uncompromising it is in its choices anthologizing great works by MK Brown, Julie Doucet, Phoebe [Gloeckner], Krystine Kryttre, Dori Seda, and others. It didn't moderate itself to try and be mainstream. It was uncompromising, and it's also clear how seriously Diane took the work of being an editor and making a volume that was meant to get out into the world."
"It is hard to overstate the significance of the [Twisted Sisters] collections from 1991 and 1994," said Hilary Chute. "Twisted Sisters just, to put it one way, blew my mind in the best possible way when I read and reread them in the '90s, and I have continued to reread them on forward. After I heard of Diane's death, it was comforting to me to see younger cartoonists pay tribute to these volumes on Twitter and elsewhere."
Jennifer Camper talked about how important Noomin's and Griffith's encouragement was to her as a young artist.
"When I was young, and amongst all those comics made by smelly white boys, I discovered comics made by women, including work by Diane," she said.  "Her comics were exuberant and exciting, and they were beautiful. They were smart, feminist, very sexy and extremely funny, and her comics let me know that I could make comics too. In the late '70s, smart-ass young dykes like myself would fearlessly hitchhike across state lines to go and visit San Francisco. I somehow wrangled an invitation to meet Diane and Bill at their apartment. They kindly looked at my scrawled pages of comics and gave me some really good advice and some very generous encouragement. And meeting them let me know that I could make comics too."
At the memorial, Griffith said that he is currently working on an extended story about Noomin's life, which is "still very much a work in progress." The following is a transcript of his comments at the SVA memorial service:
Bill Griffith
(husband/cartoonist/teacher, School of Visual Arts)
I hope I can get through this without sobbing. So please understand if that might happen. It's been a lonely few months for me since Diane died, But tonight I'm not lonely, because you guys are here, and it makes me feel very good.
So we're here tonight to honor Diane and her career in comics from her underground days to her work as editor and cartoonist and mainstream publishing, from Twisted Sisters to Drawing Power, her career spanned 47 years. Our relationship lasted 49 years. Though her output in recent years was somewhat diminished, her body of work is lengthy and impressive.
After she died peacefully on September the 1st, at our home in Connecticut, the obituaries started coming in. At first, a few from well-known comics websites, then from major newspapers and magazines. I mention this because it was so completely and shockingly unexpected, it felt as if the outside world was reminding me, and telling Diane, how important she was. How her contribution to comics was one worthy of such praise and attention. In my grief at losing her, I was buoyed by these accolades. Diane would have been shocked at this outpouring. I can see her giving them all her signature ironic grin and eye roll, as if to say "Thanks, honey, where were you when my book sales could have used the boost?"
Diane was my partner in so many ways, from our mutual love for comics and art to a decades-long, behind the scenes collaboration on what we produced, and as aunts and uncles, brothers and sisters, and friends to our extended family. But here's the thing to remember. We were each other's creative editors on every project we worked on, on her Twisted Sisters anthologies, on her career-spanning Glitz-2-Go book, on her recent landmark book, Drawing Power, and especially for me, on my four graphic novels, the last one still in progress. Diane's fingerprints are all over every page of all of those books. I can't begin to count how many times, after reading a few of my pages as I created them, she'd say, "Put more feeling into it. Get under the character's skin, bring out the emotion. Put in some backstory."
These books wouldn't be the same without Diane. I can only hope I absorbed enough of her spot-on insights and continuity expertise to keep me on the straight and narrow in the future.
There was one exception to this process. My daily Zippy strips. For 38 years after finishing a week's worth of Zippy strips, I would bring them to Diane. She was Zippy's first audience. At these times her critical eye was kept at a minimum. She might point out a typo or a misdirected balloon tail, but for the most part she just enjoyed reading them. If I was a very lucky I'd get a laugh out loud, or she'd say "good one." Once in a while she'd give me an idea for a strip which I credited to her between the panels in a Tip O' Th' Pin. She often told me I didn't do that as often as she so clearly deserved.
This is something I wrote just today. I'd like to say a few words about Diane's drawing style. Over the years, a few critics have referred to it as, quote, faux naïve, as if to say Diane had consciously adopted an old folk art style. Nothing could be further from the truth. Diane's art came, comes, directly out of her gut. Her style is not a style at all. It's simply a graphic extension of her storytelling. It's odd, but when I look at her work now, I see it in the purest sense, highly controlled patterns and panel compositions that deliver a powerful punch. Her stories leap off the page for me as never before.
I'm jealous.
And the faces that she drew filled with so much personality and affection, they perpetually propel the narrative. Diane was what I am not - a natural artist, without artifice or a desire to please. She was one of a kind as a cartoonist. She didn't create comics that derived from comics of the past. She was Diane Noomin, take it or leave it.
And now she's gone. But her work remains to be discovered. I'm still unable to accept her passing. Relive all of our 49 years together every day. How could someone so alive, so funny, and yes, so gorgeous, be gone? By what cruel fate am I alone again? Who am I without her?
I'll have to grapple with that for the rest of my life. Triggers like condolence, letters, meals, phone calls, sappy love songs on the radio... send me into mourning almost every day. I can't control this, nor do I want to. I have no idea if I'll ever get through it all.
I just know I have to.
But the real focus here isn't about me. It's about Diane, who is to so many people, especially so many young cartoonists, so inspiring over the decades and to her family and to our friends. So, briefly, here is Diane in her own words... what I'm going to say now are literally things that she either wrote or said in interviews:
I learned to read, because I was too impatient for my mother or father to read the Sunday comics to me. I read Pogo, Brenda Starr, even Mark Trail. I coveted Uncle Scrooge, Little Lulu, Little Audrey, and Little Dot.
By the way, in Little Dot you can see where Diane's obsession with patterns comes from...
When I visited my cousin, who had every Superman comic ever printed, I would read Supergirl, Superboy and Super Dog, before I got to his pile of Superman comics... when I was 13, I remember spending one summer sketching naked women and then hurriedly drawing clothes on them before anyone caught me.
I used to trap friends, cousins, and my sister into drawing contests because I knew I'd win.

I went to the High School of Music & Art, perched on a hill in Harlem, a lifetime away from my home in Canarsie... I majored in sculpture and graphic art, with a minor and Fred Braun sandals, and playing hooky... during the '60s I devoured underground comics, but never contemplated being a cartoonist until I met Aline Kominsky in 1972.... When I lived in New York and a new Zap came out, it was a huge deal. "Far out. Let's read the new Zap, let's get stoned." I moved to San Francisco in 1972, and dragged a sketchbook of drawings and poetry around with me everywhere I went. With Aline's encouragement, I went to a meeting of some women who were planning to publish the first issue of Wimmin's Comix. It sounded like fun. Soon I decided I wanted to be a cartoonist, or at least try my hand at a comic story.
I met Art Spiegelman, Bill Griffith, and Roger Brand, then Spain, Robert Crumb, Gilbert Shelton, Kim Deitch, Sally Cruikshank, Justin Green, and Willy Murphy... there were parties whenever a new comic book was published and the loosely connected comics coterie were usually there, carousing amidst the beer kegs and the bowls of M&M's. That time period was a little like a Judy Garland and Mickey Rooney movie, where they say, "Let's put on a show, kids." You just asked all the people you like to be part of your comic.

Aline and I started Twisted Sisters Comics in part as a reaction to the pressure to toe the rather rigid feminist line Wimmen's Comix seemed to be aiming for. Our first Twisted Sisters comic came out in 1976, and featured just Aline and myself. The humor was satirical, gross, and painfully autobiographical. We prefer to have our flaws and flaunt them. Later, in the '90s, after the publication of several expanded Twisted Sisters paperback anthologies, the most common reaction I'd get from readers and reviewers was, "I never knew there were so many talented women cartoonists." From the underground to the bookstore shopping mall, and it only took 19 years.

As an editor, I think I was somewhere between a den mother and a drill sergeant.

I once tried to do a daily strip - for about a week and a half. I thought I'd have a nervous breakdown. Just sitting there and having that pressure... it's kind of like writing a comic Zen haiku every day.

My criteria for comics is not whether something is feminist or not. I never think in those terms. It's whether I like the art, whether I think it's funny, whether it moves me.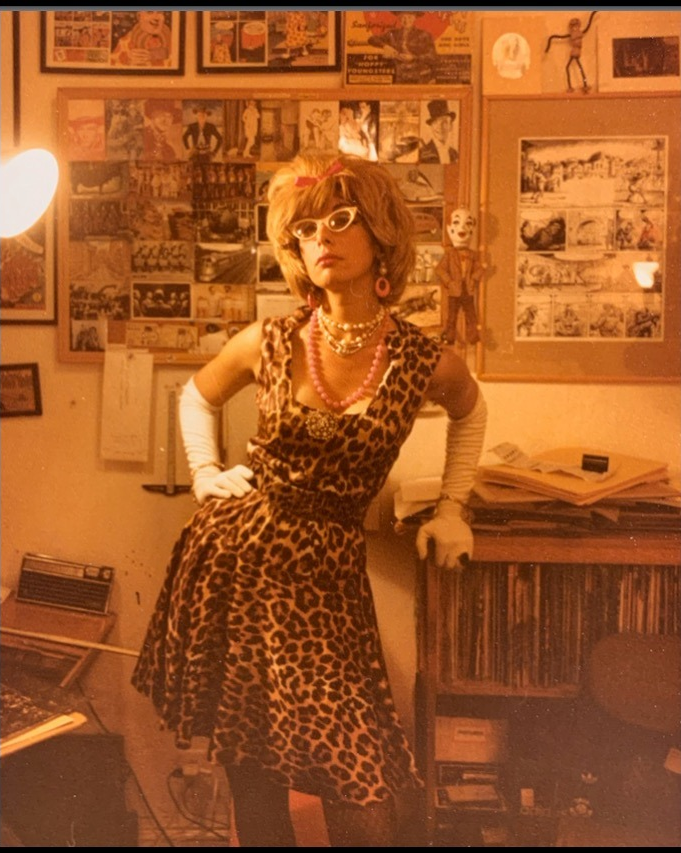 My DiDi character originated in 1972 when she first manifested herself in the form of a Halloween costume for a party at Lora Fountain and Gilbert Shelton's house in San Francisco. I used to joke that the blonde DiDi wig was locked in my closet, and could only be laid out under strict adult supervision.

The name Glitz came from Glotz, a name on an old gag cartoon my roommate, Willy Murphy—who, by the way, was the only person ever to call me DiDi by name—showed me right before we left for that Halloween party. At that moment, 'Glitz' popped into my head as the perfect last name for DiDi... Yiddish sources define 'glitz' as 'glitter', but in 1973 the word had yet to make a splash. In fact, I was constantly asked its meaning. It's a wonderful thing to have created a character, with an extreme personality, who could be put into situations from bank robbery to Bingo parlor to outer space.

I used to say I hid behind DiDi, and that she was a vehicle for satire, but also a non-personal persona I could put on to mask personal issues. But that began to change gradually as I drew myself in stories, and would engage in dialogue with DiDi kind of as two parts of the same split personality. It's become clear to me, after all these years, that whether as counterpoint or alter ego, DiDi occupies her own fabulously decorated suite in my unadorned brain.
So... those are my words.
Those are Diane's words.
Thank you for coming.
* * *
Other speakers at the event included Viktor Koen, the chair of the BFA program in Comics at the School of Visual Arts; Ashley Albert and Maya Claire, Noomin's editors at Abrams Books for her Drawing Power anthology; her sister Veronica Smith; cousin Steven Klees; and Denise Larson, founder of the San Francisco-based theater group, Les Nickelettes, which did a production of Noomin's I'd Rather Be Doing Something Else: The DiDi Glitz Story in 1981.
A full recording of all of the speakers' remarks can be viewed in the video below:
The Comics Journal's obituary and memorial for Noomin ran on September 8, 2022, and can be found here.
* * *
EDITOR'S NOTE: As this article neared completion, we were informed of the passing of Aline Kominsky-Crumb, the co-founder of Twisted Sisters Comics with Diane Noomin, on November 29, 2022. Her obituary can be read here. A separate memorial post will appear soon.