On June 22, 14 years after an investigation by The Comics Journal (TCJ #276) exposed then Comic Book Legal Defense Fund Executive Director Charles Brownstein's drunken act of sexual aggression against novice comics creator Taki Soma, Brownstein stepped down from his position amid a growing number of online protests and accusations. TCJ has discovered that the trail of Brownstein's run-ins with the law, problems with alcohol and alleged offenses against female colleagues is longer than the CBLDF board has acknowledged. That trail, TCJ learned, began before his encounter with Soma and has continued in the years since.
Speaking with TCJ, ex-CBLDF Development Manager Cheyenne (Shy) Allott is the most recent employee to speak about alleged ill treatment at Brownstein's hands, adding her testimony to the growing number of women speaking out about the sexual harassment they have experienced in the comics industry.
TCJ first approached Allott in 2018 as part of an ongoing profile of how the CBLDF is perceived by the current generation, how it has evolved and how it has failed to evolve. The Fund had just become embroiled in controversy after declining to extend its First Amendment mandate to defend an alleged sexual harassment victim against a civil suit by her alleged harasser, cartoonist/publisher Cody Pickrodt. (The suit and counter-suit were settled out of court last month.) Many posters on the web condemned the organization's stance, especially in light of the earlier sexual harassment case against its own executive director, Charles Brownstein. TCJ became suspicious of the circumstances surrounding Allott's 2010 departure from CBLDF only six months into her three-year contract and emailed her some questions. Allott, however, had been required by CBLDF to sign a Non Disclosure Agreement, which prevented her from talking to the press about her experiences with the organization. With Brownstein newly ousted, Allott approached current CBLDF President Christine Merkler, requesting to be released from her NDA and notified TCJ that she might finally be able to answer its questions. Merkler quickly granted the request and Allott is now able to tell her story of convention nights in which she was repeatedly forced to share a hotel room with Brownstein.
Allott had been working at Dark Horse in 2009 and had encountered Brownstein at conventions, finding him "exceptionally friendly and charismatic." When visiting Portland, Oregon, long before CBLDF moved there from New York, Brownstein had stayed at her house. When he offered her the position of development manager, she declined at first, but accepted at the start of 2010 after a former Dark Horse co-worker, Brady Bonney, was hired as CBLDF operations manager.
More than one former CBLDF employee has described the CBLDF offices to TCJ as a tiny space choked with files. Allott said, "It was a tiny two-room space with papers and folders piled from the floor up to the ceiling. There was only enough space for our chairs, which touched back to back. Also Brady was 6'9". If you moved too quickly, you might set off toppling a tower of stacked bookplates or papers, which would need careful restacking. There was little to no filing system and nowhere for anything new to be organized." Later the Fund moved to larger facilities with three offices, where Allott had her own space "with a locking door much to my relief."
Allott was in charge of donations, which included renting, prepping and managing booths at conventions; coordinating volunteers; and setting up events, while also gathering signatures and donations from comics professionals. But if she felt the CBLDF office environment to be crowded and oppressive, her time on the road at cons and other events offered no respite. "My trouble with Charles started three days into my employment, at ComicsPro in Memphis, Tennesee," Allott said. "Upon arrival at the show, I went to check into my hotel room only to discover that Charles had booked us in the same room together. I was instantly uncomfortable with this arrangement and for the first time, I saw Charles drop his charming facade and switch into an accusatory tone. He stated that it wasn't fiscally responsible for me to have my own room, as we were a non-profit. I felt like I was misusing funds simply by asking that question." Brownstein did not respond to TCJ's request for comment.
"That night," said Allott, "Charles and I attended the bar-con of comic-shop retailers and creators. I saw that he was getting exceptionally intoxicated and excused myself for the night. When he returned to our room, I could smell the whiskey from under the covers. I was wide awake and extremely tense, but pretending to be asleep. I heard the sound of him kicking off his shoes in the middle of our room, undoing his belt, taking off his clothes and climbing into his bed. I was fully clothed under my sheets. I did not sleep that night, nor the other two that followed."
It's worth noting here that, by Brownstein's own account, he was intoxicated when he grappled with Taki Soma in the hot tub at the 2005 Mid-Ohio Con. In its response to that scandal, the CBLDF board had reported that "appropriate actions have been taken," which the board declined to reveal. Those "appropriate actions" did not include relieving Brownstein of his executive director position, although he was on probation for a time, according to sources. In a 2018 Twitter post, writer and advisory member of the CBLDF board Neil Gaiman wrote, "I'm aware of the accusations, the subsequent investigation, the recommendations made by the independent investigator and the severe disciplinary actions that were recommended and put in place." Brownstein was reportedly avoiding alcohol presumably as part of his "rehabilitation."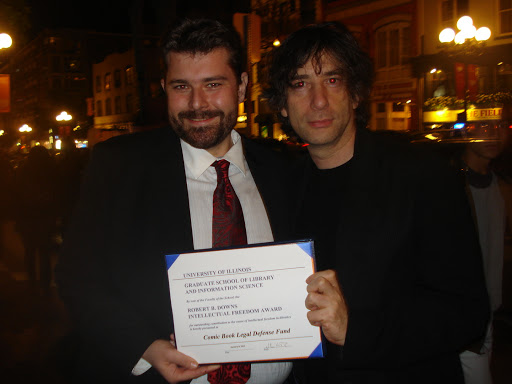 But four years later, the Charles Brownstein with whom Allott found herself unwillingly sharing a room did not strike her as particularly rehabilitated. And that night in Memphis was not an isolated incident. "When we returned to New York, I took a meeting with him and told him that I was not comfortable with the rooming situation," Allott said. "I offered to bunk with Brady or other people as needed, but that it felt inappropriate the way that it was currently working. Instead of addressing my concerns, his response was a defensive and angry  — 'Who have you been talking to?' He muttered something about 'seeing what he could do' moving forward. For the rest of my employment, Charles continuously booked us in rooms together."
Even when Allott attempted to make arrangements to switch keys and share a room with someone else, Brownstein, she said, would switch keys with her intended roommate to ensure that he and Allott would again share a room. "Myself and my expected roommate would check-in at the front desk," she said, "and Charles would take that person's hotel room key so we were in the same room together, despite my previous arrangements. Due to his explosively violent nature, and his penchant for causing scenes in public places, it was not safe for me or my roommate to contest or complain about this. As a side note, I also tried to address the situations directly, requesting that we do not share rooms, and also going so far as to suggest anger management and counseling due to Charles's publicly abusive behavior. Those suggestions were made to Charles directly, as well as the board." Despite her complaints, the practice continued, she said, with Allott sometimes being required to share a room with both Brownstein and his girlfriend.
In the meantime, Allott had Googled Brownstein's name and come across a posting of the Journal's report on the Taki Soma case, which added to the tension she felt in the office and to her fears every convention night that she found herself essentially imprisoned alone with Brownstein in a hotel room. Asked if her fears ever materialized in the form of any sexual aggression on Brownstein's part, Allott told TCJ, "Taking his clothes off in the middle of our shared room IS an act of sexual aggression. He continued to push boundaries repeatedly and made it extremely clear that he controlled my safety and well-being. It was the slow and predatory act of maneuvering another individual into a position that makes them isolated and more vulnerable to abusive behavior, while slowly escalating in severity. He used my job and our professional affiliation to achieve this, one of the reasons I quit so early into my career."
Tensions mounted in the office as well as on the con circuit. Allott did not identify any specifically sexual actions by Brownstein in the office, but said she felt herself singled out, subjected to "a level of disrespect, aggression and consistent negative treatment" that was not experienced by the only other person in the office, Brady Bonney. (Bonney, who is still bound by an NDA could not comment at press time.)
One thing kept her from quitting right away. She had been paid a $5,000 relocation fee to help her move from Portland to New York. Her three-year contract required her to pay back the $5,000 if she left within a year. "In preparation for SDCC [Comic-Con International], I worked nearly 40 days straight with very few breaks," Allott said. "As a result of standing on my feet for 15-hour days at shows, I sustained a stress fracture to my foot. I was confiding in a friend about everything that was going on, and she said something so simple, it changed my perspective. She stated, '$5,000 is what I spent on my teeth. This is your life. You should leave.' When I asked about taking time off to see a doctor, I was told that the CBLDF did not have workers comp insurance and that we owed them quite a lot of money. I was promised, upon completion of SDCC, that we could go back to regular working hours and that we could catch our breath. I had lost 40 pounds, my hair was falling out, and right as we were coming back from the show, Charles announced that we needed to prep for Baltimore the next day. It was an intentional bait-and-switch and it was clear he'd gone around me to secure our involvement with the show. I was riding the subway home, recounting the times where Charles had (soberly) yelled at a waiter or a hotel front desk person, how he'd punched his computer that week, and how, show after show, he'd arrive in our hotel room drunk. I knew it was only a matter of time before his drunken/inappropriate, or sober/explosive, behavior would cost me everything. I called Charles to resign, having no back-up position lined up. He said, 'You can't quit over the phone,' to which I replied, 'Fucking watch me.' The next day, Brady and I drove to Baltimore. Before I left, I very sincerely asked my roommates to investigate my death as a homicide if I were to be in a car accident. Neither he nor Charles spoke to me much at the show, and when it was time to return to New York, they drove back to New York without me."
While in a hot tub with Soma at the 2005 Mid-Ohio Con, Brownstein had reportedly grabbed Soma's breast and shirt, refusing to let go until forcibly pulled away by a friend of Soma's. When news of Brownstein's actions came out, the question on everybody's mind was whether the incident was an anomalous occurrence that had resulted from his excess drinking that night or a glimpse into the real Charles Brownstein, the kind of behavior he was routinely capable of. At the time, Brownstein issued a statement, expressing remorse and saying, "It was a stupid, drunken prank, of which I'm ashamed. It was something I'd never done before, nor anything I'd do since."
TCJ has discovered, however, that the Soma complaint was not Brownstein's first run-in with Columbus, Ohio, Police. Two years earlier, while attending the Small Press & Alternative Comics Expo (SPACE) in Columbus, Brownstein was arrested at a Wendy's on a charge of Criminal Trespass, which was amended to Disorderly Conduct. From jail, Brownstein called cartoonist Rick Veitch, a friend of Brownstein's for whom he had previously done work on the Comicon.com Splash news blog. Veitch, who confirmed the incident to TCJ, was in Vermont at the time and did not know the circumstances of the arrest, but said he believed Brownstein was intoxicated and had been picked up for drunk and disorderly conduct. "It was the morning after his arrest and he needed someone to bail him out," Veitch told TCJ. "I tried to do so by phone, but the police wouldn't take a credit card." Veitch called SPACE founder Robert Corby, who put up the $520 bail bond.
According to arrest records, Brownstein pled guilty and paid a $250 fine. Corby told TCJ he was repaid the bail money upon resolution of the case, but was never reimbursed the $20 bail bond fee by Brownstein. "Don't think I had any contact with him since," Corby said. "Not even a thank-you." CBLDF never returned to SPACE. Asked if Brownstein's behavior was the reason CBLDF was never invited back, Corby told TCJ, "Well, I never had to bail anybody out of jail before. I'm in this for fun."
Two years later, Soma called Columbus police to report being assaulted by Brownstein. At the time the Journal reported on the incident, the case had been dropped by police after Soma declined to press charges. What was not generally known, partly because Soma herself didn't know the outcome, was that Soma, after reading the Journal's report, had decided to get the case re-opened and pursue charges. Brownstein was charged with "sexual imposition," a misdemeanor under the Columbus criminal code. Soma told TCJ the police had promised to notify her if the charges came to trial, but according to records, a jury trial was held April 2, 2007, with the case ultimately dismissed after Brownstein paid fines and court costs totaling $137. Soma said she had never been called to testify or even notified of the trial.
Reportedly, in the year between Soma's experience at Mid-Ohio Con and the legal resolution of the case, Shadowline editor Kris Simon had her own physical encounter with Brownstein. In a June 24 Twitter post, Simon wrote, "When I was working for Jim Valentino/Shadowline we took a trip to NY. We were at a bar w/ Charles drinking & after we had left. We were walking up the street and Jim had wandered up ahead. I remember very clearly that Charles grabbed my arm, and yanked me back to let the gap widen, and said to me 'I've been wanting to do this for a long time' and then grabbed my face and kissed me. I wasn't sure what to do, so I just let it happen, and when it was over, I smiled politely and said something like 'Okay then' and at that point, Jim had turned around to see what happened to us. I was able to break away and catch up. I didn't say anything until after the trip was over. I told Jim very hesitantly because it was weighing on me — he was best friends w/ Charles at the time — & he was absolutely pissed off. He confronted Charles privately about it, & I think they stopped speaking for a while. Jim told me he had handled it, & it would never happen again. It didn't. Nothing was reported anywhere. I tell this story because I do not feel I supported @takisoma appropriately 14 years ago, & I truly regret that."
In a June 20 Twitter reply to Soma, writer Brian Michael Bendis and writer Kami Garcia, former CBLDF Deputy Director Mike Scigliano wrote, "He harassed me 10+ years ago when I was deputy dir. of the CBLDF over my severe illness & subsequent Crohn's Disease diagnosis to the point that my doctor advised me to quit. I resigned w/ a detailed letter to the board. No response from any of them."
One show organizer who was a longtime friend and supporter of Brownstein's and CBLDF, described to TCJ (on condition of anonymity) a traumatic dinner she shared with him in 2017: "He sat next to me and proceeded to belittle and pick at every single utterance out of my mouth. EVERYTHING. At first I tried to deflect and make light of his snide remarks, but the onslaught became too much to handle. It crossed the line into verbal abuse. By the end of the evening I was furious and close to tears. It was not a situation where I could have confronted Charles without making a scene, so I chose to swallow it. It was horrible!"
As Taki Soma's experience began to resurface on the web, this same organizer said she told Brownstein, "I didn't think it was OK for him to be fired for something that had occurred over a decade prior and he's paid restitution for, etc. BUT I said he should be fired for some of his more recent nasty behavior. He said that was fair."
Since Brownstein, for the time being, is not talking, it's not possible to present here how his side of the story might differ from the stories told about him. By all accounts he was and is a man with many sides to his personality. To some, including Allott before she worked for him, Brownstein could appear charming, to others mercurial and short-tempered. One colleague, who said she was sympathetic toward Brownstein, but disapproving of some of his actions, told TCJ, "He can be very kind and accommodating one minute and the next take out his claws. He told me he is aware he has issues he continues to work on. He's not in denial but is still a looooong way from controlling the nasty side. I think impulse control is one of his biggest problems."
Another told TCJ, "Charles' ability to manipulate people goes very deep."
In communicating with TCJ about Brownstein, colleagues and staffers who had shared the CBLDF office with him used adjectives like "angry," "grumpy," "dictatorial," "abusive, "snide," "nasty," "misogynistic" and "explosive." These communications stopped well short of a full survey, but it's safe to say that no one spoke to TCJ about what a pleasure it was to work with Brownstein, at least not if you were his subordinate. Not everybody likes his or her boss, but an executive director who inspires fears of murder, as Brownstein apparently did in Allott, clearly has a troubled managerial style. The question of whether Brownstein's problematic interactions could be limited to a single incident appears to have been answered. The more difficult question that many are asking themselves now is: If these testimonies are to be believed — and in the #MeToo era, the public is learning to believe — how implicated was the CBLDF board in enabling what seems to have been a long reign of terror and alcohol abuse.
A staffer who asked not to be named in this report said, "The board told us the Soma incident was done and they were satisfied with Charles." A picture emerges of a small office with Brownstein in charge, answerable only to board members who were scattered among different locations pursuing their own day jobs.
Of her time at the Fund, Allott told TCJ, "The CBLDF WAS Charles. Brady and I were the only employees, and everyone else was volunteers. I was shocked at his dismissal because I honestly didn't think he was accountable to anyone, not even the board."
But it's also clear that efforts were made by staff to inform the board of ongoing problems. Scigliano says he wrote a detailed letter to the board that got no response.  Allott said, "I think the board was largely in the dark about my case, but I don't believe that to be the case with others. Some of them served during times where employees made complaints. I personally reached out to Larry Marder (who was the president during my stead) several times about what was happening and got no aid from the board at all. I've seen how Charles acts towards people he wants to like him, and I understand that many of them were shown that side consistently. However, there were numerous complaints that went directly to the board, and I don't believe those were addressed at all."
Allott herself and her attorney wrote a detailed letter to Marder, who had just taken over as president from Chris Powell, who is today vice president. "After I returned home," she told TCJ, "I borrowed $600 from my mom, contacted a friend who knew a lawyer, and together we wrote out a letter detailing all the ways in which Charles had broken the reasonable request of a safe working environment and how I should not be beholden to my employment contract nor the relocation fee. The closing line of that letter is 'What I find most disturbing about this situation is that we have a man with a history of sexual misconduct who is taking advantage of a younger woman who is economically vulnerable. It appears that Charles was preying on a young woman who was far from home with no support system in place in New York.' We sent the letter directly to Larry Marder, who was the president of the board at the time. My lawyer informed me shortly after that they wanted me to sign the NDA to release me of all repayments."
Marder did not respond to TCJ's request for comment. At press time, Merkler, on behalf of the board, responded to a series of questions from TCJ, stating, "The current board of directors was not aware of the extent of the allegations against Charles. We are looking into new allegations, and reaching out to the parties involved." She said the board was unaware of Brownstein's arrest prior to 2005. Chris Powell said he had no memory of the agreement with Allott. The full text of the board's response can be found HERE. The full text of Tobe Johnson (Allot's lawyer) can be found HERE.
In 2010, the board's only apparent response to Allott's complaints was to use the $5,000 relocation cost hanging over her head to persuade her to sign a Non Disclosure Agreement that would prevent her from telling anyone about her experiences. The NDA, which was signed in October of 2010, was nothing if not thorough, placing CBLDF beyond the reach of "all liability of any kind or nature arising out of or related to her employment with CBLDF, or any other matter up until the Effective Date, including without limitation, all liability for any acts that violated or may have violated her rights under any contract, tort, or other common law theory of recovery, any federal, state, or local fair employment practices or civil rights law or regulation, any employee relations statute, executive order, law, regulation, or ordinance, any unemployment or workers compensation law, or any other duty or obligation of any kind, including but not limited to rights created by Title VII of the Civil Rights Act of 1964, the Americans with Disabilities Act of 1991, the Family and Medical Leave Act of 1993, the Employee Retirement Income Security Act of 1974, the Equal Pay Act, the Fair Labor Standards Act, and all other federal, state and local laws."
The NDA not only prevented Allott from saying anything to anyone about her time at CBLDF, it forbade her from telling anyone she had signed an NDA: "Except to the extent required or compelled by law, legal process, or subpoena, neither Allott nor her attorneys or representatives shall publish, publicize, disclose, or disseminate, or cause to be published, publicized, disclosed, or disseminated in any manner, directly or indirectly, to any person (i) any claims arising out of or relating to her employment with CBLDF and (ii) the existence, contents, and execution of this Agreement." The full text of the NDA can be found HERE.
Allott said the NDA "was absolutely held over my head. On my last day, Charles said I couldn't leave the office until I signed my repayment plan. I said I was going to look it over at home; he again stated that I could not leave without signing. 'I absolutely can' may have been my last words at the CBLDF."
Allott maintained her silence until a Twitter thread last month by Jennifer DeGuzman about complaints of harassment and manipulation of women by men of power in the comics industry, including discussion of the 2006 Comics Journal article about Brownstein, inspired her to privately and publicly request CBLDF to release her from her NDA. "Christina [Merkler] reached out to me within a few days," Allott said, "and released me from the contract."
Twitter seems to have become a platform through which many women have chosen to speak out about abuses, harassments and inequities in the comics industry. Most notably, perhaps, former Dark Horse editor Shawna Gore shocked readers with a description of the long-running pattern of assault and harassment she had allegedly suffered at the hands of former Dark Horse editor Scott Allie. Another former Dark Horse editor, Brendan Wright, was accused of stalking and harassment in a series of June Tweets by former Dark Horse editor Bekah Caden. Associates have been quick to sever ties to both Wright and Allie.
If there is a silver lining to Allott's story, it may be the fact that women are finally feeling empowered and supported enough to speak out about abuses that have been haunting them for years. It's painful to see the worthy idea of protecting the First Amendment rights of comics creators and retailers that CBLDF stood for dragged through the mud, but CBLDF is also, however, an organization that may be guilty of at least managerial negligence and perhaps willful protection of a harassing executive director, and many angry voices have been calling for donors to withdraw their support of the Fund. Speaking of CBLDF, Soma told TCJ, "They don't deserve our trust."
Trust, however, is exactly what CBLDF is hoping to regain. In announcing Brownstein's resignation the organization issued the following statement: "Our organization exists to serve the comics community and the First Amendment, and we can't do that without an open and honest discourse. We believe our organization's management and staff should be representative of and responsive to the community they serve. As we move forward, it will be with a renewed focus on accountability and transparency. And as we plan for the future with new leadership in place, we will work with our staff and human resources experts to continue developing policies that will make us a stronger organization. We hear and understand the concerns of our community and recognize that this is only a first step in building greater trust and understanding regarding our mission and how it is carried out."
Asked if the Comic Book Legal Defense Fund is still a viable proposition, Merkler responded to TCJ July 5, saying, "The current Board thinks it is. Governance needs to change. The approach to the mission needs to modernize. We're working to bring in outside expertise to help ensure that the CBLDF's important work is done and is done in a more transparent fashion. Right now, the CBLDF is actively providing legal and financial support for a group of cartoonists in Chicago at risk of having their work altered, confiscated, or suppressed in a copyright battle. We're monitoring and combatting unconstitutional legislation and recently aided Pulitzer Prize–winning cartoonist Nick Anderson in his fight to restore his political cartoon to online merchant Redbubble after a takedown. We'll also continue to fight identity censorship. This work is important and the Board does not foresee that changing in the near future. We will not give up on protecting the First Amendment and the right to create, publish, sell, purchase, and read. We must find a way forward over time that rebuilds trust. We want to continue with the Fund's work disseminating helpful legal information to our community, including the recent COVID-19 relief information we compiled for comic book retailers and providing intellectual property information to creators. This work needs to be done, and we have the resources in place to do it."
If CBLDF is capable of rising from the ashes of its current disgrace, TCJ asked what that reborn CBLDF might look like. Merkler replied, "We think that it's a top-to-bottom rebuilding of Fund management, which includes modernizing our Board governance and communicating in a transparent style more representative of the people working for the Fund. We must better understand and explain why the Fund did or did not support previous causes important to our members, update our choices of imagery used in our publications and add deeper pre-hire background checks for prospective employees of the Fund. Finally, there will be a new infusion of Board members that reflects all that comics have to offer, with more representatives of our constituents, particularly creators and retailers."
As a token of the Fund's new transparency, Allott was released from her NDA and Simon was thanked for going public with her story. In a statement June 25, the board promised, "CBLDF's Board is undergoing a complete review of management practices and where we have fallen short. We are examining our mission to ensure it meets modern industry needs, and will do so with input from our full-time staff, expert third parties, and the comics and manga community. The entire CBLDF staff and the Board will participate in mandatory training to educate ourselves about how to better respond to and eliminate such behavior. We will make whatever changes are necessary, including the makeup and structure of the board itself. As has been announced previously, Charles Brownstein has left the organization. The CBLDF and comics industry must create an atmosphere where all creators, employees and readers are welcome and safe. Our hope is, over time, our continued focus on our mission will allow us to be a trusted ally to everyone who loves comics."
The retirement of board member Paul Levitz and the resignations of board members Katherine Keller and Jeff Abraham were announced June 29. The cloud surrounding Brownstein hasn't just made him a lone pariah; it threatens to taint some of the best-known and most prestigious figures in the comics industry who have served or continue to serve on the Fund's board, people like cartoonist Gene Luen Yang, former Image Executive Director Larry Marder, online retailer Christine Merkler, publisher Chris Staros, industry analyst Milton Griepp, film director and comics writer Reginald Hudlin, former DC Comics executive Bob Wayne, Diamond Distributers executive Chris Powell, writer Peter David, and Diamond Distributors president Steve Geppi, as well as advisory members Neil Gaiman, Jim Lee, Frank Miller, Denis Kitchen, Louise Nemschoff, José Villarrubia, Frenchy Lunning, original executive director Susan Alston and others.
If the blight can't be limited to one bad night at Mid-Ohio Con or one troubled and troubling career or even one disgraced organization, the most difficult question for many of us may be: How riddled is the comics industry with the kinds of practices and attitudes that allow sexual harassment and worse to flourish? Allott told TCJ, "My current gigs in digital marketing are the only jobs in which I haven't experienced sexual harassment. Every single comics job has included a groping in a cab, a blowjob request, kissing repeatedly on the cheek, you name it. Most of the incidents are brushed off as a joke or a drunken mistake (by us) as confronting them is much more difficult in nature. To raise the alarm takes A LOT, and it puts everything we have at risk."
Allott, whose only comics-industry job after CBLDF was at Oni Press, feels she was blacklisted as punishment for her complaints. "I have heard first-hand accounts where Charles told prospective employers and hiring managers that I did inappropriate things at the fund, such as going through a co-worker's computer," she said. "It's worth noting that our computers were communal."
Most of the stories that are surfacing now are about events that occurred years ago, but even when they weren't public, they were being circulated. "The whisper network exists because many of these stories aren't ours, but others need to be warned," Allott said. "I would never have come forward with a story about Scott Allie, because it's not mine to tell, but when a friend asks me about freelancing under him, I absolutely tell her what she needs to know. Once we started seeing that people were being held accountable, this round, I think it made a lot of us more hopeful a bit brave and super done with being silent. Keep in mind, my story is ten years old, Shawna [Gore]'s is 14. Taki Soma is one of the only people I know of who tried to do something right away, and that didn't work in the slightest. Some of us have spoken up before and have fallen on deaf ears. Joe Harris [who reported being groped by Allie in 2015] came forward five years ago and nothing happened. The industry and our perpetrators think of us as disposable. Once they smear, tarnish and blacklist us, it's assumed we'll go away and, unfortunately, many of us do, as it's much safer. However, we have long lives, long careers, and long memories. I haven't worked in comics professionally in years, but that's not going to stop me from coming forward when the time is right."
If there is anyone at the center of this network of confidences, it may be Soma, who told TCJ many women have shared stories of abuse with her because of her own public ordeal. She said she isn't currently at liberty to talk publicly about these experiences, but like Allott, she believes the day may come when the whispers become loud enough for all of us to hear.