Prolific comics and animation figure Nick Cuti passed away on February 21st, 2020. He was 75 years old.
In his lifetime, Nicola (Nick) Cuti wore many hats: animator, artist, writer, editor, designer, novelist, screenwriter, but he is perhaps best known as the co-creator (with artist Joe Staton) of E-Man for Charlton Comics, where he also worked as an editor for four years, giving a start to the careers of a number of well-known professionals including Mike Zeck, Paul Kupperberg, and John Byrne. Cuti's other comics creations were Captain Cosmos (done in collaboration with old friend Joe Staton), the unkempt private eye Mike Mauser (originally a backup strip in the E-Man title, but eventually spun off into its own comic), Moonchild the Starbabe, and Starflake, the Cosmic Sprite. As an editor, Cuti, made his mark first at Charlton, then at Warren Publications, working under Louise Jones, and also had a stint as an editor for DC Comics, working under legendary writer/editor Len Wein. Nick's friend Alan Kupperberg recalled in a Facebook remembrance of Cuti: "I wasn't the only kid Nick gave a shot to during his time at Charlton, and I'm happy that over the years I was able to tell him, repeatedly, how grateful I was to him for it; Nick would jokingly (I hope!) respond that he'd prefer it didn't get around that he was the one responsible for my start… Nick made fun comic books--he was co-creator of E-Man with Joe Staton!--and he made making comic books fun. He was one of the good guys."
Former DC President Paul Levitz, under whom Cuti worked for a number of years remembered him this way: "You can learn something about a creator's personality from their work, but it isn't always a completely reliable guide. If you read Nick Cuti's work you'd get the feeling that this was a man with a generally positive outlook on life. His characters were playful, joyful even. But you'd still be underestimating the cheerful glow that Nick broadcast.
"As an editor, he ignored the moribund state of Charlton Comics and recruited talent who would go on to be industry leaders—John Byrne, Joe Staton, even my buddy and prolific DC scribe Paul Kupperberg broke into pro ranks at Nick's hand and encouragement. And he created—with Joe Staton —Charlton's last great series, E-Man, a hero whose charm reflected Nick's own.
"At DC for a number of years he was a relentlessly cheerful presence, and a guardian of the old humor treasures from our vault, making them available to a new audience."
A Brooklyn native descended from Italian immigrants, Cuti was born on October 29, 1944, the first of two sons. His father, Alphonso Gitano Cuti worked as a darkroom technician, while his mother Laura Antoinette Sica, was a housewife. Cuti's brother Emil sold medical supplies and also worked as a medical technician.
Cuti's first published comic strip appeared in a French magazine entitled, Singular-Plural. He met his wife Charlene née Veselsky on a flight to Florida to visit his parents in 1972 and they were married six months later. The marriage lasted until 1995 and produced one child, a daughter name Jaymee Rose, who worked as a journalist and is now employed in the P.R. department of the Portland, Oregon Water Department.
While in the Air Force, Cuti created and self-published three issues of an underground comic entitled Moonie, Moonchild the Starbabe. Moonchild was a curvaceous, big-eyed gamine drawn in a proto-manga style who inhabited outer space seemingly without a spacesuit. For the second issue of the title, Cuti co-published with Gary Arlington's San Francisco Comic Book Company, and was one of the first undergrounds published in color. Cuti's Moonchild strips appeared in the underground Weird Fantasies, and in the men's magazine Cheri before being collected into the three-issue miniseries. Cuti did all the covers, wrote, penciled and edited the stories, which were inked and lettered by Dave Simons.
Cuti was also a prolific scripter for Warren magazines such as Creepy and Vampirella, writing 100 scripts, starting with the story "Grub", which he sold to Warren while still serving in the U.S. Air Force as an Air Policeman. During his military career from 1966 until 1972, Cuti was stationed in France, Turkey, and Bangor, Maine. His work for Warren earned him two Ray Bradbury Awards, while his overall body of work earned him an Inkpot Award from San Diego's Comic-Con International in 2009.
He also had a long career in the animation industry as a background artist, working early on with legendary director Ralph Bakshi in the Krantz animation studio soon after leaving the Air Force. He also worked as an assistant for Wallace Wood in his Valley Stream, Long Island studio, on the Cannon and Sally Forth comic strips for The Overseas Weekly in the early '70s. Cuti also produced a one-page Moonchild strip intended for Witzend, Wood's famous prozine, but it was never used.
Cuti joined the staff at Charlton Comics in 1972 as an assistant editor under George Wildman. Charlton had been around since 1946, churning out comics in all genres, employing the cheapest printing and coloring and paying some of the lowest rates in the business. Still, it was a start for Cuti, who wrote good scripts for Charlton's horror and fantasy titles, working with established talents like Wayne Howard, Tom Sutton, and Don Newton, and recruiting younger artists and writers like Alan Kupperberg, John Byrne, and Mike Zeck. During his time at Charlton, the prolific Cuti wrote more than 200 comics scripts and text stories. He stayed at Charlton until 1976 before moving back to working for Warren as both a scripter and in various editorial guises including contributing editor, consulting editor, and assistant editor.
Never one to rest on his laurels, Cuti also honed his artistic chops during this period, teaching himself how to render using scratchboard, inspired by the work of classic pulp artist Kelly Freas. After mastering this technique, he was soon selling illustrations to a variety of magazines, including science fiction pulps like Analog and Amazing Stories, but also Alfred Hitchcock's Mystery Magazine and graphic science fiction magazine Heavy Metal. In addition to his scratchboard illustrations, Cuti also sold painted illustrations to a variety of markets.
Following his last tenure at Warren, Cuti was hired at DC Comics, where he toiled as an assistant editor before moving on to editing DC's series of digest titles, many of which featured reprints of old DC humor comics, but some featuring science fiction, mystery, superhero and war comics. While working at DC he and Tom Mandrake co-created a six-issue miniseries, Spanner's Galaxy, chronicling the adventures of Polaris Spanner, who had to use his powers of teleportation to evade an army of bounty hunters after being branded "Public Enemy Number One." He also found time to write a pair of "Creeper" back-up stories that were printed in The Flash.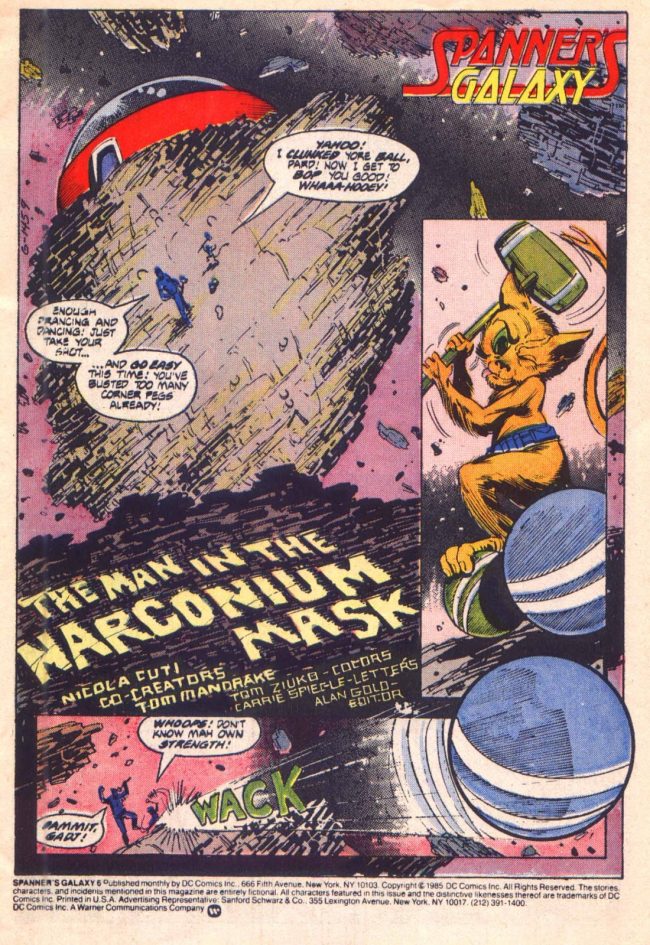 After working in the comics industry until 1986, Cuti's old friend and former Warren editor Bill DuBay, who had begun working as an art director for Marvel Films out in California, offered him work as a background artist on animated shows. Cuti responded enthusiastically and moved his family out to the West Coast. It was a fortuitous move, since Cuti wound up working for 16 years as a background artist and prop designer not only for Marvel Films, but also for Universal Studios, the Walt Disney company, Sony Pictures, and Sunbow Entertainment. His work spanned genres and subjects, and some of the shows he worked on included Conan the Adventurer, Defenders of Earth, Scott Adams' Dilbert, 101 Dalmatians, Exo-Squad, Starship Troopers, and many others.
In the next phase of his career, Nick Cuti moved to Florida, where he wrote and shot independent films for Creature Productions, and then later formed his own production company, Ni-Cola Entertainment LLC. He aspired to produce a film based on his Moonchild character but wasn't able to get the funding. However, fellow film-maker and comics publisher Bill Black suggested that instead of doing a single, expensive feature, Cuti should try making shorter Moonchild episodes, using the profits to fund his next film. Moonie and the Spider Queen, starring Nikoma DeMitro as Moonie, premiered on August 16th, 2013 at the Tampa Bay Fetish Con, and is available on Amazon. The tireless Cuti also wrote and illustrated four Moonie text novels, with a fifth one written by his friend Vic Stonecypher. Cuti finally sold the series to DeMitro in 2018, who planned to reboot it at an undetermined date in the future.
His other major project was Captain Cosmos, an affectionate salute to the space operas of 1950s television. Captain Cosmos first appeared in a comic book series, created with Joe Staton, and was also featured in Cuti's prose novel, Spin a Web of Death as well as a trio of radio dramas and three short films. At the suggestion of DeMitro, who felt that there weren't enough science fiction stories for young girls, Cuti created Starflake the Cosmic Sprite. Just like her precursor, Moonie, Starflake can travel through space without a space suit. At the time of his death, he had written seven Starflake novels with titles like Starflake Rides with the Cosmic Bikers, Starflake Picks the Junkyard Planet. The character was also adapted to a comic book series, written not by Cuti, by his friend Kevin Glover. Cuti also began work on a young adult novel featuring Starflake, entitled Starflake, Deep Space Ranger.
Only a few weeks after being diagnosed with stage four cancer, Nick Cuti succumbed to the disease on Friday, February 21, 2020 in Tampa, Florida. He died amongst the people who loved him best, including his daughter, Jayme Rose, his brother, Emil, and his business partner Nikoma DeMitro. Cuti is survived by his daughter, his brother, his great-aunt Lee Sica, and a number of cousins.
This piece has been corrected to reflect Cuti's cause of death.