Maré Odomo
Internet Comics
Inside cover and splash page (below)
A spread towards the end (below)
I don't really know that much about Maré Odomo. I know I like this comic though! Maybe it's the colors. Maybe it's the drawing. Maybe it's how it telescopes from tiny scale to a grander scale across a sequence. Look at the left-hand-side page above — the left corner panel is packed, but it is totally clear. And then Odomo zooms in for a close-up. Very nice.
Here's an interview that Study Group did with him.
==================
==================
UP NEXT WE HAVE:
Lala Albert
Paranoid Apartment
Inside cover and splash page (below)
Lala is my big drawing crush of the last year. No one can draw like Lala. Have you seen her sketchbooks? Jesus, Mary, and Joseph, can she draw!
Look at this four-panel sequence towards the end (below).
I love the overlapping lines, the layered hands in the third panel of the sequence. Her lines have an incredible confidence that is astounding to me. There's a sort of interior movement or energy just in the lines - and so what she is rendering is very alive.
Last page and inside back cover (below)
======
Lala Albert and Mare Odomo - I like Sacred Prism's choices on how to frame these books.
I like these books because of the 16-page signature, the limited color, the drawing approach, the finished size — they're perfect. Right in my wheelhouse. I remember seeing Lala's book online and thinking who is Sacred Prism? If I knew that the name was a riff on Secret Prison then I forgot. I didn't know the two books were edited and published by Ian Harker (the Secret Prison guy). I missed the fine print on the back of each book (d'oh!). Ian's an old friend of mine. So disclaimers of favoritism aside and all that. When I saw Ian last Sunday at Philly Alt Comic Con, I grabbed Lala's book off the table and asked, "Who's Sacred Prism?" Thinking Ian just had a stack for sale. He throws up his hands in horror and yells, "Me!"
"Oh, sorry!"
I didn't know! Ian then reminded me how he used to be the biggest hater of all the "Kramers" stuff when it was coming out and how we used to argue online (for years it seemed). Then somewhere along the line he came over to "our side" and has been publishing since, what, 2008? I liked all the Secret Prison anthologies, liked the formats, everything. But I like these focused editions a little more than those massive anthologies. I'm not surprised it was Ian putting out such smart comics, blahblahblah. It's another one of those "people change - they stick around - they put out better and better things each year" type things. Sorry Ian if that sounds like a backhanded compliment - it's not supposed to sound that way (smiley face gif here).
Small press comics "micropublishers" are often comics makers themselves who make weird comics and influence the scene in different ways by sort of becoming the biggest fan in the world of other weird comics. So I should've known Ian would've done something like these Sacred Prism editions - and now, I do know. And now you know too.
========================
========================
AND FINALLY:
Olivier Deprez
Lenin Kino
published by FRMK
(Bill K was selling these - had a whole bunch of different titles)
Inside cover and splash (below)
------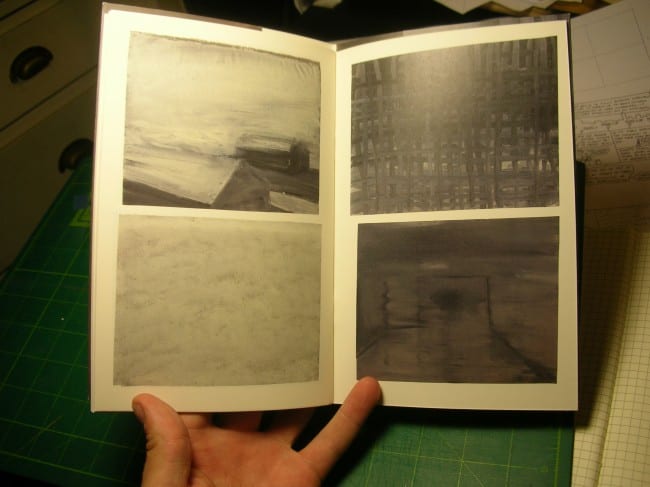 Sometimes the comics I like the most are the ones that I wish I had made. Like they appear in front of me and I think wow, I wish I would have thought of this - this is just what I am looking for. I like "minimalist" comics - not necessarily abstract and without a clear narrative, but something airy like the best painting, something without words so there's nothing to translate. Just images - like a series of paintings - but sequenced in a way that is interesting to read and decipher graphically. When I saw Lenin Kino I thought, "Oh, it's like a Luc Tuymans comic," and I meant it in a good way. It makes me think why aren't there more "painted" comics that are made in this way? Fixed format, simple progressions like comics, storyboards, and film. I read that it's a riff on Malevich and cinematography. Sounds good to me.
====================
====================
BONUS PHILLY ALT CON COVERAGE
Philly Alt Comic Con at Cha-Cha'Razzi last Sunday was one of the best cons I've been to in years. Drinking and smoking was encouraged at your table. Well, smoking was upstairs or outside but the keg was right next to my table, and while "Eating is not selling"—as Tom Devlin used to say—getting customers drunk seems to be very good for sales! Back issues went at a brisk pace!
Long involved raging conversations about Tony Wong were applauded, wait—that was just me talking loudly to no one in particular, I believe. The sound of one hand clapping.
One of my favorite moments was when Pat Aulisio said, "Hey look, it's Terry LaBan," and I closed my eyes and visualized where in my collection was a Terry LaBan comic. I found it - Motorbooty #9 - and busted it out just as Terry was making his way over to my table. "Can you sign this?" I asked with a big smile. He laughed heartily and I got him to tell me Michigan comics scene stories. It was great!
=====================
Here's the other stuff I bought, got, or traded from people:
Josh Bayer (below)
-----------------
Heavens Favorite Man (below)
-------------
Mark T Sedita (below)
--------------------
Alex Schubert  - toys sculpted by Joseph Harmon (below)
------------------
Malachi Ward (below)
------------------
Laura Knetzger (below)
--------------
Sarah P. and R.M. Rhodes (below)
Mark T. Sedita (who cares / whatever buttons) and Joey Gantner (rad fort button)
---
It was like a punk show. After expenses you break even. It's fun to see people and just hang out. It rained like crazy so everyone was trapped. In a good way, I mean, haha.
For me it's fun to see how different people respond to old comics - and new comics too. I was selling Aidan Koch's Q and copies of Night Business by Ben Marra (left over from last summer's cons). Some people collect Yummy Fur and Barry Windsor-Smith Wolverine issues. Some people only want manga. Some people like Mardou. On and on. So I get to show off my collection and tell stories about what folks are looking through. How many comics shops encourage you to paw over the stuff for sale? Not many! True, you have to deal with me being a ham - what else is new? (This paragraph's a little too rhyme-y)
Folks who were there who Pat and I can remember:
Box Brown, Ian Harker, Josh Bayer, Josh Burggraf, Victor Kerlow, Dave Nuss, Matt Moses, Joey Gantner, Laura Knetzger, Emma Louthan, Derik Badman, Robyn Chapman, Will Laren, Bill Kartalopoulos, Matt Crabe, Mark T Sedita, Cody Pickrodt, Casey from Secret Acres/Bergen Street Comics, and lots of other folks I'm sure I'm forgetting, sorry!  Also, I got to meet the great Andrew White, comicsworkbook's starting center, in person for the first time. So that was fun.
I'm jealous that Pat has figured out how to throw small cons like this. I wish more people would do shows where the selling and the after-the-show drinking were combined into just drinking at the show. I was relatively sober, I would say. You know that two or three beers in the afternoon feeling. But I'll tell ya, it sure makes the show less stressful. Maybe, I'll take this approach at SPX. I'll have a beer at my signing and then a beer for my panel. I'll ask Bill K. if it's cool. And Dan. Dan might get mad. I don't think Bill will care. You can drink at SPX, you just have to run to the bar. I don't think I could actually have a keg at my table. I'll ask. Hold on.
Thanks to everyone who came out to the show. Thanks Pat!