Since Warren Bernard took over as head of the steering committee of the Small Press Expo (SPX) for the 2011 show, he's often shaped the overall direction of the show around a particular theme. The 2014 show was a celebration of alt-weekly cartoonists from the 1980s, for example, and another year feted younger artists. This year's theme was the fortieth anniversary of Fantagraphics, which I thought was an interesting choice given that the crowd for SPX increasingly skews younger and younger. Bernard is an ideal person to lead the show at this particular time, in part because he has the connections to bring in all sorts of guests, and also because his tastes are catholic enough that he's willing to put together a show that manages to satisfy both of the main groups of people who attend.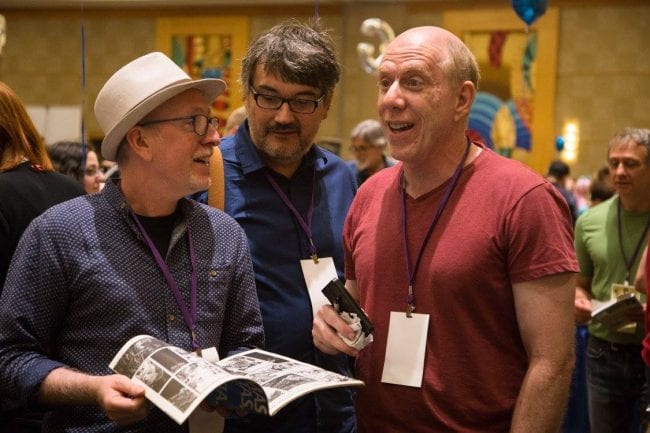 SPX has always had a divide in its attendees and exhibitors. The nature of that divide has shifted over the years, but the same sorts of fans have tended to fill in on either side. On one side, with a slight tilt toward them in most years, is the alt-comics crowd. Fantagraphics has been one of the anchor points for this group and has always brought a lot of guests and debuted a number of new books here. Cartoonists who started off with their own minicomics at their own tables have joined their ranks steadily over the past fifteen years, as the Seattle-based publisher has steadily expanded its roster. On the other side is a group that's difficult to label precisely, but one might generalize as fans of genre-based comics. These aren't usually out-and-out Marvel and DC fans, but rather those interested in fantasy manga, adventure and fantasy comics with their own unique slant (from all-ages to erotica), and generally more lighthearted fare. In the early years, this took the form of self-published superhero comics. In later years, it shifted to fantasy webcomics. Now, there's a huge influence from offbeat Cartoon Network shows like Adventure Time and Steven Universe.
If Dan Clowes is the quintessential alt-comics guest at SPX, then Noelle Stevenson is the epitome of the quirky fantasy guest. If the Ignatz Awards are mostly aimed at alt-comics fans, then the after-awards event known as "SPX Prom" is mostly an activity for that younger-skewing crowd. At best, there has been befuddlement or apathy between the camps, and at worst, there has been outright tension. Every other indy comics show that's followed SPX has had to navigate this split and their strategies have defined their shows. Festivals like CAKE in Chicago and Short Run in Seattle have fully embraced the alt-comics aesthetic. Shows like Autoptic in Minneapolis, Paper Jam in Brooklyn, and Linework NW in Portland have taken that aesthetic one step further, eliminating commerce as much as possible while adding more activities. On the other hand, a show like TCAF in Toronto fully embraces the increasingly wide spectrum of genre comics that are not Marvel or DC as part of its programming, with weirder alt-comics tending to be grouped together.
The tension that has marked some past shows was simply not in evidence this year. I attribute that to Bernard's decision to take over the entire ballroom at the Marriott hotel that serves as the show's headquarters. The show moved to its new location a decade ago, after outgrowing its old Holiday Inn location in Bethesda. That first show had about three hundred exhibitors; I attended, and was interested in about a quarter of them. The show this year had seven hundred exhibitors, and I was interested in about the same proportion, meaning that the actual number of interesting exhibitors has zoomed up to nearly two hundred people. Bernard solved the problem of turf by expanding it for everyone. This year more than ever, it was possible for fans of different interests to have completely different experiences, to never interact and still have a fully satisfying experience. Of course, some of the differences were less pronounced than one would think. For example, the crew behind Adventure Time is like a young alt-cartoonist all-star team, featuring the likes of Tom Herpich, Jesse Moynihan, Michael DeForge, Seo Kim, Sam Alden, Luke Pearson, Jillian Tamaki and more. An upcoming issue of Ryan Sands's cutting-edge anthology Frontier will feature Steven Universe creator Rebecca Sugar.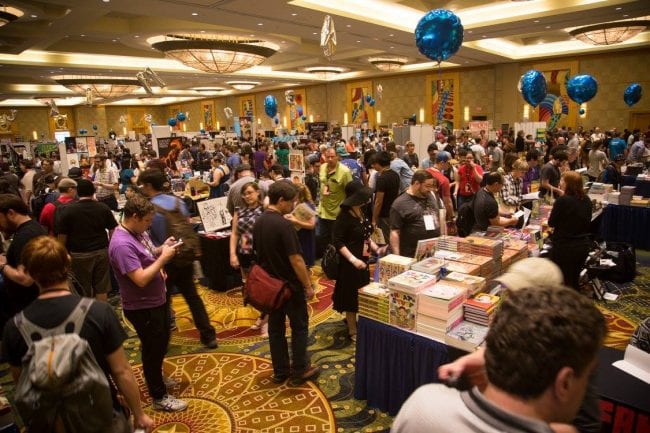 One thing is for certain: the folks who came to the show were ready to buy. Every single alt-publisher I spoke to said that they had excellent sales. Fantagraphics reported sales surpassing four days at the massive San Diego Comicon, for example. Nothing touched the record-breaking SPX of 2012 (which was the best show many publishers ever had), but everyone seemed quite pleased. Fantagraphics brought a huge contingent, including cartoonists who rarely do shows like Clowes, Joe Sacco, Dame Darcy, and Jim Woodring. Koyama Press had a big spread as well, and brought a number of their artists. Annie Koyama continues to spot many of the the best new artists. An example this year was the debut of Daryl Seitchik's debut Exits, which I will be reviewing for this site shortly.
Indeed, what I've noticed among most of the alt-comics publishers is that they have a tendency to work with young talent, nurturing and establishing a long relationship with them. That's the Secret Acres model to a tee, as they debuted Gabby Schulz's impressive Sick, years after publishing his Monster to some acclaim. There are more cartoonists banding together around mutual interests, including an increasing growth in publishing comics-as-poetry. Kevin Czap's Czap Books and L. Nichols's Grindstone have teamed up to publish the beautiful series Ley Lines, creating a sense of aesthetic continuity while giving each cartoonist total creative freedom.
Another prevailing model is the comics store/publisher. As Dan Stafford of Kilgore Books noted, he kept selling out of Noah Van Sciver's minicomics, so he figured he'd be able to make a profit if he simply took on the task of printing them. That's snowballed into some interesting new releases. Van Sciver is his anchor, much as Michael DeForge fulfills that role for Koyama Press. Box Brown moved his Retrofit Comics into a partnership with Jared Smith and Big Planet Comics, which was a great move for both parties. Even some ex-stores continue to have a presence by keeping their hand in publishing, like Locust Moon and Bergen Street. It's another example of how niche and boutique interests like alt-comics can survive if one finds an audience, expands it slowly, and builds loyalty through excellent service. In an age where big publishers and big-box bookstores are taking huge losses, the interest in creating zines and other print art-objects only continues to rise. Floating World, another strong presence at the show, has actually been using the store/publisher model for quite some time.
Artists from the Fantagraphics roster were nominated eleven times over six different categories in this year's Ignatz Awards, which are given out at the show. They were shut out until the final category, Outstanding Cartoonist (the biggest Ignatz award), in which Noah Van Sciver, Kevin Huizenga and Daniel Clowes were all eligible. Van Sciver had broken his string of Ignatz defeats earlier, with the hilarious comic My Hot Date, which he had published with Kilgore. No cartoonist has had a better eighteen months than Van Sciver. Another nominee in this category was Tillie Walden, an outstanding young cartoonist who had already picked up the brick for Promising New Cartoonist. Walden was the basis for the unseen female cartoonist at the heart of James Sturm's very funny and misunderstood short story "The Sponsor", the full version of which was published in the D&Q Anniversary Anthology. In the story, a cartoonist contacts his sponsor when he can't deal with the fact that a younger cartoonist had just signed a deal with D&Q at a very young age, while he was still unpublished. The optics and immediate reaction surrounded Sturm's decision to make the young cartoonist female, led to a social-media controversy in which Sturm was accused of sexism. In the context of the longer story that followed, it's clear that this was more a long-simmering matter of professional jealousy than simple sexism, though the critique made some sense. In a matter of truth being stranger than fiction, nineteen-year-old Walden beat six-time Ignatz winner Clowes and five-time winner Huizenga for the brick--and she wasn't even there!
As noted earlier, SPX is a show that is increasingly diverse and it continues to skew young as it grows its audience on a year-to-year basis. Considering the make-up of that audience, it's not a surprise that the awards went the way they did, but I wondered what effect this had on their sales. In talking to their publicist Jacq Cohen toward the end of Sunday, she reiterated Fanta's overall success, but I asked her how many readers were under twenty-five or thirty years old. To my surprise, she said the answer was nearly half, but what they bought was different from older fans. This made sense, even as Fantagraphics fielded a "classic" lineup for their major panel, and a smaller "next wave" group for another panel that included the likes of Ed Piskor, Ed Luce, and Simon Hanselmann. These cartoonists have put Fantagraphics on bestseller lists, as younger company members like Eric Reynolds and Cohen pursue new talent. Their willingness to publish archival comics and comics strips, to continue to provide a home for the older members of their roster, and to seek out new talent has made them unique among all comics publishers. Fantagraphics always has one eye on sales and isn't as daring in its publishing choices as smaller operations like 2dcloud, but there's no question that they provide the best balance of forward-looking alt-comics and classics of anyone, and the frantic activity surrounding their table and the prominence of their cartoonists in so much programming is proof.
SPX has been around for nearly twenty-five years and has been in this rough format for about twenty, when the first Ignatz awards were held. In many respects, its dynamic hasn't changed, and that's especially true on the alt-comics end of things. When the show debuted, the energy of the young but established Xeric-generation cartoonists (like Tom Hart and the artists published by Tom Devlin's Highwater Books) was the show's lifeblood and cutting edge, even as there was still a great deal of respect for underground cartoonists like Kim Deitch and Bill Griffith who were special guests. As the years have gone by, teens and cartoonists just starting out continue to make up a large portion of the attendees and cartoonists in their twenties continue to act as the vanguard. What has changed is how each subsequent generation of artists has increased in size and become more diverse. Despite limited opportunities to make a living from comics, there are now more cartoonists than ever. Part of that is due to educational opportunities finally opening up, part of that is due to the sustained and even increasing importance of zine culture, and part of it is that the increased reach of alt-comics through bookstores, libraries, and shows like this has begun to have a significant and long-reaching impact on culture. The organizers of SPX understand their role and responsibility in smartly propagating this culture, and the day-long workshops are a sign that they're taking that role seriously. While there are more quality small-press publishers than ever before, the greatest joy I still take from the show is someone in the know handing me a minicomic from a young cartoonist who I'm not familiar with. The fact that those sorts of minis are better now at this show than they ever have been is why SPX is still important.