The Loud, The Lewd, and The Funky

Motorbooty was a magazine from Ann Arbor, Michigan. Nine issues were published between 1987 and 1999. How to describe what kind of magazine it was - is tough. It was a magazine about music that also had a lot of comics. It was also funny. Relentlessly funny. Motorbooty was fully formed straight out of the box when it debuted. This was not some half stepping xeroxed rag thrown together overnight. It was a beautiful and sharp object with striking graphic design. Motorbooty was no joke.
Founded by Mark Dancey and Danny Plotnick - the magazine utilized a vast contributor list that left many of the articles unsigned. It was as though the articles were written by committee. Even the way the contents page of the mag was organized telegraphed a united front of  classroom clowns.
Let's go to the videotape. Check out the contents page for Motorbooty number three from 1988:
Halo of Flies, Mudhoney, Spahn Ranch, Negative Approach - these musical acts may have been swept up into the dustbin of history but the legendary Funkadelic has not. Let's consider the "Long Overdue Tribute to George Clinton". In 1988, no one and I mean no one was writing about George Clinton and Parliament / Funkadelic. Revisionist history buffs who weren't born then will tell you that is not true - but as those of us who remember growing up without the internet will tell you - trying to find a copy of Maggot Brain in 1988 at the record shop was impossible. Maggot Brain was out of print. Compact disc reissues had really just begun during the late 80s - and Maggot Brain was not one of those early reissues. If you wanted to listen to Funkadelic's third record you had to know someone who had it.
What I'm trying to get at was that magazines - fanzines - from the mid 80s were like the internet in embroyonic form. Motorbooty was a portal into genres of music and comics and film and books that I had only heard about in passing from older, wiser folks on the scene. The contents page of issue three lists Robert Williams, Kathy Acker and George Clinton. My 16 year old brain exploded. These articles were the entry point for me to connect with those older, wiser folks on the scene. Motorbooty was essentially a conversation starter between generations. And it was funny. Relentlessly funny. The 1988 version of sitting around watching a hilarious YouTube video. We howled. Passing around Motorbooty at the record or comics shop was, for me and my friends, a tradition by the third issue. Check out this page - also from issue three:
"MOTORBOOTY is proud to announce that omni-cartoonist Matt "The R. Crumb of the 80's" Groaning is now allowing us to carry his delightfully hip comic strip!"
-------
I asked founding father Mark Dancey - the comics and graphics poobah of Motorbooty about the intersection of music and comics.
Santoro: Looking back on the first couple issues - I'm struck by how much of each issue is comics -  I don't remember "alternative" music magazines running so many comics. Or any comics at all. Was that a conscious decision on your part?
Dancey: Yes, I wanted comics to be an integral part of the magazine, not just in the back, or in a special comics section. I wanted to create a magazine that I wasn't seeing on the news stand. We wanted the music coverage to be irreverent in the style of Creem, and the comics to be an underground anthology like Zap, and I wanted to have a place to print my comics so I wouldn't have to go begging someone else to print them. Early on we realized that pages and pages of record reviews are boring, and pictures are always better. You know, a good fanzine from that time was Flesh and Bones, it was about rock but it was really funny.
Santoro: Can you tell me a little bit about the Ann Arbor scene a little before Motorbooty started? From your POV I mean. The Necros were still together, right? Where does Big Chief fit into the chronology of Motorbooty? My recollection was that Motorbooty pre-dated Big Chief.
Dancey: I attended the University of Michigan in Ann Arbor and the one great invaluable experience I got out of that was working on the Gargoyle, which is the University's humor magazine. There were always a lot of comics in the magazine, and Terry LaBan and Lloyd Dangle had contributed to it before I got there. The Gargoyle printed my early attempts at comics, and I learned a lot about drawing comics and about putting together a magazine, and I edited a couple issues.  I arrived in Ann Arbor in 1984 and my punk band, Born Without a Face, was still going, but we had started in Grand Rapids so that is where we regrouped during breaks in the school year. We never played in Ann Arbor, but we invited some of the Ann Arbor bands to play in GR. We played with the Necros in GR in 1984, so that is how I met those guys. Born Without a Face dissolved in 1986. The Necros played their last show in early 1988. I met Mike Danner, who had been in the Laughing Hyenas, about that time, and he invited me to play guitar in a band he was forming with Barry and Matt O'Brien, which became Big Chief. Everyone in the band was involved in Motorbooty, but we made a point of never promoting or even mentioning the band in the magazine.
Santoro: Can you tell me about the first issue? How did it all come together? It feels like you had a heavy hand in the art direction - but the content seems by committee.
Dancey: After I graduated I wanted to keep putting out a magazine, so I started Motorbooty with a fellow Gargoyle editor, Danny Plotnick. That was in 1987. We used some of our material from the Gargoyle and the magazine was the same size and format as the Gargoyle, but we wanted to add articles about music to the satire. We got other Gargoyle guys like Mike Rubin and Gargoyle alumni like Terry LaBan to contribute, and Barry submitted a Necros tour diary. I did not have a computer, and because I was no longer in school I had to devise tricky ways to gain access to the University's computer labs, and I took a job at a local newspaper in order to be able to shoot half-tones of photos for free. I laid out all the pages. There were always a lot of articles that were uncredited, either because they were written by committee and were considered a product of the Motorbooty collective, or because they were just lies.
Santoro: Motorbooty had a big influence on my friends in the Pittsburgh scene - Mike LaVella, Dan Allen, Dave Martin, Spahr Schmitt - and on me as well. What I really remember was how the biting humor of Motorbooty cut thru a lot of the "new rules" of the post-hardcore punk days. You guys would make fun of the DC scene and the New York scene - I think it may be hard for younger readers to relate to those regional rivalries nowadays. Could you talk about that a little bit? I really remember them howling at the way you guys lampooned the DC scene.
Dancey: At that time we considered past involvement in the hardcore scene to be a badge of honor (to the snobbish point of being suspicious of peers who had not been into it) but thought that anyone who was still into it to be a hopeless fool. All these attitudes and rivalries and in jokes would have to be explained with lengthy sidebars in an "annotated Motorbooty"! It's all a bunch of nothing now!
Santoro: Staying with the early issues - can you tell me a little bit about how you began working with cartoonists like Terry LaBan and Lloyd Dangle? Did you know them thru their comics? Were any of them from Michigan? I forget. Wasn't Dangle from Michigan?
Dancey: Terry returned to Ann Arbor after his postgraduate world travels to be near his lady and work on his own comics, so I met him there and he gave me pointers and encouragement. We managed to contact Lloyd to contribute to the third issue, he was already in CA. We would have asked Glenn Barr sooner, but he had a partner who was asking for money, so that didn't happen. Terry Colon was a Detroit guy, as was Kent Myers. Ivan Sanchez was a Gargoyle guy and was actually one of the founding contributors. William Neff was a friend of Lloyd.  I always sent Peter Bagge the mag, he drew a panel with Buddy Bradley reading Motorbooty in Hate. I called Chris Ware after seeing his first issue, he contributed but his page printed too darkly and I don't think he liked being a part of it!
Here is a complete list of cartoonists: Terry Laban, Lloyd Dangle, Glenn Barr, Michael Kupperman, Mary Fleener, Chris Ware, Kaz, Peter Bagge, Kent Myers, The Pizz, Terry Colon, Jeremy Eaton, Danny Hellman, William Neff, DB Velveeda, Ivan Sanchez, Marce Hall, Jim Blanchard, and Mitch O'Connell.
----------
Frank here. For me, that's an impressive list. It's also an insight into the secret history of the 80s and early 90s comics and punk intersection.  Whether it was Pete Bagge doing Buddy Bradley or Charles Burns doing Sub Pop compilation record covers or Dan Clowes doing an Urge Overkill record cover or Gary Grimshaw doing Iggy Pop's 1987 comeback record cover. All that was in the air and for those of us who were interested in that intersection Motorbooty was a far more valuable document of that moment than Maximum Rock'nRoll . Deadline magazine from the UK came later - they had a lot of comics but really no taste in music so we didn't trust what they said. Besides the UK didn't invent punk. Detroit and Iggy did. That's how me and my friends saw it at least - from our rustbelt USA vantage point in Pittsburgh, PA.
-----
-----
I asked my good buddy Spahr Schmitt, who owned the important record store Brave New World in Pittsburgh to help me provide context for those Journal readers who may not be versed in our scene's nerdgang sign language. I asked him if there were any broad cultural touchstones he could point towards:
Spahr Schmitt: One book that comes to mind is Our Band Could Be Your Life: Scenes from the American Indie Underground, 1981-1991 by Michael Azerrad
But, boy, what a wide berth... Of course, there is what came before: hardcore and post-hardcore/emo... and then there's grunge.
What you're asking for, I think, is the "in-between"... To me, that is the most unknown (and, quietly, the most vital) period of punk rock, because it shook the shackles of form and convention... and funk and rap and muscle-rock became channels for re-interpretation of the punk aesthetic... everyone was looking for a way to become more musical while staying outside the conventions of rock/punk... and most importantly, no label saw any real money in it, so there was an unwavering, honest creativity and integrity that was unsullied by commerce.
But, that's where the "great myth" of punk rock began... the idea that punk was always here and the blues and jazz were punk. That everyone who ever questioned society's conventions was a mohawk-wearing disestablishmentarian. It's a wonderful fantasy, that every group that had the earmark of rebellion... garage rockers, jazz musicians, the Beats, WHATEVER... was now punk... although, I guess it's more about legitimizing the contributions of the "punks" by inclusion with the celebrated cultural movements that came before...
Anyway, just as the hardcore musicians were learning the "fourth chord", aging punks were also becoming more sophisticated in their interests. Mixing in the avant-jazz and an interest in James Thompson and Cormac McCarthy with the Richard Kern and John Waters influences.
Looking over Motorbooty #2, spring '88, you'll find Sonic Youth worship, a White Zombie interview, a David Thomas conversation about re-establishing the Pere Ubu name and identity after years as the Wodden Birds, a Russ Meyer interview, a Terry LaBan comic, "banned" newspaper funnies, several Dancey strips and illos, Necros Tour Diary, a Danny Plotnick piece of writing called "Dumb-Ass from Dundas" (that seems to be a script an early foray into his current role as a filmmaker ), record reviews for the Hyenas "Merry Go Round", Soundgarden "Screaming Life" and Sonny Sharrock "Seize The Rainbow"... you get the picture - what you and Damon [Che] were into while delivering pizzas...
Of course we remember the evolution of the mag, getting more sophisticated in it's features (Miles Davis, Firesign Theatre, etc.) and more cyinical in it's satire (Stooges Wax Museum, etc.) until issue # 7 in 1994 which is almost entirely satire and comics (including Big Tex by Chris Ware) with features on the Last Poets and space rocker Von Lmo, completing the transformation into the Plotnick/Dancey free-form anthology mag I remember most-fondly...
Not really sure where the great books are on that formless, transformative period of punk that gave way to the noise scene/indie-rock/math rock/grunge-era... but that's the Motorbooty decade. And it grew as an entity as much as any individual punker or band did in that same stretch...
-----
Whew. Thank you, Spahr!
------
-----
And then I asked another wiser, older Pittsburgh scenester and my good pal Dan Allen about Motorbooty. I emailed him the questions - and along with his replies came this note, "My answers to your Motorbooty / Dancey questions are included below. I apologize in advance for going off on some tangents and for overreaching in some of these responses. It's tough to keep my mouth shut when I'm recalling why I think Motorbooty was so vital and important." To me, what Dan said just there and sez below sums up my own attitude towards Motorbooty. Thanks Dan!
Santoro: Were you living in Pittsburgh when the first Motorbooty came out?
Dan Allen: Nope. I was in Erie when issue #1 came out in 1987. My best guess is that either Dave Martin or Mike LaVella kept issues safe for me at Phantom [local comics / record store] until I showed up on one of my visits to buy records until I relocated to the 412.
Santoro: Big Chief didn't have a record out yet when Motorbooty arrived - were you familiar with Mark Dancey's artwork?
Dan Allen: I remember seeing some of his comics and single-panel illustrations in the fanzine Your Flesh during 1988 & 1989 (one of those strips was dated 1986). Probably some stuff in other fanzines too, but nothing else that I can recall at the moment.
I didn't think of Motorbooty as Dancey's magazine at the beginning; while his graphic work always anchored the consistently recognizable visual style of every issue, there was a team of talented & opinionated writers (Barry Henssler, Mike Rubin & Dave Merline, to name a few) that helped shape the overall aesthetic. However, the later half of Motorbooty's run stands out to me for two reasons: 1) the greater amount of space devoted to Dancey's ever-improving storytelling through comics & illustrations and 2) the writing veered away from features & interviews with musicians/artists/filmmakers/authors and moved toward more of the scathing satire of 90's music culture that Motorbooty tends to be remembered for.
Santoro: For me, Motorbooty was the first mag that combined the music my friends like Bill Boichel [Copacetic Comics] and Mike LaVella [Gearhead Magazine] Dave Martin [Mind Cure Records] and you and Spahr [Brave New World] were always raving about - plus comics and other funny 80s "zine" comedy bits in a way that was so different. It was a big deal for me. They took the piss out of everyone including themselves. Like the Necros tour diary and the Stooges wax museum spoof and then all the comics and great music they promoted - it was a crazy portal into the Michigan scene POV - can you just give me some thoughts on the way it shaped some of our own POVs in the Pittsburgh scene - does that make sense?
Dan Allen: Hmm, not too sure that I can comment about the POV of the Pittsburgh, much less the Michigan, scenes. I think of Motorbooty as one more (very) vital catalyst for the usual bunch of us like-minded pals to keep our conversations in which we contemplated crucial culture constantly moving forward (see *** below). The big differences between Motorbooty and publications such as Forced Exposure, Film Threat or the Comics Journal (all of which provided plenty of critical food for thought in regard to respective mediums that each magazine focused on) was two things: Motorbooty combined music/comics/film/literature commentary in one publication (thereby bringing lots of us together) and it was funny! There was plenty for us all to be intrigued with in each issue, along with plenty of stuff we hadn't seen/read/heard before…which made for lots of different conversations to start up between any combination of us every time an issue of Motorbooty arrived, and we all had a lot to laugh about too!
Bill Boichel once drew a comparison between Motorbooty and SPY magazine, which I find to be (as usual), 100% right on target…especially when you look at the far more satirical later issues. The Motorbooty staff didn't just tear a movement apart in articles; they used tables, pie charts, fake advertisements & photos to illustrate their observations & opinions just as sharply as they used English to express their discontent. I see a lot of similarity in the lampooning techniques utilized by SPY & Motorbooty.
Santoro: I saw Big Chief open for the Beastie Boys in '92. When the Beasties put out that magazine Grand Royal I couldn't help thinking they were trying to to a Motorbooty riff. Did you sort of feel that way?
Dan Allen: Oh yes! I certainly think that Grand Royal magazine was, to put it as politely as possible, at the very least a 'homage to/ inspired by' Motorbooty. The first issue of Grand Royal appeared in 1993, not long after Big Chief opened for the Beastie Boys on the tour that you mention.
I flipped through the first issue of Grand Royal and noticed that one of the Beastie Boys wrote a scathing review of a Soul Asylum record (which was rather popular at that time)…and then included an apology for being so mean immediately afterward! What is that about? If  they felt that bad about the Soul Asylum review, then it shouldn't have been included at all. When the Motorbooty staff didn't like a record, they didn't waste time writing a negative opinion and then offering a retraction. Team Motorbooty called it like they saw it and never apologized for what they had to say. There were also disclaimers in Grand Royal attempting to explain why they didn't support gun culture, and yet they ran photos of musicians holding guns..and they didn't have any qualms about publishing excerpts from REAL DEAL comics. So, what is up with all this guilty conscience hooey from the Beastie Boys??? They've been trying to apologize for making "Licensed to Ill" (easily their greatest record) for more than twenty years...which means they used many pages of Grand Royal to remind their readership about all the good they were doing for Tibet, such as recapping the Tibet Freedom Concert that they organized themselves.
Here's another thing. There was an Evel Knievel interview that ran in Motorbooty #4, which was published in 1989. Grand Royal #3 shows up in 1995 and runs a feature on Evel Knievel's paintings. A coincidence? Maybe, maybe not. While I'm at it, there was a feature on Kid Rock in Grand Royal #4. Couldn't they have found a better act from Detroit to interview? Such as...well, pick any other musical personality from Detroit.
A few other things to mention:
-There were also short fiction stories in Motorbooty, especially in the earlier issues.
-Many times, paid advertisements were located in the back of some issues. I thought this was a rather powerful choice to make. Fuck worrying about ad placement for the layout, let's just stick them at the end of all the content. A brilliant and bold move that commercial magazines wouldn't be able to make (ads were interspersed with content in some issues, but I really like this decision).
-The closest I can think of as a precursor to Motorbooty (at least in spirit), would be the FLESH AND BONES publication (I think it was based in New Jersey). There wasn't too much satire to be found in FLESH AND BONES, but lots of comics from JD King & Jeff Gaither to go with the music features. They also ran an interview Harvey Pekar by Rob from White Zombie, so the connection between those scenes could occasionally show up.
Forced Exposure also occasionally ran comics (usually from Savage Pencil and Gary Panter) along with reviewing comics, books and films after they were done reviewing records. There was some humor in FE record reviews, yet very little comedy. Overall, FE covered the under-underground artists, so obsessive folks such as me, Barry Henssler, Dave Martin & Damon [Che] found plenty to think about in those pages, but you really had to be way into that world to find anything to chew upon.
Your Flesh was another long-running publication that attempted to walk the middle ground between the topics covered in Forced Exposure and the stuff that interested the Motorbooty staff. I think of YF as the opposite of Motorbooty in so many ways. YF tried very hard to be politically correct while providing an overview of the independent and major label alternative culture. Like most magazines then and now, YF's contents were only as good as the writers that contributed to a particular issue. Their editorials were just as boring and conventional as SPIN & Rolling Stone's still are.
-and yeah, as you mentioned, the staff of Motorbooty weren't afraid of lampooning their own heroes, or at least willing to have a good laugh at the expense of people who were fans of their heroes…such as the Stooges Wax Museum article and the matching t-shirt for that imaginary destination.
-----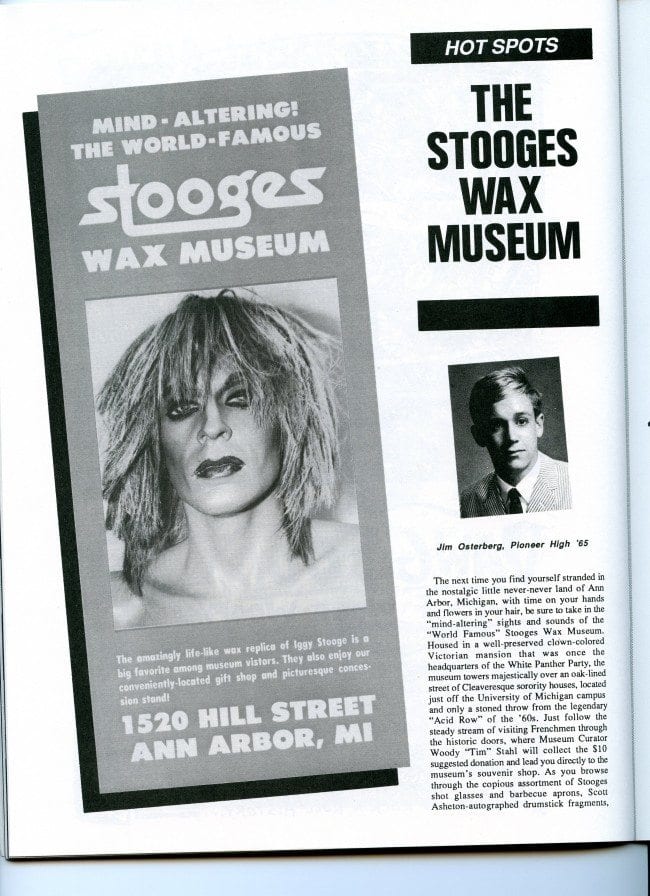 -----
-----
*** A quick run-down of the culture covered in issues #1 - #8 of Motorbooty
Music:
Necros, Laughing Hyenas, Sonic Youth, Funkadelic, God Bullies, Halo of Flies, Pere Ubu, Ron Asheton (artists with some ties to the Midwest) and in addition… Wire, Sonny Sharrock, Miles Davis, White Zombie, Ramones, Mudhoney, The Last Poets, Von Lmo, Nicodemus (these are artists that aren't connected w/ the Midwest, yet certainly of interest to anyone who spent a lot of time exploring music during the mid/late 80's to early 90's)
Film:
Russ Meyer, Guy Maddin, Craig Baldwin
Comics/ Fine Artists:
Robert Williams, Pedro Bell (Funkadelic), Gary Grimshaw
Authors:
Kathy Acker, Harry Crews, Camille Paglia
Culture:
Evel Knievel, Blowfly, The Firesign Theatre, Melvin Van Peebles
-------------
Frank here. Providing context to better understand Motorbooty's impact would take several articles like this one - so I thought I would try and stick to the comics end of it. Motorbooty was, to me, the best kept secret in indy comics. The were tons of indy comics anthologies back then like Centrifugal Bumblepuppy, Blab, Weirdo, Raw, etc - but they were only comics anthologies. Motorbooty, by virtue of its broad range, brought other non comics reading people to the table. I knew who Mary Fleener was before reading MB - but I vividly remember a musician girlfriend who had never heard of Fleener. She became a lifelong Fleener fan after reading this one pager:
-------
It was interesting to see the magazine grow in the '90s. Dancey's talents as a storyteller blossomed - and he sort of took the Motorbooty aesthetic and humor mainstream with collaborator Mike Rubin. An original member of the Motorbooty line-up, Rubin had over the years begun to do writing for various publications including Spin. The duo teamed up for numerous comic strips for Spin magazine - some of which were later published in the pages of Motorbooty. It was as though Motorbooty had infiltrated mass consciousness. Seeing their comics in Spin - I can remember feeling happy for Dancey and Rubin that they had "made it" (in a paying gig kind of  way) without compromising. This was before everyone was really on the internet - and Spin magazine was a freelancer's dream job.
I asked Dancey about Motorbooty in the 1990's.
Santoro: Could you talk a little bit about the evolution of the magazine and your own development as a cartoonist? You collaborated more with Merline and Rubin on pieces and I feel like there was a refinement of the magazine's voice and look. You were doing work for Spin - can you just riff on the mid to late '90s a little bit?
Dancey: Mostly, it got better as it went along, and more ambitious. The first issues had typical fanzine features like record reviews, but we dropped that kind of stuff, we weren't interested in being publicists. Barry Henssler and Mike Rubin brought a lot of good ideas and an encyclopedic musical knowledge that helped shape the mag's attitude, and it got better when more of our hilarious and smart friends started
contributing: first Rob Michaels, then Dan Rice and Dave Merline. Phil Dürr and Matt O'Brien and Mike Danner were also in on it. With all that talent, we were capable of doing more interesting things.
The first few issues look like the Gargoyle, because that is where we came from. We learned a lot from looking at Spy, and tried to improve the look of the thing with charts and sidebars and little cut out heads. Later on we got a computer and pirated software and then we could get fancy. Merl brought in a lot of computer savvy and did all kinds of great layouts on the computer, so the mag looked a lot better than when I pasted it all up by hand.
Regarding my own work from the beginning, it is embarassingly easy to see who I was influenced by/stealing from. In the long run, it is harder to duplicate somebody else's thing than to come up with something in your own hand, so if you keep at it you are bound to devise something of your own. So that's what I tried to do, but I think the comics would have been better if I had concentrated on them.
Instead, I was trying to do everything. I was pulling the rest of the mag together, and I was busy with our band and doing the propaganda for our band and for others. I went into debt putting out Motorbooty #8 (it had to come out, no matter what!) and then I took as much illustration work as I could get, trying to stay afloat, and we lost a lot of momentum. It was three and a half years until the next issue! In that time Mike Rubin and I got the assignment to do a comic journalism piece about ICP which resulted in a lot of noise, but I thought that doing pieces like that would be the new way to go for us. The process of writing pieces had become so tooth-pullingly arduous as Dan Rice said—we would waste hours arguing over a gerund—that I was eager to find a way to circumvent that slog and get the magazine moving again, and the solution was a comics issue, with our writers writing comics that I and others would draw.
Dancey: So Motorbooty #9 had no long articles at all, it was almost all comics, and a lot without words. Then I realized the flaw in that: I spent so many hours carefully drawing comics to mock the ICP, I might as well have been a fan of ICP, and their fans are morons. Then I was done. I had zero interest whatever was going on in music and pop culture by then and did not want to devote so much time to produce something that would immediately be dated.
Santoro: Which of the pieces in Motorbooty #9 appeared elsewhere?
Dancey: The first ICP piece was a job for SPIN that we reprinted so that we could do another piece about their reaction. The Louvins piece I did with Merl in that issue was not printed anywhere else, nor was "Great Moments in Rock and Roll"- Mike and I did a comic about the history of human beatboxes, and I did another comic about Napster with Greg Beato, and one about Muzak.
-----
Motorbooty #9's Perfect Harmony – The Tragic Saga of The Louvin Brothers is a great example of Dancey's remarkable use of space and page organization – sort of a blending of his graphic design and his comic work. (See full comic below and the comic about Napster that Dancey mentions). Please check out all the images and comics I have included here in this overview of Motorbooty. Click on each image for a larger view. I received permission from Dancey to reprint whatever I wanted - to essentially create a sort of tumblr page with some context. I've also included all the indicia / contents pages in order to list all the contributors.
It's difficult to know where the Motorbooty story ends. I was somewhat surprised to learn a few years ago that Dancey has transformed himself into an oil painter - and a good one at that. It's a familiar story of a cartoonist who sees more reward - emotional and financial - in the fine art world than in the comic book world. But Dancey was always sort of on the outside of the comics world even when he was part of it. That comics world imploded at about the same time as the last Motorbooty hit the stands - as did the record industry - so it makes sense to me that Dancey made the move.
"It's a good time to dig up the Motorbooty stuff because at this point in my career it's the most obscure stuff of mine out there, " Dancey told me on the phone recently. Indeed. There are a few hints of Motorbooty's existence on his other website – check it out here – filed under the "portfolio" section. But for the most part this amazing magazine is one of those pre-internet wonders that has gone the way of the Dodo – an extinct species that is ripe for study. Please enjoy.
Thanks to Mark Dancey, Dan Allen and Spahr Schmitt for help in putting this overview together.
------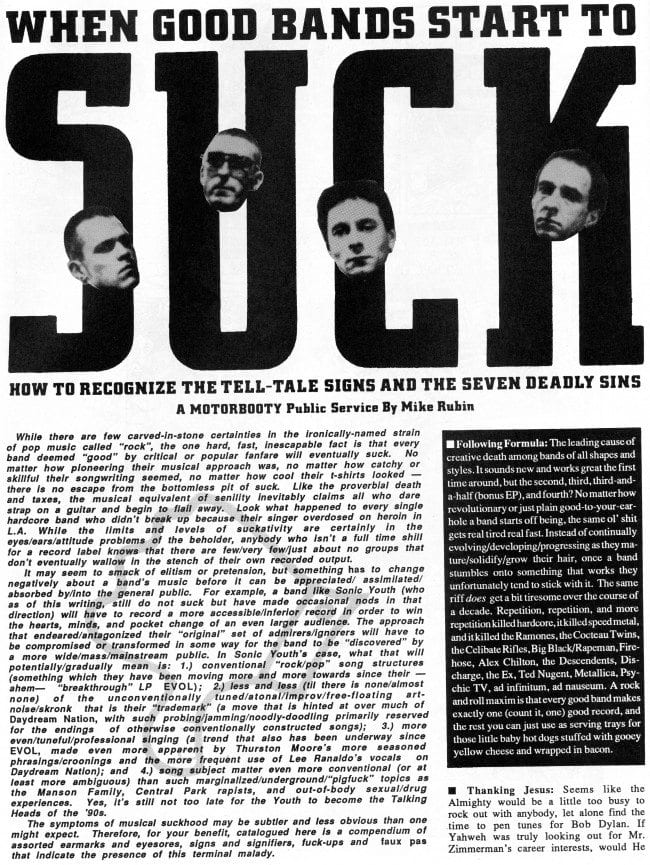 -----
-----
-----
-----
-----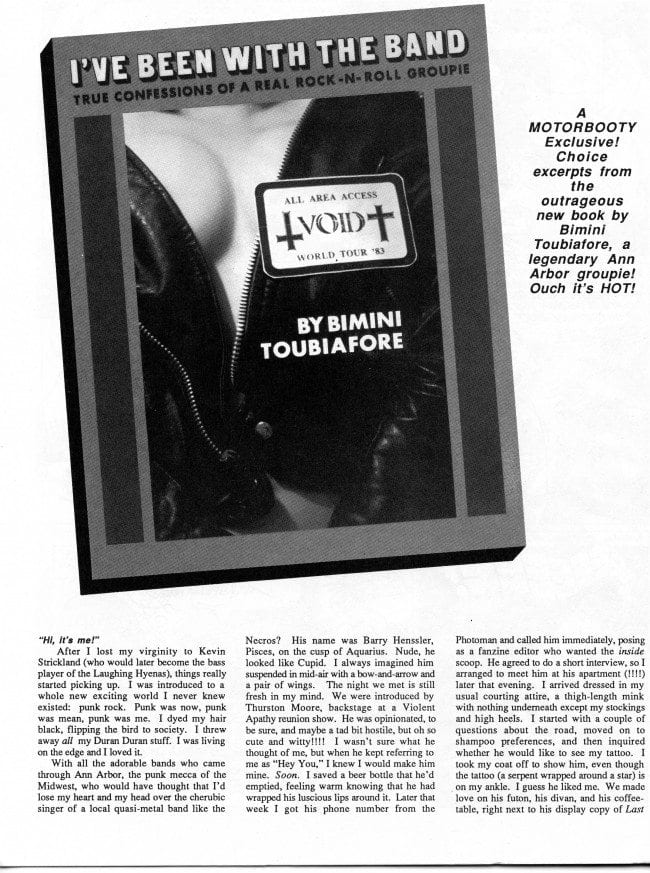 -----
-----
-----
-----
-----
-----
-----
-----
-----
-----
COVER and CONTENTS PAGE GALLERY
-----
-----
-----
-----
-----
-----
-----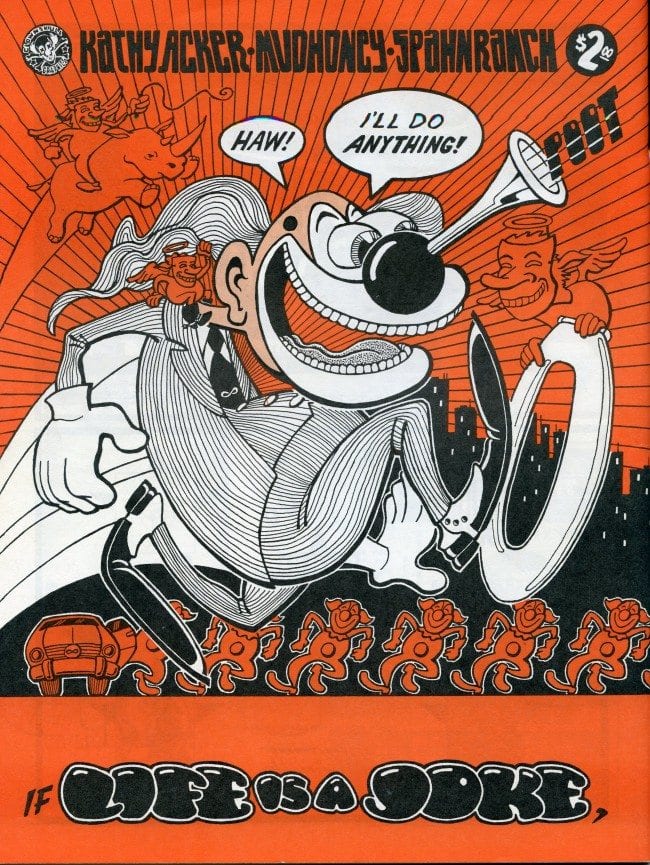 -----
-----
-----
-----
-----
-----
-----
-----
-----
-----
-----
-----
-----
-----
-----
-----
-----
-----
-----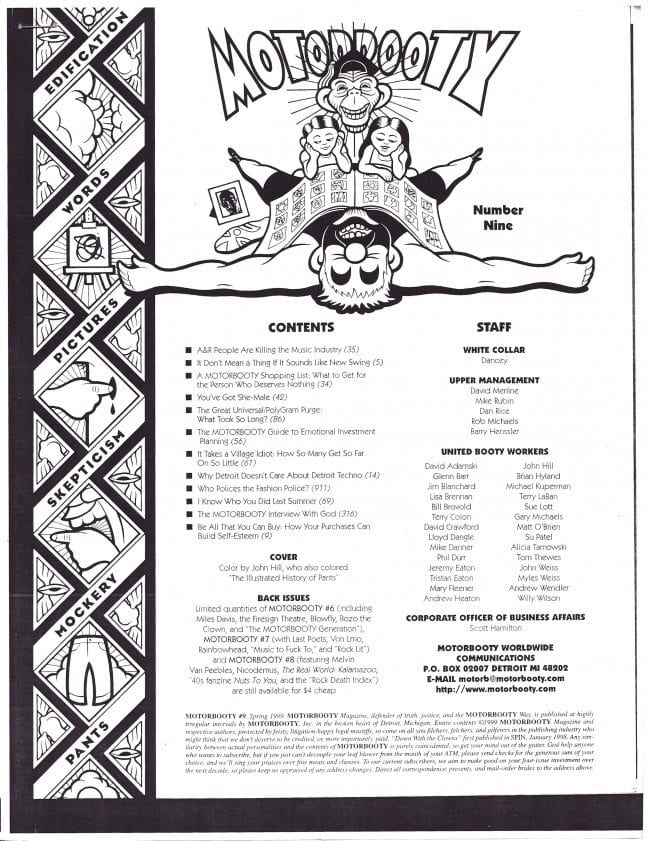 -----
Don't Stop the Funk Gallery:
-----
-----
-----
-----
-----
-----
-----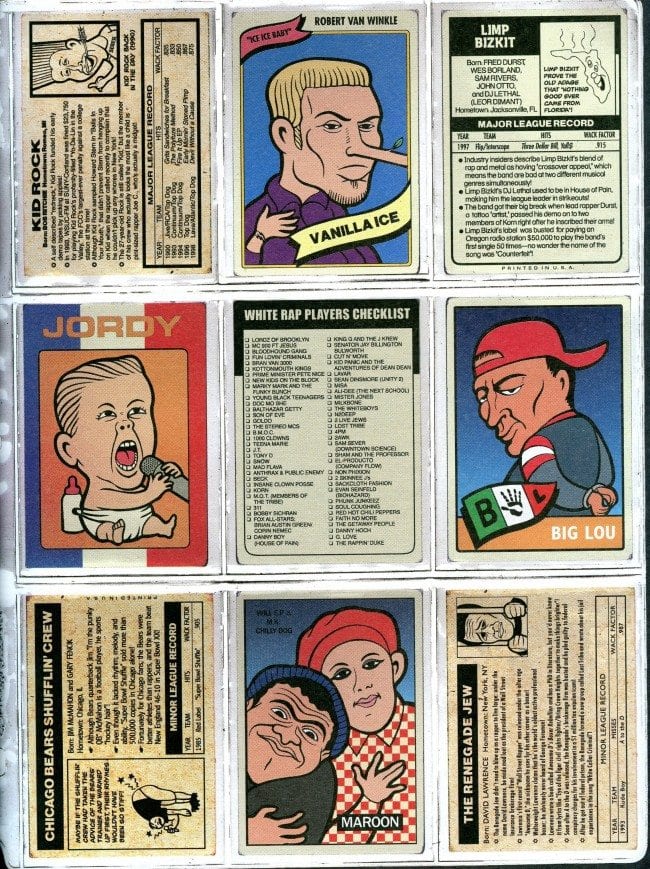 -----
-----
-----
-----
-----
-----
-----
-----
-----
-----
-----
-----
-----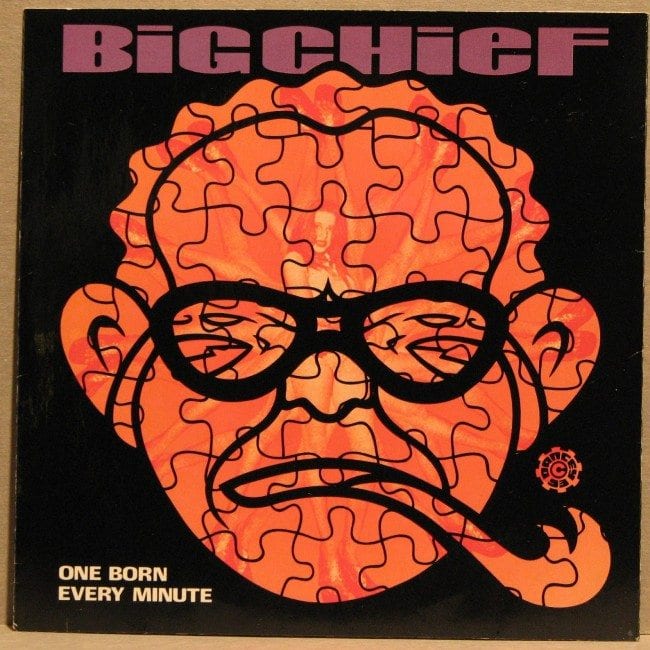 -----
-----
-----
-----
Mark Dancey's website for his paintings - here - and for his graphic work - here.