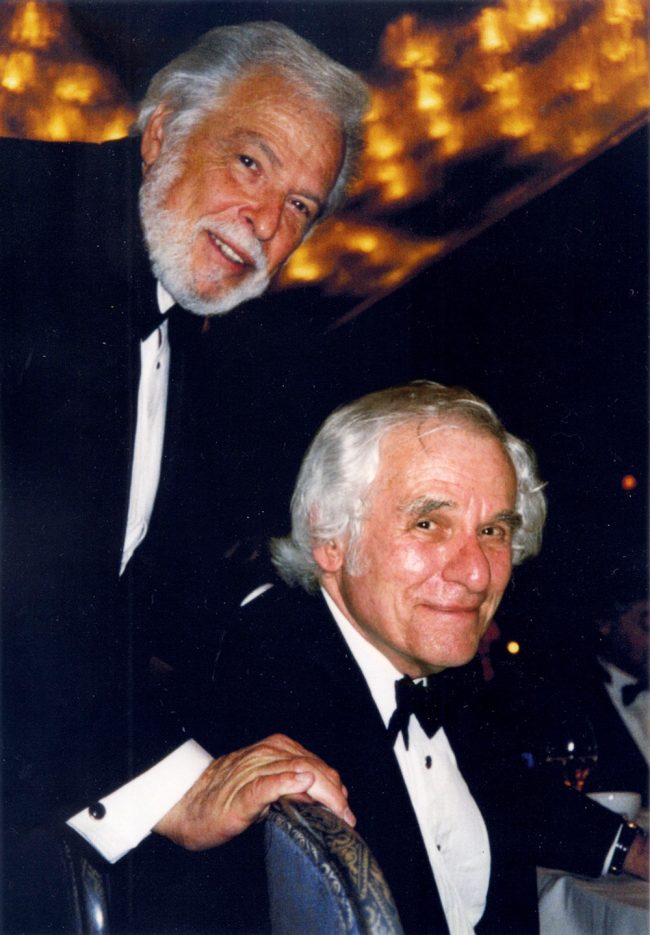 Mort Drucker, most famous for his film parodies in Mad magazine, died Thursday at the age of 91. He was one of the most prolific and popular caricaturists of all time, claiming in a New York Times article, that at one point, "I think I've drawn almost everyone in Hollywood." But Drucker's facile pen didn't just skewer show business figures, he caricatured many American politicians and dozens of influential and famous international figures. While his work for Mad, appearing in April 1957 and lasting until he stopped drawing for the magazine in 2008, was absolutely his most famous work, his list of assignments outside of Mad is diverse and included book covers and interior illustrations, "straight" realistic comic-book art, advertising art, gag cartoons, illustrated children's books, syndicated comic strips, television animation, magazine illustrations, movie posters, album-cover art, several politically satirical coloring books, as well as the covers of mainstream magazines like Time. In many ways, Drucker's career paralleled that of fellow Madman Jack Davis, but if anything, the prolific Drucker was even more popular with the general public because so many American kids grew up reading Mad and being exposed to his devastatingly accurate caricatures of familiar pop-culture figures.
Surprisingly though, Drucker didn't set out to become America's premiere caricaturist, "Up till that point, I just wanted to be an artist … to get paid for drawing anything. People paid me to do caricatures, so I did caricatures, and they liked them and asked for more. That's when I realized I'd found my calling."
What's really astonishing about Drucker, looking back at his long, highly successful career, is that he was mostly self-taught and color blind. Once he was established in the commercial art world, he'd often be called upon to do color illustrations, obviously a real challenge for a color-blind artist, so Drucker called upon his friend Frank Frazetta to be his colorist. Frazetta was an ideal collaborator. However, neither Drucker's lack of formal training nor his color blindness stopped him from attaining the status as one of America's top caricaturists. Aside from his towering reputation as an artist, he had a well-deserved reputation as one of the nicest guys in the business, who was always warm and friendly to his fans.
Morris "Mort" Drucker was a native New Yorker, born in Brooklyn on March 22, 1929 to Sarah née Spielvogel and Edward Drucker, a businessman. His family was Jewish, and he attended Erasmus Hall High School. It was in high school that he met Barbara Hellerman, whom he would marry after she graduated from high school. The couple eventually moved out to Long Island to the town of Syossett, where they raised two daughters, Laurie and Melanie.
Although his only formal art training was a brief stint at the Parsons School of Design, Drucker broke into the comics business as an assistant to Bert Whitman on the syndicated strip Debbie Dean in 1947 when he was only 18. Comics legend Will Eisner was the one who recommended him for this early work. He later worked as a retoucher at National Periodical Publications (now known as DC Comics). While working at DC, Drucker was a ghost artist for Paul Webb on The Mountain Boys, a gag panel that was a regular feature in Esquire. Drucker soon moved on from the staff job at DC and began freelancing at a variety of different publishers, including St. John, Dell and Atlas, as well as drawing humor and war stories for DC. Even at this early phase of his career, Drucker's facility was such that he could effortlessly switch between his humorous style and his "dramatic narrative" style.
After freelancing for several years, Drucker made a fateful visit to the offices of Mad magazine in 1956, shortly after the departure of original editor Harvey Kurtzman, who had taken most of the art staff (with the notable exception of Wally Wood) with him to work on Trump, his short-lived humor magazine. New editor Al Feldstein was scrambling to recruit new artists, so Drucker's timing was good. After looking over Drucker's samples, publisher Bill Gaines, who was listening to a baseball game on the radio, told Drucker he'd hire him if the Dodgers won. The Dodgers won the game, and Mort Drucker embarked on his career as one of Mad's top cartoonists. Gaines later admitted that Drucker was so good he would have hired him anyway, but the notoriously eccentric Gaines was famous for stunts like this. The samples Drucker brought that day included some Hopalong Cassidy pages that he'd drawn for DC, as well as some Mountain Boys strips and a sample featuring the Lone Ranger and Tonto that he'd concocted specifically for this interview. Drucker's early work for Mad involved general gag concepts since Mad had yet to begin consistently featuring movie and TV parodies. But in fact, it was Drucker's facility with caricaturing show business figures and famous politicians that drove editor Al Feldstein to feature movie and TV parodies in every issue. Drucker's first was a parody of the long-lived courtroom drama Perry Mason.
In the '50s and early '60s, the movie studios and TV production companies hadn't figured out that being parodied in Mad only added to the value of their products, and it was hard for Drucker and the other artists to get the photo references they needed to parody films like Lawrence of Arabia and West Side Story. Sometimes the artists were reduced to buying old movie stills and promotional photos at places like Movie Star News.
Drucker would go on to work for Mad for 55 years, and in the process, became the go-to guy for any art director who needed humorous celebrity caricatures. In addition to his other accomplishments, he had the longest run of any Mad artist who didn't also write their own material, and wound up doing over 400 stories. And while he was appearing in almost every issue of Mad, he also maintained a freelance relationship with DC Comics, where he worked on war comics like Our Fighting Forces and celebrity-driven humor comics like Bob Hope and Jerry Lewis. Drucker's four-year run on Bob Hope is what really helped him crystalize his style of celebrity caricature.
His high-profile work on Mad led to other assignments, including, in 1962, illustrating The JFK Coloring Book, which went on to sell 2.5 million copies. Twenty years after that assignment, Drucker returned to world of coloring books to illustrate volumes that depicted Oliver North and Ronald Reagan. One of his most famous assignments was not in comics at all: Drucker illustrated the movie poster for George Lucas's American Graffiti, and also showed his flair for caricature in the poster for The Gang That Couldn't Shoot Straight. In addition to these movie posters, he also illustrated a number of humorous album covers that included The LBJ Menagerie and The New First Family 1968. The heavy-metal band Anthrax also commissioned him to draw caricatures of the entire group on the back cover for their State of Euphoria album. His Mad strips have been reprinted countless times in an endless stream of paperbacks, but he also found work illustrating books by other writers, and even some children's books. However, whatever he was doing, satirical caricatures had become his stock-in-trade. It became a status symbol among movie stars and other celebrities to be caricatured by Drucker.
Despite the plethora of assignments he got from different industries, Drucker did not neglect the arena of syndicated comic strips either, drawing the daily strip Benchley in collaboration with Jerry Dumas and John Reiner. Benchley chronicled the adventures of a totally fictional assistant to Ronald Reagan. Benchley was syndicated by the Register and Tribune Syndicate, and ran from 1984 through 1987.
In the advertising field, Drucker was equally busy, creating a design for the Supercup for Target in 1990, and then a year later Drucker (working with the United Fruit and Fresh Vegetable Association exec Mitchell Erick) created the Frugies, whose characters included Lord Mushroom, Pepe L'Pepper, Penelope Pear and Adam Apple. He also created ads for The Shrunken Head Apple Sculpture Kit that ran in many comic books.
Everyone, it seemed, loved Mort Drucker's work, from Mad fans of all ages to colleagues like Peanuts creator Charles Schulz, who commented in the forward to Familiar Faces: The Art of Mort Drucker, "Somehow, Mort Drucker can take the risky medium of caricature and draw people so that they are funny, instantly recognizable, but never offensive. Frankly, I don't know how he does it, and I stand in a long list of admirers…Someone has said that Mort draws wonderful hands. I think he does wonderful shoes. I think he draws everything the way we would all like to draw." Mad co-editor Nick Meglin, who had been the first to review his samples back in 1956, praised Drucker as, "Number one in a field of one."
Among the many awards and accolades Drucker accumulated during his long career was having his Time magazine covers collected into the National Portrait Gallery, and won numerous Special Features Awards from the National Cartoonists Society in 1985 through 1988. He also won the NCS Reuben Award in 1987. In 1988, Drucker was voted The Outstanding Cartoonist of the Year by his peers in the NCS, and was given a Lifetime Achievement Award in 2014. He was inducted into the Will Eisner Hall of Fame in 2010, and the NCS Hall of Fame in 2017. The Art Institute of Boston bestowed an Honorary Doctor of Fine Arts degree on Drucker. Fellow Mad artist Tom Richmond said of Drucker that, "Mort was a true master of the craft of visual storytelling, and his work transcended the boundaries of the different applications of the comic medium. He could do it all, from realistic comic-book work to the silliest of cartoons, and everything in between."
Mort Drucker passed away at his home in Woodbury, Long Island. No cause of death has been released. He is survived by his wife Barbara, his daughters Laurie Bachner and Melanie Amsterdam and three grandchildren.