Morgan Vogel, a cartoonist known for her distinctively intelligent work, went missing on April 8th. She was found dead Sunday, May 24th, at age 34. While her body of published work was small, its effect on those who read it was immeasurable. Her comics in anthologies (she appeared in Weird Magazine, Smoke Signals, Suspect Device, Tusen Hjärtan Stark, But is it...Comic Aht? and more) were often the stand out piece of the volume in question. The Necrophilic Landscape, a solo masterpiece published by 2dcloud in 2015, is one of the most stunning works of comic art in the last decade. Her recent self published zines, Valle and Nightcore Energy, were beautifully drawn and upsetting to read, a divide that appears in so much of her art and became more pronounced over time.
Morgan was a favorite cartoonist of mine and many others. Her work was, at once, cruel, funny, forgiving, un-affectionate and, most of all, incredibly perceptive. She often zeroed in on personas that people (in much of her work, artists specifically) constructed for themselves. She would at first offer a satire of these poses, but within a few panels, a more moving--and therefore devastating--portrait of the subject would be revealed. The maturity of her expression, the avoidance of an extreme of anger or acceptance but instead a complicated and upsetting synthesis of the two, was achieved with a precision that I rarely see in comics. Many of my favorite artists make work that, on a superficial level, seems confrontational, but at heart is urgently humane---Morgan's work, to me, got at this better than most. When I wanted to start a magazine about comics, including Morgan's work in whatever way possible was one of the highest priorities, because of the nature of her views on art. She wasn't interested in style or gestures of sophistication, but instead on the true implications embedded within peoples art. In one remembrance below, a quote by Morgan is repeated: "I cant think of any other way to love except through artwork or some other medium that is public, loving everybody is easy, when you have an actual commitment to a thing or to somebody then it gets more complicated than I can handle." A belief in the power of art often gets a lot of lip service, but for many artists of consequence, it is a real and specific thing. Morgan, I believe, was one of those artists.
Morgan's work was well known to her peers and to many readers, but because she worked under so many pseudonyms (I originally knew her as Caroline Bren, then as Tracy Auch, later as Hennessy, and finally as Morgan or Morgan Vogel), the entirety of her output remains a tangle. I think this is, in part, how she wanted it. But I also know that she was an avid reader of this website and focused much of her thinking on cartoonists and cartooning history. There are no doubt people reading this with feelings about the form that mirror Morgan's. In spite of her resistance to clarifying her body of work, attention and discussion of it seem important to fulfilling the belief she had in the medium. I think Morgan's high standards for cartooning were often met most precisely by her own art. It's hard for me to imagine an artistic achievement equal to that.
What follows are a series of remembrances of her art and as a person from across the cartooning and art community that Morgan was a part of, as well as a selected bibliography of her published comics. -Austin English
Priscilla Genet (Morgan's Partner)
Morgan Vogel was born on April 20th, 1986 in New Hampshire. She obsessively produced work in semi-isolation throughout her teens, making flash animations, videos, comics, websites, and discordant music . She went on to be a member of the prolific noise project Cave Bears, and continued to produce visual art. She published work under a variety of pseudonyms-- Caroline or Carrie Bren, Morgan Vogel, and Tracy Auch being just a few of them. Recently, she ran a small publishing project called Organ Bank with me.
I became linked to Morgan through my admiration for her work. In 2016, I read Morgan's book Necrophilic Landscape, published under the pen name Tracy Auch. My friend Jon had lent me a copy saying it was incredible and something he thought I would really associate with. It felt totally life changing to me. I was feeling progressively more alienated from alternative comics in its naivety and safeness. Her work represented everything I wanted to create. It was intelligent, damaged, obsessive, occult--it delved into something totally primal and uncomfortable. I read her writing in Mirror Mirror and felt even closer to her. She hit upon the same critical theory that I was interested in with an abstracted poetic style that I found fascinating. I knew nothing about her and assumed she was someone I would never really get to know. She seemed way more like a ghost than a real person.
Her work made me feel less alone, like I had finally found someone who approached the world in the same fucked up way as me. As someone both interested in transgressive art and radical feminism, the Mary Daly quote on the back cover of Necrophilic Landscape was astounding to me. We eventually became very loose internet acquaintances but she was secretive and anonymous. I couldn't determine if it was even her I was following. In 2018, she approached me at CAKE where I was tabling, saying she recognized me from the internet. I was immediately in love with her. She was striking, tall, severe, deliberate, wholly androgynous, somewhat inhuman. She left things on my table throughout the day-- a xerox copy of her short comic The Master of Drawing Circles, a zine from some friends of hers.
She hovered by my table, complimenting my work, recommending me books, Sign of the Labrys after she asked me about a labrys on the cover of one of my comics, Inverted World which I wrote down on the back of the comic she gave me. I found that copy of The Master
of Drawing Circles in a box today, I found the shirt she was wearing the day I met her in the back of my closet last week and broke down sobbing into it.
We exchanged numbers at CAKE. I saw her standing on the balcony of Center on Halsted as I went to leave and knew I couldn't leave without some solid way to contact her. She entered my number into her ancient tracfone and we talked about Pris from Blade Runner
and schizophrenia.
I went to meet her in Bloomington, Indiana where she had been living and she asked me to write for a magazine she was working on called Organ Bank, centered around mental illness and violence. She gave me a deadline of a couple of months. I quickly wrote a screed on Ted Kaczynski that we published recently as a pamphlet. That magazine was never published but the name became our publishing project.
It's crazy to think that someone whose work was in many ways my goal became my collaborator. It became normal, but I feel in awe of it looking back. I remember giddily pointing a friend to 2dCloud's table the year prior to meeting Morgan, telling them to check out her book, and bringing it up to anyone who would listen to me. I scanned in pages from her work in Mirror Mirror and uploaded them to Tumblr. She was a bit of an obsession.
She edited two of my comics and a piece of my writing, taught me tons of tricks in Photoshop, and she designed and promoted my work to the best of her ability given that she refused to own a computer or smartphone. She gave me feedback on my writing and my art, sometimes harsher than I wanted but frequently making me feel immensely proud. I am so glad to have been able to collaborate with her, to love her, to reach beyond the opaque wall she had created around herself.
I also got to know her as a real person-- playful, adoring, frightened. I feel like this is something I want to stress-- she wasn't just lurking, ghastly figure. I want her peers and admirers to see her as a tangible person, someone I talked to every day about my fears, my dreams, our future together, the plans we wanted to execute. Someone I cried with, watched shitty horror movies with, someone who cuddled with me while watching me play a video game she bought me. She loved going on hikes with me, walking my dog, being able to be my visible homosexual partner in public. She was someone who held me every night we shared together, and showered me in adoration. She was neurotic, fearful of how others perceived her, full of vitriol towards those she hated and a deep love for the select people she cared for. I loved and sometimes loathed listening to her talk for hours on end about her favorite music, movies, artists-- getting calls from her at all hours monologuing about how God was the Crypt Keeper, an AI that was punishing her.
One memory that really sticks with me is driving across the country to table CAKE last year, in a way celebrating our anniversary together. We first stopped in Bloomington to print copies of our comics on a risograph we had stashed there. We quickly found out the risograph was broken and spent hours trying to fix it, only to abandon the task to go to a communal house with a xerox machine and print and collate both of our comics. To be able to have our work ready for CAKE, we had to work through the night and drive from Indiana to Chicago only to table through the day. We had an insane time. This is how I remember a lot of the times I had with her. A total uncompromising intensity, punctuated by moments of deep and tender intimacy. I would give anything to be able to do these kinds of things with her again.
She was extremely critical of both her work and the things we put out with our publishing project Organ Bank, directing me fervently and taking over tasks from me in a semi-fugue state as we neared deadlines, obsessing over pages of her work that didn't fit her liking. She became interested in black metal through me and we discussed my favorite black metal project Ildjarn's commitment to a process of reduction--to a ritual of obsessively removing adornment and creating a raw, pure, artifact. I do feel that her work carried this ethos. Her work was true.
Matthew Thurber
In 2006 I was cruising the "Brutal SFX" mesage board like a crab bottom feeding for noise absurdity morsels when I saw a posting about someone giving away a CD-R called "MA'S BANDS" to anyone who was interested. I raised my hand, it was sent in the mail, cover was a hallmark card of a Rabbit sliced in half, and the recording was juvenile tantrum dada
shrrrriiiieeeeekkkkccccrrrrcrrrrccrrrrrrrcrrrrcrrrrrrrhhhhch.
On 12/13/06, Matthew Thurber <[email protected]> wrote:
Thanks for the puzzle, punk
Carrie <[email protected]>
Wed 12/13/2006 5:32 AM
To: You
You got me figured out with my chapbook kind of style of not being a live or
good for any other providing of sustenance excluding the original
contradiction aka house of waters. We are assaying to assemble some kind
of arras-like compilation antinomy including only songs recorded live over
the telephone. It's only at the rudimentariest penile beginnings at this stange
but might you have interested in intertributing a song? Let me know and I'll
assendle you the information.
I guess Carrie was about 20 years old then and I was 29. In 2007 I invited Cave Bears, Carrie's band with Nick Williams, to perform at Cakeshop in Manhattan as part of a series Soiled Mattess and the Springs was hosting. At least half the band was wearing Caroliner T-shirts and huge furry pink moon boots.The show began with one Cave Bear hiding under a blanket reciting the Lords Prayer into a microphone, which they continued doing for the show's duration. The others began playing a country song backwards. They appeared not to know how to play the instruments, it was like children holding loud feedbacking toys.
At some point in the song, they spontaneously collapsed- knocking over the mic stands and hi hat, and Carrie concluded the 10-minute performance by flinging rice out of a takeout box at the other band members.
Yeahhh.. we're a band. we have members and like, all of the membe
to be listed to keep everyone happy and in horse so here's the list
Rachel Hatred
Pat Dry
Dwight Nuisance
Candy Sans
Jah Mess
Les Desgustor
Paid In Gems
They'res drops In It
Nick and Carrie created Feeding Tube Records in partnership with Ted Lee. Carrie's taste informed early releases.The Pimania record was an absurdly lavish reissue of Mel Croucher's music for video games played with audio cassettes. Carrie was behind the unearthing of this deeply odd and obscure body of work. I was engaged to draw a comic advertising this release, for which Carrie wrote a very elaborate script.
Narration: MEL CROUCHER AND CHRISTIAN PENFOLD ARE
SPELUNKING THE
ANCIENT PYRAMIDS BENEATH THEIR OFFICES IN
HERETOFORDSHIRE, ENGLAND.
Christian: WHAT IS THAT ODD-LOOKING SARCOPHAGUS?
Mel: DON'T TOUCH THAT. IT'S OUR OLD CREATION, THE PIMAN. HE'LL
PROBABLY LEAP BACK TO LIFE TO HAWK SOME SHODDY NEW
PRODUCT
Scene is the same as before. The Piman, in the guise of a mummy with unrolling toilet paper, has leaped out of the sarcophagus and is menacing Christian Penfold, who, frightened but not at a total loss of composure, has turned to address Mel Croucher. Mel Croucher has knocked over another, inconspicuous sarcophagus, which is now open on
the floor, and is being menaced by Groucho Marx, who face each other like mirrored but opposing images of respective fright and menace. Also present are a can of worms, a sundial, and a saxaphone.
Carrie was a mystery and it was fun to be a mystery to each other and with our projects. Eventually I learned more. Once when I played a show in New England, Carrie picked me up from the train station and we drove to her mom's house in New Hampshire. Carrie's room was like a rotting tooth in that bucolic setting, cluttered with CDs, piles of drawings, crude lino prints she was making on sheet music; an outsider art cave created by a extremely intelligent person who went to college at Hampshire and Marlboro. I remember some conflict with her mom as Carrie made a pizza to use as a prop in the night's performance. After that visit I thought I understood Carrie's unhappiness more.
Screaming "comedy" during a Cave Bears performance: "Is this afterbirth, or a birthright trip?"
I continued to perform with, sometimes set up shows for Cave Bears, who continued their obnoxious careen, changing members, always basically Carrie and Nick at the core. I made the cover for their 2009 split LP with Id M Theftable. Carrie came down and pulled silkscreen prints with me, but the sleeves were glossy and you could scratch the ink off with your thumb nail. A huge disaster. I remember Carrie trying to pull a silkscreen print, hands quavering. She was very tall and skinny, and reminded me of David Bowie live, as Ziggy Stardust, hair like a rough carpet. During this visit I asked her why she used
the female pronoun.
"I don't really like fine art" Carrie said during that visit. I think she was interested in every kind of mass produced art and all the ways they could provide extreme weird and eccentric visions and especially all in-between, hybrid, and trans-formats. She must have spent a lot of time on the internet. But I also remember her saying how much she loved the city dump and how she found Bruce Haack records there, which I still don't know if I believe. She would send me links to revelations, like when she discovered Harry Stephen Keeler. She introduced me to Priit Parn and Charles Brockden Brown. She sent me a mix tape of spanish new wave that I still listen to. Ojos de Cristal.
I wrote to someone who dated Carrie:
I reread all my emails with Morgan or at that time Carrie ( I always think if her as carrie can't help it). I remembered and revisited the unfolding of the friendship that was also so distant, sometimes formal, expressed through sharing and gifts and literary obsessions . I saw that I tried to be a good friend and I was relieved. I read between the lines of things that carrie wrote and saw more than I had before, a person in so much pain, searching for friendship, communication, love, and almost in all ways , the unattainable. Beyond music, and language and gender. Mike asked me if he thought peace punk in 1800mice was a portrait of Morgan. I never even realized it but of course it is. I met her right when I made that character.
Carrie wanted to be a successful cartoonist. She was. You don't know if you've done enough. A lot of stuff has happened as years swoop by, and I don't really like to process and sit around, just do more. It's like nothing gets processed until we stop. So its been hard, its like looking back at the whole time period.
working on a comic about tintin in egypt
We talked about collaborating on a narrative script for a book on tape that never got done. We made a VHS movie with Jesse McManus and Eugenia Semonova called "Myopic Adventure with Four", perhaps having to do with bugs and optometry, that is buried somewhere in my storage locker.
idea for tv show dialogue for tv show TimeTeens: "Those darn two-timing TimeTeens!"
Once, in 2010, She sent me a massive sheaf, hundreds of color photocopies of the art from Choose Your Own Adventure series called Fighting Fantasy, along with a printout of a comic called "The Prickless Man" which I thought was an very important work. The comic addresses gender, power, civilization, the origin of capitalism in the medieval period, all drawn in a coarse and satisfying woodblock hairshirt style. She was making it to self publish with the Xeric grant, which rejected her. This was later released as Necrophilic Landscape by 2D Cloud. I don't think it is as good or as long as what I was shown.
my interest in peasants in medieval europe came out of a desire to look at the kinds of cultural resistance people offered at times where the ruling class was consolidating power and trying to impose this new thing called capitalism on people in rural areas.
People would write to ask me if C. Bren was a real person. Or ask me "Is C. Bren a dude?" After a while, I tried to keep a kind of professional distance from the insanity. It was unclear how much was a performance, or test of mental limit-experience, or how much was "real". I stepped back from the cruelty or masochism that was very visible in the performances. I think Carrie was a fully constructed person, she wanted to build herself. I think she also was someone who could not help herself. I remember after a performance I set up, at Death By Audio, where she treated her then-partner very roughly, force feeding her, dragging her etc. and made a huge mess- then after the performance, mopping up dutifully and apologetically.
Hello, Matthew. Here is an update on how I am doing. I am working overtime ( 6 days / wk, 9 hrs / day) at a warehouse putting boxes inside boxes. It is the Yankee Candle warehouse. Basically my job involves being an auxillary limb of the warehouse, which is an autonomous entity possessing a nervous system, which I am expected to maintain a constant contact with either by pressing a button or scanning a barcode. There are barcodes that represent boxes, but there is also a barcode that represents me, and barcodes for each of the other human beings who each function as an organ of the warehouse. The purpose of my job, so far as I can tell, is to assemble the mother warehouse's children. I am given a sheet of plastic on which is printed a barcode that represents an entity that possesses an exterior skin or shell that resembles a cardboard box and internal organs which also resemble cardboard boxes, in different sizes and shapes. These entities are usually unique, but sometimes there are multiple entities with identical configurations of organs. However, the condition of the organs and the small amount of freedom that I have in choosing how to arrange these organs inside the shell ensures that no two of these entities are exactly alike. The most ghoulish aspect of the whole enterprise is that in order to acquire these organs---and I have no choice but to acquire them---I must literally flay alive other of these box-like entities, and steal their organs in order to give life to the ones represented by the barcodes. I believe that there is some kind of eugenics programs at work here because of two facts: 1) all of the entities to which I give life begin life at the same place, the warehouse, and go from there to other places, whereas the entities which I murder come from different places and all die here; 2) all of the entities which I murder possess a configuration of identical internal organs, whereas the entities to which I give life usually have organs of varying sizes and shapes.
Around 2012 an Ambergris/ Cave Bears tour to Chicago was planned but Carrie dropped out. She stopped playing in Cave Bears. She moved to Baltimore. Sometime around then Carrie visited Tomato House and was disrespectful to my partner, and I asked her to leave. From then on I didn't have much contact. We would see each other at the comic book festival once a year. She was transforming a lot, on various trips.
in the past couple of days i have rediscovered my true purpose and have decided to devote my life to following the path of Wicca
I felt like my usefulness to Carrie/ Morgan had peaked. Morgan appeared to become more feminine, itinerant, angrier, a sort of witch diva and then a metal-nihilism-Bataille-punk.... Morgan didn't really want to talk to me the last time I saw her at the comic book festival, saying "I'm only into punk and metal now". I think she was sparing me. She knew she couldn't dump on me or hurt me. She didn't ask anything of me.
No one can tell you how much you are allowed to feel sad. I have been grieving a lot more than I expected.
I didn't know Morgan that well. But Caroline Bren, Carrie Bren C Bren was my friend and I am missing her. I am angry at her...suicide is cruel and painful, it inflicts pain on everybody who knows you.
I said i drown in information, like a swimmer, who is exhausting to fight with waves in the lake or ocean-at time when a man drowned on telaviv beach-soon I will not have any dress and any tooth,and you will have to take my talk as it is-without any attributes
I forgive her. It's not her fault in a way. She was terribly unhappy. I will always treasure the gifts she gave me. I will miss her voice very rare on this earth.
Carrie <[email protected]>
Tue 2/8/2011 2:57 AM
To: You
arboles metalicos en gris
entre trapos de cocina
telarañas psiquicas sin fin
atentados de rutina.
toxicos biodegradantes
ojos de cristal, vigilantes.
telemania nacional.
datos pedagogicos en voz
de un androide anonimado
globulos de hipnotico color
analgesia de colgados.
copos de desodorante
ojos de cristal, vigilantes.
telemania nacional.
Noel Friebert
To many Morgan Vogel was a mystery. She touched many people over the course of her short time with us, many of whom experienced her through her online presence, which spanned a variety of forms and media. She is a dear friend, she is an uncompromising force, she is an immensely creative entity and her interdisciplinary output is so vast that I'm still grasping to understand it completely. Morgan's style is singular in it's morbid, absurd, and theory based approach. Those close to her know that she used many pseudonyms and names in her time, some also know that on occasion she would purge her work from existence, leaving a shattered continuity pieced together by those who were close or obsessed. I am both. I miss her deeply.
Morgan surprised me with an email in 2010 and she moved to Baltimore later that year. We quickly bonded over genre works in every media of which she has an encyclopedic knowledge. She used to carry around a binder of an in-progress epic sci-fi comic in those days, every time we'd meet up she'd share her work. She referred to this project as The Serial and along with an anthology, Custard's Quest, I believe it to be lost to time. She was incredibly prolific and very critical of her work, which is why we're left with only a few golden nuggets in her wake. She was the first person I told about my idea to form a semi-regular horror magazine called WEIRD, she was immediately very supportive, we spent an evening sitting on her bedroom floor making drawings that said "WEIRD" fantasizing about what a magazine could be. She was the only person (besides my brother) that I extended an open invitation to be in every issue. She was always on me about "the next deadline" pushing towards her goal of a regular comics output, so motivating and inspiring. She had a ravenous appetite for media, constantly filling my inbox with scans of decrepit old magazines and links to genre material lost to time. Some of her favorites were the EC published Harvest by Joe Orlando and Behind the Yellow Door by Flavia Richardson.
She was an early fan of Yoshiharu Tsuge and talked in depth about the influence from his dream comics on her style, which she transformed into a beautifully blunt form of mark making. Her work so often dug into the real horror of experiencing life through a bodily vessel. Her book, The Necrophilic Landscape presents a reality where a detective is bisected in half to become two "children" to infiltrate an adolescent crime ring, bodies become currency and all forms of object, conjoining it to the quote on the back about how in a world where women are objectified men are by default necrophiliacs. I felt like she often approached work through the lens of a perfectionist print maker, sending multiple drafts to hone in on her craft. Using crude linoleum prints to give her work depth and texture. When we talked about the last book she published "NIGHTCORE ENERGY" she was obsessed about one page that came out faded in the print. I think she wanted to redo the whole thing... to me it looked perfect.
Morgan was a one of a kind complete freak goth morbid gorgon witch of the internet, it hurts so much that she's gone. If you dig around you can see the mark of Morgan across the alternative comics landscape of 2010-2020, she even made connections as far as the underground Japanese magazine "Monthy Ka Kuh The Undiscovered Magazine" which published a short comic of hers in 2010. When she moved away from Baltimore in 2012 our contact became more sporadic, but she would always blast into my inbox in a very morbid and Morgan way, passing along esoteric info, messages about how the FBI stole her copies of WEIRD, or to send me pics of her and her friends using a poster I had designed as target practice. In a certain way I would approach my work with Morgan in mind, a friend of mine back then would always ask me "who are you making these comics for...?" and the boiled down truth was, they were for Morgan.
Bill Kartalopoulos
I doubt that I've read more than half a dozen or so comics by Morgan, which doesn't seem like much. But as far as I know, these represent the majority of her published work. And it's not much of an exaggeration to say that nearly every piece I've read by Morgan was signed using a different name: Caroline Bren, Hennessy, Tracy Auch, Morgan. I didn't know Morgan personally, but I did meet her once several years ago when she stayed at a large apartment that I shared with Austin English and several others in Williamsburg, Brooklyn. I'm grateful that over the years Austin has kept me up to date with Morgan's comics enough that I could — at least partially — follow the trail of her creative work, even as she regularly covered her own tracks.
I'm reluctant to speculate much because I didn't know Morgan personally, but I always wondered about those frequent name changes and their relationship to her work. It's certainly possible to see a playfulness there, and a principled rejection of the brand-building and careerism that infect even independent art and culture. But Morgan's comics suggested a deeper connection: the changes in her identity (as an author, at least) resonated with a persistent searching quality in her work. Her comics appeared intermittently, and always returned to us slightly transformed. Her pieces frequently ended elliptically and could even be incomplete. Over several years these scattered, oddly labelled fragments sketched out a process of evolution. They offer a string of half-answered questions as a kind of ongoing public self-definition; a series of gestures that indicated that she was coming to know, through trial and error, what she did and didn't want to say and to be.
The works that I most closely associated with Morgan for a long time were her occasional short pieces that functioned as scathing, hilarious, and thoughtful critiques of the subculture of independent comics. These were so striking to me because they satirized not only specific personalities but the actual aesthetics of the work that Morgan so concisely dispensed with in these pieces. These were comics functioning as criticism of other comics (with lots of funny in-jokes). To whatever extent these pieces were motivated by any issues Morgan might have had with the work she addressed, she clearly cared enough about comics and about very specific aesthetic questions to sit down and make these very intelligent and funny comics. I suspect that actively bouncing off of the work that she found herself brushing up against was part of Morgan's own process of artistic self-definition. Morgan's fictional work is more mysterious but seems all the more revealing for it. While her criticism was a reaction to the artwork that she encountered, her narrative comics are a series of moves towards something chosen. Visually, the mixture of stylistic techniques that she synthesized resists easy description. Expressive gestures, ragged lines, grey wash, frottage-like textures and careful patterning blend together in a unique style that might have approached the charm of Old World folk art, if it hadn't been so persistently sordid.
My impressions are most strongly connected to Morgan's longest work (as far as I know), The Necrophilic Landscape. This comic book raises questions about the relation of the self to the body, the status of the child and the adult, the structure of society and the function of belief. Processing modern body horror through the cadences of a Victorian gothic novel, this uncanny work generates images and concepts that feel like new metaphors pointing towards some future notion of identity and the self. Published in 2015, this was apparently an incomplete, abandoned project drawn several years earlier. And yet it feels in no way incomplete or abandoned to me. The work may end on an unresolved note, but the book's unanswered questions are literary. It is a rich work that feels like a complete statement and invites reaction and interpretation. Within the parameters of my own work, I was grateful to have the ability to include it in the annual list of Notable Works published in The Best American Comics 2016. The Necrophilic Landscape is exactly the kind of work that that list was intended to record for posterity. It is the type of comic book that people remember for years and ask, "What ever happened to that artist?"
In many important ways, I really can't answer that question. The fascinating body of work that Morgan made and gave us is unique. It is diverse and it is coherent. Despite its discontinuities, it is — taken all together — the work of an individual. I hope, in the end, that she was the individual who she wanted to be.
Raighne Hogan
Blaise Larmee introduced me to Morgan's work via a private site of hers and gave me her email address. On the site she had what would become The Necrophilic Landscape. It was originally formatted quite differently.
I think it is fair to say, that for people that know Morgan, her style of interaction was frequently caustic. She had an encyclopedic knowledge on seemingly every subject, and was opinionated about everything. She was just as likely to send me samples of something she was working on; images, ideas, satanic writing, paranoid thoughts about the FBI — as she was to tell me about some trick she was about to see, or suicidal ideations she was harboring, or obscure writings she was thinking about. Everything was always on her mind. She's one of the most brilliant and rare individuals I have ever had the luxury of encountering. I am honored to have been able to call her a friend.
Morgan was fierce, inventive, and so fucking funny! Her comics about Frank Santoro and Blaise Larmee were particularly on point. She was a trip. But it was one I never wanted to end.
The Necrophilic Landscape is a perfect example of her deep and complex range as a writer, and as an artist. And I love her writings in Mirror Mirror 1, comparing a mirror to a tampon. She has this power to bend language to her will. Her intimate writings at the back of Altcomics Magazine 4 are so ghostly and tragic, with her accounts of communing with friends that died in the Oakland Ghost Ship fire.
Morgan went by a host of pseudonyms: Caroline Bren, Clarissa Bren, Clarissa Hennessy, 0A9, Hennessy, Morgan Harris, Morgan X, Morgan Vogel — haha, in one of the builds of The Necrophilic Landscape she had had me change her name on the files so many times, one of them was to Satan (!) before finally settling for Tracy Auch (which was an invention of Andrew Burkholder's — they are friends).
This was the overarching picture of her — intense, hilarious, caustic personality — when we were planning to expand 2dcloud and were looking for a publicist, I had floated the possibility of her being our publicist. It was a wild idea, but had Melissa Carraher not stepped up, we would have asked her. It could have been fun, and maybe a little disastrous.
Morgan was also very sweet. When I visited her in Tennessee at the tail end of 2016, I remember sitting with her on a trampoline, in the woods and off the grid — staring at her and just enjoying her presence, like a small animal basking in the sun.
Love you Morgan.
XOXO
</3
Margot Ferrick
I wasn't as close to Morgan as a lot of my friends were. We met in 2016 and [I] went to my first protest with her. She was one of the smartest people I've met. She knew how to seek stuff out and was always finding this obscure and beautiful content. I remember looking through DeviantArt with her...there was also a Japanese PC game called Garage that she brought up a few times. The images from that game have always haunted me and I see them even more now. I scavenged a lot of influences from her. If something was important to Morgan I knew it had to be good.
Her work was never about presenting a facade or pleasing anyone -- she made exactly what she needed to make. She did what art needs to do. Never safe or tepid. I realized this week that I've only seen a really tiny portion of everything she actually created. I feel like I'll never know the full extent of her output.
When I first met her I kind of assumed she wouldn't like my stuff... I felt pretty cutesy and incompetent in comparison. It meant so much to me when she took my work seriously. To be recognized and understood by someone so brilliant helped me to not hate myself so much. I feel like I've heard a few people express a similar sentiment...she lifted a lot of us up.
I keep talking about how Morgan as an artist but there was so much more. Again, I didn't even get to know her that well or spend that much time with her but her presence as a human was so wonderful, I can't even think of an accurate word. She was kind, passionate, hilarious...just a wonderful person and a very real person. She always inspired me to be more real.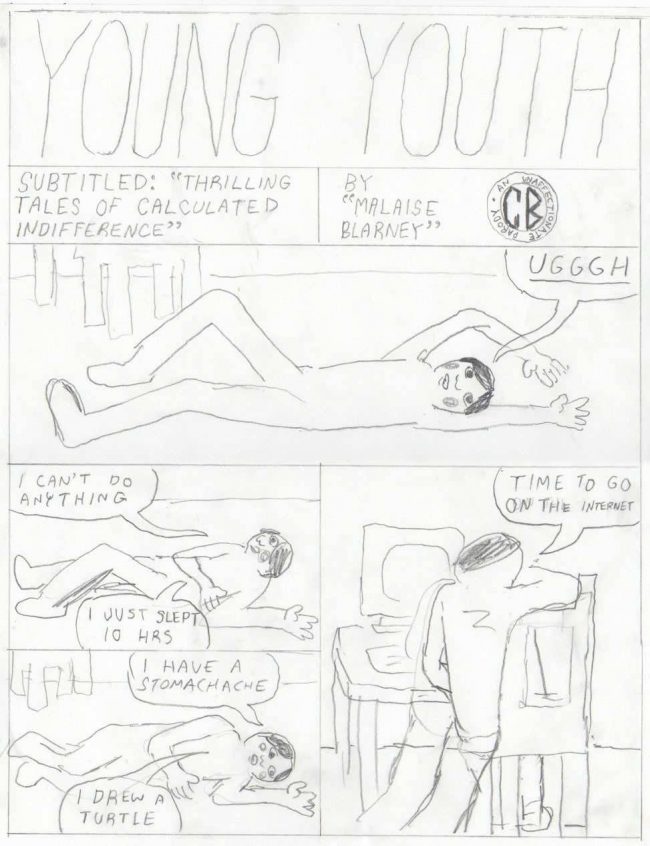 Blaise Larmee
When I met her the first thing she said was sorry. We talked on the phone until sunup. She was patient and impatient with me. I was always catching up. Sometimes I was able to strike a chord in her. I thought she was really cool. She was my moral compass. She said men cannot understand or be redeemed. She wanted to make a community for those who were excluded from other communities. She was a conduit for pain. When I think of her voice I think of something soft and vulnerable made hard and ironic to exist outside of her. Her work was exact.
Larmee also included the following quote by Morgan:
"I cant think of any other way to love except through artwork or some other medium that is public, loving everybody is easy, when you have an actual commitment to a thing or to somebody then it gets more complicated than I can handle."
Leon Sadler
There's a lot I didn't know about Morgan, but somehow through her work and sporadic communications, I felt a very strong and rare type of comradeship. I felt very lucky, a chosen one, and validated, to be acknowledged by her.
I'm heartbroken. She felt like this bright dark secret friend, and I wanted our connection to grow into the kind of friendship that stretches your whole life. Morgan was someone committed, in her own specific way, to use obscure and unpleasant things and say something intensely bleak, funny and abrasive. I felt like an impostor trying to keep up with her.
Morgan provoked me and Stef into beginning one of our darkest and most epic collaborations, and I was going to be so proud to show her when we finished, the scale of the thing she spawned. And I'm so gutted I'll never get to see the materialization of her ideas and her future ideas. It seems weird to talk about her like this, but I really felt like I knew her through these weird projects.
I aspired to bring some of the hardcore energy I got from Morgan into what I do (though I know I definitely fail at that) But yeah I think that's the thing. I had put Morgan's posters on my studio door to remind me every time I went in, to be more like her. It's corny and I wonder if she'd cringe at me saying this. I want to be more like Morgan.
Stefan Sadler
Morgan was very secret but sticks out from any other online friends I've been in touch with over the years. She had a discerning appreciation for the stuff that no one else knew about. I wish I spoke to her more... she would write something intense and considered and I would go back to read it and it had disappeared. I don't know if she hoped that you would forget about it and move on but it always stuck with me. I'm crushed to know she isn't coming back. I'll always remember her mysterious memory. R.I.P. and lots of love to her friends and family X
Jesse McManus
I think I met Morgan in 2009 when I was living in Brooklyn. I can't say for sure, but I think she was introduced to me as Caroline Bren by Matthew Thurber. We were both anxious weirdos who were pretty psyched to be able to hang out with our local favorite artists and make bizarre art together.
Memorably we spent an evening in her apartment with Matthew, making masks out of cardboard and garbage, Caroline typing up a script that we all dictated together, then filming the script (a talk-show between three monsters?) on a janky VHS camcorder, all within the space of a few hours.
She was an occasional visitor to the 282 Broadway Cartoon House where I lived and the atmosphere there that encouraged drawing/talking about comics probably made her feel some degree of encouragement/acceptance. I said before that we were both anxious, but she had an intense energy beyond that and I'm glad some people within the community could see that and appreciate how it manifested through drawing.
I moved away, but have since gone back for comics festivals, which is where we'd run into each other. First at BCGF in 2011, when we walked together to Union Pool to see panel discussions. We sat and watched Dunja Jankovic, Austin English and Frank Santoro talk about formalism in comics. When Frank stood up and began to hold court about the golden section and specific layout philosophies, Morgan buried her head in her lap and muttered "What is this, eugenics?!"
Of course, Frank wasn't preaching anything nefarious, but in that moment Caroline was actually despairing because comics were her main outlet and being uniquely sensitive and frustrated, seeing anyone lay theory onto it made her push her head between her knees. But let it be known, instead of digging a deeper hole, she went home and drew an awesome comic about the experience, which ended up in Smoke Signal.
Later on living in Portland, I encountered her again, but online. Posting on Blaise Larmee and Jason Overby's 'comets comets' blog. We both enjoyed posting comments under multiple pseudonyms. It was a fantastic writing exercise to write as one name and then argue with yourself under a different one with opposite perspective. And then to have someone like Morgan to bounce off of (under another fake name or two) was hilarious and creatively rewarding.
The final layer of fun was doing this pseudonym-writing while chatting privately with Morgan as ourselves. One night while chatting, I went to the blog and noticed she had taken my part of our private chat and posted it publicly under a new pseudonym. I was hurt that she crossed that boundary and told her as much, immediately. She was caught off guard and apologetic. Now I see it as another chaotic art gesture, which was her bread and butter.
The last time I saw her was at CAB in 2018. She had comics at the Domino Books table and came over to the Uncivilized Books table to say hi to me. We were both nervous to be in a gymnasium surrounded by people and shocked to speak in person again. But she seemed proud that she had comics at the show and I was glad to see her. I asked if she still had that VHS we had made with Matthew years ago? She said, no, the tape is destroyed, but she still had kept the typewritten script.
We didn't keep in touch, but the art she left behind is great. Multifarious in approach, densely smart, funny, angry and always intriguing. I hope we get to see more of it, as things she was reluctant to share are now without their gatekeeper, though the things she released will be appreciated regardless.
Knowing her troubled personality, when I heard she was missing during the quarantine I feared the worst. Now the worst has happened and it's a fucking gut-punch. Even if you're distant from them, any cartoonist lost feels like an art-soldier down on the reality battlefield. It stings in a particular way when it's someone as young and unique as Morgan.
Josh Bayer
No one wants to take up more time than others that are grieving, so I'll make this short, all I want to say is, Morgan was a genius. Her work had, (and still has) qualities I first found in the 90's in the work of J. Bradley Johnson and later in the work of Mark Connery, and rarely in others. Personal, always transforming, diorama like, she made comics that you wanted to engage with, that encouraged you to find an equally damaged place in yourself and express it. I'm tearful as I'm writing this. Safe travels, Morgan/Carrie. I'm glad we met during your brief time. You'll be missed.
Andy Burkholder
Whenever Morgan stayed with me she would leave one day early. "It's proper etiquette as a house guest." The first time she stayed for two weeks, the last time for one night. There are three letters I wrote to her which, like all my letters, I deleted before sending. Telling someone you love exactly what you think of them is embarrassing. In twelve years I've known Morgan by five names, one of which was once my own... Starting over is only a temporary relief... Being invisible is only a fantasy. She wouldn't have liked a memorial like this. All the messy proof of her physical existence. All these pieces spread out on the floor... It's too much. I don't want her to see this.
E.A. Bethea
I first met Morgan Vogel at Comic Arts Brooklyn in 2018, when I was tabling with Domino Books. Austin English was selling her book Valle, and she would check in periodically on sales. I was immediately fascinated by her. She seemed to exist, by accident or design, in a strange and liminal place. I don't just mean that she lived on the fringe or wrote weird beautiful comics, but that her demeanor and physical presence were unique and memorable. It can be a hard road, the path of the modern poète maudite cartoonist, and perhaps that is what Morgan was. I really knew so very little of her, and thus feel hesitant to memorialize her, but when I heard she was missing I felt profoundly upset. I lit a candle for her and read again Valle and her newer comic Nightcore Energy, which she gave me at CAB last November. I can't begin to tell you what "happens" in these books but it's deeply human stuff I'll return to again and again. I'm glad they exist, proof of Morgan's life energy and eternity in a nutty world.
Selected Bibliography, provided by Noel Freibert
"Watashi No Monogatari" Monthly Ka Kuh The Undiscovered Magazine Vol. 6 No. 8. 2010
"Planet of the Maidens" Smoke Signal #4 2010
"The Maid of All Work" WEIRD #1 2011
"Ruler of the Dead" WEIRD #1 2011
"The Circle is Everywhere in Nature" Smoke Signal #12 2012
"Untitled" Suspect Device #2 2012
"Clean Streets" Sock #2 2012
"Corpse Ship" WEIRD #2 2012
"Noexist" WEIRD #4 2013
"Eunuchs Pt 1" WEIRD #5 2014
"What We Do We Learned From You" Tusen Hjartan Stark #2 2015
The Necrophilic Landscape published by 2d Cloud 2015
Interview and selected drawings Altcomics Magazine #4 2016
Drawings and writing Mirror Mirror #1 2016
"The Master of Drawing Circles" Comic Aht #1 2018
Self published:
"The Prickless Man" 2010 un-editioned
"Plot against the Giant" 2011
"Valle" 2018
"Nightcore Energy" 2019