"I know I've said this before, but I am starting a hot dog place which will be the polar opposite of places like Hot Dog On A Stick, where they make you wear stupid clothes and act stupidly. My hot dog servers will be dignified, swank, posh, and act with composure. My place will be called Haute Dignity Dog." (Mark Campos, Facebook post, 2015)
A grey India ink wash smeared across the raining Seattle sky on January 18, 2018. On this day, in this city, cartoonist, writer, and humorist Mark Campos took his own life. He was 55 years old. The city medical examiner has reportedly stated his death was self-inflicted, from hanging.
Mark was a friend and colleague. I got to draw comics with him several times, and each time I came away with an even greater admiration for his natural cartooning ability, storytelling chops, and screwball humor. I have long considered Mark Campos to be one of the best comics writers I've ever read. For years, I intended to write an essay on his work, which I feel deserves a much broader audience. My Comics Journal review of his 2017 comic, Casino Son was the first step in this effort. Sadly, it was published the day after Mark took his life.
In tribute, here are some observations about Campos' comics and life, and a special section of remembrances from friends and fellow cartoonists.
The Comics and Writing of Mark Campos
"I suppose that 'anonymous note' you almost printed was the letter I wrote to Bill Dockery in which I referred to you as a 'Lucite-coated Venezuelan otolaryngologist cotton-mouthed rannygazooist Persian with a floy floy,' and opined that you should be rolled into a roly-poly pudding by some rats. Please believe me; I was under some duress when I made those statements…" (Mark Campos in a letter to the City Limits Gazette # Glue a frog on your head and teach it to sing, July 1993)
Although he remained on the fringes of comics publishing, appearing almost exclusively in the small press, Mark Campos was a crucial figure in the Seattle comics scene. From the mid-1980s, he participated in various groups which included many notable comics creators, including Jim Woodring, Lynda Barry, Peter Bagge, Jason Lutes, Tom Hart, Ellen Forney, David Lasky, and Megan Kelso. As Campos himself once put it, he was a part of "the Seattle wing of the alternative comix movement."[1] Many Seattle creators (myself included) received warm welcomes and gentle ushering into the Seattle comics scene from the soft-voiced, kind-hearted cartoonist. Campos even worked at print shops, where he helped midwife many a comic book by others into publication.
Mark Campos possessed the talent to gain success with a much broader audience. Cartoonist Steve Willis has written, "In all my years of meeting comix artists there are two people who I consider to be master writers in the medium: Matt Groening and Mark Campos."[2] In his remembrance below, Willis observes that Campos was ahead of his time, a more artful creator in the Newave Comix movement and Seattle comics scene of the 1980s and 1990s, likening Campos to "a Shakespearian actor in a Wild West boomtown." In his chronicle of the first decades of the small press comix movement, The Minicomix Revolution 1969-1989, Bruce Chrislip wrote: "Mark Campos is among the greatest writers in comix."[3] David Lasky has called Campos' comics "the hidden gems of comicdom."[4]
Mark Campos was a modest autodidact who channeled his knowledge into his comics. His classic story about a cartoonist unable to break out of the fringes of the alternative comix boom of the 1980s, "E. Soames," refers to a Max Beerbohm short story which appeared in a 1919 collection.[5]
A few years ago, Mark Campos came to a dinner party at my house. Typically, he withdrew himself into a quiet corner, where he browsed my books. He suddenly looked up, excited, and caught my eye. I came over. He smiled and said, "Wow. You have a copy of Nick and the Glimmung by Philip K. Dick. That's the only copy I've ever seen. I thought he made that title up as a joke." A few weeks later, I purchased from Amazon a copy of Moxie, My Sweet, a collection of nine stories written by Mark Campos and drawn by others. The book contains "Phil Dick's Mutant Service", a masterfully conceived PKD tribute drawn by Stefan Gruber. In the piece, Campos has reimagined the ubiquitous (and real) chain of Seattle hamburger stands called Dick's as an entry point into the alternate realities in Dick's fiction.
Campos was anything but a snob. He admired "low" culture as much as anything. In "Beep Beep", a 2002 two-page comic written and drawn by Campos, he tells about a legendary secret Roadrunner cartoon developed by the United States Army in 1954 as a "psych experiment." In the cartoon, designed to toughen up soldiers, the Coyote catches the Roadrunner and maniacally rips its head off! In another story, written and drawn in 2008, "Whatever Happened to Arnie Squirrel?", Campos creates an alternate-reality version of Alvin from Alvin and the Chipmunks whose life parallels the classic drug-fueled slide into ruin of many a 1960s rock star.
Mark Campos channeled the screwball spirit of old-time comedians like Spike Jones and the Marx Brothers. In fact, his long-running self-published comic book series Exapno Mapcase takes its title from Harpo Marx's pronunciation of his reading of his name in Russian during his 1933 goodwill ambassador tour there. Campos had an in-depth knowledge of literature and at times brought a literary quality to his work. Bruce Chrislip has compared Campos to James Thurber.
Campos was so connected to the culture of earlier times, and so possessed of arcane slang and obscure details, it seemed as if he was a time traveler who had teleported in from the early decades of the twentieth century. In 2002, for an SPX anthology, Campos created "Mezz Kicks the Hop", a comics version of a vivid autobiographical account by jazzman Mezz Mezrow of his hallucinogenic underworld journey while kicking his heroin habit. The story is one of several in which Campos retold different versions of the Orpheus myth.
In the 1990s, when the majority of small press cartoonists explored autobiographical stories and superhero parodies, Campos, who lived and worked on the fringes himself, wrote and drew fully realized offbeat stories about struggling outliers like Mezzrow, Dick, and the fictional failed Seattle comic book artist E. Soames.
"E. Soames", "Beep Beep", "Whatever Happened to Arnie Squirrel", and "Mezz Kicks the Hop" all appear in Wow, They're Playing My Songs on the Radio, I Must Be Dead: Comics by Mark Campos ca. 1992-2012, a 2012 collection of thirteen stories which probably stands as the single best Mark Campos book to date. In the collection's introduction, David Lasky wrote:
"As you read his stories, you may notice that Mark takes you effortlessly into the worlds of old-time radio, Yiddish theater, '60s rock, revolutionary Mexico, etc. as if he's been there himself. And yet, he is taking you to an alternate version of these places, a sort of comedic Twilight Zone."
Campos shifted gears in his later work and focused more on creating original characters in stories that have a literary quality. His 2013-14 two-issue comic series, Everything I Don't Need, tells the story of a group of crafter friends who table their wares at festivals. Character is developed through dialogue. For example, at an arts and crafts show, one character says, "I DEFY them to find a better raccoon car sachet that what we have here for sale to-DAY. A finer tchotke, a rich man's money CANNOT buy. Dam betcha!" To which another character says, in the same panel, "Tell it!" The art in this story is swathed in ominous greys. The story takes a shocking, violent turn at the end of part one.
From 2005 to just days before his death, Campos kept an online journal in which he offered up short stories, fragments of writings, reviews, dreams, and numerous mouth-watering descriptions of meals he relished. He wrote in the persona of Mr. Sadhead, the stage name of an obscure blues singer. In 2005, Campo self-published two volumes from his LiveJournal. In one entry, he shares the story of lying down with a headache and receiving poetic phrases. He shares the only fragment he could recall, perhaps a mystical summing up of a cartoonist's life:
From the mills of black and white
come the skeins of grey
with which we weave our lives
In 2017, Campos created Casino Son, an 18-page comic composed of one-page stories that weave together an autobiography of his early years in Reno Nevada. The cover contains a horizontal image of the 1963-1987 Reno arch, lovingly detailed. The disappearance of unwanted bits of our culture, relegated to the fringes, is a primary theme in Campos' work. In 1994, he wrote and drew Places That Are Gone,  two 32-page comics published by Edd Vick's Aeon Press about the restaurants, dive bars, and cherished places of Seattle that were quickly vanishing as the city began a new wave of gentrification still in progress today (currently chronicled by a newer generation of Seattle cartoonists). Due to a trucker's strike, Places That Are Gone got poor distribution, and his biggest effort at attaining a mass audience fizzled. As Campos put it, he had taken his shot at the brass ring and missed it.
Aside from two collections (Moxie, My Sweet and Wow, They're Playing My Songs On The Radio, I Must Be Dead) the comics of Mark Campos lie tucked away in various anthologies and short publications. Ideally, a new collection of his comics will appear. This work certainly merits a longer lifespan and larger readership. A selected bibliography appears at the end of this piece.
Mark Campos June 2013: A New Short Film
Filmmakers Ron Austin and Louise Amandes interviewed Mark Campos in June 2013 for Bezango, WA, their 2015 documentary on Pacific Northwest cartoonists (they were interviewed in The Comics Journal here). For this tribute they cut together previously unreleased raw footage of the interview into a new 13-minute film. Here is a rare chance to see Mark Campos discussing his work and life as a cartoonist.
History
"I value my religious upbringing, even though I have tried to reject it. More creators should have to grapple with an upbringing that includes mysteries, unnecessary guilt, moral guidelines and restrictions, and an accessible notion of eternity." (Mark Campos in a 1992 interview conducted by Steve Willis)
Perhaps Campos was drawn to write and draw stories of people struggling to survive and succeed because he was born and raised in a gambling town: Reno, Nevada. On October 24, 1962, Mark Campos was born to Catholic Mexican-American parents. His older sister by two years is named Olga. In the mid-1970's his father, Felix, worked at Harrah's casino, and Campos later recalled his mother also worked in a casino. He recalled his childhood in Casino Son, noting his father used a brush dipped in ink to mark Keno pages.
A hint of the possible challenges of his childhood surfaced in a journal entry: "I don't know what makes me think I'm suited to give warring couples advice, but it runs in the family. I remember when my parents were at sword's edge, a couple of long weeks when there was eerie calm in our house and neither Mom or Dad were talking to each other…"[6]
In a 1992 interview conducted by Steve Willis, Campos recalled what it was like to grow up in Reno:
"Like any tourist town, the place is infested with cynics. A lot of no-hopers work in the casinos and the populace changes so often, there's no sense of community or culture there… So, marinating in that depressing environment since birth, I was primed to lead the life of a cynic and an outsider."[7]
Campos started cartooning at an early age, while also reading Mad magazine. "I used to imagine that there could be no finer thing than to be a Mad artist – razzing all the fakery we Americans put up with and getting paid for it." As he grew up, Campos showed himself to be quite a memorable character. His friend Greg Davis relates many colorful stories in his remembrance.
Campos attended Sparks High School in Sparks, Nevada and graduated with the class of 1980. Campos regularly made the honor roll and worked on the staff of the high school newspaper, the Streamline Express. He also acted in several school theatrical productions, including a supporting role in "One Flew Over the Cuckoo's Nest," and "Roar of the Greasepaint, Smell of the Crowd," a musical comedy.
Campos continued his theatrical interest after high schoool. In 1984, he appeared in Reno's All Star Theatre's production of "Spot Bar Saga," a one-act production reviewed as "theatre of the absurd."  The September 13, 1984 Reno Gazette-Journal mentioned Campos in a review of the play: "Swarthy compatriot Elrod is stereotyped by Mark H. Campos into easy-going subservience too likable to make an antipredujudical statement."  In January 1985, Campos had a part in a mystery drama, "Wait Until Dark," a mystery drama that ran at the Reno Little Theatre. Campos was a trouper, the Reno Gazette-Journal reported: "During a roaring fight scene, actor Mark Campos, who portays the evil character Roat, suffered a badly cut hand. In the spirit of theatre, he managed to finish the performance."
In 1985, at the age of 23, Campos moved to Seattle, where he got a job in a print shop. Bruce Chrislip remembered when he first met Campos, he was working the midnight shift in a Kinko's shop in the Univerity District. Among Campos's co-workers were musicians in a local band which later achieved rock star status as Soundgarden. Campos recalled how he first began making comics: "To cut the boredom on slow nights, I'd make up minicomix, copy them and give them away to my few friends."
At some point, Campos met comics publisher Michael Dowers, who invited him to contribute to the Seattle Star, a free comics tabloid newspaper published in twenty-two issues from 1985 to 1989. Many notable cartoonists published early work in the Seattle Star, including Peter Bagge, Lynda Barry, Chester Brown, Steve Willis, Michael Dougan, J. R. Williams, Ace Backwords, XNO, Bob Armstrong, Wayno, and Art Chantry.
Campos became involved in a long-running APA, Cartoon Loonacy, where he served as the central mailer for a while. Some sources on the Web incorrectly identify the APA as a comics publisher for whom Mark Campos worked. Campos was also a frequent contributor to The City Limits Gazette, a cartoonist's newsletter founded by Bruce Chrislip in 1980 and later revived by Steve Willis in 1991. Mischievously, Campos and Willis conducted the silly, satirical Bil Keane Watch, an extended gag in which Bil Keane's newspaper comic strip, The Family Circus, was discussed with all the solemnity of Talmudic scholars. On at least one occasion, Campos lampooned the strip with a Satanist theme.
By the mid-1990s, Campos was a full-fledged member of the burgeoning Seattle comics scene. He had work in Gay Comics and Roberta Gregory's Naughty Bits. As the years wound on, Campos was married and divorced twice. The brilliant, self-effacing cartoonist created a vast network of friends and associates, helping to grow the comics community he helped create.
He placed numerous short comics stories in various publications and self-published a small library of minicomix. His longest running comic book was the self-published Exapno Mapcase, which ran for at least eight issues.
In "Another Hill", published in the Seattle Weekly in November 2016, Campos returned to his keen observation of Seattle, documenting his life in the neighborhood of Queen Anne, the last place he lived, and the place he died. In one panel, he writes: "This place feels quiet and safe. I can walk around at 4 am and not feel like I'm risking death. It's so quiet you can hear the changing billboard over the garage flipping over."
Campos, who did not drive, was a seasoned bus rider and walker. A friend recalled he had a fear of being attacked while out on the streets. A few days before Christmas, this fear came to reality, as Campos was assaulted by a stranger while he was walking to meet a friend for dinner. He wrote about the incident in his LiveJournal:
"As I passed the Fed Ex, a guy leaning against the rail waiting for a bus stood, strode over to me, and punched me in the side of my head.

He was an angry looking Mexican guy, small mustache, a little shorter than me, wearing a hoodie. As I staggered back and said "What the hell?", he took another shot at me. I dodged it, crashed into him, he pushed me and I fell. He leaned down and started punching as I tried to stand. I was ducking blows, hoping he wouldn't kick me, and I was saying "What are you doing this for? I don't even know you!"
Overall, Campos' public writings and comics celebrated life. By and large, he seemed to enjoy himself a lot, often writing about gatherings with friends and meals savored. The last sentence of his final LiveJournal entry, published about two weeks before he took his life, reads: "It was a beautiful night."
Remembrances: Cartoonists and Friends Remember Mark Campos
Mark Campos inspired the love and admiration of his friends and colleagues. All of the remembrances below were composed in the week after his death, between January 19 and January 24, 2018.
Roberta Gregory
Mark Campos was one of the first comics artists I met when I moved to Seattle with Fantagraphics in 1989. He seemed very much a part of the growing "scene," showing up at countless events and prolific with small press creations, from cryptic tales I never seemed to quite "get" to a hilariously spot-on minicomic co-created with Bruce Chrislip intended as a guide for newcomers to the Emerald City. I commissioned a story from him for my Naughty Bits comic book. There never seemed to be enough of his stories for me. In truth, it was probably only that his countless small press creations were not widely distributed. Mark was a master of saying so much, illustrated with the fewest lines. There always seemed much more to his creations than appeared on the surface and the same could be said for the creator himself. He was a modestly soft-spoken, almost self-deprecating gentleman I never got to know well enough, but so much intelligence and cultural knowledge lay beneath his humble exterior. His death is truly a tragedy that leaves a gaping wound in our comics community. His stories need someday to be gathered in a collection, to reach the audience it deserves finally.
++++++++++ 
José Alaniz
Mark's legendarily horrible puns could set the whole world groaning. On November 17, 2017, he posted to Facebook: "Special Ledger Day salute to the Irish restaurateur who opened a Chinese restaurant in Cuba, 'Won Ton' O'Meara."
When I responded, "They're digging a new circle in Hell for people like you," he immediately came back with, "I know, a circle near the ruined, icy city of Dis. Punsters like me will set eyes upon it, and we will say, 'Dis must be the place!'"
++++++++++
Gregory Davis
It is with an intensely heavy heart that I am trying to wrap my head around the death of my dear, dear friend, Mark Campos. I knew him for thirty-six years; we initially bonded over a mutual love for Joy Division, PiL, The Velvet Underground, Captain Beefheart, and The Residents. And LOTS of Firesign Theater. He was the gentlest of souls, absolutely brilliant and the funniest person I've ever had the pleasure of knowing.
Early on, we created this alternate universe in which people we actually knew had different functions and, frequently, malfunctioned, and we would often turn these insanities into collaborative cartoons. He championed my most unmarketable ideas and became the one person I could unload my most ludicrous fantasies upon without my worrying about hitting a wall of "huh?"
In our Reno days, he was often the designated driver for a carload of acidheads. On one such occasion he casually asked behind the wheel, "Have I ever showed you guys my James Dean impersonation?" to which we replied "no," and he suddenly slammed the brakes so hard the car spun around. We would have killed him had we not been laughing so hard.
There was an all-girl punk band in Reno called The Wrex, and one of the members called herself Helen Keller. I had a chat with her one day in a record store and later told Mark, "I ran into Helen Keller today," to which he replied, without missing a beat, "Or did she run into you?"
Mark and I left Reno for Seattle together in 1985, hoping to expand our horizons. Among other humble digs, we lived in a garage in the U-District, using sleeping bags and a space heater, and listening to Robyn Hitchcock and The Jesus And Mary Chain. He was best man at my first wedding, and I was a witness at both his first and second.
Mark and I saw a lot of movies together, including Eraserhead in a midnight screening. In Sparks, Nevada was the El Rancho drive-in, and next to it was Paradise Park. One night we sat on a hill in his car in the park and could see Scarface over the fence. When the climactic gun battle came, we queued up the Talking Heads' "Memories Can't Wait" and it synched so perfectly with the action, right until Al Pacino pitched forward into the fountain as David Byrne wailed the high note. Most memorable though, perhaps, was the day we took in a matinee of Lucio Fulci's Gates of Hell, after which we drove across town to see My Dinner With Andre, which made us temporarily ashamed of having seen Gates of Hell.
Mark didn't sling profanity around like many of us do, so when he did it was to great comic effect. When the James Bond film Octopussy came out, he said, "I hear the next Bond movie is going to be called SUCK! FUCK! SONOFABITCH!"
He introduced me to the concept of watching TV with the volume off and music playing to see how the sound and visuals matched up, which can make for hours of entertainment. Once at a party, the theme from For A Few Dollars More came on, and Mark immediately grabbed a stuffed toy frog and bounced it across the floor to the rhythm of the Jew's harp.
He also seemed never to allow himself to be completely happy. I don't know if this was a result of his Catholic upbringing, but there was an inner darkness that plagued him. The past few years seemed to be particularly rough for him. I didn't see him much after I left Seattle when my first wife died, but Carrie-Ann and I had dinner with him when we went to Seattle for my daughter's graduation from Evergreen College. Carrie-Ann loved him.
I saw him a couple of months ago when he came to Long Beach for a Hispanic cartoonists' convention. We had lunch and some great conversation. It was so good to see him again. I wondered afterward if that would be the last time I would see him.
Last week he posted on Facebook that things weren't going so well. I messaged him, asking what was going on, and he said things were actually okay. I know he had a one-man exhibition in Boise to attend, but he didn't make it.
Mark, you were a mercurial influence on me, and you were the best. I'm so sorry you couldn't find peace in this life. I just pray the gods that taking the emergency exit has given you the succor you have been denied. I love you, my brother.
++++++++++
Carrie-Ann Mohr
Ten years ago, my husband Gregory and I took a trip to Seattle to attend his daughter's graduation from college. This also gave us the opportunity to visit some of his old friends, that I'd never yet had the chance to meet. One of them, of course, was Mark Campos whom I'd heard a great deal about in advance - almost the stuff of legend, so I was rather nervous and concerned about making a good impression. We all met up for Chinese food and proceeded to enjoy ourselves. At one odd moment, Greg and Kaija decided to visit the restroom simultaneously, leaving Mark and me at the table. Out of sheer nervous stupidity, I suddenly blurted, "So, am I what you were expecting?" Without missing a beat, he replied, "Well, you're no Kim Novak," which caused me some dismay, yet made us both laugh uproariously. From that point onward, I knew that he was golden, having instantly stampeded any further potential faux pas on my part. The next day we met for breakfast and then spent a few fantastic hours at the aquarium. I never got to hang out with him again after that, but we did forge a great friendship via Facebook, avidly sharing music, art, and all other wondrous bits of the sublime and the ridiculous. He was always supportive of my art, and once immediately bought a little painting when I was strapped for cash. It was one he always loved, so, it was a happy exchange. Goes without saying that I am gutted to the core by the loss of this astounding, brilliant being, yet undoubtedly blessed for having had the opportunity to share his friendship.
Tonight we're lighting a candle in your memory, and until we meet again, peace to you, Dear Mark.
++++++++++
Larry Lewis
Mark Campos was the 'gateway drug' to the Seattle comix scene. I think half the cartoonists I know, when they moved to Seattle Mark was the first cartoonist they met, and once you knew him you knew everyone. He'd introduce you to people, tell you about shows and opportunities, trade comics. He'd remember you, and so you were quickly one of us.
He was a major inspiration for me to do minicomics. He was highly intelligent and witty, a hell of an artist and storyteller, gentle, friendly, and inclusive, and I miss him terribly.
++++++++++
Kelly Froh
Mark could talk about anything, but on the subjects of obscure records (bands, musicians, lyrics) and comics (publishers, artists, specific gags) he was a trivia king. But unlike listening to other super-fans talk about what they know, he didn't bombard you with his knowledge, he doled it out in carefully chosen moments, for maximum effect. He was always overly modest and generous to the extreme. I don't think he ever made much money at comic festivals because he always wanted just to give everything away; I saw him give completely filled-up sketchbooks to random people, just for fun.
++++++++++
Max Clotfelter
It was always hard for me to talk to Mark about his comics. I'd be digging through the bins at Half-Price Books and unearth some odd anthology he had appeared in or some rare mini-comic he had published in an edition of 10. Then I would rush to show him what I had found, and he would always just casually dismiss it as an irrelevant object that should have remained lost. This humility drove me crazy. I LOVED his comics. I never saw a single page of his work that wasn't an absolute pleasure to read. Razor sharp dialog peppered with his baffling sense of humor. And a gentle drawing style that I found instantly recognizable and crystal clear. He never indulged my pleading for him to help me complete my collection by reprinting an old zine or hooking me up with a copy of Places That Are Gone #2. But now I'm kinda glad he didn't because it means there's still plenty of treasure out there for me to discover.
++++++++++
Peter Conrad
Mark was the kind of guy that everyone knew, even people who never technically met him in person. He was always funny, always kind, and had the strangest, most wonderful way of looking at the world. He contributed one of the funniest pieces to On the Other Hand, an anthology of comics that artists drew with their non-dominant hands. I'll miss him.
++++++++++
David Lasky
One time at mini-comic night at Cafe Racer (the monthly night where everyone has four hours to draw a comic or illustration to be included in that month's issue of the comics anthology called "DUNE"), Mark needed a sheet of paper to draw on, so he pulled one from a stack of blank paper that organizer Max Clotfelter provided. The sheet turned out to be not completely blank, but letterhead for a company called "Lazarus..." I was sitting at the same table as him, and watched as he spontaneously drew a four-panel gag cartoon about Jesus and Lazarus, on the office stationery, that I still find ridiculously funny. It was something he could not have planned in advance; the gag was constructed right there in front of me, like great improv theater, but on paper.
Being Latino, Mark was sensitive to racism in mostly-white Seattle. Once he and I and our respective partners went to a fairly nice restaurant on the east side to have brunch before attending the wedding of two friends. He immediately focused on the recorded music the restaurant was playing in the background. "Are they playing 'Papa Loves Mambo'?" he asked me. I wasn't sure why he was so concerned at the time, but in retrospect I wonder if he thought they had seen him coming and queued it up.
Before a ZAPP benefit at the Hugo House, he and I did a pre-show dramatic reading of my mini-comic adaptation of James Joyce's Ulysses, the only live reading ever done of the 10-page adaptation. I kept cracking up at the ridiculousness of what we were doing (and the fact that we both had pretty lousy Dublin accents), but Mark was a professional on stage and kept a straight face for the whole two minutes or so we were up there. I've always looked back and admired him for that.
Some of my best memories of Mark are just having coffee together and then walking around whatever neighborhood we were in, talking. These times were all too rare, as we had day jobs and other obligations. The last time I remember meeting up with him, we were talking about Orson Welles as we walked down the less-than-picturesque Holman Road. I told him I'd never been able to get into Welles's adaptation of Kafka's The Trial. Mark lit up and told me that it is actually maybe Welles's most brilliant movie. He explained that the general public didn't know that Tony Perkins was gay at the time the film was made, but Welles knew. Mark recommended watching the movie, an oppressive trial pitting an anonymous bureaucracy against an individual known only as K., in the context of mainstream America's persecution of homosexuals in the 20th century. I haven't had a chance to watch it yet, but I plan to do so soon.
++++++++++
Ron Austin
Like so many artists in our community, Mark should have been more recognized for his work. He was humble. funny, and brilliant. He also appreciated documenting events and history, and I could talk to him for hours about that. His cartoons will live on.
++++++++++
Bruce Chrislip: Man in a Fedora
Mark Campos told me this anecdote many years ago. It was the early 1990s, and he was standing outside the Fabulous Rainbow Tavern on 45th Street in Seattle's U-District. Suddenly a van roared up and out piled various members of the grunge rock band Soundgarden accompanied by a West German television crew who were filming a documentary. When one of the group members spotted Mark, he told the cameraman, "If you want to know about Soundgarden, you should interview Mark here!  He was one of our earliest fans." And they did.
I first met Mark Campos in 1987. I was putting together a jam comic called Real Jam, and I asked him to contribute a panel upon the recommendation of Michael Dowers. Mark was working at the Kinko's copy shop "on the Ave." in the University District when I first approached him. (Two of his co-workers were members of the aforementioned Soundgarden - the drummer and bass player, I think.) Anyway, Mark agreed to take part in Real Jam, and we started hanging out together after that.
At the time, Mark hadn't owned a television set for many years. He passed his free time drawing, listening to music and reading a lot. He was the most literate of comic book writers and was especially a big fan of science fiction writer Philip K. Dick. As others have said, he possessed a quick wit and sort of an off-kilter view of the world. His parents were from Mexico, but he didn't speak Spanish. I think Mark identified more with the Algonquin Roundtable than with Hispanic culture. It seemed that he was more like a reincarnation of James Thurber than anything else. In conversation, Mark would often stop to ponder something I said, rubbing his chin while saying, "You know, you might have something there." And, of course, he was never out in public without his fedora.
We collaborated on a lot of comic book stories together in all different ways. Sometimes he'd draw a story I wrote or vice versa. We'd jam out some comics, drawing alternate panels or sometimes parts of the same panel. One such creation was a minicomic called Seattle; You Are Here - a guidebook for all of the young, new cartoonists who seemed to be arriving in Seattle. I invited Mark to join an all-comics APA (amateur press association) called Cartoon Loonacy (sort of a zine where the individual cartoonists created and printed their own pages). Later, Mark and I served as the Central Mailers - which meant we were the guys that collated all of the Cartoon Loonacy pages and sent them out to the individual cartoonists.
We shared an interest in obscure old 45s and traded lots of homemade cassettes. One time, Mark scored a real find - a crazy Japanese rock 'n' roll record from the 1950s. Another time it was an advertising record created for radio airplay for a long-closed auto dealership that implored listeners, "Don't mope! Lope to Pope!" Actually, Mark's taste in music was eclectic. He liked punk rock, thrash metal, alternative music - but also Esquivel, Slim Galliard, and Ray Noble! For a while, we worked together at a printing company in Seattle's International District. Yes, Mark was my supervisor. He got me the job, so I couldn't complain too much.
Mark delighted in the obscure reference. He had a comic book series called Exapno Mapcase - the title was taken from a Russian poster of Harpo Marx. While visiting his apartment, he played a 45 of a rhythm and blues shouter that went by the stage name of Mr. Sadhead. This later became Mark's online nom de plume. Mark's friends often popped up in his comics, myself included.
The nostalgic man goes to a lot of funerals.
Mark Campos wrote that once. I'm not sure if the thought was original to him but, whatever the case, that phrase has stayed with me for years. Mark and I shared an interest in the past, somehow a kind of nostalgia for things that happened before we were even born. In a metaphoric sense, we went to a lot of funerals together. Now I'm going to his.
In the 30+ years, I knew him, our lives intertwined in so many ways - intellectually, creatively, socially. Even though I moved away from Seattle in 1998, he has been with me every day - remembering things he did or said. He was brilliant, humble, a good friend, an inspiration. I will miss him for the rest of my life, but I will never forget him. Goodbye, Mark.
Note: Bruce Chrislip authored and published The Minicomix Revolution 1969-1989 (Bruce Chrislip, 2015) which contains his chapter on the life and work of Mark Campos. The book was discussed in The Comics Journal here.
++++++++++++++
Joan Chrislip
My husband Bruce and I moved away from Seattle in 1998, and we saw Mark Campos only a few times since the move. But back when we lived in Seattle, we saw Mark and Jeri fairly often.  We shared cassette tapes of wacky music, Bruce and Mark collaborated on comics, the four of us made a field trip to Steve Willis' house in McCleary, Washington, and Bruce and Mark shared central mailer duties on the APA Cartoon Loonacy.
I'm not sure of the year; maybe it was 1992. I do know it was Ash Wednesday when the phone rang.  Mark Campos called to say he and Jeri had found an abandoned kitten in the parking lot of their apartment on Aurora Avenue. Their building had a strict no-pets policy, so they couldn't take him in, even for one night. They didn't want to just leave the kitten near a busy street on a cold night:  could we take him in, just for the night? We went over to their apartment, picked up the kitten and installed him in our garage. The next day, Mark and Jeri came by to take the kitten to the pound.  We all stood near the front door: Mark and Jeri, Bruce and I, no one saying anything, but all of us crying.  Finally, I said, "OK, we'll keep him."
The very cute, very athletic, very vocal, very needy seal point Siamese kitten was about three months old when we got him.  We named him Fred.  After a trip to the vet for a checkup, there was some clarification, and we renamed her Freddie.  She turned our house inside-out for forty days, and we found her a forever home on Easter Sunday – we had a foster cat for Lent.
++++++++++
Leonard Rifas
I met Mark Campos about thirty years ago when he was working in a copy shop in the University District. I invited him to do two pages for the educational comic book AIDS News, published by the recently formed People of Color Against AIDS Network, and a page for itchy PLANET, which Fantagraphics published. Some Facebook remembrances tell that Mark often made cultural references. For AIDS News, his joke that went over my head until he explained it referred to Celine's Mort à crédit. He once came as a guest speaker to one of my comics classes at Seattle Central Community College, and was well-received for being his usual, talented, humble self.
At a time when Seattle's comics scene was attracting world attention, Mark was very much in the thick of things. Perhaps the last time we talked was at the premiere of the documentary about Seattle comics, Bezango, WA, at the Northwest Film Forum.
I bought an anthology of his collected works, Wow, They're Playing My Songs On The Radio. I Must Be Dead, from him at Short Run in 2012. He signed it to me "with love," and that's how I remember him (with love.)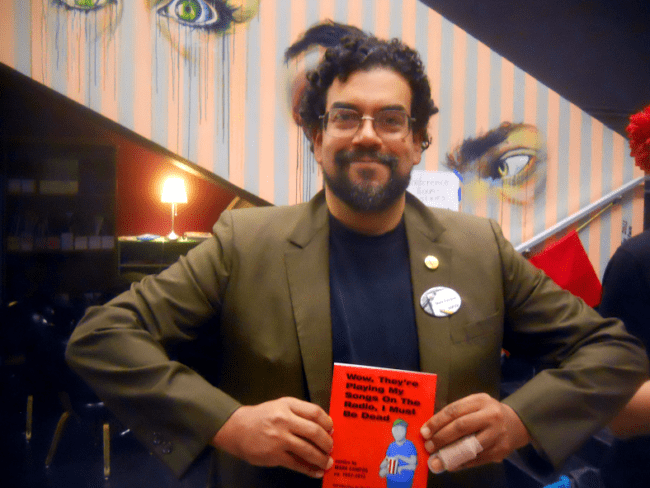 ++++++++++
Tom Hart
Mark was a great great guy.
I remember after first meeting him, he sent me a postcard (it was those days) asking more about me and especially my tastes. Music, books, etc., but the last part of his wonderful run-on sentence was "and does it look strange to you when you see Vaclav Havel's name in print?"
He was funny, clever, and intimidatingly smart. So smart and funny. I loved his comics. I miss him a lot.
++++++++++
Sam Henderson
I'm always the last to find out. I met Mark Campos twenty-five years ago when I visited Seattle and would see his contributions to various zines all through the '90s. I was surprised he remembered me when I saw him again at a convention fifteen years later. Since then, we had communicated frequently. His witty comebacks to my inane Facebook posts were always welcome. Back when we all still used cassette players, he made me a couple of mix tapes which he was apparently well-known for in the Seattle area. Living in Seattle for at least a couple years is a rite of passage for 75% of those in comics and the comics-adjacent, and being an early pioneer and mainstay, he was always one of the first to welcome everybody. Whatever problems he may have had, I wasn't aware of, since they contradicted his upbeat personality. But as someone who uses a sense of humor to mask depression, I totally understand. I've been the guy to talk people off a building ledge and been the guy on the ledge myself at different times. A cartoonist's life is mainly solitary, so if anyone has similar urges, they should know the comics world is bigger than you think.
++++++++++
Rob Kirby
I first encountered Mark's work in the late-'80s (in an issue of Gay Comix, to be exact), but didn't meet him in person until 2014, when I tabled at Short Run for the first time. Mark was super-friendly and welcoming; in fact, he invited me to some sort of Drink and Draw event that night. I couldn't make it because I was flying home that night, but he immediately struck me as someone for whom the comics community meant a lot—that he had cultivated a large network of friendships therein—which is why I think so many cartoonists have been so deeply affected by his sudden death. I didn't know him well, but I knew enough to tell that he was a sweetheart of a guy, in addition to being a true original. Apropos of this, here's a two-page comic Mark drew back in 2013 for my little zine anthology about tabling called Tablegeddon. It highlights his quirky approach to creation in general, and I can't imagine any other cartoonist I know going through all that trouble just to pull off this O Henry-style joke. Here's to you, Mark Campos! I will miss having you in this world.
++++++++++
Steve Willis
(Part One)
Mark had a dry wit, delivering one-line zingers in a soft-spoken and even voice. He ALMOST was able to keep a straight face while doing so, but the twinkle in his eye betrayed his enjoyment.
He was one of the best writers I've known and was a star contributor to the City Limits Gazette when I was editor in the early 1990s.
I last saw Mark in May 2016 as we talked over old times and new in a U District sandwich shop. He hinted at some turbulence in his life, but that's all. Just hinted.
The tears of laughter his humor gave me have turned into tears of pain.
(Part Two)
Mark and I had been friends since 1989. The last time I saw him in 2016 we enjoyed our mutual memories of being Obscuro cartoonists in the prehistoric era of self-publishing when there were not that many of us around.
It wasn't his turn. Those of us from the Newave era of comix who are a bit older than Mark are rapidly crossing over to the Other Side one by one. He went against the natural order and barged in ahead of us by cutting in line. It might be the only action he ever made that I would call "bad form." He was supposed to still be around to mourn us when the time came, not the other way around.
Mark's comix work and writing were brilliant and cerebral, original and creative. He was like no one else. Most of his art came from the head and heart. He was a gentle man. But in hindsight, there wasn't a lot that appeared to come from the gut, and maybe in the End comix did not fully provide the outlet he needed to face his demons.
Many of our Newave/Obscuro/early self-publishing colleagues in the 1970s/1980s used the medium as a form of primal screaming in some form or another, but I can't really say that about Mark's work. His art was quiet, subdued, and beautiful. His writing was always very strong, but his graphic linework was hesitant and tentative as if he was gingerly walking through a minefield. I never had the sense he was digging into the paper with the sort of rage, carving into the page with the pressure of passion I saw from others of our small network. Mark stood out in our primitive pioneer self-publishing comix world as an esoteric and abstract performer as if he was a Shakespearean actor in a Wild West boomtown. In time, actually quite a long time since Mark was way ahead of his time, the comix self-publishing world caught up to him and his vision in artistic sophistication.
I know there are people too gentle for this horrid world, but, oh man. We need more Marks in this world.
What follows is a selection of the quick cartoons Mark drew in some of his correspondence with Steve Willis.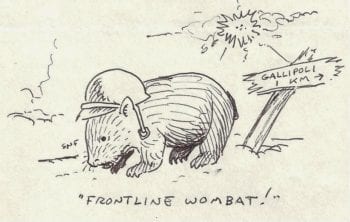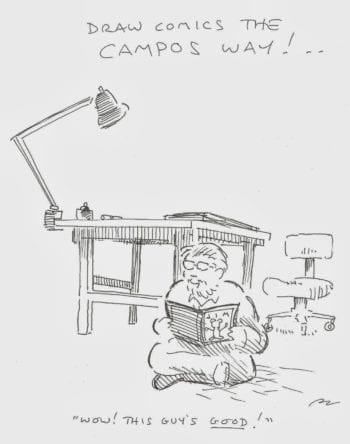 ++++++++++
Tatiana Gill
Mark was a cornerstone of our Seattle comix community. An aficionado of underground, self-published, outsider comics, with an encyclopedic knowledge of them. He also had a love of music, of food, the arts, and a love of love.
I have always been a fan of his comics. They are sweet, hopeful, astute, and warm, like him. From his own words, I know they were never good enough for him, and very anguish-inducing for him to make. But he hung in there. I am very pleased he pushed out such a beautiful and personal work before he left us, as I think it had been a while.
I've been friends with Mark since the late '90s, in a Seattle-based Yahoo group, "Comics as Fine Art." He told me he knew my mother back when he worked at Kinko's - she was an indie cartoonist who'd come in for copies. He told me he saw her hit on Beto Hernandez at a Fantagraphics party once. We both lurked on TCJ message board, and I believe it was he who urged me into contributing to "Shiot Crock" and possibly "Not My Small Diary" as well.
We collaborated in a group of Seattle cartoonists in the early 2000s, FineComix, doing group art shows, comix jams, minicomics, group drawing sessions, comix slideshows and presentations, and repping for each other at conventions. At some point our group name morphed into "Moxie" He wrote a bunch of scripts and everyone else in the group illustrated one of his stories, creating the book Moxie, My Sweet.
He was very active on Livejournal and lived down the street from me, so we stayed in touch even as I withdrew from the comix scene. We swapped comix, and I started illustrating a book for him, then dropped the ball. He was very caring, always checking in and making sure things were ok, recommending songs and other resources for the depressed. When my message board posts or blogs would get too dark or self-incriminating, he would reach out with a 'none of that, now.' He was still active on LJ: https://mr-sadhead.livejournal.com/
In 2014 I met Mark monthly at a neighborhood-based comix group I organized. I posted a series of comics about my alcoholism recovery online. He and his friend, Brenda Kaslow, decided it ought to be a book. They both worked for printers, and Mark did all the pre-press and curating, even helping with the collating and stapling. Then after it was printed, Mark showed the comic to Larry Reid, who runs the Fantagraphics Bookstore and Gallery, and he was a fan - this series of events re-started my involvement in the local comix community, and really boosted my notoriety and career. I owe Mark so much.
Soon after that, he moved out of my neighborhood, so I didn't see him nearly as often - just at comix events on the occasion I'd make it out, and on Facebook and so on. I bumped into him last week and congratulated him on his wonderful new comic, Casino Son - he accepted that with his usual 'oh, well, it's nothing...'  sort of thing and dashed off into the night.
Selected Bibliography

Compiled by Mark Campos and published on his website, with additions by Paul C. Tumey. Publication dates for Exapno Mapcase #1 and #3 are unknown at this time. This list represents only a fraction of Campos' work.
"Monogamy" Gay Comix #12 (1988)
"Unnamed Story" Bumbercomix #2 (Starhead, 1988)
AIDS News, with Leonard Rifas (POCAAN Seattle, 1988)
El Mago Szazbo! (1989, minicomic)
Rapid Minicomic (1989, drawn in six minutes and 13 seconds)
Seattle, You Are Here (with Bruce Chrislip, 1989 – a mock welcome guide for cartoonists moving into the city)
My Mere Bits Of Shame (1990)
Greetings From Dullsville, U.S.A. (1991, minicomic)
Greenland Whale Fisheries (1991, minicomic)
Bombast (1992, minicomic)
Various comics, The Stranger, 1992
Thrilling Minicomic with Helpful Guidelines (1992)
"Penn Rose's World of Art!" Hyena #2 (Tundra, 1993)
Places That Are Gone (AEON Press, 1994 [two issue series])
"Auto" Seattle Laughs (Homestead, 1994)
Real Life True Seattle Story (1995)
Exapno Mapcase #2 (1998)
E. Soames (1996)
"Mezz Kicks The Hop!", SPX Anthology (2002)
"Beep Beep!" Moxie #1 (Finecomix, 2002)
"'Pidey Boy!" FLUKE Anthology (2002)
Moxie My Sweet, illustrated by Finecomix (Finecomix, 2005, collection of stories written by Campos and drawn by David Lasky, Tatiana Gill, Stefan Gruber, Elijah Brubaker, Kaz Strzepek, Scott Faulkner, and Dalton Webb)
"Monk: Six Weeks On The Road," Graphic Story Monthly (online), 2002, reprinted in Big Ass Mini (BAM) #1 (2006)
Kids These Days (2006, minicomic - reprinted in Treasury of Minicomics Volume One edited by Michael Dowers (Seattle, WA: Fantagraphics Books, 2013)
Exapno Mapcase #4 (2006)
Exapno Mapcase #5 (June 2007)
"The Insult That Made A Star Out Of Don!", illustrated by Jim Siergey, Typhon (Dirty Danny Press, 2008)
Exapno Mapcase #6 (2008)
"Root Causes," illustrated by Dalton Webb, Papercutter #12 (Tugboat Press, 2010)
Exapno Mapcase #7 (2010)
Exapno Mapcase #8 (2011)
Wow, They're Playing My Songs On The Radio, I Must Be Dead (Lucky Rabbit, 2012, reprint collection)
Everything I Don't Need (Part one, 2013; Part two, 2014)
"Kids These Days," Treasury of Minicomics V.1 (Fantagraphics, 2013)
Red Hot Wigglers: Excerpts from the Drea, Diaries of Mark Campos (2013)
Episode Fifty, Season Two (2015)
"Not Too Soon," with Noel Franklin, Rock Is Not Dead (11th Dimension Press, 2016)
"Another Hill," Seattle Weekly (November 2016)
"Kinko's One," Ghosts of Seattle Past (Chin Music Press, 2017)
"Room 410", Not My Small Diary #19 (Delaine Green, 2017)
Casino Son (November 2017)
"Mi Destino es Comprendarla y No Olvidarla," Latinographix (Ohio State University, tentative 2018)
... and then there's this one, no date known:
Endnotes
[1] Outtake from video interview conducted for the documentary film on Pacific Northwest cartoonists, Bezango, WA, June 2013.
[2] "The Comix Files: Mark Campos" by Steve Willis, Morty the Dog blog, March 16, 2014.
[3] The Minicomix Revolution by Bruce Chrislip, self-published, 2015, p. 329.
[4] "Introducing Mark Campos" by David Lasky, Wow, They're Playing My Songs on the Radio, I Must Be Dead: Comics by Mark Campos ca. 1992-2012 (Seattle, WA: Lucky Rabbit Press, 2012).
[6] "Breakup," by Mark Campos, "Just a new-age phoney baloney beatnik: excerpts from the LiveJournal of Mark Campos vol.2," self-published, 2005.
[7] "The Comix Files: Mark Campos" by Steve Willis, Morty the Dog blog, March 16, 2014.
Thank you to all who contributed writing, photos, and art to this tribute. In particular, thanks are owed to Steve Willis for the generous use of his scans of Mark Campos art, scans of The City Limits Gazette, and his interview with Campos.  Bruce Chrislip for his fine essay and for documenting the life of Mark Campos in his book, The Minicomix Revolution 1969-1989, which proved invaluable in the creation of this piece. Gratitude is also extended to Louise Amandes and Ron Austin for creating a new short film for this tribute.
Short Run Comics & Arts Festival, 2014. In the foreground, left to right: Donna Barr, unknown, Paul C. Tumey, Mark Campos. Photo: Tatiana Gill
We can all help prevent suicide. The Suicide Lifeline is a 24/7 phone bank and website that provides confidential support for people in distress, prevention and crisis resources for you or your loved ones, and best practices for professionals. The number is 1-800-273-8255.