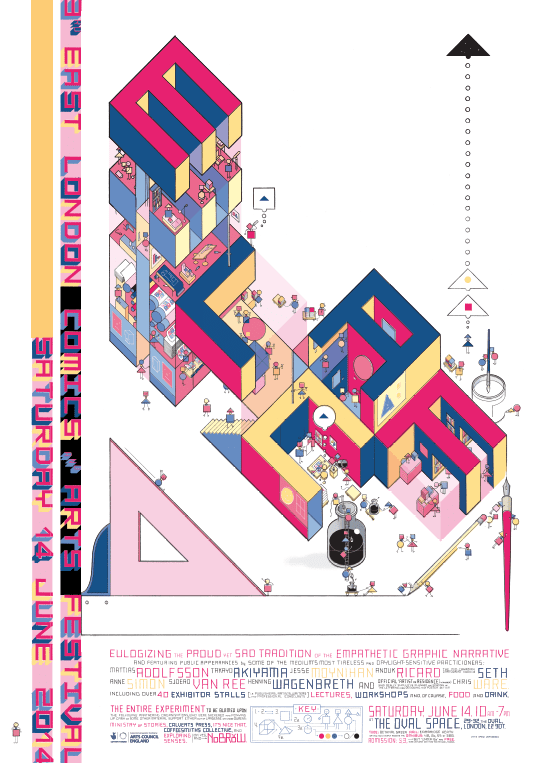 So, first things first, what about that queue, eh? Now obviously there is no way I'm going to get  annoyed at a festival of comic art being oversubscribed – more success stories are needed in that particular burg – but arriving at the Oval Space in Bethnal Green only to have to join an exceedingly slow moving queue and then being told by one of the nice folk staffing the event that it was one-in-one-out was not the best start to the day. In the end I fell back on journalistic privilege and was whisked to the entrance, but I'd like to apologize to all those people I pushed in front of. That was unrevolutionary of me, comrades, mea culpa.
The East London Comic and Arts Festival (ELCAF) is now in its third year (but its first time at the Oval Space, which might explain the capacity difficulties). Organized by the good folk of Nobrow press – they of plush and colorful releases from artists such as Jesse Moynihan, Kyle Platts and Blexbolex – it aims to "showcase the plethora of talent in the comics and graphic art scene in London and the UK and also to bring something fresh to our locals by drawing talent from abroad to take part in the event." On the evidence of last week's show it was mission accomplished: the exhibition space was heaving. Bodies jostled against each other politely in the near tropical heat, fingering sweat fogged pamphlets, queueing for autographs from, amongst others, Seth and Chris Ware, both of whom gave talks later on in the day. The crowd were young, oft bearded and wearing some frankly baffling t-shirts, and if there's a better advert for the vitality and vigor of the underground comics scene then I've never seen it. It was a heart-warming sight, only slightly tempered by the sheer amount of folk one had to squeeze past to get to the tables. But, hell, I'd sooner have a bit of mare because of overcrowding than a total downer due to lack of interest.
What with space being at a premium and every table being crammed with sexy paper objects it took a while to get the measure of the room. But after a while the critic goggles went on, shapes swum out of the chaos and, most importantly at an event such as this one, purchases started getting made. Lots of them. It has to be said that to begin with not a huge amount leaped out and grabbed me. Obviously that has to do with the sheer daunting amount of objects that were on sale, but I did also find myself a bit put off by that particular breed of folkish whimsy that is so prevalent in comic books from the UK and Europe, and is perhaps fostered by the resurgence in techniques such as screen and lino printing. There are only so many elaborate lino cuts of pointy-hatted children poking their heads out from behind trees that I can look at before I start to shut down a bit. Nothing against that kind of work, you understand, just that it's not really my thing and there is a lot of it about at the moment. I do wonder as to why that might be. Perhaps it's similar to what I call the 'Country and Western Conundrum.' Maybe I should explain: why does it seem that as soon as a songwriter hears the sound of a pedal steel and a strummed acoustic guitar they lose all sight of lyrical originality – of singing about, say, Spitfire pilots, or urban planning, or rhinos – and instead go straight into C&W cliché? Dustbowls, broken hearts, whiskey and the like? I would hazard that what you have in that case is the medium dictating the message and I wonder if that is what the resurgence in more 'folksy' means of image production has led to. Does this kind of method simply lend itself to this particular kind of art?
Not that it really matters of course, because a deeper look began to unearth some eccentric gems and the first pulled to safety from the throng is a decidedly odd little item.
Dark Sand by Alain Vonck started singing to me as soon as I cracked it open. A lushly produced, digital bastardization of fantasy role-playing games from a French graphic designer, who I confess to having never heard of, it's a hard piece of work to put your finger on. I'm not sure what it is and I have no idea what purpose it's meant to serve. Thirty-six pages of floating 16-bit castles lost in storms of electronic snow; the overall effect could perhaps be summed up as a kind of Gothic Vaporwave, but it works well when considered in the context of world building as well. Indeed, it radiates a heat all of its own. The rest of the stuff on publisher Bronze Age's table looked really interesting, too. Oblique, yeah, but rarely seeming to fall back into elitist graphic design nonsense. Definitely ones to keep an eye out for.
One of the tables that I took the most pleasure out of visiting was the one co-hosted by Breakdown Press and London's Gosh Comics. Breakdown are pretty much where it's at in the UK scene at the moment. So far everything that they've put out has managed to be exceptional in one way or another and the book I pick up, Joe Kessler's latest volume of 'Windowpane', is no exception. Oblique yet compelling, occasionally crude but with a touching delicacy, it's a superb example of the kind of storytelling that I just can't get enough of; the kind that drags you to the end without you even realizing why it is you're being pulled along. Breakdown's current line-up of books – including gems from Antoine Cosse and Connur Willumsen – look similarly intriguing. These guys have a commitment to interesting storytelling techniques that puts them head and shoulders above a lot of other boutique publishers. I'm going to be really interested to see where they go next.
Also hanging around the Breakdown table was Lando from UK sci-fi majordomos, Decadence, who it was a pleasure to meet at last. I've gone on about his and his Decadence partner Stathis's work on this site before, so I won't go into too much detail, but suffice to say that the new Decadence anthology, their tenth, showcases another leap forward for both of them, as in terms of ambition and finesse their two contributions are the strongest work either of them have produced to date. It's a thrill to watch the side-by-side evolution of two artists who I'm already confident in calling the most exciting sci-fi artists the UK has to offer, as they grow in strength and mutate with every release. A longform work – or maybe even a collaboration? - is crying out to happen. I'm pretty sure it'd be a stone classic.
From Decadence's evocations of Metal Hurlant-esque sci-fi to the aforementioned folkloric gamut, the whole fair had a distinctly Euro tinge, but some of the strongest work on display stood out by riffing on more US-centric styles. Now, I'm a bit of a sucker for anyone taking hold of some superheroes and going to town with them, so I was pleased as punch to be able to get hold of a copy  of Robert M. Ball's Supers.
Simple premise: grab hold of a handful of them there hugely popular mass market properties and draw the living shit out of them. Results: Spectacular. Ball takes these over familiar characters and, through seemingly simple design choices, shocks them back to life. I'd seen some of the contents before but having them all together in a single volume works wonders. He even manages to make The Vision look awesome, which is no mean feat. And let's face it, having spider-man swinging over New York whilst riffing on a flying V is a character development that has been crying out to happen. Make it so, House of Ideas! And give The Hulk his drum kit back while you're at it.
'Supers' was sharing a table with UK publisher Great Beast, who had a supremely eye-catching display with toxic pinks and yellows oozing everywhere. Two that I filed away for future reference are Ball's collaboration with Warwick Johnson-Cadwell, 'Dangeritis', and Rachel Smith's 'House Party'. Both very different looking books but unified by a unique sense of humor and some bold design choices. John Riordan and Dan Cox's chaotic 'Hitsville UK' is also worth a peek. Great Beast seem to be operating like the best kind of independent record label: lots of different styles on display but everything held together by a common irreverence and verve.
Interestingly another US artist was making his presence felt elsewhere at the fair. I think it's safe to say that Dilraj Mann is fairly heavily influenced by Jonny Negron. He takes that same enjoyment in lovingly rendering plump, attractive hipsterish girls and the one short story contained in his book 'Stroke' leans heavily on that Yokoyama-by-way-of-Jonny-N obliqueness, however I'm a sap for that kind of gear and I enjoyed his book very much. Bringing in different artists (such as Roman Muradov, Adam Muto and Guillaume Singelin) to collaborate on each of the pin-ups contained within serves to loosen his style somewhat. Keep an eye on him as he develops, is my advice.
My final purchase of the day, however, couldn't have been more English if it was riding a bulldog and wearing a hat made out of a steak and kidney pie, Hero of Switzerland are a new name to me and their collaborative 'Group of Death' football-zine (or soccer-zine, depending on which country  you're reading this in) is a blunt edged, filthy delight. Drawing heavily from such UK-centric publications as 'The Viz' and 'When Saturday Comes', 'Group of Death' wades into the English love of football with admirably blasphemous intent. Text pieces from James Hearson and Pete Corbett gleefully chop the legs from under crude black and white renderings of premier league superstars by Ben Randall and Dan Button; and Nicky Inchenko's simple linework and action packed short strips mark him out as a kind of Lando for the lager belching, sunburnt and shirtless. A few too many pictures of Harry Redknapp for my taste, but there you are.
So, as with so many other things in life, it's variety that saves the day. Lots of the bigger publishers had stalls as well, of course - neat rows of immaculate hardbacks clumped forbiddingly together - but it's the louder, cruder offerings that caught my attention; the items that have a particular heat and a blink-and-you-miss-'em immediacy. It's these that serve as the real barometers of where the UK scene is at and where it might be about to jet off to. On this evidence, it looks to be firing off into a million different directions all at once, which is all to the good. The caliber and range of talent can't really be overstated: there is a good, healthy scene happening in the UK right now, with tonnes of artists borrowing liberally from any cartooning tradition you could name and working to forge styles of their own. Hats of to ELCAF and Nobrow for taking the risk and putting the whole bundle together. And if at times the room was so hot it felt like you were in proximity to an explosion, well, that's probably because you were.