Once again the former plumbery located in Bremen, Germany, that now finds use as a gallery under the name Raum 404, fills its two spaces with original artwork, this time with a pair of artists from Israel: Keren Katz and Rotem of Qiryat Gat.
Thirty-six-year-old Rotem of Qiryat Gat, or Rotem Najar, has been a draftsman since early childhood. At the age of fourteen he started to craft his first comics. Artists who influenced him, in the order they were told to me, are Robert Crumb, Moebius, and Chris Ware, but also Rembrandt and Jean-Michel Basquiat. When I inquired further about female role models, he came up with Velvet Underground singer Nico, while the Velvets hailed from a small music playing device when I first entered Raum 404.
But before getting lost in music all the way, we switched topics and talked about the informative value of Rotem's drawings, especially Turning of the Pyramids, which was influenced by social protests against the high costs of living in Israel. Among Rotem's exhibition pieces, this one comes closest to being a comic in the definition of having separations by colors or shapes in its overall appearance.
The internet provides you with pages by Rotem which also feature conventional panel borders.
Rotem's drawing style, though reminiscent of his aforementioned role models Crumb and Moebius, is a consequence of a modus operandi very similar to the one Sasaki Maki preferred doing for Ding Dong Circus, wherein linear narration is ignored in favor of superimposing associative processes. So Rotem's view of his own art as a stream of consciousness struggle between narratives and non-narratives simultaneously works as an intimate diary or journal, and it goes quite well with what actually appears in Raum 404. This is also due to his operating principle: drawing wherever possible. Such as, for instance, a self-portrait, conceptually indebted to Robert Crumb's sketchbooks, entitled On an Imaginary Bus: Practicing How to Draw with Feather and Ink in Movement.
Beyond that, movement appears to be a constant in Rotem's life; after living in Berlin for a certain period, where he exhibited several drawings at the gallery erstererster, he followed an invitation to Bremen by Raum 404 organizer Gregor Straube before heading back to Israel. erstererster's website, by the way, presents an animated GIF that makes visible the influences drawn from Moebius and demonstrates that animation is for creating images in constant movement.
Movement is no foreign concept for Keren Katz, either. The 33-year-old former dancer was awarded a fellowship by the Center for Cartoon Studies, and her comics and drawings show an affinity to ballet and depict a variety of gestures.
Her common way of creating stories comes from being a member in a kind of living theatre and merging their interactions with the audience and its reactions to the performances.
Katz is often referred to as a disciple of Art Nouveau, which might be due to her use of ornamental elements and curvy linework. One of the main reasons for the ornamental nature of Katz's work is her obsessive compulsive disorder, which led to the practice of obsessively drawing circles and in doing so heeding a message from one of her teachers who told the class once "that OCD is an asset for art."
We also exchanged some gossip about cartoonists and editors in North American comics, such as Meghan Turbitt's addiction to crisps or Katz modelling for Richard McGuire's extended version of Here along with Sam Alden.
I then asked the obvious question about artistic influences and role models. The most evident, because of a commitment to gesticulating figures, is Italian cartoonist Lorenzo Mattotti, in this case his 1992 book L'uomo alla finestra.
Katz also name-dropped Léon Bakst's drawings for Ballet Russes, whose art shows elements of Art Nouveau.
Another interesting fact is that some of the positions of Katz's protagonists were inspired by her brother and his way of balancing objects in rather unusual ways when suffering from a fractured arm – as you can see in Katz's story My Summer at the Fountain of Fire and Water.
In terms of women who were an influence on her work, Katz named Rutu Modan (Exit Wounds), one of the few cartoonists from Israel to become popular outside of her home country, and German dancer and choreographer Pina Bausch.
The concept of creating art while moving through spaces provides the visual marker for two artists, that, except for their heritage, don't have that much in common considering their drawing styles. That heritage is reflected in both of their work, however, for instance when Katz makes a stolen Judaica collection the starting point in one of her stories, or by a massive Rotem book exhibited in Raum 404 that is lavishly designed to look like a Hebrew bible.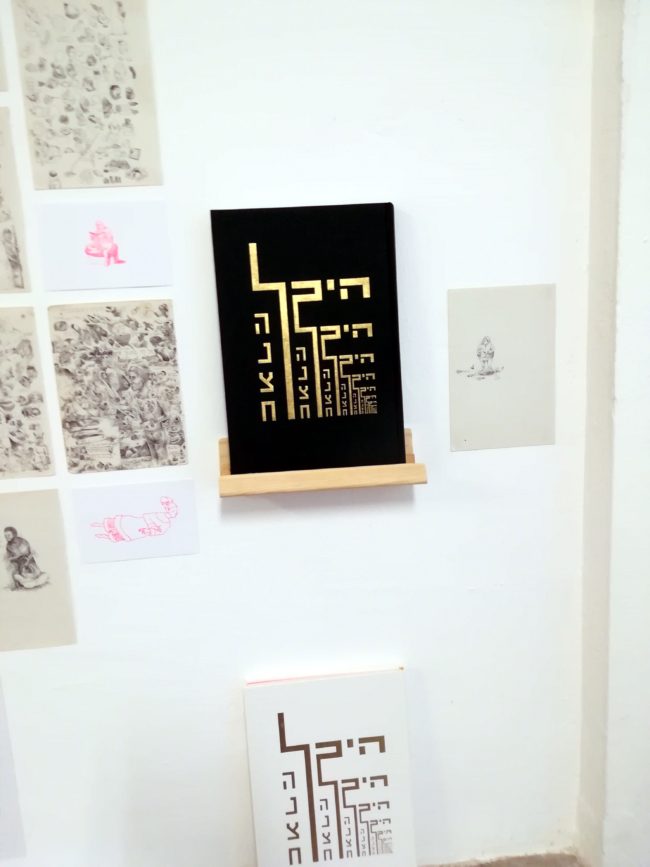 Rotem of Qiryat Gat will appear for an artist's talk at the closing of the exhibition on August 31st,at Raum 404, their website is in German language.