A Trevor Von Eeden collaboration began two and half years ago when he came onboard to illustrate "Season Two " of the All Time Comics imprint I aunched and have been running with my brother since 2016. I'd first been alerted to his greatness when I saw Outsider's # 15 (the Summer 1984 Olympics special!). I never forgot that comic, never having seen anything like it, the sense of effortless breeziness in conveying the story, bold angular line work, the jagged modernist layouts, the Fred Astaire like confidence of a master. Years later I learned more about him, and years after that I had a chance to work with him as we needed someone to fill the void left without Ben Marra to carry the heavy work load at All Time Comics.
He entered a project where the goal has been to mix creators from the deep end of the bronze age mainstream pool with the current crop of weirdos of alt-comics that so many readers of TCJ are familiar with. If I had my pick of some of the greatest practitioners of the comics craft to collaborate with from anywhere in that spectrum I'd choose to team with Trevor more often than not. He's made it clear to me that he can do virtually every genre of comic. Looking at some of his unreleased work, there's an untapped wealth of genre bending comics comics this man has yet to unleash, loaded in the chamber, trigger ready. I've never seen anything like the unique place his style occupies on this massive canvas that is American Comics.
In April, Trevor finished working on our project (180 pages of comics art teaming him with Josh Simmons, myself and featuring art contributions by Gabrielle Bell, Tom Toye, Ben Marra, Ken Landgraf, Pat Keck, and Julia Gfrörer.) and we conducted this interview in May of 2019. -Josh Bayer
Josh Bayer: As someone who entered the industry as a young man did you remember a sense of being surrounded by legends the industry? This was a period where theoretically you and Wally Wood or Nestor Redondo were all doing art for the same employer. As someone who values the craft and history of comics, do you have any stories about encounters with the greats. Have you ever met Kirby ? What about Steve Ditko?
Trevor Von Eeden: I met The King ONCE--at my first convention in '72, when I was 12 years old...and about 5 feet tall, so the pages laid out were side by side on the front of his table close to eye-level for me. They showed his art from his early Ayers-inked work, up to his later Royer-inked New Gods stuff--and I was ASTOUNDED! I immediately went back to the first page, and devoured them all intently a second time--then looked up to see what manner of being had created these miracles on paper before me...I saw the kindest pair of eyes, with the darkest circles underneath them--and the most bemused expression I'd ever seen on a human face then, or since. The King smiled as he looked down upon me and said "What's your name, kid?" I blurted out whatever it was--and he reached down and shook my hand! In later years, I tended to remember the moment as him actually coming out from behind his table to shake my hand...but I'm sure it only seemed that way to me at the time...I'll certainly never forget that face, that expression, those very dark circles under the kindest eyes...and a smile that made me feel RECOGNIZED--that made me feel like...ME! I'll never forget the day that I met The King. Years later, after I'd become a comics artist myself, it sank into me fully just who that was...and the moment remains one of the highlights of my entire life...and comics career. It ALWAYS will.
I had a similar exchange with Milton Caniff when I was 12 as you had with Jack. And, like you, it wasn't until later I appreciated the magnitude of having crossed his path,
I also worked for Neal Adams at Continuity Studios, drawing storyboards and animatics for TV commercials, concurrent with my tenure at DC. I started working there shortly after drawing BL # 1--also met Lynn Varley there, and brought her into comics to color the first job I drew as a CONSCIOUS ARTIST--The Batman Annual #8, my Artistic Manifesto, as it were. I created an entirely new art/storytelling style for that book...and paved the way for Lynn to end up working at Upstarts Studio, doing colorwork for Howard Chaykin--who shared the studio with Walt Simonson and Frank Miller...the rest is now comics and movie history. Neal, btw, is an even more fascinating human being than he is an artist--a man of tremendous moral strength, impeccable talent, professionalism, and an absolutely inviolable artistic integrity. It's my genuine honor to be considered a friend of he and his family. I worked at Continuity less than 50 feet away from my greatest artistic icon every day, for well over two decades, and it's safe to say that those were some of the HAPPIEST days of my ENTIRE life! I've been able to put up with all the nonsense I've come across in the comics industry--especially from DC Comics--because I knew and worked with Neal Adams. I've been an extraordinarily lucky individual in my life, and I've never failed to appreciate that--EVERY single day.
Neal never taught me anything, however--nor did I ever go to him for advice on my art, career, or anything else. I learned as I always learn: strictly by observation, and experience. I discovered Zen philosophy after starting my martial arts studies at 14 (Tae Kwon Do) and that was also indispensable in helping me maintain my peace of mind and mental equilibrium...without which it's impossible to truly know yourself...and create Art.
So I've met many "legends" during my 40+ years in comics...but quite frankly, after working with Neal Adams for over half that time, and actually getting to know him PERSONALLY--I don't really have too many stories about other artists, etc. who've left a particular impression on me...except perhaps for the great, and deservedly beloved Archie Goodwin, with whom I had the irreplaceable honor of working, albeit briefly, when he edited the two-part Joker/Gordon story I drew for LOTDK #s 105 & 106. The cover to the second issue in that series was designed by Archie himself (He actually ASKED me if I'd mind drawing it from his layout...something I'd have actually PAID him to do!...) which is a more tangible, but less significant honor than having actually known the man himself...however briefly. Archie Goodwin was a one-of-a-kind talent in comics--a great writer, a great cartoonist, and an even GREATER human being. He will certainly never be forgotten by his fellow professionals, nor by his fans (and most of the former were also the latter.) Archie Goodwin was a true GEM of a human being.
Steve Ditko, however, is someone I wouldn't have wanted to meet if I had the chance! A brilliant cartoonist--but an absolutely miserable human being. Ditko was a curmudgeon who took out his bile in life on his own fans, and a hypocrite who preached about morals, ethics and justice while blatantly plagiarizing another writer's work ("Mr. A is A" anyone?...) Ditko's rehashed Ayn Rand comics--"Mr. A" in particular--give me a royal pain. That an obvious misanthrope had the nerve to pass himself off as an exponent of Ayn Rand's philosophy--the essence of which was a HAPPY man/woman in control of their own life, by living on their OWN ideas--is the most sickening thing to me about Steve Ditko. I'm just surprised that Ayn Rand's estate hadn't done anything about his blatant plagiarization of her work, aside from his personal misrepresentation of her ideas about a REAL man's "sense of life" (it's POSITIVE, not negative)--but that's not really any of my business. I think Steve Ditko was a very talented RAT, quite frankly--and nothing more. Sentimental memories of childhood-related Spider-Man comics nonwithstanding. Wagner wrote the immortal "Ride of The Valkyries"...and hated Jews, I'm told...great artists aren't necessarily great people. I've KNOWN truly GREAT people...and Ditko wasn't one of 'em. He was a great comics artist--I loved his Spidey, Dr. Strange, and the various mystery stories he did for Marvel & Warren--and his ink/wash artwork for Warren was simply SPECTACULAR! But Ditko was never one of my favorite artists, because he really didn't draw that well...his work was a triumph of expressionistic STYLE--nicely inked/rendered/toned...but not particularly well-drawn. He's still the best Dr. Strange artist to me--but I prefer Romita's Spidey...'cause Jazzy John could DRAW...and in a much cleaner, and more attractive style to me than Ditko's essentially-more-suited-for-arcane-illustration work. But even if Steve Ditko was as talented an artist as Neal Adams, or Alex Ross--I'd still think he was an utter DICK for being such a curmudgeon towards his own fans--and a blatantly hypocritical THIEF of Ayn Rand's ideas. He died alone, and friendless, which was no surprise to me...The one thing that Steve Ditko NEVER seemed to be in life was HAPPY. I avoid people like that like the plague...'cause they're usually just as contagious...and unhealthy.
Your take on Commissioner Gordon actually looks a little like Goodwin, more so than other versions of the younger Gordon I've seen, was that part of your tribute to Goodwin? I also love his work, by the way. He was one of the legends in the mainstream who always embedded his work with his own personality,
Yes, Commissioner Gordon's resemblance to Archie was intentional on my part--but I really didn't think it was noticeable to anyone else...kinda nice to know 'twas.
Let's talk a little more about process and strategy to the craft of comics. Much of what you do is the result of being self taught, but do you accredit anyone with helping to mentor you when you were beginning, specifically with technical struggles? Do you remember getting any breakthrough advice among other illustrators that enabled you to master your craft early on?
I'm COMPLETELY self-taught. As mentioned above, I learn the Zen way--by observation, experience...and as an artist, self-contemplation--because Art is all about expressing The Human Condition...which is inside of EVERY human--so why look elsewhere to learn it? I discovered Alex Toth's work while devouring Neal's photo & art morgue files at Continuity after work (I enjoyed free access to the studio, 24/7)...I also discovered Ayn Rand in '82, while working at Neal's studio. Her book The Fountainhead infused me with the idea that an artist could and SHOULD be a person of INTEGRITY--and her BRILLIANT, dramatic, and highly visual writing style inspired me to create visions of my own on paper--first inside of my head... All of the above, plus my desire to impress and inspire Lynn Varley as an artist (to prove to her her OWN worth) led into the creation of my own comics art and story-telling style in The Batman Annual # 8 (and the early THRILLER issues later on--but that's another story...) I never ask anyone for assistance nor advice in my life, and definitely not in my art...it's all MINE, and that's what makes me HAPPY.
Today, what percentage of making comics do you find to be a grim chore and what percentage is pleasurable? I get the sense that the strenuous part is during the pencils, and that when you ink you are in a zone where its really fun. Is that a correct breakdown? Pencils: work-Inking:Fun?
ALL of making comics is pleasurable to me--the writing, the drawing, the inking, the editing, the coloring...and even the lettering, to the best of my limited ability there...I like writing, but I LOVE editing--that's when you get to polish your initial ideas into finely-honed form for public presentation--and the more you actually RESPECT your public, the more conscientious you will be, and the more refined, and BEAUTIFUL that final product will be! I've been making art in comics for over 40 years now, and since Art is always based on LIFE, if I didn't LOVE everything about my job, mine would be quite a miserable existence indeed...! I certainly enjoy telling a GOOD story infinitely better than telling a bad one--I get more ideas and inspiration from a fellow artist's good work--but the basic enjoyment for me comes from the process of creating/designing/composing finished pictures that illustrate IDEAS--as a part of telling a story WELL. "Pictures" refers to both the individual panels themselves, as well as the "bigger" picture they form on a page, in relation to each other. Comics Art IS a two-dimensional ABSTRACT form, after all--it's literally just lines and colors on a page put together in a specific way, to form a definite ILLUSION--all for the purpose of telling an overall NARRATIVE. I enjoy the process as much as the final product--the level of that enjoyment is determined by the inspirational qualities of that project I'm executing/illustrating/drawing--but the enjoyment comes from the process itself of working towards a desired goal. Art is LITERALLY a person simply making an internal reality into an external one--and the more you enjoy that process, the better the final results will be--GUARANTEED! That's why most artists tend to do their best work on projects they've also written, or created entirely on their own. My own graphic novel The Original Johnson will attest to that--and my work for All Time Comics is a good example of POSITIVE synergy--I was inspired by the script, and characters, so I drew what I believe to be my BEST work to date. Needless to say, I'm EXTREMELY happy about that! Let's hope the fans will feel the same...
But as much as I truly respect and admire the hyper-realistic, awesomely executed, and obviously tremendously skilled art of Neal Adams, Hal Foster and Alex Ross--I actually PREFER (to draw like) Kubert, Buscema, Toth, Kirby, and Frazetta. Y'see, to me, Illustration = Models, photos, correct reference, etc... but Comics = Make stuff up out of your head! There's something about the triumph of PURE IMAGINATION that appeals to me deeply--always has, and undoubtedly always will. I think it's the uncomplicated simplicity involved in literally only needing just a pencil and a piece of paper to make truly GREAT works of Art...I dunno for sure, yet--but I'll figure out just EXACTLY why that is, eventually...and then express THAT idea in a picture! That way I always have something to look FORWARD to in life, y'know?...
Quite honestly, I'd LOVE to do what Frank Miller did in his career--change the world with just a pen, paper...and a working MIND! But being black in an eternally racist comics industry, I've NEVER been in a position to change the world (Hell, it's been hard enough just to make enough money to eat--and I'm probably the MOST famous and accomplished black artist in the business...aside from co-creating Black Lightning.) So since the beginning of my comics career in '76, I've NEVER really expected to "succeed" in this business according to the established idea of success: Money, Fame & Glory--MY intention in life is to be an ARTIST--to understand, know, and then express myself honestly...hopefully, to share something worthwhile with the fellow human beings in my audience (the rest I seldom think about unless I really have to...) And quite frankly, I can't think of anything FINER--or that makes me HAPPIER in my life! Frank can keep the glory, the gold, and the girl...I'm happy just to have my own SOUL.
My page designs come out of my own inner subconscious--I visualize the story I'm drawing, and pick the most dramatic visual moment in every scene to draw. My unusual panel designs are created to serve as a subliminal visual "soundtrack", emphasizing the particular aspect or aspects of the panel's contents that I want the reader to notice--and the final page composition is a result of combining those uniquely individual panel shapes in appropriate relation to each other, to tell the story. Since each panel's shape is designed individually according to its SPECIFIC narrative visual content, and since each panel is also one specific moment in an OVERALL narrative--if the panels shapes are designed appropriately, then they will also flow into each other visually, creating a well-designed page that also tells the story in a visually effective, and interesting manner--aesthetically. This abstract panel-to-panel-to-page visual composition idea is the philosophy behind the art style I'd created in The Batman Annual # 8, and further developed in the Green Arrow Mini-series, and the early issue of THRILLER--until DC Comics, in its infinite racist wisdom, saw fit to introduce me to the "collapsing chair" gag at the height of my creative powers, and as a reward for doing my very BEST work for them.
The gag would've worked had I been the type of person they'd thought I was--but I refused to sit in the only chair available, while my editor stood--and when newbie editor Alan Gold decided to break the ice after my THIRD refusal to sit, and slid into the chair himself, it was his ass that hit the floor with a sound "THUD!" that day, not mine.
About the collapsing chair, I wasn't sure if that was literal or figurative- I see the pattern of editorial conflicts at DC, (and worse) and from the little I know, I do understand that you have endured more than your share of scummy corporate behavior from people in power. But help me get this; was there an actual prank with a chair, or were you speaking as a metaphoric chair? Sorry if I'm dense!
I may've mentioned this in that CCN online interview, too...I know I've told the story many times before--including my first 28 page interview in The Comics Journal #298 back in 2009, I believe--which btw, helped me recover control of my book The Original Johnson and my ORIGINAL PAGES from ComicMix, after they'd STOLEN them from me. Two months after I'd finished writing/drawing The Original Johnson, CM unilaterally "dismissed" me from our mutually signed contract, kicked me to the curb, assigned another inker to my pages (eventually depriving me of about $10,000 in "contractually guaranteed" inking fees)--and kept my original pages, which they had in their possession to be lettered, and sent back to me for inking, and editing...I told the entire story in detail at the end of that TCJ interview.
Mike Gold, CM president, was so embarrassed by it, he contacted me for a sit-down "without any lawyers"--at the end of which, my book was MINE once again...and it all only took 14 MONTHS...during which time I worked as a manual laborer (I certainly couldn't continue drawing comics until my kidnapped firstborn had been returned)--unloading trucks and the like for minimum wage, at 49 years old, and the height of my comics career! After he'd stolen my book, Gold actually had the nerve to tell me "What are you going to do about it, Trevor? You can't afford a lawyer!' BIIIIIIIIIG mistake!!! I never forgot that gloat, and it was a constant inspiration to me to never rest until I'd recovered my "firstborn"--which I did. The tremendous anger I felt was also a great source of energy, so hard physical labor was never debilitating to me--just the opposite, I felt GREAT at the end of the day, having burned off all that energy...while getting paid for it! A pittance, yes--but still...I could eat. The manager at one of my temp jobs was so impressed by my work that he befriended me--and when he found out about my situation, IMMEDIATELY got on the phone to his cousin...the junior partner in a law firm. Long story short--I met his cousin, and impressed the SENIOR partner at the firm so much that he took my case pro bono...and kept Gold & Co. in check with a legal moratorium from publishing my book for SEVEN MONTHS until that interview in The Comics Journal # 298 was published, and my firstborn was returned to me! I'd actually spoken directly to Gary Groth at the time, and he was quite sympathetic to my plight. That senior partner, I later found out, made $450 an HOUR--more in a week than I made in a year! I know because he and I became good friends...and he helped me again 6 YEARS later, to get my ROYALTIES from the still-unscrupulous folks from ComicMix--a scant TWO WEEKS before the statue of limitations ran out for me to sue 'em about it! Good people tend to gravitate towards me...and I'm forever appreciative of it. It's a constant inspiration to me to know that they truly do exist in the world.
So there was nothing metaphorical about Alan Gold's ass hitting the floor with a "THUD!" that day at DC Comics...and I dunno if you know this, but Mike Gold was once my editor at DC Comics--the racist tree from which the apple NEVER falls far...
Hey, these are the same people who tried to hurt me, both professionally, and financially--while I had CANCER, in '15!!! Do you REALLY think they'd be above subjecting me to the collapsing chair "prank" for REAL?... Do you really think DC Comics is in any way interested in helping a BLACK man to succeed...or like most corporations/comics companies of their essentially racist ilk--are they more interested in doing everything they can, in actual REALITY--to make him fail?
Don't bother answering that, Josh--it's a problem that only black people have to deal with in comics, and in America...All I can do is tell the TRUTH about it, for the future--if we still have one with a pig as a President.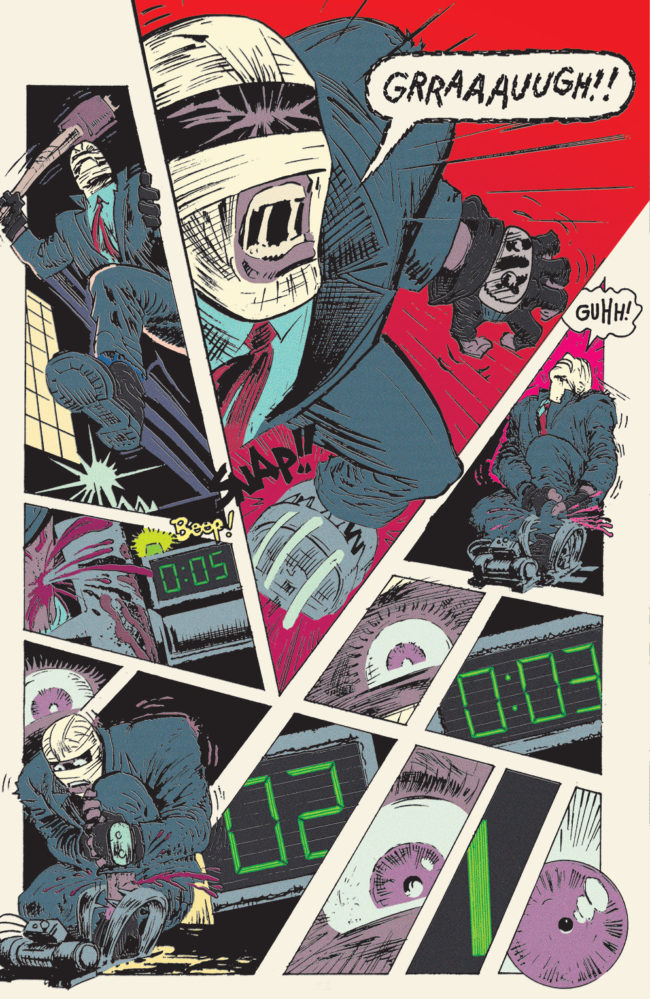 But the "bullet" that day was meant for ME, not him...which is why the quality of my work at DC started to steadily, and noticeably decline, after about the third issue (the chair incident happened around the end of the second)--but no-one noticed, nor seemed to care. Dick Giordano, my editor, asked to ink the 5th issue...but never once asked me if anything was wrong, or why my work had changed...I told him "Sure--if Lynn can color it." By that time, Varley was already with Frank--I'd walked out on her a while before, after confronting her about cheating on me, and she'd admitted it...so I left. But then she called me later, to meet him--and I ended up giving them my blessings, because I liked him, and knew he'd treat her well. But DC Comics NEVER even bothered to ASK what was bothering me...I guess they already knew, anyway.
It literally took me DECADES to recover from that bullet in the back from my own employers (at least my girlfriend earned my forgiveness, when I realized that she was serious about Frank, and not just fooling around behind my back to be promiscuous... which I despise in any woman--especially in MY woman...) Lynn Varley certainly did make me PROUD of her in life...and that's actually a source of considerable JOY AND SATISFACTION inside of me that has never faded! DC Comics is not on that extremely short list, though--and never will be.
Jason T Miles and I talk about your page designs a lot. You really started to get into these radical byzantine page designs pretty early on in your career (1980s). You are maybe seen as a wave of artists who radicalized the look of mainstream comics art. From the times I've talked about culture I know you have strong feelings about rock and roll, film, and other art forms aside from comics.
My question is, were you a fan of mid 20th century Modernist painting? The way you fragment up the panel grid reminds me of the way that painters were fracturing painting compositions.
I'm a fan of painting, in general--but I can't stand Modern Art. I totally dislike non-representational "Art"--i.e: Picasso, Klee, Kandinsky, Miro, etc...Cubism, Fauvism, and other forms of "totally subjective" Art hold no interest nor pleasure for me. I prefer Art that teaches you how to look inside and FACE Reality...if necessary, to CONFRONT it--but I'm totally uninterested in ANYTHING that teaches, or tells you to look inside and HIDE from--or worse--to IGNORE Reality. That's just not me. Art teaches me how to LIVE...and be HAPPY...in the REAL world that we ALL live in.
Well, yes I see how Modernism's mission would be separate from your value system, but some of the compositions you create remind me of the compositions of modernist pieces, with the sense you are recasting the power of stained glass and other dynamic geometries found in art history into your work. It's one of the things that has created a following [for your work] among independent creators who do non-superhero work, admiration for your compositions.
Charles White's fusion of angular shapes with a sort of realism remind me of your work, also some of the muralists like José Clemente Orozco, where there's this elaborate design work that is fused into a heroic sort of celebration of realism. So pure abstraction is going to be outside your interests, often mine as well, but fusing touches of abstraction and geometry design into your stylized realism feels like something that you do and something that mirrors those artists. I feel like you have the same drive in you as the realists inspired by modernism. Just an observation, it's a parallel I can't help but see, in the "Great minds think alike" tradition.
I LOVE abstract QUALITIES in a picture--Piet Mondrian is one of the few "Modernists" whose work appeals to me (he was also a big influence in my panel/page relationships in The Batman Annual # 8) Mondrian's work is like pure THOUGHT expressed in COLOR...and always makes me think of MUSIC. Btw--I ALWAYS have music playing when I work--I literally can't imagine drawing comics without it! Mozart, Bach, Prince, and Stevie Wonder are my favorite composers.
If you could retire from commissioned work and do anything you want, free of the market's demands what would a Trevor Van Eden project look like? In other words is there a dream project that you would love to do in the future? I know that Jack Johnson book was a personal vision of yours. Is there another bullet in the chamber as far as personal passion projects go? Kirby did that short comic "Street Code" late in life. I think a full length comic in that style would have been one of his crowning achievements. Do you have any interest in doing biography?
I have absolutely no interest in doing a biography of myself--I'm still too busy enjoying my life to sit down and write about it before it's even over…
I have several projects, one is The Cowboy Love, written while unloading trucks for a living for 14 months, in the process of rescuing my firstborn book from its kidnappers...I mean, publishers. The opening sequence is probably a bit too intense for comics--but I visualized this script as a movie when I wrote it, so who knows?…
I read that synopsis you sent. "It takes a tough man to be a cowboy called Love." That may be one of the great opening lines of all time.
Btw, Nat Love's biography has already been made into a supernaturally dull GN called Best Shot in The West--which pretty much depicts the events in Nat's book scene for scene without any particular insight, overview, or social commentary from the authors (two white folks--Particia & Fred McKissack) whatsoever--and the art (by well-known comics artist, Randy DuBurke) is as bad as the writing. A badly drawn, deadly dull depiction of one of the greatest--and still unknown--HEROES in American History. I couldn't fault the McKissack's for not realizing, or understanding, the singularly unique, and IMPORTANT nature of the character of their subject--but I've never forgiven Randy DuBurke for the piece-of-shit illustrations he "created" to tell Nat's story. I guess I can't fault American black people for not recognizing their own heroes when they see 'em, having been so incessantly brain-washed by a racist culture to think of themselves as collectively inferior--no matter how great the INDIVIDUAL example...But DuBurke is an ARTIST, he should know better!
ULYSSES: A Super-hero/ Sci-fi series is the first thing I wanted to show you--I'll send the story with the medical prosthesis I invented next. It's called "Ulysses"...(I've read Homer's, but not Joyce's--and mine has nothing to do with either. I just like the name, 'cause the character's surname is "Singh"--and the initials "U.S." appealed to me... is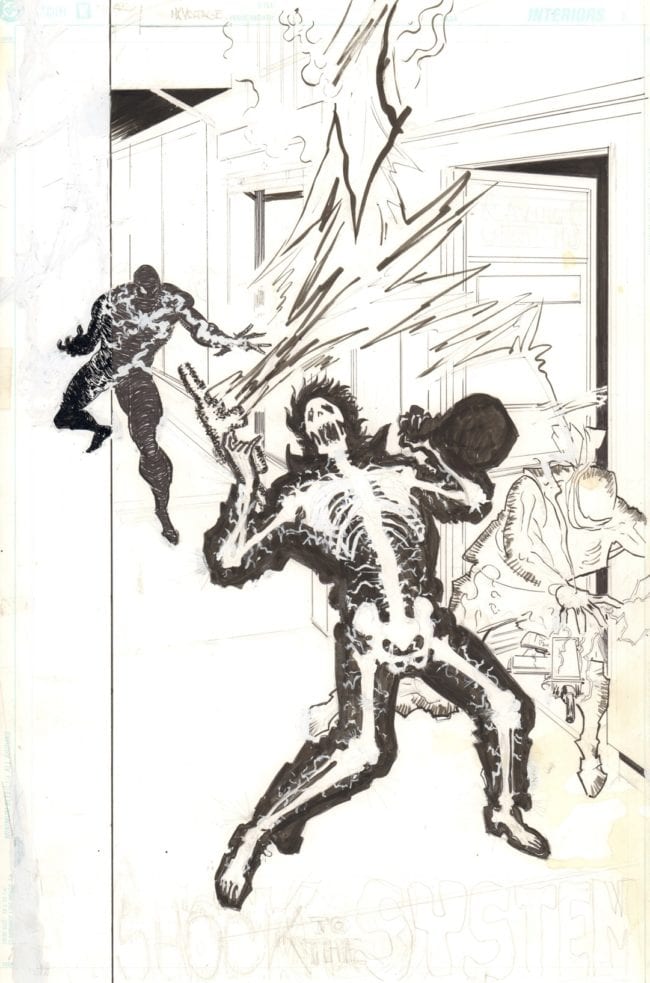 This originally began as a spoof on Black Lightning ("Why's he called that?--because he's black, and shoots lightning bolts!..."), but then I got the idea for the medical device detailed on pgs. 11 & 12, and decided to make it into a serious series, instead. (Btw, in Black Lightning Season One there's a sequence where BL fights his costumed daughter Thunder--and the fight ends when he slams her up into the ceiling, using his lightning powers...EXACTLY as I'd drawn on pg 5 of this story...back in 1998. Yeah, I'm still waiting for my royalty check...)
I wrote the synopsis a few years ('02) after I'd drawn all the pages shown here.
"Ulysses Pgs. 1-12" introduces the characters--first Ulysses in his presently incarnated form, then a flashback to his origin, when he was still human, and married. It also introduces his nemesis (and pursuer) throughout the series--The Committee...central power in The Institute.
The promo ("One day, while I was playing God--GOD GOT ANGRY!") and the other penciled pages depict scenes from his origin. The final, left-handed drawing was done the day before my very first surgery back in 1998, to remove a ganglion cyst from my right wrist (muh drawin' hand)--just in case... and the final drawing was made the day after that surgery. Dr. Kulick (I remembered his name to this day) did a GREAT job--I draw even better after the surgery!!!
In 2009, a movie called Surrogates was released, which (esp. in the opening credits montage) seemed to co-opt my idea for the medical device Ulysses invented back in '98. Nonetheless, I still think this is a sound idea for a super-hero/sci-fi series, and definitely worth developing further if I'm able to find a financial backer, and/or an interested publisher.
I know you are a huge follower of film as well as comics. (The last time I saw you, you had a copy of Mephisto with you I think? or maybe it was a Bob Fosse film, sorry I'm unsure) Often, it seems like the evolution of comics storytelling has so much to do with illustrators reacting to filmmaking. Your work often feels like you're very conscious of trying to maximize drama and intensity by using techniques I see in film such as distorted lens effects, and zooming in close into action. And are there things film does that you think comics artists could learn from and aren't doing? Are there ways that modern mainstream newsstand comics are trying too much to be like films?
You were sorta right about the dvd I had with me that day being a Mephisto, or Bob Fosse film--it was All That Jazz, one of my all-time favorites!...But as far as comics/film goes, comics have ALWAYS been "movies in print" (long before Jack Kirby coined the term some time back)--dating back to the ORIGINAL comic strips, Ancient Egyptian hieroglyphics.
As for me, I always visualize the script that I'm drawing as a movie in my head, then pick the best dramatic moment/angle in each pertinent scene to depict. My panel/page designs are a natural outgrowth of that process, and the panel shapes themselves a sort of visual "soundtrack" of the moment, highlighting the relevant aspects of the panel's contents for the purpose of telling the overall story. But I have no advice for other artists about the process of translating inspiration gotten from movies (or any other medium) into pictures and panels on a comics page--that should be as instinctive, and INDIVIDUAL as each artist's own unique p.o.v., when it comes to their OWN favorite movies, etc.--Art comes from investigating and learning from LIFE...which we ALL see from our OWN unique, individual, p.o.v.--so I've no interest in telling others HOW to see for themselves, only that they SHOULD. I can't comment on modern mainstream newsstand comics, at all--I don't read nor follow any of them. Only the work of Frank Miller and Alex Ross have ever held my interest in the 21st Century batch of comics artists...at least, of the ones that I've seen. I look forward to being pleasantly surprised, the more that I discover what's out there...hopefully.
It's worth remembering that ALL movies first START as comics--as storyboards designed to depict the idea involved CLEARLY to the client, before ANYTHING else is done. I used to love drawing storyboards at Continuity, because they were literally mini-comics--the art directors would send us the script/dialogue/stage directions, accompanied by panels with stick figures depicting the action, from which we'd then create final color illustrations for presentation to the clients. It was a real kick to see commercials I'd drawn as storyboards end up on TV, with real-life actors--but the main FUN for me was drawing the boards themselves. However, Neal used to blackmail me into "drawing" his truly terrible Continuity Comics--tracing over his enlarged thumbnails on a lightbox for him to ink later, in the Continuity "House" style--in order for me to get to draw storyboards...and I truly HATED that, because it looked to everyone else in the industry that I'd become just another Neal Adams "clone"--but that was the ONLY way I could get to draw storyboards...and I generally don't let other people's perceptions get in the way of my enjoyment of my own life, anyway...that might've been different had I known that I did indeed have fans in the industry--but I didn't find THAT out until 2003, at my first convention following DC's post-9/11 downsizing...
I did manage to pencil ONE issue of Continuity's comics from my OWN layouts: Armor #6--but even then, Neal forced me to draw the climactic battle scene between Armor, and the villain Rage--from his young son Jason's layouts! Jase was a nice kid and a martial arts student...but nowhere NEAR a professional artist--so I never appreciated that bit of odious nepotism from Neal--but I also never had to live his life, and deal with his problems...so I took what I could get without complaint. What I got from Neal was AN INVALUABLE EDUCATION, btw--which is EXACTLY why I was at Continuity to begin with. Personalities never interest nor impress me in life as much as ABILITY does...and Neal was one of the BEST (in many more ways than one) EVER! My sole reason for being at Continuity Studios was to LEARN as much as possible from one of the GREATEST artists, and LEGENDS in the ENTIRE history of the American Comics industry--and I DID!
The very last communication that I had with Neal was a few months or so ago, after I'd sent him a link to the vid on YouTube that was shot when I met the cast of the Black Lightning TV show in Philly, in '17--as well as the 19 min. vid of the same panel shot by a fan, which included my 6 minute speech on "race"--given directly to the audience--and cut from the "official" 36 min. BL video...) I also attached the email I'd written to some of my friends about meeting The Great Jim Steranko later on that same day--and almost fainting when he told me that he's been aware of my work for the past 25 years! (I'd gone over to his table merely to give just tribute to a living legend who was one of my seminal artistic influences in comics...which was almost as memorable as when I'd once met the King at my first convention, when I was 12 years old--except that I GOT A BIG HUG FROM JIM STERANKO!!!) So after I'd sent Neal those video clips, and that email about Jim Steranko actually knowing who I am--Neal then sent me back a short reply: "Trev, you have no idea how happy you've made me."...and I shit you not, mon ami!
The high point of my ENTIRE comics career were the days spent working alongside my greatest artistic idol in comics, and the ONLY one of my heroes that I'd ever been privileged to meet, much less get to KNOW personally! So you can only imagine how ABSOLUTELY THRILLED I remain, to have gotten such a compliment from the person--and ARTIST--whom I've always respected and admired the MOST in the entire comics industry! The past is dead, and future is yet to be made--but as long as one is built firmly on the foundation of the other, you'll be GUARANTEED to have INTEGRITY at the end of it all--and like QUALITY, that LASTS FOREVER! As for the present...well, I'm alive, I'm healthy...and I'm HAPPY--I have EVERYTHING that I NEED to get everything that I WANT in life...so who could ask for anything more?
I was really interested in the way you did your original All Time Comics art on a small scale using thinner paper, smaller scale and working directly from thumbnails in some cases. Has there been a number of shifts in your approach over the years? Benjamin Marra, who did a lot of season 1 of All Time Comics, also shifts his approach from book to book, sometimes using brush on extra large paper, sometimes doing work without penciling, just going right to ink. Sometimes doing heavy blacks, sometimes doing thin lined contour. It seems to be part of a certain type of restless creator's whole approach to work maybe in order to keep things from getting stale. Do you think that describes you as well? Someone who works best by finding new ways to access your creativity?
No...I don't look for new ways to express myself, nor channel my creativity--whatever style I use for a job comes out of the needs of the job itself. Sometimes, from the process of creativity itself--as happened with All Time Comics, actually. But before I discuss that, I want to mention that I have drawn some issues actual size (back in my day, comics were drawn at 10 x 15 size, for eventual reproduction in a 6 x 9 comic book)--but that's usually been a result of expediency (not getting paid enuf money to justify working large)...or, as in the case of THRILLER # 6 - 8--because I really didn't want to work on the book that I was drawing, and wanted to get it over with as quickly as possible.
After the cowardly "collapsing chair" incident I'd been subjected to following completion of the 2nd issue, when newbie editor Alan Gold's ass hit the floor after he sat in the chair offered to me--which I'd refused THREE times, since I wasn't raised in a barn, as my employers obviously thought--and would not sit while my editor stood--my anger slowly but steadily grew to the point where I spoke to Dick Giordano, and asked him to be taken off the book. Instead of asking me why, or what was wrong, he instead offered to ink it, and suggested that I could draw it actual size to save time, if I wanted...I didn't care, so I said "Sure--if Lynn can color the Kane Creole issue (#5)"--which I believe was the last issue of the series that I'd drawn full size. But in the over 25 years that I worked at DC Comics, no-one EVER asked me what I wanted to draw...nor why the quality of my work had so obviously, and noticeably declined after the "collapsing chair" incident...not even once. So those last three issues were drawn actual size just to get them over with--period. I remain stunned...and somewhat bewilderedly appreciative...that the THRILLER series seems to be the most well-remembered work of my DC career--it certainly does contain some of the very BEST, and the very WORST work of my career! So maybe from that sense, 'twas indeed a complete expression of myself...it's just that the "self" that I was back then wasn't exactly a HAPPY one...but at least the expression of it was an HONEST one--so I really can't complain. It certainly beats not being remembered at ALL for anything!
But the All Time Comics pages were done small scale for an entirely different reason. That actually came out of the process of collaboration itself. I usually do my pencil thumbnails on regular 8x11 printer paper before transferring enlargements onto a lightbox for finishing--but in this case, the character of Beggar hadn't yet been designed while I was drawing thumbnails the first pages--so writer Josh Simmons, editor Josh Bayer, and I kept going back and forth with various ideas, until a final (BRILLIANT) design was executed (by Josh S., I think...) By that time, however, I'd gotten so used to drawing and redrawing Beggar at thumbnail size on that paper, that I just decided to go ahead an finish the pencils at that size, too--and much to my pleasant surprise, discovered that I was able to get a much grittier line, and much more textural effects from drawing on this much thinner paper--which also served the particular needs of this series BETTER! The smaller size also meant that the images were not going to be "compacted" by reduction when printed--so I had to add MUCH more fine detail to the work, to make sure that the images maintained their integrity on the printed page--which, needless to say, was also GREAT discipline for me as an artist! The readers can judge the results for themselves...as for me, I had a BLAST drawing these 5 issues--I LOVED both the uniquely offbeat, and HUGELY appealing characters, as well as the the wonderfully over-the-top (but not tooooo far) script by Josh Simmons! I quite frankly found the whole experience INSPIRING--I can honestly say that I haven't enjoyed drawing and inking a comics series this much since the first few issues of THRILLER...before the "collapsing chair" reward from my employers for giving them my SUPERNATURAL BEST for YEARS...
But...FUCK 'EM! I feel like I'm FINALLY continuing along the path that I'd started back in 1985, when DC Comics in their infinite lack of wisdom, decided to do its best to make sure that their first black artist, the youngest artist they'd ever hired, and co-creator of their first black super-hero...now also the very first black super-hero on network TV--knew HIS place in their RACIST comics company--which is that he would NEVER be allowed a chance to succeed in this business...at least, according to THEIR narrow-minded, and short-sighted standards!...These people even tried to hurt me while I had CANCER! Words truly fail to convey my utter disappointment, and sheer DISGUST at the TRUE character, nature, and behavior of my "parent" company in the comics business...but y'know what?--I'm STILL here--and the LOSS is still theirs!
I can tell you this: WHEN YOU SURVIVE CANCER, THERE'S NO SUCH THING AS A BAD DAY...EVER!
I'll "settle" for that over a career in a RACIST, corporate-controlled comics company, and/or industry--ANY day.
So getting back to my point...The style of these All Time Comics issues was designed to fit the story & characters involved ("Form follows function") and the extra grit, tactility, and detail that I was able to get from drawing and inking on printer paper came out of the COLLABORATIVE creative process involved in making comics (as opposed to always fighting against your OWN racist idiot employers)...and it turned out to be PERFECT for this particular project! What can I say? --I'm HAPPY with it!
Over the years, have their been periods where you took long breaks from working? Or has drawing been a daily companion?
I'm ALWAYS working on something 24/7 (actually, 16/7--man's gotta sleep...) If not necessarily drawing every day, I'm always working on some other facet of my life, which I lead and run SOLO: All the drawing, inking, writing, advertising, job-hunting, accounting, cooking, cleaning, shopping, laundry, errand running, whatever...and of course, keeping up my exercise routine (40 push-ups/60 sit-ups as soon as I get up, 5 - 6 days a week/ running for 30 mins at least once a week which I've been doing since I gave up Marlboros in 1994, and started running in 1996) to offset the sedentary nature of my work, and to keep ye olde blood circulating. Fresh oxygen to the brain, an independent p.o.v., and a body that's fit and healthy are INSEPARABLE from my particular view of HAPPINESS ON EARTH...I lead a VERY DIFFICULT life--but that's always worked for ME, so I'm just fine with it!
Josh Simmons, Gabrielle Bell and other creators at All Time Comics are mostly associated with independent or the traditions behind self publishing and underground comics. Are you a fan of any of the figures from that scene? Chris Ware? R Crumb, Charles Burns?
I don't know anything about self-published or underground comics...but lately, I have contemplated the idea of self-publishing The Original Johnson again--CORRECTLY, this time. But that takes a lotta MONAY...Well, we'll see what the future brings, won't we!