Monday-Tuesday, March 5-6, 2012
Woke up with nerves: I've taught a few minicomics workshops to little kids, and spoken to high school and college classes before, but never taught anything resembling a five-day workshop. Well, I had a sort of schedule planned, and a general sense of what I hoped to accomplish. Now, into the fire.
Tom gave me the SAW keys and I went over to the site to set up.
I arranged the desks, set up my projector, put out some King-Cats and book collections and waited. Sure enough, people came. Students came from Seattle, Chicago, New York, and as far away as Australia and the Gaza Strip!
I started by giving an overview of my early work. The class was about "Making Comics Out of Life," so I talked a bit about autobiography, finding inspiration, editing yourself… basically I winged it and rambled. But people seemed to dig it. I had the students work on developing some memories from their childhoods to make into comics. The goal was to have every student complete a finished zine by the end of the week.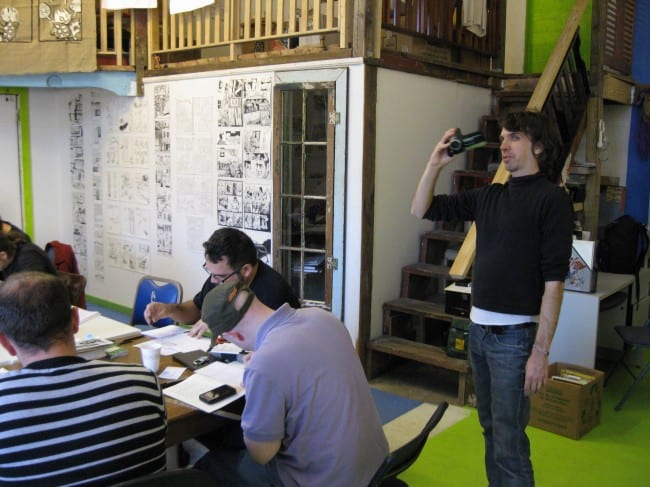 We spent the afternoon developing ideas and drawing. Some of the students had been drawing comics all their life, some had never yet completed a single comic. But I was impressed with the quality and the variety of stuff people were producing. They were a dedicated and thoughtful bunch.
Tuesday, we met again in the morning and I showed slides of some of my more "mature" work, talked about growing as an artist, adapting, and remaining flexible and open to new ideas and impulses. This time I had the students work on stories about their current lives. And I had big news: The following morning we were gonna go find some alligators.


John Porcellino was born in Chicago, in 1968, and has been writing, drawing, and publishing minicomics, comics, and graphic novels for over twenty-five years. His celebrated self-published series King-Cat Comics, begun in 1989, has inspired a generation of cartoonists.