Friday, March 9, 2012
I could barely sleep, worrying about the keys, and I tossed and turned when I did, dreaming terrible dreams of missing keys all night. In the morning we got a hold of SAW's landlord, and Tom picked up the spare set. Still, I was filled with anxiety. Where did those keys go? My one hope was that someone at the health food store had found them when they were closing up and had them behind the counter.
I drove to SAW and went into the store to ask—nope, nobody turned anything in… My triumph of a workshop had been decimated by my carelessness! I tried to keep my head up though, and move ahead with the day's plans.
The morning would be devoted to finishing up all stray ends, and assembling the zines for print. We had a good time counting pages in multiples of four. In the afternoon we all drove out to Target Copy and took that place OVER.
Some people were ready to print, others were still frantically cleaning up pages and ordering their stories. I manned the copy machine and turned into a machine myself. The students formed a line with their originals and I threw 'em down on the glass, flipped 'em, double-sided 'em, collated that shit. Next… Next... Next… It was pretty fun, and it was awesome to see all the work the students had done come gloriously together in the end.
After that we met up at SAW for the big commencement/going away shindig. We had snacks, live music, copies of everyone's comics, and hung a gallery show of the artwork done during the workshop.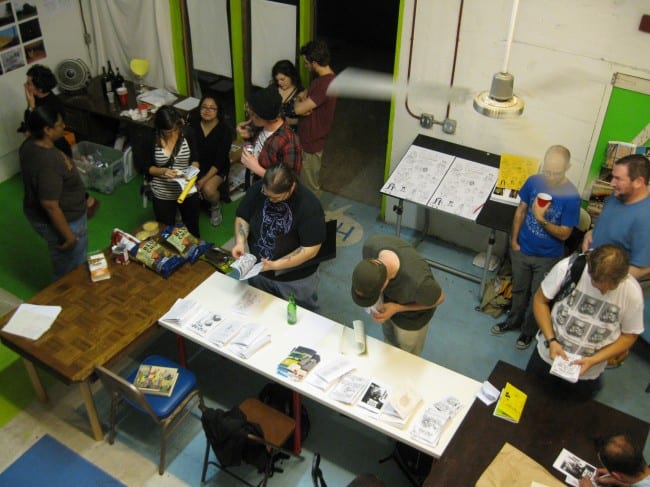 I'd made up diplomas and we had a lovely commencement ceremony. People laughed, jabbered, hung out, mingled with the Gainesville intelligentsia that had shown up, and then it was over. SAW's first weeklong workshop, the first, I hope, of many.
I had one of the best weeks ever that week. It was fun getting to talk about all the nitty-gritty of comics-making to a crowd of smart, funny, motivated students. Everybody made great work and really came together as a group. It was sad to see everyone hugging goodbye and heading out into the night. But anyhow, we're all Facebook Friends™ now, so we're cool.
PS: A few days later, as I was driving into the Okefenokee Swamp, I got a text message from Tom: A worker at the food co-op had indeed found the lost keys and hid them behind the counter. And all was right with the world.
John Porcellino was born in Chicago, in 1968, and has been writing, drawing, and publishing minicomics, comics, and graphic novels for over twenty-five years. His celebrated self-published series King-Cat Comics, begun in 1989, has inspired a generation of cartoonists.