Almost any Parisian will tell you that comics and graphic novels are serious stuff. Here, the "BD" or bandes dessinées are not just in bookshops. They're all over the place: in train stations, supermarkets, museums and the news kiosks found on every street. During 2016, the country's residents bought more than eight-and-a-half million BD – so we're talking about 15.5 % of the whole French population. What's more, those statistics seem to be increasing.
This omnipresence, however, has a down side. With new volumes appearing weekly, few books get more than a fortnight on display. Blockbusters such as Asterix are different but, even for mainstream publishers, this poses a serious problem. When it comes to collectives, independents, and books about comics, that problem is a crisis – and it's one Amazon hasn't helped.
Parisian Renaud Chavannes is doing something about it. Chavannes, a journalist and digital entrepreneur, also authored Composition de la bande dessinée (Editions PLG). A thoughtful history and analysis of page layout, it took him a decade – and he wasn't prepared to see it simply appear and vanish. So he fought back by designing a shop of his own, an online boutique called Stripologie.com. Open for business since 2012, Stripologie sells books over the internet. But it's dedicated just to books about BD, to special editions and volumes on the history, art, and theory of comics.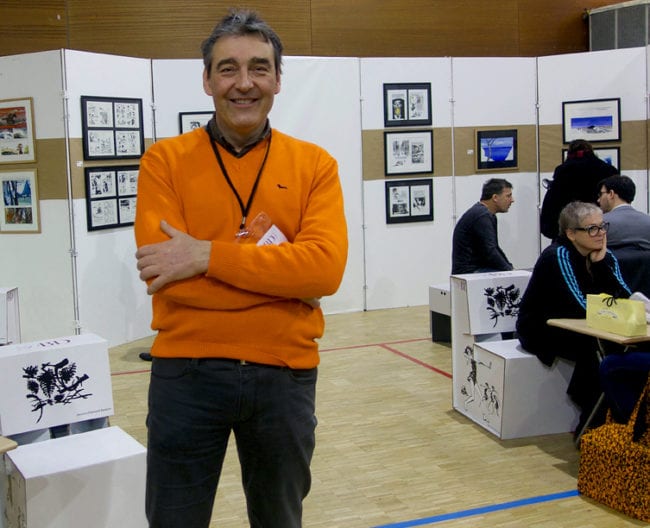 Because the site stresses the value of books as objects, Stripologie also runs a physical comics fair. That event is SoBD, the annual "Salon of Bande Dessinée in the heart of Paris." It started out seven years ago in a private gallery. But Chavannes and his enthusiastic team of slowly transformed it. Now, SoBD is the Parisian comics fair.
Several different factors made this possible. First off, the enterprise has always been inclusive. "Whether you call it 'the ninth art' or BD, whether you know it as manga or comics, it's the same discipline," says Chavannes. "Those terms indicate individual practices and of course they imply different paths of fabrication and reception. But at SoBD, we're viewing it all as a whole."
Another asset is the fair's location which, says Chavannes, was a combination of choice and luck. "Parisians prize books and many of them worship comics. But every time Paris holds a Salon du Livre or a Salon of children's literature, it will be held at the very edge of town. We wanted SoBD to really be Parisian." So – thanks to Christophe Girard, former Mayor of the 4th arrondisement – SoBD takes place in the trendy Marais.
That, say its organizers, works for everyone. Especially given its biggest plus: the festival is free. The only fee ever required is for participating in the guest star's Master Class. Whether visitors want to browse the stands, visit the numerous art shows, take an atelier or attend any panel discussions (there were thirteen this year), it costs them nothing. They can also wander in, leave for lunch, dinner, or a drink, and then return.
Latecomers probably have to queue for author signings and they might have to stand during a popular panel. But, so far, the liberal recipe is working. Hardcore devotees tend to show up early but, all weekend, shoppers, hipsters and tourists wander in and out. Last year, SoBD clocked up 25,000 visitors. Also, because the fair takes place in a quartier noted for shopping, both expensive books and funky little zines find buyers.
It's a festival filled with visual treats. Each year, there's an exposition by the honoree (this time, that was the legendary Edouard Baudoin). But the fair also mounted a show of student talents, one featuring Swiss artists and a "So Strange" expo: comic art made using bones, paper plates and medical monitors.
Nearby, at the Marais' Galerie Cecelia F, SoBD also held a show entitled "Cats". This was an homage to the feline comic strips by Théophile Steinlen. Steinlen (1859 – 1923), is most famous for his Le Chat Noir cabaret poster. In the expo, thirty-one artists produce their own turns on his cats. Among them were entertaining pieces by Cosey, Haydé, Nicolas Nemiri, Hugues Micol, Blutch, David B, Catherine Meurisse, Jean-Christophe Menu, and Zep.
Every year, SoBD showcases another country. This year it was Switzerland, who organized both "Cats" and the expo of Swiss artists. They were also represented by new books, four publishing houses and numerous visiting artists, critics and editors. Baudouin was only one of two festival guest stars, the other being Québec-based critic Philippe Sohet. (In addition to their individual panels and Master Classes, each was happy to talk – or, in Baudouin's case, paint and chat – with the fans).
More than 150 other artists were on hand for signings. French tradition dictates that, for such dédicaces, each signature be accompanied by a drawing. One-on-one encounters are enhanced by special souvenirs.
Finally, of course, there are the books. The huge Stripologie stand groaned with hard-to-find tomes on comics art, history, biography, and theory. They ranged from seductive coffee-table tomes to dense analyses. Several (with their authors present) were even available before their official publication.
The comics themselves also covered the waterfront. There were stalls from institutions but there were also those of "Monsieur Pop Corn" and "The Hoochie Coochie". Visitors could chat with staff from the Taiwanese Cultural Centre – or they could peruse flip books, rarities and photo-comics. There were author-publishers, independent houses, one-offs, collectives, posters, stickers, buttons, and zines printed moments ago. Some groups were focused on comics from Latin America, others on underground manga and others on African stories told by Africans.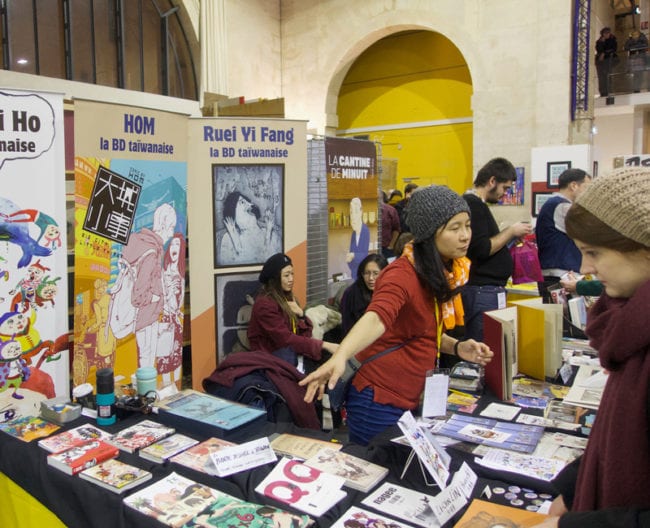 The Swiss DIY evangelists La Fabrique de Fanzines were producing fanzines on demand and on the spot. But theirs was not the sole political plea. There was also LGBT BD, a group dedicated to showcasing gay, lesbian, bisexual and transgender comics. There was the government's Cours Municipaux aux Adultes, who offer re-training options for the would-be artist. Then there was la Saif, the Society of Visual Art and Fixed Image Creators, who ran an advice table and gave out leaflets about authors' rights.
SoBD doesn't try to be Angoulême. But it does have a Grand Prize of its own. This is the Prix Papiers-Nickelés So BD, which rewards the year's best work on comics and graphic heritage. The winner receives a multi-volume collection – hand-bound in leather – of the critical journal Papiers-Nickelés. This year's nominees were a truly impressive lineup (fully listed, with all the details, below).
For 2017, however, SoBD was just as much about action as contemplation. It's always a great chance to buy holiday presents, discover new artists and come away laden with books. But much of the year's educational side – its Master Classes, panel talks and ateliers – was concerned with doing and making. At every panel, those attending got a free pencil and a classy sketchbook.
That detail sums up why I love SoBD. It's gotten better and better without losing its generosity. I've attended every year since 2014, when it honoured Britain and guest-starred David B, so I'm delighted to report it's going from strength to strength. Without losing the erudition, it's managed to remain quirky, warm and welcoming.
So no matter what your language or nationality; if you like (or love) comics, you'll feel right at home. This fair mirrors the art at its heart.
For details about next year's SoBD, follow their Facebook page.
***
Winner of the 2017 Prix Papier Nickelés So BD
• Case, strip, action! (published by In Folio)
Contributors: Alain Boillat, Marine Borel, Raphaël Oesterlé, Françoise Revaz
A study of storytelling techniques and developments in comics series during the 1946-1959 era so formative for the European bande dessinée
Other Nominees:
• Hermann, l'encre noire du sanglier des Ardennes (published by Editions PLG)
A monograph on the Belgian artist who received the 2016 Grand Prize at Angoulême
Author: Philippe Tomblaine
• MANGASIA (published by Hors Collection); available in English as MANGASIA: The Definitive Guide to Asian Comics (published by Thames & Hudson)
Author: Paul Gravett
A survey that covers how manga evolved, in addition to many forms of Asian comics, cartoons, and animation developed since the 19th century
• Krollebitches, souvenirs même pas en bande dessinée (published by Impressions nouvelles)
Author: Jean-Christophe Menu
A memoir about those things which awakened the young Menu's passion for comics. (The title is artist André Franquin's favourite term for those graphic marks of comics' shorthand used to denote speed, sleepiness, sweating, etc).
• Noirs desseins (published by la Bibliothèque de l'Oncle Archibald)
Author: Philippe Aurousseau
A work about 30 artists who, between 1888 and 1962, helped to visualise the world of crime and detective comics
• Shoah et Bande dessinée: le dessin au service de la mémoire (published by Denoël)
Editors: Didier Pasamonik, Joël Kotek
Catalogue of the exhibition Shoah et Bande dessinée (Comics and the Holocaust) at the Paris Holocaust Museum and Documentation Centre
• Images populaires (published by Les Cendres)
Authors: André et Marie-Thérèse Jammes
A study of influential folk images published in provincial France from the mid-18th century to through the beginning of the 19th century
• Jean Frisano, une vie d'artiste (published by Neofelis)
Authors: Philippe Fadde, Thomas et Sylvia Frisano
The life of the French artist famous for his covers featuring superheroes
• Le monde selon Topor (published by the Bibliothèque nationale de France and Les Cahiers dessinés)
The catalogue of the BnF exhibition about the artist, also famous for his work in cinema, poetry and music
• Le statut culturel de la bande dessinée, ambiguïtés et évolutions (published by Academia)
Collected papers from a university conference
Edited by Stéphanie Delneste, Ahmed Maaheen and Jean-Louis Tilleuil
• Mickey Mouse: Icône du Rêve Américain (published by Éditions Glénat)
Author: Gary Apgar
The French translation of Apgar's Mickey Mouse, Emblem of the American Spirit
• Pulp Science Fiction, aux origines de la Science-Fiction (published by Black Coat Press)
Author: Jean-Yves Freyburger
A catalogue of the author's exhibition Pulp Science Fiction