Not far from Nehru Place, the megaplex computer mall in South Delhi, lives and works Vishwajyoti Ghosh (b. 1972). Unlike his neighbors across the Outer Ring Road, many of whom deal in junk and pirate goods, Ghosh is the real deal: an original and talented cartoonist with serious social commitments, and a smooth organizer of human resources as an editor and activist.
It was Ghosh's graphic novel Delhi Calm (Harper Collins India, 2010) that first turned me on to Indian comics. An attuned visitor to India cannot but be aware of the ubiquitous and omnipotent Amar Chitra Katha. But as a non-Indologist, that august series' gods and freedom fighters have failed to really arouse my curiosity. As for graphic novels, Amruta Patil's Kari I knew, as well as Sarnath Banerjee's early books, but there is something in the literary qualities of those early entries that makes the eye's heart slip across and off the page. These are fine books, but hardly an impression remains a few hours after reading.
Delhi Calm, meanwhile, sticks. It is set during the Emergency. For nineteen months between 1975 and 1977, Prime Minister Indira Gandhi suspended basic civil rights under a constitutional "state of emergency." The stated purpose was to repel threats to the country's democracy, but the declaration suspiciously coincided with political and court challenges to Indira's own power. Readers might have encountered the Emergency though its depiction in Rohinton Mistry's A Fine Balance (1995) or Salman Rushdie's Midnight's Children (1980). In both, the Emergency is epitomized by its most violent and outwardly inhumane episodes, namely the slum clearances and forced sterilizations carried out in Delhi under Sanjay Gandhi, the Prime Minister's loose cannon son, in 1976. Delhi Calm is rounder, better researched, less black and white in its moral picture, and its focus is somewhere other than human rights abuses and emotional terror.
Despite being set largely in Delhi, where Sanjay's hand was heaviest, Delhi Calm gives over just a couple dozen of its 246 pages to slum demolition and sterilization horrors. It's a dark city nonetheless, rendered entirely in monochromatic watercolor. The comics pages have been digitally tinted sepia, to give them (in the artist's words) a "sada look," meaning plain or rusticated. Reviewers have described the book as "tea-stained" and "dung-colored." Ghosh once offered the obvious explanation: sepia is a "metaphor for memory" versus a Technicolor present. The red-brown also evokes dried blood, emphasized by the frequent use of ink splatters, especially in passages of violence. It's a shadowy city, in any case. Journalist Vinod Mehta's description of Delhi in these years is apt: "a horrendous, knock at night, rumour-infested, look-over-your-shoulder-before-you-speak city."

But this is only half of Ghosh's Delhi. It's also a city of cooptation, where India's young and educated go to try their luck as artists, writers, and politicians, and come out changed in the process, not necessarily for the better. His characters refer more than once to the city as "Powerpolis," and elsewhere as "an arrival lounge for ambition, cast in red sandstone and white cotton," referring to Mughal monuments and Congress Party khadi. Being Delhi of the mid-70s, rather than the liberalized present, it is a place where said aspirations and the idealism fueling them are quickly compromised by threats of political repression and by enticing proximity to wealth and power.
Ghosh pulls few heartstrings. His book is not filled with post-Emergency-type outrage. There is mocking disapproval of Indira, Sanjay, the police, and the hear no evil speak no evil "calm" of Emergency Delhi. But the ambivalent aspects of the JP Movement – named after the charismatic freedom fighter Jayaprakash Narayan and his calls for "Total Revolution" – and the half-committedness of JP's followers are the main object of study. The central narrative of Delhi Calm follows the transformation of the young male intellectual as he moves from political idealism and activism, to compromise and cynicism, and finally withdrawal into more secure and less righteous patterns of adult life. From a distance, Ghosh's graphic novel might appear, like Rushdie's novel, a statement on how Indira Gandhi and the Emergency snuffed post-Independence optimism. Its real concern, however, is the intellectual class and how it itself is partially to blame for the weakening of progressive ideals after the 1970s. From the vantage of a present-tense in which the Indian middle and ruling classes appear to have little interest in democracy or constructive civil society, Ghosh's perspective seems a much more relevant take on recent Indian history.
A personal note: my virgin attempt at writing about India was a failed essay in 2010 about Delhi Calm and artistic representations of the Emergency. Most of the previous paragraphs were plucked from that dormant block of text. It was a lesson learned hard: if you want to write about something as complicated and unique as India and have neither long-term residency nor long-term study to build upon, better to begin small or by leaning on a crutch of something familiar. Hence the interviews I have been conducting (fieldwork masking as articles), hence the Indo-Japanese perspective, hence art reviews for Art in America and Artforum on shows in Mumbai and Delhi, because contemporary art, if not exactly universal, tends to reduce complex historical and social issues to easy-to-understand figures. And this, in contrast, is exactly what I respect in Ghosh and Delhi Calm. They challenge you to learn more about India, while setting the bar of responsibility so high that you don't dare publish plop.
The following interview was conducted on September 30, 2013, piggybacking a trip I made to Delhi to speak about manga at Cine Darbaar's annual Anime Convention. After being surrounded by Naruto maniacs for three days, it was refreshing to talk with an artist who feels so passionately about not only the aesthetic dimensions of comics but also the medium's social potential. The goal of the interview was to get some facts straight about Ghosh's background, his art historical coordinates, and his activities as founding member of Inverted Commas, a non-profit "social communications" collective. Technically speaking, this interview was meant for my own use, for essays that I may never write about Emergency-related visual culture and activist comics in India. I think you will agree that the raw data itself makes for interesting reading. Coincidentally, our meeting came hot on the heels of the release of This Side, That Side: Restorying Partition (Yoda Press, 2013), an anthology of comics curated by Vishwajyoti. It is discussed toward the end of the interview.
First tell me how you got into comics.
I got into comics in 1979, when I was in the second grade. Amar Chitra Katha comics had just come out. There was a book week in my school and they had set up a stall. Comics was a new form for all of us. I asked my mother to get me a comic, and she said, No, it's too expensive, since they were a bit more than other children's books. The National Book Trust books were 1 rupee 50 paisa, and ACK were 1 rupee 75 paisa. My mother said, No no, there's not much of a story here, it's only visuals. I said, I want a comic, I want a comic, I want a comic. That went on for half an hour. Finally she succumbed and bought me one. And like a good Bengali mother, the first comic she bought me was about Rabindranath Tagore, the Bengali poet. I was very thrilled with the idea of having my first comic.
From there, I kept reading Amar Chitra Katha, Amar Chitra Katha, and more Amar Chitra Katha. Later I moved on to Tintin and Asterix, quite late in senior school. I tried Archie and the gang, but they never worked for me. Then I won a school competition for political cartoons. That was my start in political cartooning, an interest that lasted for a year. Then I left everything for higher pursuits of graphic design and filmmaking, only to return to comics in 2000 or so, when I started seriously drawing comics. As a college student, I painted T-shirts for Orijit Sen's outfit, People Tree. He was working with comics. That was about the time he was working on his first book, River of Stories. Seeing him at work was quite inspiring. The first book I wanted to do in my comics career was about growing up in art school, but that never happened. Subsequently many other dreams didn't happen, until Delhi Calm.
Did you read Indrajal Comics?
Yes, they were really my only exposure as a child to foreign comics, like Phantom and Mandrake. I read Phantom in Bengali. The strip was syndicated in a Bengali newspaper my grandmother subscribed to. He was called Aranya Deb, meaning Lord of the Jungle. I also remember Fauladi Singh from Diamond Comics. But ACK was the main comic in my childhood. I came across Tintin and Asterix much later, when I was in twelve or thirteen. I certainly learned a lot of geography through Tintin.
You mentioned winning a political cartooning contest. What was the cartoon about?
I was in eighth grade. It was a cartoon about the media, about television. We were living in a system in which television was state owned, with all propaganda. So it was a piece about propaganda. The printed press was far more free and liberal. It was a dig at state-owned television, Doordarshan. This was in 1986-87.
This was for a school newspaper?
It was for schoolchildren, but it was organized by TheTimes of India. It appeared in the schoolchildren's edition of the paper. They used to have a school edition called Offspring. The Times of India was getting into a lot of school education stuff at the time.
Did you do more cartoons for them?
I ended up cartooning a lot, but nothing for them, just for myself. I used to have a book of cartoons. Everyday I would draw one cartoon. Then I started drawing cartoons for the school magazine. When I was in grade 10, I finished the board exams, which in India is like using your educational virginity. It was 75 years of Indian cinema. I was really hooked to the idea of Indian cinema. So I did two sketchbooks of caricatures of my favorite actors and actresses. That was a summer project. I did it very conscientiously with an intro and everything, as if it was published book.
Where did you go to art school?
I went to school in Delhi, to the College of Art. I studied graphic design and advertising.
Were you drawing comics in college?
Not really. I rediscovered comics with People Tree. Orijit Sen exposed me to Maus and Barefoot Gen. That opened a whole new world for me, comics about people's lives. That's why I wanted to do a comic about my own college life, because in Delhi people don't even know where my college is or what life there is like. They would think, Oh you just go there and spend your time drawing.
Were there a number of aspiring cartoonists around Orijit Sen in the 90s?
People around him were interested in drawing and learning design. I don't remember any comics people then. Maybe there were and I just didn't know them.
Were you interested in the American comics available on the Indian market?
There weren't many, only the sci-fi and superhero ones. Those weren't really my interest, and still aren't. Archie was around. Mickey Mouse has always been around. But they weren't really my interest. I discovered American Splendor very late in life. When I went to Paris in 2003, I saw the movie and bought a copy of the book. Crumb had done the introduction for that particular edition, so I got his autograph when he came to the Comic Con here in 2012.
Why were you in France?
I went to France in 2003. I had a fellowship for comics, to learn French bande dessinée. The fellowship was from the French government, a residency for three or four months. I got to meet comics makers and learn from them. It was a very open kind of thing.
You had comics work to submit for the application?
I had things to show them. I used to have a column in The Little Magazine. I did a back page comic for them called Backlog.
What kind of cartoons were these?
It was a one-page comic, commenting on something recent: the media, hunger, poverty, cross-border terrorism, capitalism, whatever.
It seems like you have always been interested in political topics.
I just find myself drawn to them. I don't claim that I have a particular interest in politics, but I find myself very drawn to discussing issues in a visual framework. I have never been a big fan of speculative fiction or science fiction. Most of my comics haven't moved beyond the twenty meters of my own universe. I find that universe itself quite enough to deal with.
If that's true, your personal universe includes more political and historical issues than most other cartoonists. One could say that a lot of people who draw graphic novels or manga-style comics are focused on their immediate universe, their everyday life, but devoid of politics and history.
Well, in my case, even when I do something not political it gets perceived as political. The moment I open my mouth, everyone thinks it's political. But that might not necessarily be the case. I did a comic two years back for Time Out, a special issue on food. I did a piece about an Iraqi restaurant in Delhi, just a nice conversation piece with the Iraqi manager of the restaurant. The way the magazine put it out made it sound like it had less to do with food and more with politics.
But politics are interesting. It's so fluid. In India, so much happens every day. Two years back, I also started doing a cartoon for the Hindustan Times called Full Toss. It just finished after two years. It was a box, a one-panel cartoon. It was really great to find myself engaging with a mainstream space for a political comment.
One of the first books I wanted to do after college and after my first comics dream evaporated was a book about Partition. When I started working on it, I realized how small my voice could be against the big canvas of history.
Why Partition?
Partition is part of growing up in Delhi. If you are an old Delhi-ite, there is no way to escape Partition.
You mentioned that your mother was Bengali.
So the family background is that the family moved from Bangladesh to Calcutta just prior to 1947. And from Calcutta they moved to Delhi. We grew up with stories about the house they left in Bangladesh. So when I went to Dhaka in the late 90s, on a project with UNICEF, I visited that house. I wanted to do a piece about the house. But migration is a topic I have always worked on, very intensely. Still working on it, in fact. Shall I show you some work from a power point presentation? [Leaves to get computer]
This is a comic from 2004, based on my experiences in Paris. It was about an encounter I had with a Pakistani immigrant who had only been there for two days. It was his take on immigration. For me, it's a fascinating piece because he didn't know French, he didn't know English, he only spoke Punjabi. I don't know how he was planning to survive, but he was so confident. He told me how he came through Iran, shut himself into a box, fake passport, finally making it to Paris. He paid some half a million to the agent who got him here. He was giving me ideas about how to stay in France and make a living without going back to India.
This one is an adaptation of a video I saw at the Kunsthaus in Zurich while I was on another residency. It was an interview with an illegal immigrant. She was talking about how to survive in Geneva illegally, the need for constantly shifting identities.
This was a work I did after I got back from Switzerland. It's based on a real-life story that I fictionalized and embellished. I used the person's family archival photographs, but also incorporated influences from my own childhood, like the children's picture charts we grew up with in India at school.
What are the picture charts?
Basically they are educational tools that are easily available in the market. There is a huge series of them, on things like freedom fighters, transport, fruit, vegetables, good habits, bad habits, ideal boy, cleanliness, environment, careers. Small little picture boxes. It was part of our junior years. We bought them and used them in our homework, grades two and three. Say there is an assignment about weather, about winter. So you buy the relevant charts, taking a sun from this one, winter clothes from that one, the fruits from there. It was very typical. Kids across India did these kind of projects.
Do you think your drawing style comes from these charts?
No. I acknowledge them, but I don't think my drawing style comes from them. I must have tried drawing like this when I was a kid, but now I don't. It was just a part of growing up. When I think of little boys in 70s, I always think of these picture charts as a visual idiom of the age. It was a socialist economy and our exposure to the outside world was limited. Visual iconography was limited. They are part of that world for me.
Amar Chitra Katha was also very popular in the 70s. Do the two go together somehow for you?
Yes, but we were often discouraged to read Amar Chitra Katha, because the educational system said that reading comics killed good reading habits. If you were caught reading Amar Chitra Katha, the comics would be taken away and your parents would be called in the next day. So you had to read them hidden under your desk.
Have you used Amar Chitra Katha in your work?
For example, in the same work, there are images of classical mothers from Amar Chitra Katha next to little boys from the picture charts. Some of the other images come from wedding invitations and family (not my family) photo archives.
There is also a piece I did about growing up in 1980, when I was in grade three. Tinkle commissioned the work. Tinkle is another a magazine from ACK. They recently came out with their 600th issue, so they asked some of us to contribute pieces in commemoration. So it's about how I got my first Tinkle as a prize for being the best storyteller in class.
Like I said, whenever I think of my childhood I think of the picture charts, so I did the entire comic using images from the charts. The background is graph paper. Actually, I am not really sure about this story, if my name was actually called or I misheard. But I got hold of the teacher later, told her my name and class. She looked at the list, and I am not sure if my name was actually there, but she had a spare copy, so she gave it to me. The deal for this work was that they said, We will give you a box containing all the ACKs, every single one. So that's been the biggest gift I have given to my daughter. That saved me quite an amount of money.
Do you think ACK is bad in any way? That it skews history? It has that reputation now with some critics.
I don't know. For me it was great. I personally don't believe it's addressed to the right wing, which is a big theory now. We lived in a much simpler age then when these sorts of issues didn't really come up. Now you can spin all sorts of things into it, like caste readings, that it celebrates an age when the Brahmins were in control. The Brahmins are still in control, of course. People question why the Asuras are green while the main male heroes are fairer. But has Danny DeVito ever played Superman? That's just our visual iconography. If you go to Durga Puja now, Asura is muscular and green, with jet-black hair that is a mix between a Tamil hero and an African man. Now we think of him as a WWF wrestler. The iconography hasn't really changed. No one tries to show Asura's virtues and make him look like Antonio Banderas.
So, no, I don't think ACK had any intentions to promote the Right, neither was the rightwing so strong a force at that point in time. They were nothing, and ACK did little to help them. This new idea about ACK is very much a "post-," academic, intellectual exercise aiming to rubbish ACK. You have to remember the period in which they were conceived. Indian politics were changing, from proper democracy to complete individual ownership of parties. It was a time when Indian kids were dealing with the idea of English-speaking schools for the first time in their lives. It was a time when television had just entered homes. The Right was a failed project by then. It had come, but failed. In 1977, they came into power. By 1980, they were finished. So to say that Uncle Pai [Anant Pai, ACK's founder] was promoting the Right is a very relaxed, liberal, academic attempt to try to fit, say, a golf ball into a square whole.
What do you think the aim of ACK was?
I think it had a very clear mandate of teaching mythology to Indian kids. I have read interviews with Uncle Pai since my school years. He was very clear about his goal. He saw a quiz show on television and kids couldn't answer questions about Indian mythology, so he wanted to rectify that. I don't think the mandate was to teach a certain brand of Hinduism. They did a lot of titles. They did an issue on Jayaprakash Narayan, who was the biggest challenge to mainstream politics in the 70s. But because Jayaprakash took support from the Right, now they say that issue too fits in with a rightist program. But I don't believe it.
Have you gone back and read the issues?
Yes. They are very simplistic. But for a ten-year old, they're fine. I actually did a comic about Uncle Pai, using only images from Amar Chitra Katha.
First I talk about how Rabindranath Tagore was my first comic and then about how ACK used to do quiz competitions at stadiums. Uncle Pai would stand on the stage and there would be a line of hundreds of students. You would be called to the stage one by one and asked a question from Indian history or mythology. Like, Who was Surya's daughter? Answer. Next student. Question. Next student. Question. And everyone who failed to answer the question would get a free comic book. Actually, everyone got a free comic. But those who got the question correct would get a larger bumper issue and move on to the next round. There was the local level, then there were national level competitions. Uncle Pai was the quizmaster. There would be at least four or five hundred kids waiting until like five or six in the evening. Parents would start dropping in after six. Where are you? I am still waiting. They would call the schools one by one to the stage.
How did you do?
Terrible. I lost. The good thing was that they give you a comic related to the question that you got wrong. So say the question was, Who was Ryan's father? I don't know. So I get a comic about Ryan. It was really well organized.
Did you know who Uncle Pai was at the time?
I did. In every comic, in every Tinkle at least, there was a letter from Uncle Pai. His name is Anant Pai, but after Tinkle came out, he began signing as Uncle Pai.
To return to your drawing style, what was the impact of your art school training?
It kept changing. Art school doesn't really teach you much. It just makes you join a larger community of like-minded people. Very few of my classmates from art school still draw. But it makes you very curious about different styles, trying to figure how did they do something and why did they do it.
How would you describe your own drawing style? If you were to do an art historical analysis of your own comics, what would you say?
I don't know. I think it was Sarnath Banerjee who once said, Your figures have Kalighat eyes [from traditional Bengali painting], which makes sense. The story I did for the Pao anthology was done in a Kalighat style. If you do some research on Kalighat paintings, you will find some of the same compositions. I wanted to use those compositions to acknowledge where I come from.
In art school, were you interested in modern painting?
I was interested in illustration. I wanted to become an illustrator. I liked Mickey Patel, Pulak Biswas, who I just did a piece about, he just passed away, Jagdish Joshi, Suddhasattwa Basu, all Indian illustrators. I followed modern painting, but there wasn't much in terms of figurative or narrative work. Indian painters, I followed the Progressives to a certain extent. The watercolorists took my fancy for a while, because that was the nearest to illustration. There were these Calcutta boys doing these large watercolors, being really cool about it. People like Subroto Kundu (he also passed away), Paresh Maity, Sanjay Bhattacharya. They were the cool watercolor boys of the 90s, lapped up by the galleries. We thought it was a cool medium to work in. My love for watercolors comes from there. That's why I wanted to do my first comic completely in watercolors, and that's Delhi Calm. In 2000 or so, I also fell in love with Ben Katchor. He also works in watercolor. But watercolors proved to be a short-lived medium in India. The galleries and collectors moved on to other things. New media took over.
What is it about watercolor that appeals to you?
There is a certain illusion of easy-ness, in the sense that you can leave the paper white, that you can say things with just a stroke or two, and at the same time you can work on layers. The ideal watercolor is to get all the tones in one layer, but that seldom happens.
Your story in the Pao anthology has a woodcut look to it. Is that supposed to embody the "popular" in some way?
No, that's a style I was interested in. It was very much a labor of love. I remember doing linocuts in art school, it was very fascinating. That style looks really worked on, there is something very hand and flesh about it.
Another feature of your work is that it is text heavy. Maybe you'll disagree with this, but it seems to me that many Indian comics artists in the graphic novel or literary comics camp are not particularly committed to the traditional emphasis in comics on speech balloons and paneling. Many of the works seem to occupy a zone between picture book, illustrated story, and comics. Not only with large chunks of narrative text, but also the drawing is not particularly dynamic. There doesn't seem to be a great interest in mobilizing the narrative through depicted action.
Yes, I see that also in my work for sure.
Do you have any insight into why this is the case in your work, or in Indian literary comics in general?
For my work, there is a certain stillness in how I conceive the pages. For me the interest is in capturing the details, not in movement. I end up saying a lot in terms of text. In traditional comics, movement continues to happen between point A and point B, with so little said. I quite envy that. I guess I have a lot to say word-wise. In Delhi Calm I did have many pages in which I wanted to make a comment visually, a page with no text. Conventional comics? Maybe I would have to learn how to draw them. Playing with the language of the writing is another layer for me. Sometimes I like making the language sound really archaic.
Speaking of Delhi Calm, why did you choose the Emergency as the topic of your first book?
As I told you earlier, I didn't deliberately choose that topic to be my first. But in 2000, I was working with a friend who was making a diploma film about the Emergency. And a diploma film always has its restrictions because it's a student film. While I was working on it, I realized how little we know about the Emergency and how much visual possibility there was with the topic. There was also a small iota of memory that I had from being a kid. I was only three. After dinner the whole family would usually yak about the day, about cricket, about politics. But there was a time in my house when windows were drawn and people talked in hushed tones. If you think back, it was the Emergency. It was a time when people didn't talk against the government.
What was the response to Delhi Calm?
I had an agenda, and that was to make it very unapologetically Indian. This was my first book and I wanted it to be the way I thought an Indian graphic novel should be. I wanted to talk about my understanding of politics. It was liked by a lot of people who understand the politics, and was disliked by people who came looking for a graphic novel. Maybe they were looking for Alan Moore? But my book doesn't have that speculative angle at all.
What do you mean you wanted to make it very Indian?
The references had to be very Indian, referring to life in India. Whether it was a singer, the music, the films, the food, the bylanes, the electric wires. I didn't want to make it exotic for a Western audience. "He smelt the rose in the dirty lanes of Byculla, remembering his vada pao days with Rustom Zohriwalla who was now in Detroit" . . . I wouldn't do that sort of thing.
Visually also did you try to make it Indian?
Yes. A lot was based on references to Delhi. The streets, the transportation, food habits. The visual style was very consciously Indian. I hope it happens some day, but if Delhi Calm gets translated into Hindi, the same artwork should work. It should not be too jarring.
Will it get translated?
It's a very expensive medium. A Hindi readership is not something the publishers are sure of. Even if they were sure, they would have to price the book so low that it wouldn't make any business sense.
When did you start drawing Delhi Calm?
In 2008. It took about one and a half years. But I would say two years including the research.
That was around the time when a few other Indian graphic novels appeared. Orijit Sen's River of Stories was more than ten years old. Sarnath Banerjee's Corridor and The Barn Owl's Wondrous Capers were out. Amruta Patil's Kari was out. Parismita Singh's The Hotel at the End of the World was about to come out. Were you conscious of these other books?
I knew those people. They are all friends. Pao Collective had just been formed.
What is the Pao Collective?
It was formed in 2008. It is a collective of five like-minded lost souls who do comics. It is a way of engaging our own efforts and each other's practice. Through that we discuss comics, and then meet over beer or chai and discuss more comics and our own work. Once we started doing that, we decided to make our own book.
The Pao anthology only came out in 2012. What took so long?
We had other things to do. Delhi Calm wasn't even a page old when Pao Collective was formed. Everyone had something or the other going, so the book took its time.
Does Pao Collective do anything other than chat about comics over beer?
Yes. We also meet for lunch once everyone's in town.
Will there be a volume two?
There is always talk about doing various things, to do a journal or a pamphlet. Now we are trying to do an anthology of long-form pieces, fifty pages each. In an anthology you are usually restricted to thirty pages or whatever. So these will be big stories, almost like a reader. We are trying to finish that this year . . . let's see.
What will your piece be about?
I am still not sure. There is this project that I have been working on with the migrant industrials workers in Gurgaon. They come from Uttar Pradesh, Bihar, and Jharkhand. I have been doing mapping exercises with them. So I have a lot of stories from them.
What are mapping exercises?
What we do in Gurgaon is get twenty or thirty people together on a Sunday, and in a single sitting ask them to draw a map of the homes where they come from. So they usually draw a map of their houses from memory. Usually they present their map to the rest of us and tell a story around it. So we have been collecting these maps. We now have five hundred of them. It's a nice way to get to know where these people come from. There are pieces that are genuine, there are pieces that are fake, there are pieces that are copied from one another. We've had sessions in which all the maps look alike. It's a great window onto their world.
What is the purpose of these exercises?
We eventually want to do an exhibition in Gurgaon with the maps, and then do it in some other space, like a gallery space. It introduces them to a new exercise. Usually they start with a lot of inhibition, because they have never done it before. But once they start, they really enjoy it and want to do another and then another.
How old are the workers?
Anywhere from early 20s to late 40s. Men and women. We are just about finished collecting the maps. I have a lot of stories from there, so my piece might be about them. I want to do a long-form piece on the Gurgaon workers and do it soon. But as a sixty-pager, or 120-page novella, or a full-blown graphic novel? A very fascinating universe has formed over there.
What is so interesting about Gurgaon?
So Gurgaon is this new satellite metropolis that has come up in the last ten years, like Navi Mumbai. All the corporates have shifted there. For me, the word "mall" started in Gurgaon. A new lifestyle was developed, this concept of the gated community in which the complex has a swimming pool, a jacuzzi, a sports club, and a library. So a person never has to step outside into the world. Tower life has started in Gurgaon. It has also brought with it a lot of manufacturing from other places. When the master plan of Delhi was changed, a lot of industry was shut down and pushed out of Delhi. They all went to Gurgaon. The textile units and the leather units went to Gurgaon. Maruti, the biggest producer of cars in India, has always been in Gurgaon. So a lot of ancillary industry related to autos moved to Gurgaon. What has happened, therefore, in areas surrounding Gurgaon, the agricultural land has become land for shacks for the workers that arrive in hordes. The entire green belt has eroded and become housing settlements. Gurgaon is the epicenter, with cities around Gurgaon where the migrant community has settled. Gurgaon is upper middle class and proper. The entire thing, the middle and the settlements together, I call Planet Gurgaon.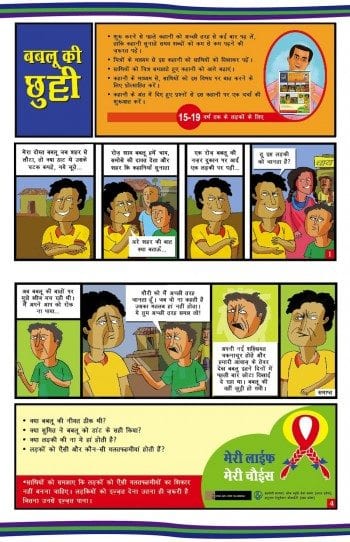 Is this connected with Inverted Commas?
No, it's a separate project. Inverted Commas started in 2004. We were trying to do interesting work in the realm of social communication. Most of the material we had seen was very staid and boring, done by government studios. They had their reasons for doing it that way because it is very difficult to work with a pan-Indian audience. What is accepted in one part of the country might not be accepted in another part of the country. Our idea was to start using new materials that were not really being used in the realm of health or social communication: comics, wall paintings, pamphlets, tabloids. We started innovating and learning from the field. And most importantly, we started working with the field workers. I am not saying Inverted Commas was a game-changer. There were a number of other people doing far more innovative work in the deep interior. But we started working with the health workers and developed materials per their requirements.
Who were your clients?
Our first project was with Oxfam. They were doing a six-nation campaign on domestic violence. Then we did things with the Population Council and IPPF, the International Planned Parenthood Federation, and subsequently a lot others.
Do all Inverted Commas' projects take comics form?
No, just some of them. IPPF put a comic into their newsletter. Population Council did a whole series of comics about HIV. Oxfam did a series of comics over a long period. They would be either freely distributed or used as training materials by health workers.
Last time we met you showed me a laminated card.
That was about domestic violence. It was an icebreaker, a discussion-opener. It was used through a facilitator. She would read out the text, show the pictures, and ask questions based on that story, and the discussion would begin from there. What was surprising for us is that those comics took on a life of their own. People started doing role-play and developing skits of their own around the two characters in the comics. One episode would be based on the comics we did, and then they would do a second or third episode of their own. They made kites, T-shirts, and posters based on those characters. It was great. They put up the posters in the community. Whenever they would go for a rally, they would wear the T-shirts.
Was there a feedback loop in which, based on their interpretations, you would make new comics?
In some cases. For example, for one of the pieces on domestic violence for the Population Council, we tied up with a street theater group, they gave us feedback and the next round of comics were largely based on their stories. They worked on our stories, developing them further, and then we adapted their stories back into comics.
Where have been the main sites of Inverted Commas' activities?
Different communities for different projects. The street theatre group was in Bombay. We have done work with groups in Jharkhand, Chhattisgarh, West Bengal, Delhi, Rajasthan. Our comics also inspired many kids at the local level to try making their own comics.
How many people are Inverted Commas?
Different people and skill sets for different projects. When I started working with Oxfam, it was just me. We recently did a project in Madhya Pradesh. For that I got Priya Kuriyan, one of the young faces in illustration and comics. She went with us to Madhya Pradesh and developed the stories for a set of comic cards on education and HIV. There is core peer group, but they don't really have a commitment to Inverted Commas, only when work comes in. I guess I am the person who keeps it going by trying to get new projects.
What are the print-runs of these comics?
Oxfam was 40,000. A project for a single state will be like 6,000.
How do you know if these projects are actually doing any long-term good?
Over the time we get reports from the field. Because role-play happens, we know that the communities own up to the issues, if that is an indicator of change. At least we know the comics aren't being rubbished. Even if we make a dent for a few, we are leaving ideas behind. And if people take the stories and give them a life ahead, we have made a difference.
It seems to me that the big obstacle for social change in India is adult male mindsets. But it sounds like you work mainly with women.
Yes, but if you work with women you can't really ignore the men. We work with the male groups just as much to discuss masculinity and male responsibilities. Equal relationships is one big issue. Basic things like equal responsibilities at home. It's a huge problem, nothing promotes it. Even television promotes one-sided, feudal, male-centric relationships.
How do men respond?
Initially it's usually denial. No, no, no, that only happens in the village next door. But then a specific issue comes up and discussion starts. It's socially acceptable to say, Yeah, I do that, and then not do anything about it. You have to choose the right person from the community and work through him, make a hero out of him, do a story right then and there. Changes are happening, but it has also to do with money coming into these areas, and with it a little bit of realization, then a little more. Someone goes to the city and returns, and a little more realization happens. In fact, cities are more difficult to work in. The migrant crowd is often times more rural than the rural crowd itself. The rural crowd is always trying to move ahead to the next level, intellectually, emotionally. While the migrant crowd becomes more conservative. That's the case with migrants all over the world. They are afraid that things are changing and their kids won't grow up with the same values, so they become more conservative.
Do you ever work with caste issues?
Yes, we do. It doesn't come out so strongly, but it's there. Most of the communities we have worked with, they are pretty much self-contained as castes. I have never seen a mixed group. An entire village will be full of a single caste.
Do you know this going in?
We know, and then when you start taking people's names, you can tell. Our facilitators also tell us about how this particular caste is associated with this particular livelihood. Livelihood often tells you the caste.
Do you teach open-mindedness about caste differences?
We do, because a lot of them travel. We tell them that they need to be liberal when they travel to the city, because you might be sharing a shack with someone who is not of your own caste.
Is this usually aimed at the higher castes, to be more open-minded about the lower castes?
No, both ways. Because some factories have people from villages that might be higher caste but, economically, are not so sound. So we talk to them about safe sex, about being open-minded, about how to spend money, save money, be willing to have a roommate that is like you as a person rather than someone who is from your own caste. You have only those four or eight hours to sleep, so it's better if you get along. In these Gurgaon shacks, a lot of the Hindus are staying very peacefully with the Muslims. That would never happen in their villages. They respect the differences. When Eid comes, they respect it and realize, It's okay to have a sweet from this guy.
How many projects overall has Inverted Commas done in these ten years, since 2004.
About two-three a year.
Wrapping up, tell me about the new book, This Side, That Side: Restorying Partition, which you edited.
This Side, That Side started in 2011. It wasn't my idea, it was the publisher's idea, Yoda Press. They approached me and I said, Yes, this is the book for me. We started stupidly ambitiously thinking we could finish in eight months. But finally it came out in August of this year. There are 46 contributors and 28 stories. Forty-six contributors includes many collaborations across borders. The book uses Partition as a backdrop, but it's not about Partition the way we learned it in school history books, which differs from country to country, from India to Pakistan to Bangladesh. It's not about the stories we heard as kids about what our grandparents experienced, what they brought with them, what they had to leave behind. It's about how the second or third generation connects or negotiates with Partition. For example, if the father's family is from Peshawar in Pakistan, which was then India, and the mother's family is from Uttar Pradesh, they have different styles of cooking, which will be a family issue for generations. So in those small ways, the Partition legacy continues.
When I think of the legacy of Partition today, I think the LOC (Line of Control) in Kashmir, concerns about Pakistani terrorists in India, and illegal immigrants from Bangladesh.
Yes, so one of the things we also wanted to address with the book was the need to have a civil society dialogue. A person-to-person dialogue. A group of people in a room, a group of students, a group of professionals, a group of storytellers of every kind. The idea for the book was to have not just graphic novelists, so we had filmmakers, theatre activists, architects, academics, NGO workers, journalists, each collaborating with artists to tell stories.
How did you think This Side, That Side turned out?
I think it's great. For me, I learned at every level about how different people conceive history. I had gone to Lahore in 2008 and was playing cards. One of my friends from Lahore had won, and he said, Okay this is for my Victory Day. I asked, What's Victory Day? He said, Our Victory Day, in 1965 we were at war with you and we won. And I said, That's not true, you guys didn't win, you surrendered in 1965. So something we learned in India as Pakistan surrendering, they learn as having won. The two prime ministers had signed the Tashkent Agreement in 1966. Pakistan had attacked India and then India attacked them in return, going into Pakistan and then the agreement brought them back. To him, the bringing back of the line, maybe, was victory. It's all about the way history is appropriated.
Do you think any aspect of the Partition is missing from This Side, That Side?
I don't think any book came be a complete Partition anthology. It can never be because Partition has affected our lives in every way, whether it's our cinema, our music, our daily engagements. Coke Studio Pakistan gets more hits than Coke Studio India. The Ramayan television series was viewed by as many people in Pakistan. Indian cinema is big time in Pakistan. Whenever a cricket match happens between India and Pakistan, not even a dog goes out onto the street, everyone is watching the match. But when India is playing England in England, Pakistanis support India. The point is, no book about the Partition can be a complete book. So some things got missed. A beautiful story about cricket would have helped, for example, or something on field hockey. People connect with sports. A cinematic romance would have been nice. An editor I conversed with at the book launch said to me, I come from the Punjab and what this book is missing is the role of the perpetrator. For the perpetrator, there is no remorse. They think, if it had to be done, it had to be done. That kind of narrative might be missing. There are stories in the anthology that depict perpetrators, but a hardcore story from that perspective is something I looked for but couldn't get. That's not to say that the violence has not been acknowledged, it's just that the aftereffects of the violence brought in a whole lot of stories.
Is This Side, That Side meant to be a political book, say, to raise certain issues that usually aren't spoken about?
No, eventually it will be seen that way, but it is not meant to be that. It's about how we negotiate Partition, borders, memories, our stories, our prejudices . . .
Did anything surprising come out of This Side, That Side?
Yes, the partition of our collective memories as a nation. For some, Partition starts in 1971 when Bangladesh achieved independence from Pakistan, not 1947, which is what Mahmud Rahman's piece, "Profit & Loss," talks about. And for some, memory does not begin before 1947, everything in life begins in 1947. So even the memories have been partitioned.
There is one story by Maria M Litwa, "Welcome to Geneva Camp," with interviews with two girls, one who is Bihari, her family moved from India to Bangladesh. That's a curious lot, those who moved from Bihar to Bangladesh because they wanted to be in Pakistan and part of the idea of Pakistan. But once they got there, in 1971 Bangladesh broke away and these people found themselves in a nowhere land. They wanted to move to Pakistan, but Pakistan wouldn't take them because they said we have nothing in common with them, other than the fact that they speak a little bit of Urdu. They would be a liability, so Pakistan disowned them. And because they had left India, India disowned them too. And Bangladesh was not accepting them. So they called themselves "stranded Pakistanis." There are actually two stories in the anthology about them. The saddest legacy of the Partition is that they are still waiting to go to Pakistan, still, for sixty-five years. So these aspects came out in the project. The idea was to use fiction, non-fiction, documentary to capture these stories.
A stock question in closing. What is the future of graphic novels in India?
It's only been ten years since graphic novels appeared in the mainstream publishing space. We've only just begun. And we live in the age of the internet in which the situation changes every day, so it's a very fluid space. We are always asked about why Indian comics don't have a single voice. And I say, Thank god we don't have a single voice. There are so many styles of functioning in India itself, each of us has their own way of telling a story. And what you said earlier was right, about how many of the artists getting published don't draw comics in the conventional way. I think that's a choice an artist or editor makes. But along the way, for This Side, That Side, we did find people making short, American-style comics, with dynamic movements and short sentences, while other pieces have chunks of text that are illustrative and descriptive, and not really comics comics. It's a mixed bag. See, with something like This Side, That Side, we are now moving into independent publishing, creating spaces for graphic novels in India other than those offered by established publishing. Magazines ask us for contributions, so clearly they think of graphic novels as a collector's item. Long-form anthologies ask us for contributions, acknowledging the fact that graphic novels are part of the Indian narrative now. That's the kind of space we have created for ourselves. We have created a space on bookstore bookshelves for ourselves. And I think Indian graphic novels have made brave choices in terms of content, picking up the Narmada Dam, picking up urban queer movements, sex, politics, the Emergency, caste. I don't think there is a specialized readership for graphic novels in India. They are readers who become readers of graphic novels as well.