Michele Nitri is the founder of Hollow Press, an independent publisher based in Italy. Founded in 2015, Michele has published work by Italian underground artists as well as Japanese artists Shintaro Kago, Tetsunori Tawaraya and Fort Thunder founder, Mat Brinkman. Michele's focus on dark, experimental comics has given Hollow Press a strong identity, reinforced by his talent for publishing artists with a cult following who don't have much material in print. All of Nitri's publications are bilingual, published simultaneously in Italian and English, to ensure they can reach a larger international audience. My shop, Floating World Comics, recently partnered with Nitri to help distribute Hollow Press' catalog to the United States. With this interview I hoped to learn more about the origins of Hollow Press and the unique business model that has been successful for Michele thus far.
Jason Levian: I can't remember where I originally heard this, if it was directly from you or not. Your business model with Hollow Press is to buy each page of original artwork the artists create for your books. Then you are able to sell the original art later along with the books. This struck me as such a smart, outside-of-the-box way to approach book production and artist patronage. Is this an accurate description of how you initially (or completely?) compensate the artists for their work? How did you develop this idea?
Michele Nitri: I developed this idea because I've always connected to the underground comic world as both a reader and as a collector. To be clear I have never been rich or come from a very well-off family. I would say a pretty normal and cool family. Simply, I always spent my money since I was 17 years old for art and almost nothing else.
So when I thought about starting a press I faced one of the greatest problems of the underground comics world: the poor compensation, at least compared to the time that artists require to make their own comics. So the artwork sales are just a parallel way to provide more money to the artists. There are no rules about the artworks sales, it really depends on the project and the artist prestige. Sometimes I buy a bunch of original pages, sometimes just a few and sometimes I buy all of them. Another cool thing is that I have always offered is a very good and high percentage to artists, a 15% royalty!!! And we all know that a standard percentage is about 8-10%.
Considering these two main elements, usually with me artists can get more money than anywhere else (excluding very very big and mainstream publishing houses obviously). This is not a guarantee, it always depends by "how much you are on the wave and the amount of your sales". Anyway, almost all the artists I publish have reached my final goal: they earn good money compared to the time they spend to work on my projects. I could do real examples but this would be unprofessional and a violation of privacy.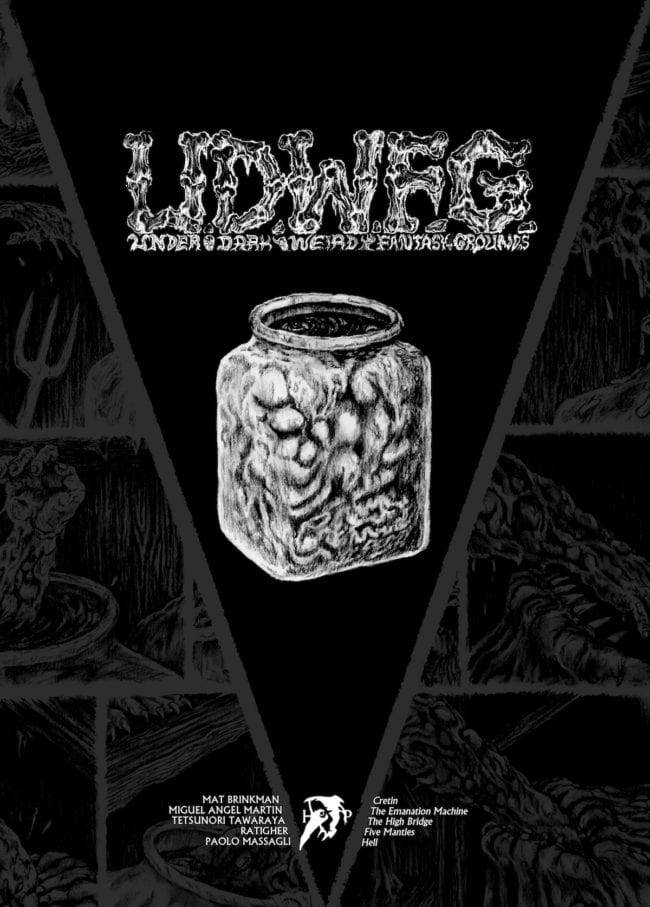 Your first publication was UDWFG Vol. 1. So right from the very beginning you were working with Mat Brinkman (and Tetsunori!), bringing new pages to the world. How did that working relationship start?
I knew them from before as a collector. Anyway I don't think there is a strategy at all. I think the best way is to be yourself. If you are in tune with each other everything comes up naturally.
Also I always suggest to be polite, professional and transparent, artists deserve that.
Can you remember the first time you saw a Mat Brinkman comic? What was that like? It took a couple years for a Paper Rodeo to make it across the country from the east coast to Portland, OR. It changed my life. How did you find his work in Europe?
The first Brinkman comic I saw was Multiforce. I think about 8-9 years ago. I was at home with one of my best friends Ratigher. He showed me the Picturebox edition, telling me that Brinkman was the Jesus of recent underground comics. I'll always be thankful to Ratigher for that. I publish him too and he is really famous in Italy right now. He is the art director of one of the greatest publishing house here in Italy, Coconino Press. He has won several prestigious awards in Italy and sooner or later will be famous worldwide too. Great friend and great artist!
Also, Brinkman comics have a special way of spreading around the world. We all know that many artists love him. Everyone in the underground worlds love or respect him. So at that time in Italy many underground artists knew him. Readers didn't know him but artists did of course, and this is the indisputable proof of the worth of his art. Coming back to Brinkman, I was really curious, ordered my copy from Picturebox, read it and thought "what the fuck I have read!". That reading was something that really revolutionized my life and influenced my tastes in what kind of art I wanted to find.
You need to know that in my boyhood I was a super fan of fantasy worlds, video games, boardgames, Magic the Gathering, live RPGs, Warhammer, films and novels (no comics! ahah!). But I had a big change when I was about 16-17 years old. I impacted with the harsh crude realities of life. I started to feel that all that fantasy was shit, good and evil, hidden politics stuff and only business... mainstream stuff.
So I grew an interest for the extreme underground; starting from films, writers like William Burroughs etc, then flowing for the first time in the comics world. At the beginning I remember Preacher, but suddenly I went to all the underground comic masters like Robert Crumb, Charles Burns, Daniel Clowes, Miguel Angel Martin, Paolo Bacilieri, Shintaro Kago, Suehiro Maruo, Hideshi Hino, Max Andersson, Al Columbia etc.
So, right now you are thinking "what's the point?". The point is that Mat Brinkman comics have the aesthetic I love: the fantasy from my boyhood, but is really cynical, crude and funny as the real world is. So he was the true hidden taste that I had for art, from a mature point of view. I couldn't imagine how to categorize his kind of comic, but these descriptions are helpful to do research and find what we love. Conclusion? That was a fucking under dark weird fantasy ground comic. Got it! U.D.W.F.G. idea.
Besides Mat Brinkman, what were some other key influences in the development of your comics tastes? At what point were you inspired to start publishing yourself and working with these artists?
After the U.D.W.F.G. idea I had this passion imploding... at that time I had a detergents shop (*a mini-mart that mostly sells cleaning and hygiene products) in a very little town, but I worked during the nights. During my free weekends I started to self-publish U.D.W.F.G. I made two issues, but with passing of time interior demons were devouring me. I fucked up the detergents shop and decided to open a publishing house with only 2500€. But that is another story. Anyway I would say that the main inspiration was Brinkman art. But above all I was really influenced by the true dark fantasy, in my opinion really present in some videogames and mostly in several old fantasy novels.
There is a relatively low supply of Mat Brinkman comics in the world, relative to the demand for such an influential underground cartoonist. I believe you are the only comics publisher working with him since Picturebox. Do you have any insight in how he likes to work or interact with the comics community? What is it about Hollow Press or the European art scene that is compatible with his preferences?
I can't reply to this question properly. Because it requires too many explanations of "why?". Mat has no rules, a no-rules guy has no "why". He just does what he want and love. So I feel we were like two dark celestial bodies that casually met each other. Furthermore, to meet him in Bologna in this November (BilBOlbul international comic festival in Italy) was a great revelation for me, and I hope the same for him. We are in tune with each other. We have the same vision of art... underground art. I was so scared to know him and be disappointed of what he's like in real life, he was so mythologized in underground world. Instead he was better and more true than what I would have ever been able to imagine.
In addition to working with internationally known artists like Mat Brinkman, Tetsunori Tawaraya and Shintaro Kago, the rest of your publishing roster appears to be rounded out by underground Italian comic artists. By publishing all of your books bilingually (in Italian and English) your intention is to reach a global audience for these artists. What can you tell readers in the US about these artists and the Italian underground comics world?
Yeah that's the goal. I think that underground readers are too few, considering each country on its own. So one of the main goals of Hollow Press is a sort of conjunction of all the underground readers around the world. Italian comics are really important in comic world. We have a lot of masters here and now we are living in a time of great mutation with a lot of really interesting Italian underground artists. Of course I'm gathering the craziest ones. They are all really different from each other with a strong surreal component that allows me to link all of them in a common line, the dark weird fantasy comics... I will try in future to sell rights of their books worldwide. Who knows, maybe in the USA too. Because I think that readers from all the world deserve their art.
I'm excited to help you with distribution to the US through Floating World. I know that you have plans to reprint all or most of your out of print titles. Can you share some exciting news about other projects you have planned for 2019 and beyond?
Yeah I'm so excited too. I think we will do a great job together, and of course I love the idea that you can be the bridge from Hollow Press to the American audience. Unfortunately in art world there is too much patriotism. At least this is my feeling trying to have a presence with Hollow Press in other countries. But art cant have any limit. Art is a citizen of the whole world. So I hope this our collaboration can be a perfect example of how to spread art. Linking forces with respect of the individual parts is always the key!
Can you tell me some new books you have planned?
I don't like to announce our books too early. But this interview is a good opportunity, so I will share a couple of bombs! We will publish the first comic Brinkman made. It is called Kap Trap, drawn when he was 17-18 years old! Don't ask more hehe. In November we will publish the first shonen by Shintaro Kago. It will be a completely crazy story. His longest individual work yet, a 192 page book! Size A4 with crazy detailed drawings. We have books till 2021 scheduled. We love what we do and we really hope souls love our books!
Since Floating World has book distribution through Diamond and Consortium/Ingram I mentioned to you the possibility of collaboration on a future Hollow Press publication for the mass market. This could require big changes in the way you normally produce books, in finances, timing, and production value in order to accommodate the larger scale of distribution. This might be hard for you to answer since you're less familiar with the American book market, but is that a direction that you are interested in for Hollow Press? Or are you happy with the more DIY scale at which you've been operating?
Actually Hollow Press is much bigger than how it appears. We are DIY in the way we work, but we sell tons of copies like medium/big publishers around the world. So it's not a problem of book production, finances, timing or anything else. The problem is that mass distribution usually has its own policies, and those policies are not compatible with the Hollow Press policies. We have really open minds, but I have some strict principles from the origin of Hollow Press that allows us to grow solid without any illusion.
For example, our maximum bulk wholesale discount is set at 60%, and advance payment is also required. Because I immediately pay artists, printer, graphic designers, etc. I give worth to their work and mine, and for this machine to work we need advance payments to keep the balance.
Those who purposely postpone payments don't respect us. This is why we don't have mass distribution. In Italy it was the same. Everyone told me, "with this policy you never can distribute your catalogue." After 3 years a distributor contacted me, accepting my conditions and now I'm distributing Hollow Press books here. Not in bookshops but in comic shops of course. But it's a good first step... right?
Anyway, I always say: when anyone tells you "I can't" it means "I don't want".