For the 13th installment of Hamburg's Comicfestival, which took place between September 27th and September 29th 2019, we'd have loved to come up with some clever Gen 13 references, because names of team members like Grunge or Burnout remind us of buzzwords for internal affairs in Germany's comics scene – but in the end that would just be made up for the sake of an alluring lead-in to keep the expected target group interested.
Held annually in Germany's second-largest city, the true heart of the festival are the numerous workshops that not only offer the brazen opportunity to seduce a younger and probably still innocent generation into the comics fold, but first and foremost allow the organizers to come up with educational services fanciful entitled "Speed hating: Visual ranting – graphic fantasies of retaliation."
And indeed, the show assembling readings, panels, exhibitions or screenings of comics-related documentaries or funny book adaptions looks to be successful, so there is a continuing growth trajectory to certify – not necessarily faster than a speeding bullet, but in terms of a persistence of vision.
In particular this subject relates to one of Germany's most active cartoonists, who, despite having released only a single comic in the US of A, still manages to receive birthday wishes from Comics Reporter's website every other year, presented his latest book Spinnenwald during the Comicfestival – of which he is also a joint organizer and founding member.
So forty-year-old Sascha Hommer, furthermore working as an editor, teacher, lover of and husband to comics, is an explorer of the darker sides of the conditio humana. In Spinnenwald, (or Forest of Spiders as it would probably be titled in English), Hommer's spinning a yarn riffing on a motif established via the H. G. Wells-channeling John Christopher and his Tripods series, while adding an angelic guardian aided by warriors both one-eyed and none-eyed, all of them going against an oppressive bunch of dudes known as the Eyes. Obviously there's a lot to watch out for in Hommer's only seemingly naïf shaping of a world, because the treatment of others is what's getting out of sight most likely when striving for sublime virtue.
The small venues of the Comicfestival provide ecological niches for independent or alternative artists like Max Baitinger. After failing to publish his brilliant study on subcooled punchlining, Röhner, in English language with 2d cloud's latest Kickstarter – which is a fucking sad affair overall – he visited Hamburg with a wordless meditation on the aural arts i.e. Jazz.
Moving further away from any linear behavior as it had already arisen in his latest release Alright, Jazz Night invites the devil to a musical session and performs the inherently interwoven profession of improvising by throwing in even more inky curves than he already did in Baitinger's preceding releases, thus visualizing things you usually only hear.
That Satan looking like a cocky Ron Perlman-esque Hellboy is not only due to his unzipped pants depiction, but also because of his lush appearance, sitting smoking on a couch in glorious voluptuousness. At least Baitinger didn't need an American publisher for this one because he released it through Colorama press, but seriously, Fantagraphics, how much longer will you ignore the man's unparalleled genius? Röhner and Birgit are out there and waiting.
His former fellow student from Leipzig, Anna Haifisch, accompanied the release of her collection Schappi with a diorama displayed in the window of comic book store Strips&Stories, depicting the animal ambassadors from The Mouse Glass, which has now been translated into German and appears as a prominent feature within the book.
While publishing this compilation of short stories may mostly be founded in the German reluctance to purchase single releases, the context adds new layers to the work's original spirit of sharp political satire, reintegrating it into Haifisch's ever-growing beautiful bestiary. She creates modern fables in vivid spot colors, where instead of the concluding morale traditionally associated with talking animals, the endings carry a note of lurking contingency.
Her faunal characters, however anthropomorphic, are more than mere stand-ins for human beings, gaining lives of their own and undergoing countless affections, some mundane some sublime, embracing a whole realm of complicated emotions. The way the German artist known for her scrawny figures intertwines the animal world and the art world – the recurring topic of her career – not only makes for good comedy but feels extremely consistent, as two realms populated by strange creatures who abide by their own natural laws finally merge into one.
Of course the cruel patron of the arts in The Hall of the Bright Carvings, a character based on both the curator and the Earl of Groan from Mervyn Peake's first Gormenghast novel, is a long-fingered lizard, what else would this cold-blooded creature be? You clearly wouldn't have thought of this comic as an animal story before when it was first released in Kramers Ergot 10, but now you do and it feels right. Same goes for the also previously released Fuji-San, where a hermit hare ponders on his secluded life at the foot of Mount Fuji. The wistful meditation on a sense of peace that can only be found in the face of nature is captured in melancholic blue-violet areas, that are mostly responsible for the mood and bestows even the most absurd scenes with a solemnity you simply wouldn't expect of a jackrabbit playing dominoes with an octopus.
In the end, "Brief an Wiesel" – "Letter to Weasel" – turns out to be the only episode that hasn't been published before, as even the stunning ostrich interlude A Proud Race appeared in NOW #3. Still as a collection it is well worth your while, both as a tableau of the versatile ways Haifisch pursues to create a tragicomic effect and as an example for the peculiar uses of animal characters in comics.
However, whether this Hamburg flirt with plasticine marks the beginning of an Anna Haifisch toy line with neurotic weasels, sheepish crocodiles and posh snake princesses to rival Schleich and Mattel's drearily polished preteen products remains to be seen. But if she succeeds as a toy maker, will she still find time to organize Leipzig's Millionaires Club Festival, which increasingly functions as a port of call for aspiring international artists? You see, after his successful talk at the Millionaires Club festival in Leipzig last spring, Russian comic creator Gregory Elaev brought members of the Siberian Space Cow Press collective to Hamburg, representing the considerably young and by default underground comic scene from his homeland.
Among the small group merrily presenting their work and zines was Masha Foot, introducing a short and sincere piece on mother-child-relationship called Motherlove. Taken from a longer version published in Russian, this international version comes with all text removed. Instead of going for improvised translations, Foot relies on her drawings alone to resonate with international readers.
Free from the heavy influence of a well-established local tradition, she creates a language of motifs and movements that highly benefits from its vagueness. The result is almost musical in nature, with the initially predominant theme of the child drawing towards the mother's warm red glow, both figures a sketchy mess of lines and scribbles. They mingle and merge, as the wounded child takes comfort in the mother's embrace, and the sheer strangeness of the scene renders it more private and intimate. In the end, the blue is overcome by red, the themes melt into a single drop of crimson and while you may be undecided on what you just witnessed it certainly was beautiful.
But as a festival is already a sort of an anthology of artists, anthologies themselves are naturally two steps behind. A pair of these achievements in curating with a comprehensive approach were released just in time for the hanseatic festivity, the all-female project Spring #16 as well as Clubhouse #13, a compilation with international participation compiled by German authoress and dessinatrice Aisha Franz, who's also responsible for the cover artwork.
And while hanging out at the Colorama boot with owner Johanna Maierski and Anna Haifisch discussing a legitimate successor to Jonny Negron, we embedded journalists both agreed on another winner of the Comicfestival Hamburg next to Negron's hulk-busting-outta-clothes style lookalike Melek Zertal, which clearly is the Hamburg based cartoonist Jul Gordon.
Not only is her comic in Spring #16 an impressive work because of its fragile but simultaneously silent and thereby eerie tenderness emerging from an absence of any sign of life, she also provided a similar feel to De Tout Bois, a 2018 French anthology of monstrous proportions released by this year's guests Editions Adverse, who were also featured in an exhibition.
The voluminous book is a coup de main in book design – so its title's meaning 'by any means necessary' as well as 'wood of any kind' shouldn't surprise anyone. It features a mixture of exclusive next to sparse amounts of material already been published by artists like Ben Katchor next to Léo Quievereux, Samplerman and LL de Mars while also presenting a ton of female artists as Sophie Podolski, Alexandra Achard, Sarah Barthe or Barbara Meuli. Gordon's therein featured story Performance is actually an embedded comic book of a smaller size than the average page of De Tout Bois usually offers.
So the main goal of the presentation seems to be toying around with established manners in book design and defy expectations by using added supplements as posters or folded papers in envelopes to both improve tactile aesthetics and drive book binders insane...
… like the fellows at Landfill Editions prominently did and still do with Mould Map – while trying to proof that anthologies are also two steps behind their own ambition, like ~er~ Kramers Ergot 10th volume just recently and appallingly appeared to be.
For example, De Tout Bois' participant Ilan Manouach – remember, his Maus critique disguised as a spoof called Katz was spread in Angoulême during Spiegelman's jury presidency as a lecture in mature conceptual art-tacking – makes Kramers Ergot contributor Johnny Ryan maintaining 'being anal about it' shock-and-awe strategies in comparison look like being caught among notorious YouTube comments like "Who's listening to this in 2019," especially in terms of faux radical approaches – not to mention the immortalizing of a whole canon for this kind of You Tube commenting here by taking into account the flagrant imbalance between female and male creators permeating Kramers Ergot #10.
But on to brighter sights and greener pastures: As the conceptual premise of the Clubhouse series remains getting cartoonists to spin-off a comic originating from a poster-sized illustration, our discussing who'd win the Jonny Negron memorial award got simultaneously countered un-puristically by both Maierski and Haifisch with Oda Iselin – her poster art for a story by Lasse Wandschneider featured in Clubhouse #13 shows an athlete drenched in sweat, and that's probably a thing Negron would do.
But let's get back to Melek Zertal instead, who created the most poignantly drawn memory we've seen throughout this year...
… and well, you know, it is partially very Negronesque with its protagonist's pantomimes in their iconic conciseness, sometimes curvy, sometimes sad, but always decently dressed.
Another highlight presented in Clubhouse #13 is playfully light-footed Marie Medem...
… she seems to be the permeable sister of Lale Westvind, who tuned down her Kirbyesque monumentality for Colorama's anthology to establish a more fizzy and electrocuting visual style after a period of fasting.
As for the latest issue of the aforementioned Spring magazine, it's an annually compiled non-profit anthology by a Hamburg-based collective assembling works by female artists all centered around one pre-established theme, most helpfully coming with English subtitles' at the bottom of each page.
This year's promising cover art by Nina Pagalies imprints the overarching subject, Sex, on a neon brain assembled from all kinds of bright pink obscenities. Sadly, the topics broadness brings about a certain incoherence, stringing together melancholic meditations on intimacy, unwieldy dives into cultural gender norms as well as some wordless outlines of lust and pleasure, so the reader is left unsure which aspect of sex they are about to explore next. This almost uncomfortable switchback makes it hard to engage, as opposing emotional reactions replace each other far too often without leaving a mark. Thus the frustration felt when Carolin Löbbert apparently fails to credit Japanese Artist Megumi Igarashi aka Rokudenashiko while her entry "Das Fest der Liebe" centers around the phallus-worshipping Hōnen-matsuri festival hasn't been processed yet during Katrin Stangl's flirtatious yet perplexingly male-gazey serigraphic sequence "Pleasure Play".
Likewise, moving on from the vulvic boat of Doris Freigofa's quiet "Overflow"– one of the anthology's aesthetic highlights where a plunge into a deep sea populated with intimate organisms serves as an allegory for female ejaculation – to Birgit Weyhe's arid musings on gender identity in "Gendering Gustavito" proves quite a challenge on the reader's side. In fact, many contributions squander their potential by relying too heavy on wordiness and giving in to an assumed demand for constant explanation. Spring magazine founding member marialuisa's "Wähle mich! Wähle mich!" ("Choose me! Choose me!") – could have easily indulged in the glorious weirdness of the animal kingdom's manifold courtship rituals transplanted on humanoid shapes without highlighting the scientific background.
As it is, the shrill in-your face approach chosen for most contributions dominates throughout the issue and is rarely interrupted – yet again most notably by Jul Gordon's carefully worded "001", where a subtle anecdote is accompanied by inanimate drawings of a commonplace apartment, a reminder that in some regards, shared intimacy surpasses intercourse as the core of sexuality.
In addition to a whole spring tide of new releases driving anybody who's even vaguely interested straight into bankruptcy, the festival also invites visitors to stroll through the district – i.e. place them in strategically clever spots – an excursion turning further and further into a scavenger hunt as you try not to miss one of the colorful flags marking the small galleries, stores and cafes that harbor exhibitions. Among these so-called satellites orbiting the main venues were many newcomers, including the students of the Hamburg University of Applied Sciences Engineering & Computer Science presenting short stories created during their international boot-camp, so here's Robots by Nina Buß.
Other entries included all kinds of displays, ranging from the French duo Incinori, that transfers the avant-garde coloring established by publishing houses like Le Dernier Cri or Landfill Editions into mainstream~y handicraft for those seeking rest and relaxation...
… to the candied but candid drawings of Spanish cartoonist Ana Duna.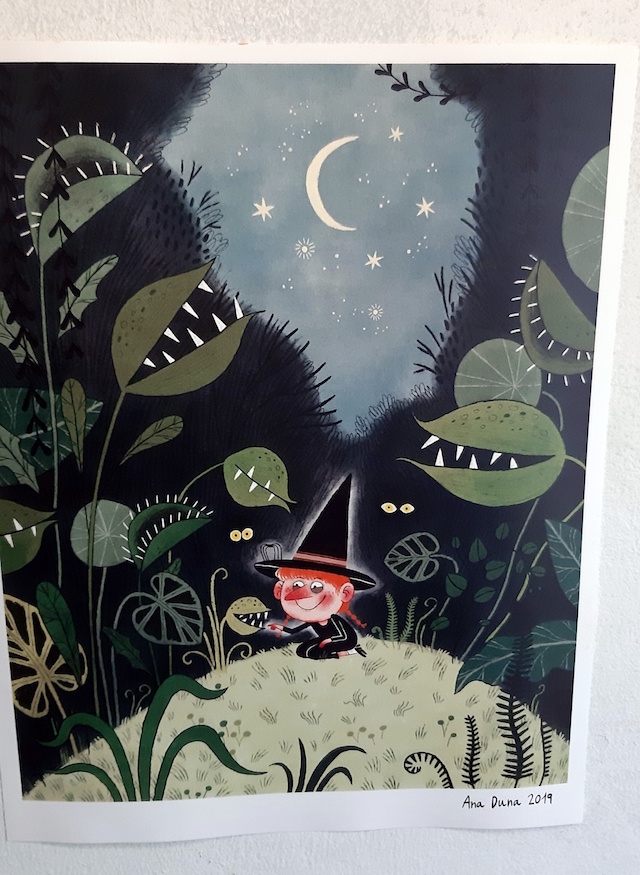 Nevertheless, the most entertaining installation was Lizz Lunney's Choose Your Own Adventure-style interactive comic experience Choices Choices you decide..., where you find yourself in a dialogue with a cheeky character lecturing you on the nature of art, meditation and chickens and eventually providing you with several small tasks or snappy remarks – the latter as in 'soft-hearted in a tough exterior', sorry comics.
Oh, and there was also an outshining headliner invited to this year's Comicfestival: Nick Drnaso, who followed in the footsteps of 2018's featured guest star Aminder Dhaliwal. But sadly and due to an enormous amount of other interesting things we decided not to gain closer insight into the process of rebooting teenage witch comics.
When we found out about all the praise his comic Sabrina received from the high-brow crowd including the Booker Prize committee, we felt deeply ashamed. For the future and in the face of terror carved out by Drnaso, we promise to improve and, preventively, jailed ourselves for one week with two copies of How To Read Nancy in our safe European homes.