Here's a true story for the holiday season about a famous 45-year-old cartoonist and an eleven-year-old boy who became pen pals in 1958.
If you were reading this column in, say the late 1950s, you'd probably call it a "human interest" piece. It's not news or reviews, and it's not meticulous scholarship (although some research was done to fill in the blanks).
But even so, this story is worth a look, because it reveals a few worthwhile insights not found in the encyclopedias and histories: items about kindness, generosity, grace, and perhaps even a clue to the true character of the particular cartoonist of this saga, Walt Kelly (1913-1973).
In 1958, Peter Brown was eleven and living in Hartford, Connecticut. He was a fan of comic books, a big fan. There's a photo of young Peter wearing a homemade Superman suit, his chest swelling with such pride that surely bullets would bounce off of it.
In addition to Superman, Peter was also a big fan of Walt Kelly's Pogo comics, especially the ones with Albert the alligator. As Peter tells it, "I was a real fan of Albert in those days, and thought he was a much more interesting character than Pogo. Also, I had a pet American alligator at the time that I named Albert in honor of my Kelly hero." Peter had his Albert for five years, until it escaped one day, perhaps in search of cigars and chocolate cake.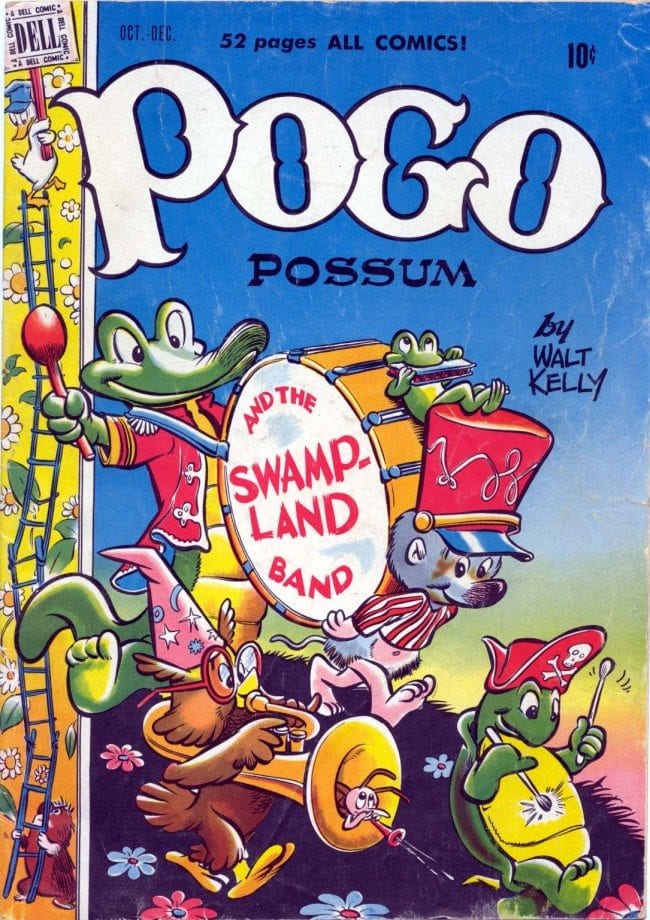 The unusual choice of pets the Browns selected suggests something about one or both of his parents. In this case, it was Peter's mother, who Peter today (aged 67) remembers as "always an adventurous person." During World War II Peter's mom was an Army nurse in Germany (his father also served). Walt Kelly, as we'll see, picked up on the adventurous character of Mrs. Brown and had a little fun with it.
With an out-going mother and a love of comics, it's no surprise that Peter would go past admiring from afar, and make actual contact with his hero. Mrs. Brown tracked Walt Kelly down at his Hall Syndicate address in New York City, and initiated for her son a correspondence that occurred first around Christmas 1953, and then resumed from September 1958 to May 1961. Over fifty years later, Peter Brown has discovered the letters Walt Kelly wrote, bundled up in a trunk and forgotten for decades. In addition to the letters, the original art and books Kelly sent Peter and his brothers as gifts were also saved. In all, 23 letters survive.
The earliest letter in the bundle is dated December 21, 1953 -- written when Peter was six. The short letter is typed on Post-Hall Syndicate letterhead and signed by Kelly, who thanks Peter for a hand-drawn Christmas card. Peter recalled the card in 2014:
"My younger brother and I sent him [Walt Kelly] a homemade Christmas card that we drew up together.  We colored it and added a couple of panels, it was a Christmas greetings.  It depicted how we imagined Pogo and Albert would be enjoying Christmas.  My brother was a very good artist.  After we sent this off to Walt my brother lost interest in Pogo and went on to other art projects.  He is a professional artist today.  I kept up the correspondence. "
Kelly included the top half of first page of the opening story from Pogo Possum #12 (April-June 1953), autographed to both Peter and his brother Dana. It appears that Kelly cut up several pages from Pogo 12, if not the entire issue, and used this as gifts for his many fans. Several panels and half pages from this issue have surfaced in Internet auctions over the years.
The next time Peter wrote Kelly was almost five years later, when he was 11. Kelly replied on September 9, 1958 - beginning a two-and-half year exchange. In this letter, Kelly writes to his young fan without a trace of condescension, and with words of encouragement about his developing penmanship.  Kelly evinces a trace of the wry humor found in his comics and writings when he tells Peter, "Thank you for your efforts with the pen. It was good work and I read every word. I read some of them two or three times." He closes with an offer to send Peter and his brother Pogo books.
Kelly made good on his offer. He sent Peter a copy of his brand new trade paper collection, G.O. Fizzickle Pogo. Kelly signed it to Peter, and included a sketch, not of Albert, but of Pogo.
The pace of the correspondence was lively. Kelly wrote Peter again just a week later, with a slightly longer missive, addressing what appears to have been a request from Peter specifically for a picture of Albert. Kelly also seemed delighted to hear about Peter's pet, writing: "I am happy to hear that your Albert lived up to his name."
In 1958, Pogo, which appeared in both comic books and a daily/Sunday newspaper strip (currently being reprinted in grand style by Fantagraphics Books), was 17 years old and Kelly was at the height of one of the busiest and most successful careers of any American cartoonist.
A high-demand speaker and celebrity, Kelly was annually appearing at over 50 universities and institutions throughout most of the 1950s. He regularly went on fact-finding trips around the world, often received as a beloved figure wherever he went. He was elected president of the National Cartoonists Society twice, in 1954 and 1955.
1958 was a particularly busy year for Walt Kelly. In between dozens of speaking engagements, Kelly made several significant public appearances. In February, Pogo's papa emceed the World Brotherhood Dinner, honoring four winners of a global essay contest.  In August 1958, Kelly's practical possum and anarchic alligator were national symbols of American education, for the second year in a row when Secretary of Labor James P. Mitchell selected them to symbolize the Department of Labor's national stay-in-school campaign for 1958. In September, Walt Kelly made the principal American address at the eighth annual convention of the Congress of European-American Associations at the Acropolis in Athens. In October, Kelly was selected to be one of five judges for that year's distinguished American Book Awards, the first artist ever chosen  for that honor.
All of this was on top of producing a lavishly rendered, savvy daily and Sunday comic strip, book collections, and even a record (the comic books had ended in 1954, as Kelly had too much on his plate by then). This was one busy guy!
The root of Kelly's fame, and his growth into a globally respected figure was his comic strip: Pogo. The strip is famous for its sophisticated wit and for satirizing the politics of the day, often stirring up controversy. In many ways, TV satirists like Stephen Colbert and Jon Stewart work in the tradition of Walt Kelly.
But Pogo worked on many different levels, and Kelly infused it with rich veins of silliness and tender compassion so that it appealed to children as much as adults. Peter Brown must have been one of dozens or perhaps hundreds of lucky kids with whom Walt Kelly maintained a personal correspondence. In his excellent introduction to POGO Through the Wild Blue Yonder, the first of the sumptuous reprint volumes by Fantagraphics, Steve Thompson writes: "Along with his promotional work with newspapers and editors, Kelly paid close attention to his readers, regularly answering fan mail and often sending signed books and original strips, even if not originally requested."
On September 30, 1958, Kelly wrote to Peter Brown a silly letter that reads like the nonsense dialogues found in his comics: "I never had a brother. But we had seven dogs. They were almost like brothers. But they were girls. My father was a like a brother, however. That's because he was a brother to three of my uncles." In this letter, Kelly also granted permission for Peter to have Albert the alligator painted on his bicycle. Peter Brown recalled the episode in 2014:
"I was thrilled to get a response with his permission to copy Albert.  But he told me I must include Pogo, Albert's best friend and alter ego/confidant, as well.   Walt wrote something to the effect of "Don't let Albert ride alone!" I obeyed.   Eventually the art project was completed (with significant help from my mother-who was a good artist) and I reported back to Walt.  I told him of the envy all the kids in the neighborhood had of my bike.  He followed this up with another letter and I responded again in turn. We maintained a two and a half year correspondence from September 1958 through May 1961."
The avuncular Kelly was as generous as he was personable in his letters to Peter, including in this one an autographed press photo (this photo appears in many newspaper articles about Kelly from this time).
Perhaps in 1958 Kelly cherished his pint-sized fans so much because of his own five children, one had died the day after she was born, another had died just before her first birthday, and a third was born severely disabled.
On December 30, 1958 Kelly sat down at his typewriter and sent young Peter a holiday letter. Kelly was direct and honest with Peter, touching on his relief that Christmas was over. He also teased Peter with characteristic charm, referring to a spelling error in Peter's holiday card: "When you say 'Marry Christmas,' I feel that though something is wrong, everything is right."
Kelly wrote a few days later, probably replying to a letter from Peter in which he appears to have detailed the various illnesses and injuries recently endured by his family, including his brother Dana's mononucleosis.
Dana's illness became more severe and he was hospitalized. In late January, Walt Kelly responded to Peter's request for a get-well card for his brother with these words: "I am sorry not to be able to make up a card in a hurry for Dana, but perhaps the enclosed original drawing of the Christmas strip will cheer him a bit. " This generous gift was a real score, not just any old daily, but the December 25, 1958 Pogo daily, an elaborate Christmas scene as only Walt Kelly could produce.
Kelly obviously thought highly of this piece, as he used it for his 1958 Christmas card. A key piece of Walt Kelly art, this item was recently put up for auction by Peter Brown and realized $2,000.00.
The letters between Peter Brown and Walt continued steadily. Dana recovered, and Kelly wrote his gladness to the family. In February 1959, Kelly's mother died. Of course he said nothing of it to Peter, and continued to send cheerful, short letters. As time went on, Kelly seemed to recall some of the details of Peter's life, or perhaps he had a file of Peter's letters that allowed him to reference past incidents. In any case, Kelly's letters show a surprising degree of thoughtfulness.
In May, 1959 Peter wrote Kelly about a possible move to Japan. As he recalled the incident in 2014:
"My father, a tool and die maker, was asked to consider moving to Japan as the company he worked for was preparing to start up a business there.   He told my mother (without really thinking first) and for many months they battled back and forth on moving there or not.  My mother the same day was immediately packing and making preparations.  My father without hesitation absolutely refused to go.  We kids were all for going, of course.  My father won the day and we never went anywhere.  I think my father was terrified of the ocean, either sailing on it or flying over it.  His ship was torpedoed during the war and he spent and very long time in a lifeboat, which he had nightmares about it for years after.  Since he was fighting the Japanese he also had no love for them.  My mother on the other hand was dealing with the Germans and an army nurse.   She was fascinated and fixated on Japan.  It was a contentious year for us kids. "
Kelly wrote Peter a supportive letter during this time, telling him "Japan is not so very far away."
In 1960, Kelly went into the hospital for a while. A couple of Peter's letters were answered by Nate Aleskovsky. When he was recovered, Kelly wrote one of his longest letters to his young friend, on a different letterhead. Upon receiving the news that Peter's mother was going to be a policewoman, Kelly thereafter referred to her as "the lady cop."
The last letter in the bundle is dated May 30, 1961. It is another long, chatty letter in which Kelly discusses Peter's academic career in detail, and shares a bit of his own personal history, shrouded, as always, in humor.
Walt Kelly lived for another dozen years, passing away in 1973. His strip, Pogo, ended with his death. Peter Brown ended up becoming an Industrial Hygienist for the federal government for 37 years. He was involved in air sampling and health inspections to help protect workers from harmful chemicals. Today, he is retired and taking watercolor classes, which he says are "great fun."
Looking back, Peter Brown recalls his correspondence with Walt Kelly with fondness. "He was a great inspiration to me as a small boy. It was as if I shared a secret comradery with Pogo."
One imagines that, if he were still around, Walt Kelly would have a lot to say about the state of the world today, and it would very likely be quite entertaining.  Thanks to Peter Brown, we can also be pretty sure Kelly would also be reaching out to young readers with kindness and humor -- not for any publicity, or to sell books -- but simply because he enjoyed it.
A sincere note of thanks is extended to Peter Brown for sharing his Walt Kelly letters and personal stories. Peter would like it mentioned that his collection of letters and art is for sale, as he has no one to leave it to and he would like these to go where they would be appreciated. Send inquires to [email protected]