After entering hospice earlier this year, artist George Pérez passed away Friday, May 6, 2022, of pancreatic cancer at the age of 67. In the often fractious world of comics fandom there were few people more universally beloved than Pérez, both for his kind and generous interactions with his fans and for the body of excellent, highly detailed art and stories he rendered with passionate, machine-like regularity for decades. He could draw crowds of superheroes without giving the impression of visual clutter and he always managed to keep the story moving, traits that made him a fan favorite on titles like The New Teen Titans, The Avengers, Justice League of America, Fantastic Four, Crisis on Infinite Earths and the epic, heavily populated JLA/Avengers crossover. He was also well known for his re-envisioning of Wonder Woman and Superman, but he was consistently effective at whatever he turned his hand to, and that included drawing just about every superhero in the DC and Marvel universes and beyond.
Pérez was born on June 9, 1954 in the South Bronx, New York City, to Jorge Guzman Pérez and Luz Maria Izquierdo. Both of his parents were immigrants from Caguas, Puerto Rico, but didn't meet until around 1950 in New Jersey. They were married in 1954 and later moved to New York City. George was born that same year, followed by a younger brother, David, born in 1955. From an early age, George aspired to be an artist, but never received any art training, not even in high school. As he noted in an interview I conducted early in his career (The Comics Journal #79, Jan. 1983): "I've had no formal art training so I never went to art school. I was accepted when I applied to the School of Art and Design, but my mother, being a devout Catholic, wanted me to get a Catholic education. So, I went to school hoping they had an art course; regrettably they had none. So, I went to a Catholic high school and just got a regular formal education, but no art training at all." It may seem incredible to Pérez's legion of fans, but he was entirely self-taught. After much trial and error, and feedback from professionals like John Romita, he finally edged his way into the comics business in 1973, working first as an assistant to veteran artist Rich Buckler.
His first published solo work was a two-page humorous take on the creation of Buckler's Deathlok character in Astonishing Tales #25 (Aug. 1974). Perez penciled Buckler's breakdowns for a 1974 Gullivar Jones, Warrior of Mars story in the black-and-white, magazine-format Monsters Unleashed! #8. At the end of 1974, he also drew "War Toy", a 12-page Tony Isabella story for Marvel's Unknown Worlds of Science Fiction #2 (cover dated March 1975). His earliest major contribution at Marvel was probably the co-creation of the White Tiger, the first Puerto Rican superhero in comics, with writer Bill Mantlo. The ambitious and hard-working Pérez soon became a regular penciler for Marvel, illustrating 14 White Tiger/Sons of the Tiger stories in The Deadly Hands of Kung Fu black-and-white magazine from issue #6 (Nov. 1974) to issue #30 (Nov. 1976).
Pérez's next major work for Marvel was penciling The Avengers, starting with issue #141 (Nov. 1975) and drawing over two dozen issues until #202 (Dec. 1980), including Annuals #6 and #8. During this run, Pérez worked on soon-to-be Marvel EiC Jim Shooter's "Korvac Saga", managing for the first time a huge cast of superhero characters. Working with writer David Michelinie, Pérez also co-created The Taskmaster (The Avengers #195, May 1980), a villain with the power of super-mimicry. Among his other work for Marvel during the '70s was "Man-Wolf" in the Creatures on the Loose anthology, The Inhumans, and Fantastic Four, on which Pérez penciled over a dozen issues from #164 (Nov. 1975) through issue #192 (Mar. 1978). Pérez also penciled two Fantastic Four Annuals, and it was on the 1979 installment he had his first of many collaborations with the writer Marv Wolfman. It was during his time at Marvel that Pérez began suffering from health problems that somewhat limited his output and served as a sad precursor of things to come.
In 1980, Marv Wolfman asked Pérez if he would be interested in penciling the re-launch of DC's venerable Teen Titans title and Pérez readily agreed, hoping that it would lead to taking over the art chores on Justice League of America, an assignment that he had long coveted and finally got to tackle from 1980-1982. The original Teen Titans had made their debut in The Brave and the Bold anthology title (#54, June-July 1964), with their own title running from November 1965 (cover dated Jan.-Feb. 1966) to issue #43 (Jan.-Feb. 1973), later returning from 1976 to 1978 (the final issue was #53, cover-dated Feb. 1978). Wolfman and Pérez revived the team under the title "The New Teen Titans" in DC Comics Presents #26 (Oct. 1980) with the lineup this time consisting of Robin, Kid Flash, Wonder Girl, Changeling, Raven, the alien Starfire, and an African-American cyborg, aptly named Cyborg. The revised Titans were a huge hit almost immediately and the subsequent The New Teen Titans ongoing series became one of DC's best-selling titles, catapulting Pérez and Wolfman to the top of the comics firmament.
The popularity of the Titans did not go unnoticed in other circles. First Lady Nancy Reagan and some other politicians asked DC to craft three special issues to spread an anti-drug message to elementary school kids as part of the President's Drug Awareness Campaign. Accompanying the release of these anti-drug comics was an animated TV spot using the characters. By April of 1984, The New Teen Titans was so popular it was split into two titles, Tales of the Teen Titans and The New Teen Titans. The latter title was printed on Baxter paper and was sold only in the direct market of comic book specialty stores, with the stories being reprinted the following year in Tales of the Teen Titans, which went out to newsstands. Both titles sold well for several years, but when Pérez departed in 1984 to pencil the epoch-making Crisis on Infinite Earths, sales on both of the Titans comics slumped.
Crisis proved to be one of the best-selling miniseries of all time, and the storyline, while featuring almost every character in the DC stable, enabled writer Wolfman and DC's editorial staff to drastically revise the continuity of the DC Universe to make it more cohesive and accessible to readers. The series ran from April 1985 through March 1986. In an online Yahoo News article by Chancellor Agard, published in 2020, Pérez, who penciled every issue, was quoted saying: "One thing I had to sacrifice after the first couple of issues of Crisis was: I was doing tight little pencils, and I had to abandon that if [I wanted] to maintain a schedule and meet my deadlines on the book … But the book came out fine … It's obviously held up for several decades now, and it's so fond to remember. And it created a phrase that did not exist in DC Comics up until then. There was [now] the idea of pre-Crisis and post-Crisis. The fact that, my God, I am part of a turning point in DC Comics, I'm very proud of that."
Putting down his pencil for once, Pérez inked over Curt Swan's art for the last issue of Superman (issue #423, Sept. 1986), which served as the first half of "Whatever Happened to the Man of Tomorrow?", a farewell to the pre-Crisis Superman written by Alan Moore. Teaming up with Wolfman again, Pérez drew the History of the DC Universe limited series (1987), which codified all the changes he and Wolfman had introduced in their Crisis series.
Without stopping to take a breather, Pérez helped to relaunch Wonder Woman with writer Greg Potter, aligning the venerable character more closely with Greek mythology. In addition to his art chores, Pérez co-plotted the series from its new issue #1 (Feb. 1987). Other collaborating writers included Len Wein and Mindy Newell, but Pérez eventually took on the full scripting role. He stayed on Wonder Woman for five years, penciling the book through issue #24 (1988), and remaining on as the series' writer through issue #62 (Feb. 1992). Although Wonder Woman was popular with the fans, and Pérez's reworking of the character was deemed successful, it did not achieve the dizzying heights of popularity of The New Teen Titans or Crisis on Infinite Earths. Pérez nonetheless remained closely associated with the character, whose 2017 and 2020 film adaptations drew no small influence from his work.
Pérez was also involved with the post-Crisis Superman, beginning with Action Comics #643 (July 1989), for which he supplied the script and pencil breakdowns. He also contributed writing and some inking on four issues of The Adventures of Superman, starting with #457 (Aug. 1989). Pérez's time on Superman was not as long as with some other characters, and it was varied, as he sometimes fully penciled the art, sometimes did layouts for others to finish, sometimes wrote and penciled, and at other times did only covers. He was always busy with something, however, and finally left Action Comics with issue #652 (April 1990) because of the demands of working on Wonder Woman and other projects. Around the same time, Pérez returned to one of his earlier successes as both penciler and co-plotter of the retitled The New Titans, starting with issue #50 (Dec. 1988). But Pérez's return to the characters that had made him famous was relatively brief. He penciled only a handful of issues, his role gradually reducing until he left the Titans behind yet again with issue #67 (July 1990), on which he only inked the cover art.
Pérez's time at DC was not without its problems, however. He struggled with editorial disagreements on War of the Gods, a 1991 miniseries meant to celebrate the Wonder Woman character's 50th anniversary, which bumped up against DC's overlapping line-wide Armageddon 2001 crossover. Creative disagreements also marked the end of Pérez's run on Wonder Woman; he had planned to have the characters Steve Trevor and Etta Candy marry in his final issue, but learned to his dismay that DC editorial had re-assigned that plotline to succeeding writer William Messner-Loebs. While still working for DC, Pérez set out to pencil the six-issue The Infinity Gauntlet miniseries (July 1991-Dec. 1991) for writer Jim Starlin at Marvel, but due to the turmoil of his relationship with DC, coupled with personal problems, he was only able to work on four issues, at which time he was replaced by Ron Lim. These incidents damaged Pérez's standing in the industry; for a while, he had a reputation for being hard to work with. His art during this period was judged by many fans as not up to his usual high standards.
During the 1990s, Pérez kept a much lower profile, though he did keep his hand in, working with writer Peter David on titles like Hulk: Future Imperfect (Dec. 1992-Jan. 1993) and Sachs and Violens (Nov. 1993-July 1994). He wrote The Silver Surfer for 13 issues in 1995 and 1996, as well as a Silver Surfer/Superman special (Nov. 1996). Over at DC, he inked 15 issues of a new Teen Titans series beginning in October 1996. He also went back to penciling The Avengers for almost three years, beginning with a new issue #1 in February 1998 - a collaboration with the writer Kurt Busiek that helped to restore Pérez's reputation for reliability. This led to Pérez penciling the oft-postponed JLA/Avengers team-up (Sept. 2003-May 2004) with Busiek writing. Back in 1983, Pérez had penciled 21 pages of an earlier crossover attempt that didn't see print until the hardcover JLA/Avengers: The Collector's Edition came out in October 2004. The problem was that editor Len Wein had given Pérez the go-ahead to begin penciling from a Gerry Conway plot before the project had been approved by Marvel. This caused conflicts between the Marvel and DC editorial teams, who didn't like what Conway had come up with. Roy Thomas was brought in as a script doctor, but even his revised plot was deemed unsatisfactory by Marvel, and Pérez's penciled pages languished for decades.
During this time, Pérez worked for a variety of smaller publishers, including Event Comics and Gorilla Comics (a short-lived Image Comics label Pérez co-owned with other creators), where he planned an ambitious creator-owned solo series, Crimson Plague. However, only two issues' worth of material was released before the series was abandoned in 2000 for financial reasons. By the mid-'00s, Pérez was back at DC, penciling the first 10 issues of a relaunched The Brave and the Bold beginning in April of 2007. Pérez also returned to the chaotic universe of DC's Crisis as a supplementary artist on Infinite Crisis in 2006, and penciller for the Final Crisis: Legion of Three Worlds spinoff miniseries in 2008 and 2009. Pérez embarked upon a new Superman series as writer and breakdown artist in November 2011, though he departed after six issues, once again citing excessive editorial interference.
After leaving DC again, Pérez wrote and drew his own creation, Sirens, a 2014-16 BOOM! Studios series about a group of super-powered women who come together across space and time to fight an intergalactic threat. Even after suffering a heart attack in May 2017 that required the insertion of a coronary stent, Pérez continued to practice his art whenever he could. In 2019, he created a mural for his local Vineland, New Jersey community, celebrating active members of the United States military, as well as veterans and POWs.
Pérez had battled a variety of health problems over the years, including temporary blindness in his left eye that was alleviated by laser and injection procedures. In 2019, Pérez finally announced his retirement due to a variety of health problems, including diabetes and the aforementioned heart and eye problems. His health issues were unabated in retirement. In November of 2021, he had surgery on a blockage in his liver which revealed that he had inoperable pancreatic cancer. Faced with a grim prognosis that only gave him 6 to 12 months to live, Pérez decided to forego cancer treatments. His health failing, Pérez went into hospice in early 2022.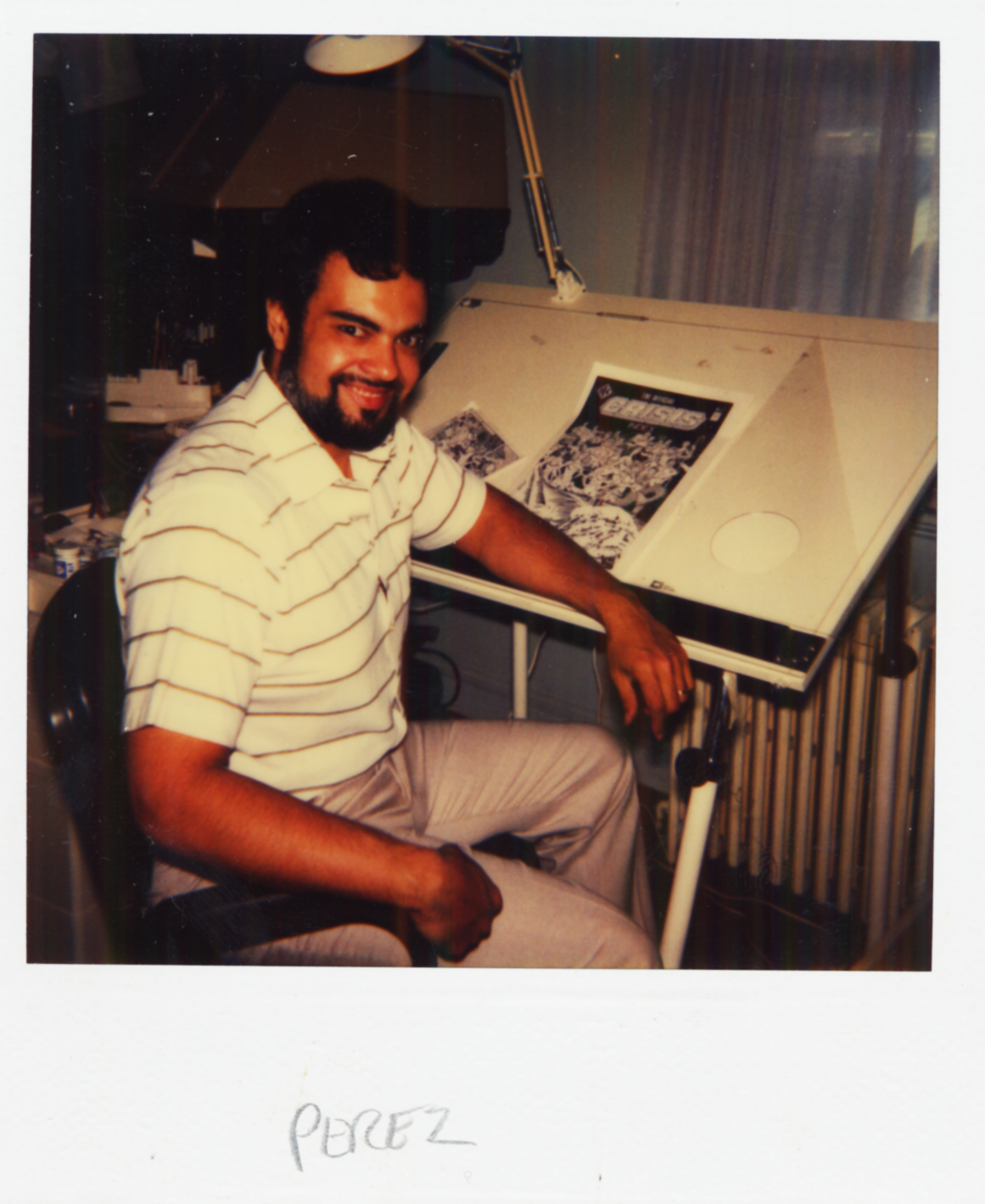 Over the course of his long career, George Pérez was not simply one of the hardest working creators in the industry, but his work was wildly popular with superhero fans, earning him a galaxy of comics-industry awards. He had already won his first Eagle Award from British comics fans in 1979 for his work penciling The Avengers; this was followed by two more, in 1980 for Best Comic Book Cover (for the cover to The Avengers #185), and in 1986 for Favorite Artist (penciler). In 1983, Comic-Con International bestowed an Inkpot Award on Pérez, and DC Comics recognized his contributions to the company in its 50th anniversary magazine Fifty Who Made DC Great (1985), alongside such comics legends as Joe Shuster, Jerry Seigel, M.C. Gaines, Major Malcolm Wheeler-Nicholson, William Moulton Marsden, Gardner Fox, Bill Finger, Julius Schwartz, Gardner Fox, Neal Adams, Denny O'Neil, Sheldon Mayer and Marv Wolfman. Pérez earned a pair of Jack Kirby Awards in 1985 and 1986 for Best Finite Series for his work on Crisis. In addition to this, he also garnered Comics Buyer's Guide Fan Awards for Favorite Artist in 1983 and 1985, and a Favorite Penciler award in 1987. He also earned three consecutive Favorite Cover Artist awards in 1985-1987, with Crisis winning the Favorite Limited Series in 1985. In 1984, 1985 and 1989, he also won CBG awards for Favorite Comic Story for his work on Tales of the Teen Titans, Crisis on Infinite Earths and "A Lonely Place of Dying", a Batman and The New Titans crossover storyline introducing a new Robin character which Pérez co-plotted and partially penciled.
Longtime friend and collaborator Marv Wolfman had this to say about Pérez in a 2018 Nerdist interview conducted by Rosie Knight: "George isn't just the artist on anything we've done, he's the co-creator on every level because we talk out the plots … I may come in with a basic idea, but by the end I have no idea who's pitched what. It's integral, it's all connected. Someone will come up with an idea and the other will elaborate on it. It keeps going back and forth, and I think that's so incredible."
Forewarned of Pérez's terminal illness, colleagues paid their respects. A December 8th, 2021 post on the Bleeding Cool website compiled a large number of tributes to Perez from a galaxy of comics pros online.
Colleen Doran led off by saying: "Every day is a good day to tell the world how much you love George Pérez."
Jill Thompson remembered him this way: "I was incredibly fortunate that my first collaboration at DC Comics was on Wonder Woman with George Pérez. His influence on comic artists is immeasurable."
Watchmen artist Dave Gibbons had this to say about his friend: "George Pérez's love for humanity, comics and drawing shines through every picture he's drawn. And he's drawn so many…"
Kurt Busiek also praised him for his many contributions to comics: "I 'met' George like most of us did, in the pages of a comic book. And I've been privileged since to work with him, to get to know him, to be friends. The world will be a lesser place without George Pérez in it. But I'm also grateful that we have some time to say thank you to George for all he's done, and for being a wonderful person as well as a huge talent. As reader, collaborator and friend, I'm glad to know you, George. To have known you. And you'll be part of my life, and all of our lives, forever. Thanks for everything."
Artist/writer Dan Jurgens wrote: "I've been fortunate to work with George Pérez in a number of different capacities and even more fortunate to call him friend. So sorry to hear the latest. Best of wishes and prayers to you, pal."
The Hero Initiative charity, for which Pérez was a founding director and generous patron, gave this remembrance: "George Pérez is a friend and comrade to all. He is one of Hero Initiative's founding board members. We love him, and celebrate him every day."
There were many, many other comments in praise of Pérez, too many to list here. It was a veritable flood of love and support for him, attesting to the vast affection and respect he had earned during his long career.
In a December 2021 interview with Newsarama, Pérez summed up what his career and the admiration of his many fans meant to him: "I appreciate everything. There's a lot of great people out there, people that have been very very good to me. I'd like to cherish that. I had a good run."
Pérez is survived by his wife Carol Flynn. The couple had no children. Other survivors include his mother, his younger brother David, and a niece and a nephew.