Ted Stearn, one of the funniest cartoonists in alternative comics and alternative animation, died Feb. 1 at the age of 57. According to his family, Stearn's death was caused by complications due to AIDS.
In comics, he was known for a series of stories and graphic novels featuring Fuzz and Pluck, a funny-animal Laurel and Hardy, if Laurel and Hardy could be re-imagined as a self-doubting, downtrodden teddy bear and a brash, over-confident, featherless fugitive from a poultry processing plant. His low-paying comics work was balanced by a successful career as an art director and storyboard artist on a long list of very cool cartoons, including Rick and Morty, Daria, Beavis and Butt-Head, The Simpsons Movie, King of the Hill, Futurama, Drawn Together, Squirrel Boy, and Animals.
Fuzz & Pluck publisher Gary Groth said, "Fantagraphics published three graphic novels by Ted, and would have published as many as he could do. We loved his work. Artistically, he was always a little under the radar, a cartoonist's cartoonist with a quirky visual style and an off-kilter sense of humor, pacing, and storytelling that harmonized perfectly. My impression was that he was a bit of an odd-man-out in the indie comics scene; he worked in animation, he taught, and he drew his comics, which he started doing when he was a little older than many cartoonists when he could afford to. He was taciturnly curmudgeonly, and when we'd get together at conventions, we'd both lament the states of both the publishing and teaching professions. His cynicism about the world seeped into his comics as wry commentary on the human condition. Everyone who values great cartooning will mourn his loss."
Robert Theodore Stearn was born Aug. 9, 1961, in Weymouth, Mass., and grew up in mostly small towns in Massachusetts and Pennsylvania. "I was always interested in comics," he told comics auteur David Mazzucchelli. "My grandfather was a dentist, so we would go to his waiting room and he would have all these Richie Rich and Little Dot comics—I really liked those kind of things—and Donald Duck... I liked the funny ones. Superheroes, I read them but they weren't a big influence on me."
The small city of Lancaster, Pa. was his most metropolitan experience until going away to college, where he earned a Painting Bachelor of Arts degree from the Rhode Island School of Design in 1983 and a Master of Fine Arts degree from Manhattan's School of Visual Arts in 1992. After graduation, Stearn worked as a graphic designer and art director in New York, while creating a series of kinetic sculptures.
In 1992, Stearn began contributing stories to Mazzucchelli's Rubber Blanket anthology title. The first was a five-pager called "Beach Boy". Then came the series that would occupy him off and on for his entire career: the desperate adventures of Fuzz and Pluck, a naïve teddy bear and his ill-matched companion, a cocky rooster, who is no less aggressively ambitious for having been plucked naked for the slaughterhouse. Stearn said the characters represented two sides of his own personality and were intended as antiheroic "answers to the cutesiness of Disney in the '70s and '80s."
The two characters inhabit a world that is, like them, full of surreal extremes and anthropomorphic folly — as dark as it is funny. A sign in Stearn's studio in the early '90s read: "Fear and Humor are Synonymous." Timelessly cartoonish and yet grounded in social ills and modern atrocities (talking animals are treated by humans as a subservient class), the series feels like being caught in a nightmare that compels you to laugh out loud.
Simpsons creator Matt Groening was a fan, commenting, "This epic tale of a hapless li'l bear and his defeathered friend is why I love comics. All hail the peculiar Fuzz & Pluck and their creator, Ted Stearn!"
Introduced in 1993 in Rubber Blanket, Fuzz and Pluck continued their adventures in the Fantagraphics alternative anthology series Zero Zero in 1995. In between episodes of Fuzz & Pluck, Stearn also contributed "The Forgotten Dream of a Melancholy Chef" to Zero Zero. The first Fuzz & Pluck graphic novel was published by Fantagraphics in 1999. It was followed by Fuzz & Pluck: Splitsville in 2008 and The Moolah Tree, which was released in 2017.
The Fuzz and Pluck books were published in translation in France beginning in 2013, and the characters were, if anything, more popular there. (Stearn has an entry in the French Wikipédia, but not in the U.S. Wikipedia.) In 2014, Fuzz & Pluck was awarded the Prix de Séries at the Angoulême comics festival.
The other branch of Stearn's career began in 1995, when he joined the MTV animation department, soon working as a storyboard artist on Daria and Beavis and Butt-Head. In 1999, he was a storyboard artist for several episodes of MTV's Downtown. He was storyboard supervisor on a 2000 TV movie and animation director on a 2002 TV movie, both featuring the Daria character, and he directed several episodes of the Daria series.
Between 2001 and 2004, Stearn left animation to teach in the Sequential Arts Department of the Savannah College of Art and Design. But in 2004, he moved to Los Angeles and plunged back into the animation field, working on the animated reality-show parody Drawn Together for Comedy Central and Mike Judge's King of the Hill. Other storyboard-artist credits included Squirrel Boy for the Cartoon Network (2006-2007), videos and series episodes of Futurama between 2008 and 2013, and Fox series Sit Down and Shut Up (2009). In recent years, he worked on Dan Harmon's Rick and Morty (2015) and HarmonQuest (2016), as well as the Duplass Brothers' HBO series, Animals (2016) and Mike Judge's Tales from the Tour Bus.
Though he found considerable success in animation, Stearn chafed against the conventions of the form, the standard sequences of shots by which even edgy cartoons communicated narrative to audiences. "I despise clichés because they don't really come from a genuine place anymore," he told Mazzucchelli. "They're Xeroxes of Xeroxes. We don't realize how conditioned we are to act and react, like, 'OK, this is gonna happen next...'"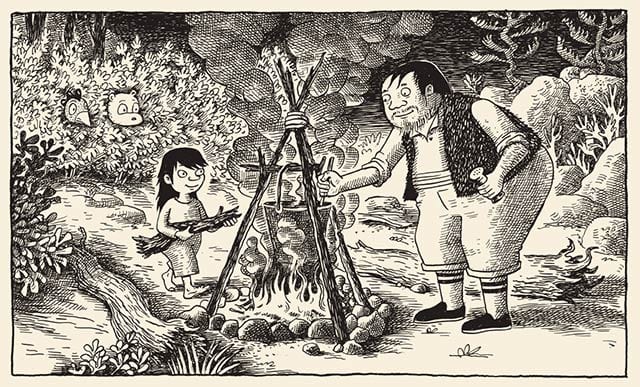 In his own comics, a reader never knew what was "gonna happen next." Stearn never lost his enthusiasm for Fuzz & Pluck, a series where he was free to explore ideas and raise questions that weren't necessarily answered. "I think there are certain universal truths," he told Mazzucchelli. "but I'm sure not going to tell the reader what they are. To me, it's a conversation. The reader is putting their thoughts in my work and I am throwing out ideas, and I'm saying how about this?" He returned to Fuzz and Pluck with The Moolah Tree graphic novel in 2017.
Fuzz & Pluck was nominated for an Ignatz Award for Outstanding Comic in 2003 and 2007, and Stearn was nominated for an Ignatz Award for Outstanding Artist in 2007.
Fantagraphics Associate Publisher Eric Reynolds, Stearn's editor and friend for more than 20 years, remembered him as "wonderfully prickly, often morose, but always in a way that was laden with a whip-smart, deadpan sense of humor. I loved talking comics and film with him. He was a great, passionate kibbitzer about comics and film and art. We had a lot of conversations over the years about fatherhood, in between deep dives into films like Satyajit Ray's Apu trilogy and comics like Krazy Kat. As a cartoonist, he was sui generis, a wonderful talent who never received as much widespread recognition as he should, although the cartoonists who read his Fuzz & Pluck books knew: he was the real deal, a cartoonist's cartoonist. I'm just grateful he has left us with such wonderful work to remember him by."
Stearn is survived by his mother, Betty; his life partner, Sharon; his two daughters, Mia and Alice; his sister, Jeanne Firey; and his brother, Douglas Stearn.