We are pleased to bring you excerpts from Glaeolia 3, the newest and largest anthology of unique manga from Glacier Bay Books. The publisher has this to say:
Glacier Bay Books is a publisher specializing in artistic indie manga, that is, small press comics from Japan. The Glaeolia anthology series has been described by readers as "the work that put [Glacier Bay Books] on the map". Each volume from the series consists of a curated variety of compelling, stylistically varied, and completely self-contained (at least, so far) works, many from artists that have never before had their work read or published outside of Japan and their local small press scene. The second volume won the 2021 Ignatz Award for Outstanding Anthology, but this third issue represents a significant increase in ambition even over the previous volume, with over 400 pages and many longer (20-60 pg) stories. While Glaeolia 3 balances a mixture of new and returning faces as in previous volumes, the new edition brings out some as-yet-untranslated works from familiar faces for close readers of the English contemporary indie and alternative manga scene: NISHIMURA TSUCHIKA, KONDOH AKINO, and YOKOYAMA YUICHI. This trio of cult favorites contribute a dense block of stories consisting of a mix of very recent work, as well as (from NISHIMURA) a much older unpublished doujinshi.

I suppose I've spent a lot of time already simply trying to tell you what this new issue of Glaeolia is, when what I really, desperately, want to convey to you is why it matters. The organization of an anthology is a monumental undertaking, a task requiring immense coordination and cohesion. In spite of the ephemeral nature of much of what is small press comics, Glaeolia 3 helps to make concrete the existence, impact, and legacy of these works and their authors, and opens up for interested English readers a new and relatively unexplored view into the world of manga. Glaeolia 3 contains stories reacting to very contemporary circumstances such as the early pandemic regulations and BLM protests or unexpected pregnancy, SF-tinged comics in uncertain worlds, surreal dramas about grief, coming of age, love, and beyond. More than important, these comics are good. Not just good, they're scary good, and I'm really excited for people to get a third taste of the densely razor-sharp, gorgeously undeniable comics from GLAEOLIA.
Edited by Emuh Ruh & zhuchka. Translations by zhuchka, Anna Schnell, Jocelyne Allen & rkp. Typesetting and English sfx by Tim Sun, with additional typesetting by Emuh Ruh.
* * *
oratnir - "Everyday Scenery"
Nishimura Tsuchika - "The Invisible Woman vs the Master Swindler"
Isao Yamada - "White Dream"
Junichiro Saito - "In the Doggsoup" and "Midnight Hawks"
Komachiya Suzuka - "September Friends"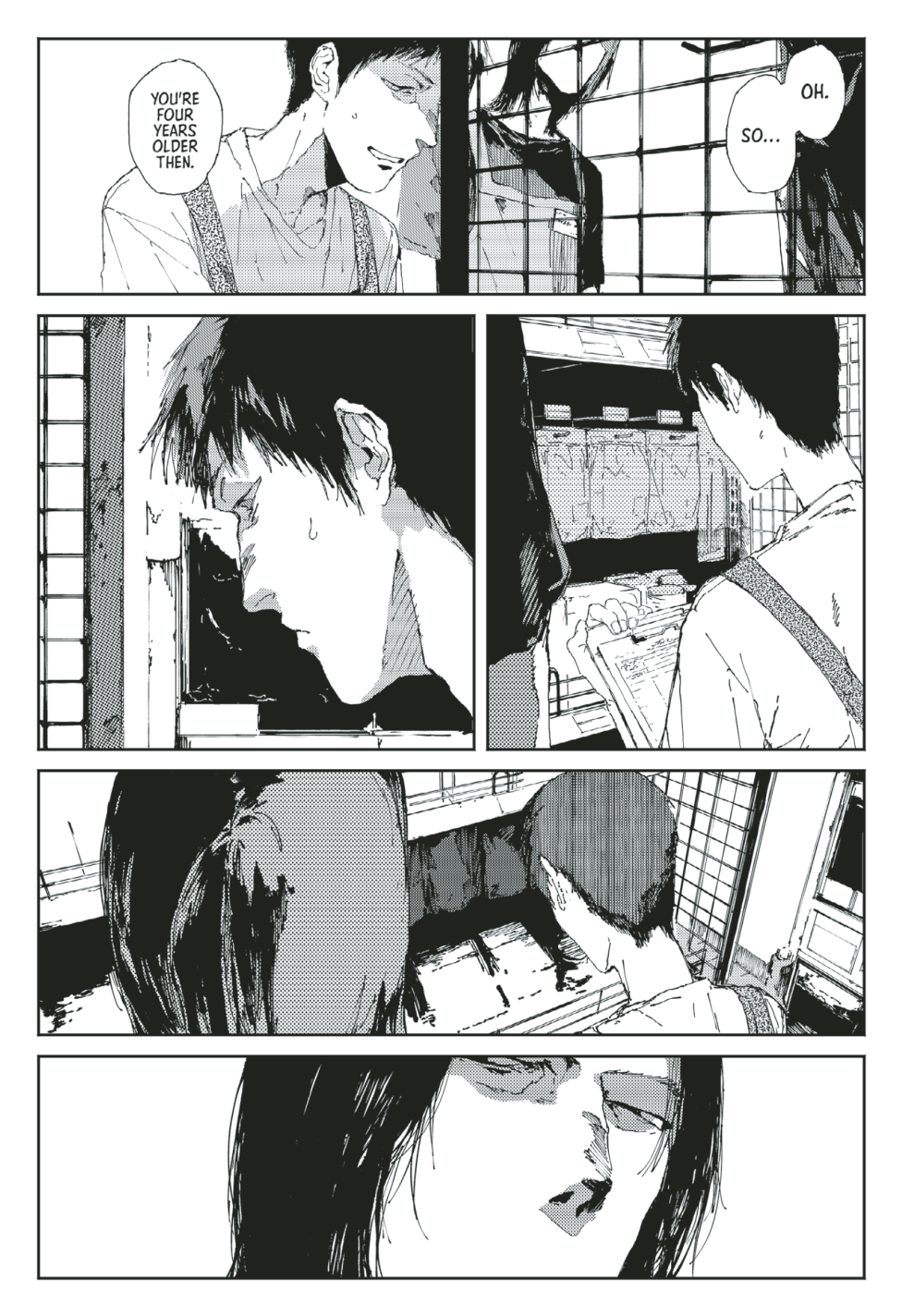 Yokoyama Yuichi - "30th Century"
Yagi Nagaharu - "2999"
Oumi Konomi - "Move Forward"
KOYUBI - "Impatient Ms. S"
Hadena Kangofu - "Rain in Nakasu"
Mitsuhashi Kotaro - "Specimen Room of Existence"
Fukitsu Reiji - "Baby It's You"
Kondoh Akino - "New York Diaries"