I wouldn't call "Flowering Harbour" erotic, but I do find it incredibly seductive. Ultimately I think this stems from a kind of androgyny in the work – an androgyny of a formalistic sort, between the story and the graphics. The closing homage to "Longing for Your Shadow," and the looming presence of Mori in these years over everything enka, is reason enough to think of this androgyny in Mori-esque terms, in which the juxtaposition between story and graphics in "Flowering Harbour" is analogous to the seductive friction between Mori's lyrics and his body.
It's worth knowing, first of all, that Hayashi's work too appealed to adult women. Though his primary venue was Garo – largely a man's world – he received invitations to reprint work and create new experimental pieces for A Women's Self (Josei jishin), a prominent middle-class women's magazine. It's not hard to understand why considering a work like "Red Dragonfly" (which was reprinted in A Women's Self the very same month (May 1969) that "Flowering Harbour" appeared in Garo), the story of which matched up well with popular images of non-working women's emotional troubles. But as Mori's appeal amongst this demographic only had partially to do with his lyrics, so Hayashi's was likewise dependent on a seductive friction between female subjectivity and male articulation. Can we not see "Flowering Harbour" in these terms, as an onna-buri manga in a husky and breathy but unmistakably masculine voice? Or rather, considering what was said above about the slippery gender dimension of Mori's voice, a manga with an onna-buri story and an otoko-buri voice? In which, in the spirit of enka, both sides of the gender equation are equally put on, but nonetheless able to create the effect of authentically felt emotion.
"Flowering Harbour" is subtle in this regard. So it's helpful to see what else Hayashi made in the first half of 1969. The works that come immediately before and after "Flowering Harbour," such a seemingly sincere work, are both thoroughly music-infused and theatrical to the point of camp. Two months after "Flowering Harbour" was "Red Red Rock" ("Makkakka rokku," Garo, July 1969). The lead character is a wandering guitar player with a pompadour in the style of Elvis. "Jailhouse Rock" floats in the background, but atmospherically this is more the Elvis of romantic ballads – a kayō Elvis, one might say, rather than a rockabilly one. The female part is played by the yukata-clad shōjo Hayashi had been begun using frequently in his manga and illustration work.

What's more instructive for the present inquiry is a panel that includes the wailing chorus of "Blues of You" ("Anata no burūsu," June 1968). This was the debut single of Mori imitator Yabuki Ken. The song was subsequently covered by Mori himself, but on an album from October 1969, after "Red Red Rock" was published. The "anata" of the title is the kind of "you" that only a woman says to her man. It is also used in gay circles. It is an incredibly over-the-top song, and pushes onna-buri to the threshold of self-parody. The conservative ambiguity that helped Mori sell millions was simply literalized as queerness in Yabuki. Appropriately, Hayashi pairs its lyrics with a variant of Picasso's hysterical Weeping Woman (1937). "Women are suffering machines," claimed Picasso. Through the lens of his mother's emotional breakdowns, Hayashi might have said the same, if with a large bit more sympathy. But clearly here Hayashi is working in an ironical mode. Even the masculine stereotypes are amped up to excess. In light of the musical context of the manga, Hayashi might have rephrased Picasso as follows: onna-buri enka performs women as suffering machines. A similar conceit underwrites "Flowering Harbour." However, as a Mori-esque work rather than say a Yabuki-esque work, the performance comes off as deadly earnest – naively and cloyingly so if one is not clued in to Hayashi's relationship to Pop.
Preceding "Flowering Harbour" was Hayashi's "Flower Poem" ("Hana no uta," Garo, February-April 1969), a heavy-handed allegory about the coming-of-age of a young man of twenty-three (Hayashi's age), navigating the dangers of sex, home, work, and consumer society. Unhappy with how the story was developing, Hayashi abandoned the work after three chapters. As noted below, it was in reaction to this failure that Hayashi made "Flowering Harbour." Stylistically very different, the two works nonetheless share an important musical dimension. Not only does "Flower Poem" incorporate known songs. It also plays on questions of domestic-ness versus foreign-ness in Japanese pop music, within the framework of cultural identity but also gender. None of it is very subtle.
Enka, as mentioned toward the beginning of this essay, gelled as a genre partially in opposition to American and British-inspired rockabilly, surf, and Group Sounds. In Garo, the closest approximation of such "Pops manga" is the work of Maki Sasaki (b. 1946), who was a big fan of the Beatles and incorporated imagery and verbal phrasing (as well as a taste for the silly and nonsensical) directly from their music and films or generally evocative of it. Hayashi was also interested in such Pops, at least from a critical perspective. In his earliest published manga from late 1967 and 1968, he included references to the Summer of Love alongside American comic book superheroes, the Statue of Liberty, and Marilyn Munroe as expressions of postwar cultural colonization. "Flower Poem," which opens with the protagonist yelling helplessly at the American jets and ships stationed in Japan en route to Vietnam, casts its critical net wider to implicate the British Invasion as well, setting its first chapters in an Eden reminiscent of Pepperland in Yellow Submarine (1968). Hayashi, who had been making a living as an animator since 1962, also modeled his characters after that film's stiff, cutout style. The thugs who assail the protagonist and his boss are likewise reminiscent of the Blue Meanie's minions, beefed up with a bit of American superhero muscle.

Twenty-Three (that is Hayashi's name for his avatar) is dragged by rope to the bad men's evil kingdom, represented by the halo-encircled mountain that is Paramount Pictures' logo. There he fears losing his identity within a harem of free love. To escape from this hell, Twenty-Three journeys to a rural furusato home, idealized in the image of Japanese poem-painting shigajiku and woodblock prints. Similar Anglo-American versus Japanese art historical oppositions appear in "Yamanba Lullaby" ("Yamanba komoriuta," Garo, September 1968), which is also translated in the PictureBox collection. There, the male hero of that manga is cast as folk legend Kintarō. While he strikes poses from yakuza movies and kabuki prints, the villains are mostly in the image of American comics and French animation. "Yamanba Lullaby" makes general reference to children's songs, and the entire manga is scripted in a lyrical mode. He was already contemplating about how music might fit into his allegorical, clash-of-civilizations scheme. "Flower Poem" completed that thought, making the analogies between culturally-defined imagery (Edo woodblock prints versus American comics) and culturally-defined music (kayōkyoku versus the Beatles) unmissably explicit. In 1969, in fact, pop music seems to be the master rubric for Hayashi's thinking on various issues.
Unlike many of his contemporaries, Hayashi did not always elevate kayōkyoku as the more authentic of the binary. In "Flower Poem," as in other works from this period, Japanese-ness is performative almost to the point of camp. Take, for example, the kayō song he cites in the furusato section of "Flower Poem": Miyako Harumi's "The Person I Love" ("Suki ni natta hito," September 1968), which despite its pops ballad-sounding title is an over-the-top, folksy rōkyoku tune, electrified with a whining synthesizer designed to complement Miyako's hyper nasaly vibrato. (A period recording of Harumi can be found here). There is nothing in the lyrics to signify a rural setting, but their description of a woman ever-pining and ever-faithful to an errant man holds faithfully to conservative notions of proper Japanese womanhood. Even still, given Miyako's age (eighteen at the song's release) and her excessive, rock-inflected interpretation of traditional vocal modes, her expression of traditional values courts parody. This was typical of many proto-enka singers in the late 50s and early 60s. Hayashi's Ultra-Nippon Pop is in the same vein.
Partially in response to Group Sounds' raucous foreign-ness, and partially out of respect to kayōkyoku's early Shōwa roots, the performativity of kayōkyoku was increasingly naturalized during the mid and late 60s. This was the "nostalgic melodies" movement that led to enka. "Flowering Harbour," which we have already seen was aligned with the natsumero boom, was a similar attempt to visualize the latter half of the Pops vs Popular musical divide without the histrionic anxiety over the Anglo-American Pops Other expressed in a work like "Flower Poem." It takes enka's familiar tropes and, rather than ratcheting up their fetishized links to Japanese tradition (though gestures in this direction are there in the calligraphic title and the Hiroshige rains), instead subsumes them within what Hayashi, in an afterword to a collection of his work published in 1976, referred to as an "orthodox" manga style. "The previous work ['Flower Poem'] had been a failure, so I thought I'd try a melodrama, the antithesis of 'Flower Poem.' This was something I thought I couldn't do with the subject matter of 'Flower Poem.' I felt I had broken my sword in the attempt. But with 'Flowering Harbour,' I thought, yes, this is it. . . . In terms of formal technique, I like to take full advantage of the breakdown style of the most classical kind of manga, and then midway all of sudden toss in something more rooted in feeling. That didn't come together in 'Flower Poem,' so for 'Flowering Harbour' I relied on orthodox manga techniques. The second half does get a little abstract, but that's something I realized only after I had finished drawing it."

If one's main image of manga is Tezuka-type rounded figuration and caricatured action, it might be hard to understand what Hayashi means by calling "Flowering Harbour" "orthodox" in formal terms. Note, first of all, that the breakdown is clean and straightforward. There might be more full-page images than the average manga, but there is none of the disjointed narration that appears in Hayashi's work just preceding or following. The exact narrative link between panels can be elliptical at times, but again none of the Pop Art collage and nouvelle vague-style jump-cutting and pastiche montages that he usually employed. "The second half does get a little abstract," Hayashi notes, presumably referring to the drawn-out storm sequence that closes the work. But considering the strong cinematic focus of postwar shōnen manga, this "abstraction" is really only an elaboration upon certain norms in manga – norms, that is, in manga for boys.
Critic Yomota Inuhiko, in his classic introduction to manga form, The Fundamentals of Manga (Manga genron, 1994), chose a page from the snow and wind lacerated finale of "Flowering Harbour" as the very first illustration for his very first chapter, titled "Cinema's Neighbor." After pointing out Hayashi's employment of shot reverse shot, which by this point was so common in manga to hardly be worthy of note, Yomota moves on to the scene's less conventional qualities. "Even though the sound effect of 'flit flit' has been drawn in to indicate the stretching of the farewell streamer, the sound of the blizzard itself has been entirely eliminated. The atmosphere of old silent films pervades the entire scene. The passing romance that is the manga's theme is thus filled with nostalgia. Hayashi has very carefully calculated the effect of visual perspective in the panels of this story. Nikkatsu and Tōei films of the 60s are obviously lurking in the background."

It could very well be that Hayashi was thinking of such films. There are explicit references to specific Nikkatsu films in his work both immediately preceding and immediately following "Flowering Harbour." But one can also read this sequence against the history of manga form itself. Hayashi read in his youth not only the clean-line comics of mass circulation magazines, but also the expressionistically and sometimes crudely done detective and thriller comics in rental kashihon books. Gekiga is the name typically given to the graphic style of these comics. That style comprises a combination of single-detail oriented breakdowns, punctuated with single sound effects (like the hitting of objects) and long harrowing noises (screams, sirens, machine roars) that stretch across multiple panels. Pages are often covered in fields of dramatically drawn shasen (diagonal lines), representing snow and rainstorms or the visual wakes of fist and gun fights. These shasen darken the overall tone of the manga, and add a cacophony of action that is multisensory in its effect. In some cases, the expressive facture, careening imagery, and explosive sound effects verge on gestural abstraction.

Other influences notwithstanding, "Flowering Harbour" is essentially a chic minimalist rendition of this kashihon gekiga aesthetic. The work is thus "neo-classical" in a sense different than that implied by the Hiroshige, Yumeji, and natsumero touches. By emphasizing the facture of the hand-drawn, "Flowering Harbour" stood in contrast to the streamlining of gekiga style within contemporary action comics for mass-circulation youth magazines. Once the connection with traditional gekiga is apparent, the gender dimensions of Hayashi's formalism become clearer – for gekiga was, with rare exception, from its emergence in the mid 50s to its demise in the 80s, a style used by male artists for male readers, and almost always for stories starring male characters and expressing male anxieties and aggression. By setting aside a nouvelle vague Pop mode and consciously choosing a historically "masculine" comics style to narrate a woman's loneliness – rather than using, say, a feminine "voice" of large and sparkling shōjo eyes, frilly border decoration, and tableaux-type "style images" – was Hayashi not performing something akin to Mori's onna-buri in manga form? He attempts no visual analogue of "Moribration." But perhaps there is something of the female tameiki sigh in the manga's wind and rain. This onna-buri exhalation is gradually amplified to a deafening and heartbreaking storm, thus turning popular stereotypes of female helplessness and depression into a graphic leitmotif stretching across the work's thirty-one pages.
Emotion, and not just narrative and visual coherence, is what "Flower Poem" lacked. And it is emotion, despite its basis in mass culture clichés, that "Flowering Harbour" achieves. It seems that with enka Hayashi found that one could create work that was demonstratively self-conscious about its artifice without sacrificing the ability to be emotionally moving. In the works that immediately followed, he would take that lesson and reinvest it back into fragmented, music-dotted, nouvelle vague-inspired narratives, leading ultimately to Red Colored Elegy (Sekishoku erejii, 1970-71), his masterpiece.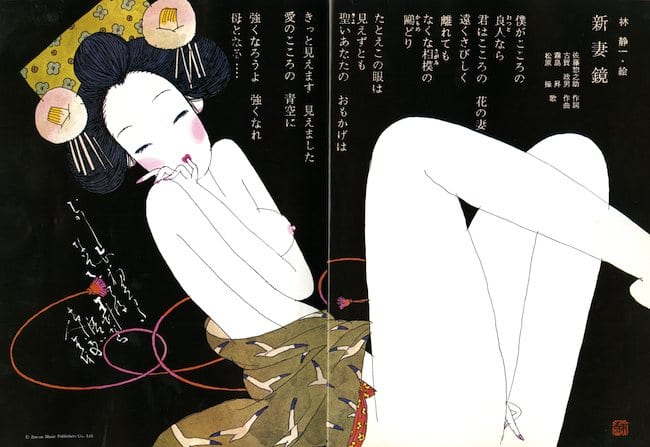 Thank you: Ryan Holmberg would like to thank the Sainsbury Institute for the Study of Japanese Arts and Culture for their generous support of the research and writing for this essay and of Hayashi Seiichi's visit to London and Norwich in July 2014.