I never met Darwyn Cooke in person, but nine years ago he offered me a magic wish.
In 2007 I spent weeks interviewing Darwyn on the phone for the cover interview in The Comics Journal #285. TCJ had asked him to do an interview, but he insisted I be the one to conduct it because we had become friendly in the months prior. Earlier that year he made some impulsive comments about Frank Miller and I offered him some unsolicited advice on how to handle the potential fallout. He ended up writing an apology that was published in the All the Rage column I wrote for silverbulletcomicbooks.com, and we stayed in touch. I interviewed him a couple times about his work, but it wasn't until the TCJ interview that we chatted in-depth about his life – his childhood in Canada, his artistic influences, finding his way into comics, his difficulties working with editors and other creators, and his triumphs. We talked for hours over those summer weeks, and when we were done there were 40 pages worth of conversation for the Journal and a few more that were just between us. 
Before the interview was printed, I remember sending the final cover design to Darwyn. TCJ had added a provocative tagline over his Power Girl artwork about him pouring beer over an editor's head. Darwyn was not happy about it and he pleaded for me to have the Journal change the text. The issue had already been sent to the printer but I went to bat for Darwyn anyway. The move strained my relationship with my editor, but the line was replaced at the last moment. Darwyn was immensely appreciative. He sincerely thanked me and told me if I ever needed anything, at any time, to call him and let him know. He insisted he'd be there for me. The way he said it made the promise feel like something meaningful. It felt like I had been given a magic wish.
This kind of passionate gratitude and kindness was something Darwyn demonstrated throughout his life. Although I was already enamored of his comics work before we spoke, it was that warm, "I owe you one" mentality that really drew me to him as a man. In the days since his unfortunate death, I've seen more than a few stories like mine, and a deep admiration for his sense of friendship and selflessness.
"I've known Darwyn Cooke for many years. I always call him "D" and he always calls me 'J' (even though he knows my name is Jai). He did a cover for my Image book SEASON OF THE WITCH. He did not charge me. 'Buy me a drink sometime,' was what he said." —Jai Nitz, via Facebook

"I once asked him to write a foreword to a book, and he happily agreed to do so. When it slipped through the cracks, he apologized and told me he owed me one, redeemable any time. Eventually, he contributed the faux Aloha, Hawaiian Dick 1972 movie poster to the GREAT BIG HAWAIIAN DICK book I recently Kickstarted." —B. Clay Moore, via Facebook

"Here's what he did. He had drawn me a gorgeous, gorgeous drawing of Black Canary, just her head and shoulders, on a huge piece of artboard, bigger than a page of comic art (which as most of you know, is much bigger than a comics page, it gets shrunk down for printing). It was simple but stunning, and he'd drawn it just for me." —Gail Simone, via Tumblr

"We became friends. We had dinners at Cons together. I didn't get to go, but we were invited to the wedding. For Darwyn to embrace what we did, and give us respect for it meant the world to us, and push me, Ron, and Conor forward. It was an immense validation of what we were doing, and that it was valuable. Why would this guy, this legend, give us the time of day otherwise? I cannot stress enough how meaningful that was and is to this day. A year ago, Dar had been invited to do a spotlight panel in Anaheim, and he asked that the three of us come out to run the panel. And it was all three of us, or nothing. He offered to pay my way if I couldn't afford the ticket. I don't know if I've ever been so touched." —Josh Flanagan, host and co-founder of iFanboy, via his website
The stories and remembrances about Darwyn's gracious acts are now nearly as plentiful as the praise for his work. It isn't a surprise that he had such a passion for taking care of people – he created comics with an equal care and passion. In his 16 years as a comic book creator he thrilled readers with some of the most beautiful and beloved tales in modern genre comic book history. It's remarkable that he seemed to appear on the comics scene from out of nowhere and immediately hit the ground running. But as I learned in my interview, his road to becoming a comic book creator was anything but a straight or easily drawn line, despite his considerable gifts.
Darwyn Cooke was born in Toronto, Canada to a working-class family that encouraged his interest in art. He often spent his summers dreaming of becoming a comic book artist. In 1985 he completed art school and flew to New York City to meet with DC Comics, which was just beginning its New Talent Showcase comic book series. He took a private-eye story sample to the DC offices and editor Julie Schwartz bought his tale on the spot – that story appeared in Talent Showcase #19.
Darwyn told me that the day DC purchased his story was one he would never forget. But that day wasn't truly the beginning of his career in comic books. In those pre-digital days, Darwyn would have needed to relocate to New York to make a career in comics. He wasn't quite ready to uproot his life, however, so he stayed in Toronto and became a music magazine art director, worked for a fashion publication and then he started a graphic design firm. Soon after he went to work for himself, Darwyn saw a Warner Brothers Animation Studios advertisement in the back of an issue of The Comics Journal. The ad, featuring a Bruce Timm illustration of Batman, put out the call for designers and storyboard artists. Darwyn replied and quickly found himself immersed in the world of animation, where he worked on shows like Batman: The Animated Series, Superman: The Animated Series and Men in Black: The Series. Darwyn also worked on Batman Beyond and designed the entire opening sequence for the series on an old Mac he had in his spare bedroom.
Darwyn forged a solid career in animation, but he became restless in his thirties. His childhood dream of becoming a comic book artist weighed on him. He looked back on his life and considered what really made him happy. There was only one answer: drawing comics. He decided he needed to try and make that long-time dream a reality, so he headed to the DC offices again with new work under his arm. He pitched Batman: Ego. Nothing came of it. Darwyn went back to being an animator and worried that his window for becoming a comic book artist was nearly closed. But then one day, nearly four years later, he received a call from Mark Chiarello who had been newly hired as art director at DC. Chiarello found his pitch for Batman: Ego in a pile of story ideas. He called Darwyn and asked if he wanted to do the book.
Batman: Ego was published in 2000 and it marked the beginning of Darwyn's brilliant career in comic books. He burst on the scene with an art style that was unlike anything else. It is distinct and bold in the tradition of Jack Kirby and Alex Toth, but also honed by time spent as a graphic designer and animator. Darwyn's art felt retro and modern all at once, and his skilled line work conveyed an exhilarating honesty and joy in the characters he drew. He was a breath of fresh air to the comics industry.
Hot on the heels of Ego, Darwyn turned his attention to Catwoman in 2001. He teamed up with writer Ed Brubaker for the critically-acclaimed update of the classic character, first illustrating the four-part "Trail of the Catwoman" back-up story in Detective Comics #759–762 that led into Catwoman #1, and then drawing the first four issues of the new series. Darwyn also wrote and drew the original graphic novel prequel, Catwoman: Selina's Big Score and left an indelible imprint on the look of the character. He completely redesigned Selina Kyle, taking her out of the sensual, purple cat suit and putting her in a more realistic, black robber outfit with night-vision googles. It's a design that has defined Catwoman for years in the comics, and inspired her look in Christopher Nolan's Dark Knight Rises and in the current, hit TV show, Gotham.
"One of the best things I ever did was convince Darwyn Cooke to revamp Catwoman with me," said Ed Brubaker on Twitter. "For about a year we were making magic together."
From 2002 to 2003, Darwyn was suddenly in high demand. He started dipping his toes in the Marvel Comics' pool, illustrating X-Force #124, a two-issue Wolverine/Doop mini-series and writing and drawing a Spider-Man Valentine's Day story titled, "Open All Night!," for Spider-Man's Tangled Web #11.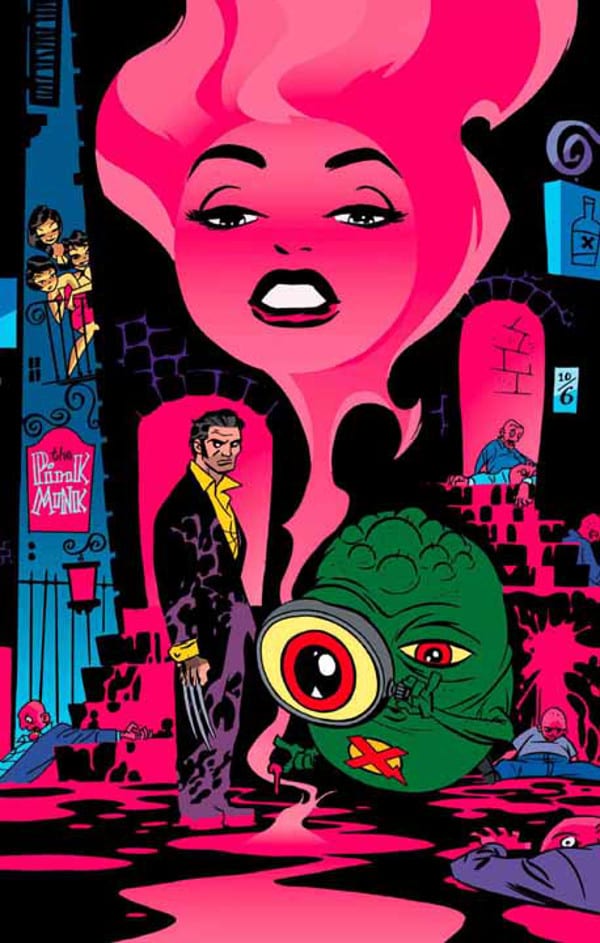 Then in 2004, Darwyn suddenly became a superstar. That year his second major DC work – the ambitious DC: The New Frontier – was released.  Set during the 1940s and 1950s, the story is steeped in post-World War II sentiment and Cold War paranoia. The tension has pushed the Age of the Superhero into decline. But when an alien threat suddenly emerges, a new era of superheroes must team up with the world's veteran heroes and the United States government to defeat the menace. Darwyn wrote and illustrated the 400-page story, which features nearly all of DC's iconic superhero characters. New Frontier is a smartly written and reverent masterpiece that explores the heroic ideal, and embodies the cautious optimism of John F. Kennedy's 1960 acceptance speech at the Democratic National Convention.
"The problems are not all solved and the battles are not all won – and we stand today on the edge of a New Frontier – the frontier of the 1960s – a frontier of unknown opportunities and perils – a frontier of unfulfilled hopes and threats…
Are we up to the task – are we equal to the challenge? Or must we sacrifice our future in order to enjoy the present? That is the question of the New Frontier. That is the choice our nation must make – between the public interest and the private comfort – between national greatness and national decline – between the fresh air of progress and the stale, dank atmosphere of "normalcy" – between determined dedication and creeping mediocrity."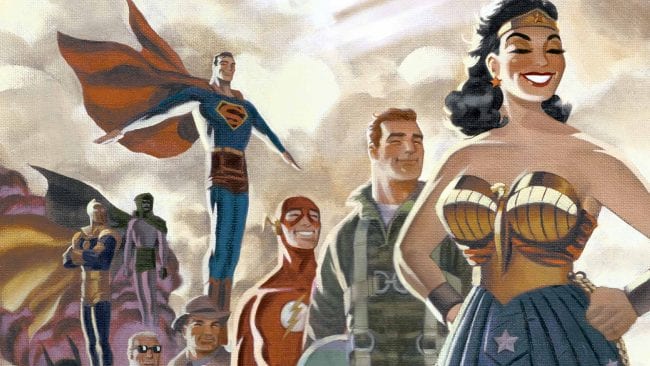 In serialized form New Frontier initially flew a bit under the radar. Critics didn't know what to make of it and sales were modest. But soon after the series ended Darwyn's epic became universally adored and embraced for its ambition and nuanced take on the heroism. New Frontier was praised as an uplifting story, full of hope and humanity. It touched on complex issues of racism, alienation, bigotry, facism and nationalism, yet still delivered a childhood sense wonder with its widescreen action. The six-issue miniseries earned Darwyn a 2005 Eisner Award for Best Limited Series and two Harvey Awards that same year for Best Continuing/Limited Series and Best Artist in 2005. In 2007 he won two more Eisners for the Absolute hardcover reprint of New Frontier, one for Best Graphic Album: Reprint and a second for Best Publication Design. In 2008 the story was adapted into an animated film.
Darwyn had arrived with New Frontier, and his profile continued to rise with each project he tackled after it. In 2005 he wrote and drew Solo #5, which featured several tales in a single, 48-page issue. The book earned him another Eisner Award, this time for Best Single Issue.
Each new venture that Darwyn took on showcased more of his storytelling intelligence and versatility as both a writer and an artist. In 2006 he penned the opening arc for Superman Confidential, which featured the Man of Steel's first encounter with kryptonite. In 2007, he switched gears and helmed a DC Comics revival of The Spirit, a crimefighter created by Will Eisner in 1940. The original Spirit stories straddled lines between crime drama, noir, lighthearted adventure, mystery, horror and tales of love. The assignment was understandably intimidating to Darwyn because of The Spirit's deep influence on comics. It was important to him that he do Eisner's creation justice. Before he took the job he sent an early memo to DC mandating a preservation of Eisner's vision and the Spirit's core essence.
Darwyn launched the new Spirit series by first co-writing and illustrating Batman/The Spirit #1, which again earned him (and co-writer Jeph Loeb) a 2007 Eisner Award for Best Single issue. The one-shot led into the ongoing Spirit series that Darwyn wrote and drew himself, with help from artist J. Bone. He spent a year on the critically acclaimed title.
Soon after his stint on The Spirit, Darwyn made another surprisingly ambitious move. Veering away from masked heroes, he announced at the 2008 Comic-Con International in San Diego that he would adapt Richard Stark's "Parker" crime stories into graphic novels for IDW Publishing. His adaptions were the first to get permission to use the "Parker" name. Darwyn wrote and illustrated four books, starting in 2009 with Richard Stark's Parker: The Hunter. He followed it up with Richard Stark's Parker: The Outfit, Richard Stark's Parker: The Score and finally, Richard Stark's Parker: Slayground. These graphic novels put Darwyn's artistic abilities on full display, revealing yet another level of depth and maturity in his storytelling with their gritty 1960's noir atmosphere and amoral protagonist. The "Parker" books are masterpieces of sequential art, using light, shadow and monochromatic color to brilliant effect. They also proved Darwyn had the chops to create crime comics at the highest level. Three of Darwyn's four "Parker" books won the Eisner Award for Best Adaptation from Another Work. 
"Everybody remembers Darwyn Cooke for his DC work. I remember him for adapting the Parker books with bravado and love," wrote director Guillermo del Toro on Twitter, soon after the news of his death became public.
Now with multiple awards under his belt, Darwyn continued to diversify his portfolio by returning to DC in 2012 to participate in the highly controversial Before Watchmen line, which consisted of prequel tales based on Alan Moore and Dave Gibbons' groundbreaking Watchmen story. Darwyn was resistant to the concept at first, telling Rolling Stone that he "was kind of dragged into it kicking and screaming" by DC Comics co-publisher, Dan DiDio.
When DiDio initially asked him to work on the project, Darwyn couldn't see how he could create a story that could live up to the original. But then a year later, he came up with a Minutemen idea that worked for him. Darwyn ended up contributing heavily to Before Watchmen, writing and drawing Before Watchmen: Minutemen and writing Before Watchmen: Silk Spectre.
Before Watchmen elicited a largely negative reaction from comics fans and creators who perceived the initiative as a blatant cash grab by DC that violated the moral rights of Alan Moore and Dave Gibbons. It was a backlash Darwyn accepted. "I understand that kind of an emotional response to something that meaningful. I think it's all fair game. I've read some pretty nasty things said about myself, for example. I can deal with that," he told Rolling Stone. "I made a very deliberate and very conscious decision the day that I got involved with this business to honor the work that had come before me, and to respect the work of the men that had come before me. I can't give the Siegel and Shusters what they deserve, and I certainly can't give Alan Moore what he deserves, or what he thinks he should get out of this. That's all beyond my power. But what I can do is have respect for what he's done, and try to do my best to live up to that."
In the years following Before Watchmen, Darwyn concluded his "Parker" adaptions in 2013, penciled issue #50 of Jonah Hex and turned out a variety of amazing covers for DC, including variants for every single DC comic series in December 2014. He drew 23 covers in all, including memorable portraits of Aquaman and his wife Mera kissing passionately in the ocean waves, Batgirl joyously leading the police to a crime scene on her bat-cycle, Wonder Woman fighting a horde of minotaur warriors, and a sleeping Bruce Wayne passed out on an armchair, getting tucked in by his loyal friend and butler, Alfred.
The Darwyn Cooke cover month was the perfect showcase for his immense talent. Viewing those 23 covers side-by-side on the comics rack underlined his ability to capture the essence of any character in a single moment. No matter who or what he drew, his stark, confident lines, mixed with a timeless charm and contemporary design sense, was breathtaking. His work on the DC variant covers earned him yet another Eisner Award for Best Cover Artist in 2015.
Darwyn's final comic book project was the Vertigo miniseries The Twilight Children with Love and Rockets co-creator Gilbert Hernandez. The trade paperback collection of their collaboration was released just days before the artist passed away.
The team was brought together by Vertigo editor Shelly Bond who reached out to Darwyn and asked him what he'd like to do for the long-running DC imprint. Darwyn told her he wanted to draw a book written by Gilbert Hernandez. Bond contacted Hernandez and he signed up for the project immediately.
The four-issue story, which focuses on three Latin American children who are blinded by white orbs, and a beautiful woman who might be an alien, allowed Darwyn the opportunity to create something new. "This is like a deliberate move on my part to embark on another path," Cooke told The Washington Post. "Working on this project is starting to unlock a few things in my mind, in terms of storytelling and maybe where I want to go. It's helping me open doors in my head that have been more or less closed."
For Darwyn achieving success in superhero comics was never enough. He wanted to continually push and challenge himself in other genres. From his retro-modern take on the Justice League, to the crime noir fiction of his "Parker" adaptions, to the delphic beauty of The Twilight Children, Darwyn always brought something new and dynamic to the table. Had he lived into his golden years, I have no doubt he would have continued to explore and illuminate every corner of comics with his unique artistry and passion. He would have opened all those doors in his mind and created new ones to kick down.
Unfortunately we will never get to see what Darwyn might have created 10 or 20 years from now. On Saturday, May 14, Darwyn Cooke died from lung cancer, surrounded by friends and family. He is survived by his wife, Marsha, and his brother, Dennis. He was only 53 years old.
To say that the comic book industry has suffered a tremendous loss is a significant understatement. Darwyn's work represented the very best this industry has to offer, not only in craft and style, but in his ability to touch readers. Whether it was the continual smile he put on Wonder Woman's face, capturing the original charm of Will Eisner's Spirit, or delivering a superheroic feeling of hope against the backdrop of post-war threats, he evoked an emotional response with his work; one that the entire comics community has been sharing over the last few days.
"Darwyn was a brilliant storyteller whose larger-than-life persona was only matched by the direct simplicity and power of every word and line he put to paper. Very few have the ability or confidence to communicate that succinctly, that clearly. I was not alone in my admiration and envy of his many talents." —Jim Lee, in an interview with the LA Times

"Our work together was a highlight of my career and helped to make my name in this industry. He is one of the best comics artists ever." —Ed Brubaker, via Twitter

"Those beautiful clean lines, effortless stylishness & exuberance leapt off the page! Will miss #DarwynCooke...Always" —Mark Hamill, via Twitter

"Darwyn Cooke was one of the artist who inspired me to chase my dreams of being a comic artist. He will be missed." —Jason Fabok, via Twitter

"Just look at Darwyn Cooke's art – each piece makes you feel something and tells you a story. A true master." —Arune Singh, via Twitter

"Darwyn Cooke's work belongs in that great tradition of classic north american cartooning. He hangs with the all time masters, you know?"—Michael Cho, via Twitter

"Really sad about the news about Darwin. One of the best artists in comics history. All my love and support." #fuckcancer —Rafael Abuquerque, via Twitter

"This is an industry-wide loss that I feel personally, but the sadness is mitigated in the knowing that the beauty and grace of his art will forever stand the test of time and be a monument to all that is great about comics." —Dan DiDio, from a DC Comics Statement

"He was the guy that you wanted to impress, you wanted to work extra hard to make laugh and you wanted to be a better person and artist around. He inspired the two of us all the time and I am happy to say I let him know more than once how happy we were to have him in our life. 14 years was just not long enough for me and Amanda and we feel cheated on so many levels that he was taken away from us so soon. —Jimmy Palmiotti, from Bleeding Cool
All this outpouring of affection for Darwyn Cooke as both an artist and a man assures me that his legacy is secure; that the deep love and spirit he put into every single comic book page will live on through his timeless bibliography, and in the next generation of creators inspired and awed by his work.
Although I never met Darwyn Cooke, I'm so thankful I had the chance to talk to him about his life, his career and his dazzling creativity. The masterful, uplifting stories he left us will always make me smile and swoon like I did when I first discovered comics as a boy.
And I'll always remember the day he gave me a magic wish.
I never did try to cash it in. Just knowing Darwyn had made that kind of promise to me was enough. But if I could use it now… if I could just close my eyes tight and call it in, I'd wish him to stay here with us a little while longer.
You can read Markisan's complete, TCJ #285 interview with Darwyn Cooke here.
Markisan Naso is a comic book writer and publishing expert in Chicago. His critically-acclaimed, debut comic book series, VORACIOUS, is currently being published by Action Lab Entertainment. Markisan has 14 years of experience managing, editing, and revitalizing publications, including Knowledge Quest and School Library Research for the American Library Association. He has authored more than 150 features in print and on the web, covering subjects as diverse as toilet flush technology, EF5 tornadoes, and Superman. You can find out more about Markisan at his web site.