It's 1988. Daniel Clowes's Lloyd Llewellyn series has come to an abrupt end, canceled by the publisher. And Clowes is relieved. Freed from churning out short comedic adventures featuring the same cast of characters, he'll finally be able to develop a more personal and wide-ranging approach to comics. In the '80s, prevailing wisdom held that a series needed to focus on a single character and maintain a consistent look. "The thought was," Clowes recently observed,
that if you did stories in . . . different styles — if you combined the serious stuff with humorous stuff — that the result would be kind of discordant. But I also had the theory that if it was all by the same artist, and the artist was trying to be truthful or willing to let his unconscious or his intuition decide what was going to happen on the pages, then it would all kind of come together in a cohesive way. At least that was the theory.
His subversive theory was right. And the proof was Eightball, perhaps the most important American alternative comic to emerge from the twentieth century.
During its first decade, Eightball was a Mad magazine-esque free-wheeling anthology. A typical issue included five to seven short stories drawn in diverse styles, just as each Mad issue contained work by several artists with distinctive styles. Clowes moved effortlessly among genres such as autobiography, gag cartoon, and rant as well as fairy tale, short fiction, and cultural satire.
Eightball #11 (1993), for instance, includes "The Party," a satire about a hipster get-together; "Velvet Glove," a comedy about what would happen if Clowes's Like a Velvet Glove Cast in Iron received the Hollywood treatment; "The Happy Fisherman," an obscene "pantsless naïf meets sinister hobo" tale; "Why I Hate Christians," a look at Clowes's beliefs about religion; "Ghost World," a coming of age story about the friendship of two teenage girls during their post-high school graduation summer; "The Fairy Frog," a haunting adaptation of an Irish fairytale; and "Ectomorph," a strip about skinny men that apes the famous Charles Atlas muscle-building ads.
Eightball delivered Clowes's sardonic take on American culture, celebrating outsiders, freaks, and misfits while skewering nearly every All-American type: the macho creep, the sports fan, the fashion plate, the slick televangelist, the nostalgia hound, the mindless herd-following consumer, the ironic slacker, etc., etc. As always, Clowes reserved a little venom for himself.
The series more than lived up to its billing on Eightball #1's masthead: "An Orgy of Spite, Vengeance, Hopelessness, Despair and Sexual Perversion." Yet it slowly morphed into something else. The anger and vengeance never left, but went underground, as the cartoonist's stories became character-driven explorations, both unforgiving and tender, of life in these United States.
When conceiving the series, Clowes worried that readers would be indifferent to Eightball's eccentric approach. But they weren't. On the comic's hand-lettered letters pages, a pre-Internet nerd agora, they praised Clowes as "brilliant," "weird," "twisted," and "genius." Apparently at a loss for words, one fan sent an envelope filled only with shredded candy wrappers. Meanwhile, critics and the comics industry lavished the series with acclaim and several major awards. By the late 1990s, Clowes was widely recognized as one of the most important American cartoonists. Yet when an interviewer called him a "famous cartoonist," he responded, "that's like being the most famous badminton player."
In what follows, we take a trip through Clowes's career and survey the contents of the soon-to-be-released Complete Eightball #1-18. Along the way, we'll sample random highlights, mysteries, and fun-facts about that heady time historians have christened "The Eightball Era of Comics."
*
1989
Appearing late in the year, Eightball #1 features the first episode of Like a Velvet Glove Cast in Iron, Clowes's surreal quest narrative about conspiracy theories, snuff films, and loneliness. It also includes the first chapter of his second graphic novel: Pussey! Clowes's last original work for Cracked magazine appears in Cracked Monster Party #5. Written and drawn by Clowes, it stars the Uggly Family, an Addams family-inspired cast of characters he created with cartoonist and editor Mort Todd. (Clowes had sporadically graced the pages of Cracked — which he called a "second-rate Mad" — since 1985).
Eightball #1
"Smoke" (Like a Velvet Glove ch. 1)
"Devil Doll?"
"The Laffin' Spittin' Man"
"What Is the Most Important Invention of the 20th Century?"
"Young Dan Pussey" (Pussey! ch. 1)
Highlight: "Devil Doll?" parodies the infamous line of Jack Chick tracts, small religious comics that promise eternal bliss for the believer and everlasting torture for everybody else. Perhaps more than any other American cartoonist, Clowes has gone deep into the history of American comic-strips and comic-books, imitating and parodying countless styles, genres, and formats.
Fun Fact: In his 1994 LP Beyond the Valley of the Gift Police, Jello Biafra (of the Dead Kennedys) included a version of "Devil Doll?" reformatted to mimic a Chick tract. (The tract makes a cameo on The Complete Eightball's cover.)
Mystery: The LL initials and double Ls of Clowes's character Lloyd Llewellyn were inspired by the names of the "Superman Family" characters Clowes read as a child: Lex Luthor, Lois Lane, Lana Lang, etc. Is the LL that ends Eightball (recalling the LL that begins Lloyd Llewellyn) a further homage to this tradition, or just a random, meaningless coincidence?
1990
Eightball #2, #3, and #4 appear. Clowes wins Harvey Awards for Best New Series and Best Single Issue or Story for Eightball #1. He produces the first of several illustrations for Seattle-based record company Sub Pop, such as the cover art for Thee Headcoats's Heavens to Murgatroyd, Even! It's Thee Headcoats! (Already):
Eightball #2
"The Truth"
"Harum Scarum" (Like a Velvet Glove ch. 2)
"I Hate You Deeply"
"What Do You Think George Washington's Voice Sounded Like?"
Eightball #3
"The Eightball Profile: Pastor Robert Tilton"
"Mister?" (Like a Velvet Glove ch. 3)
"The Stroll"
"The Young Manhood of Dan Pussey or: Portrait of the Artist as a Young Pussey" (Pussey! ch.2)
"What Can Robots Do?"
Eightball #4
"What Do You Do for a Cold?"
"Sale" (Like a Velvet Glove ch. 4)
"I Love You Tenderly"
"Dan Pussey's Masturbation Fantasy" (Pussey! ch. 3)
"The Future"
"Sexual Frustration"
Highlight: The first of Clowes's Chicago stories, "The Stroll" is one of two comics by the cartoonist to employ a subjective first-person cartoonist visual narration in which readers see only what a grumpy Clowes sees as he walks around his neighborhood. (The other is "The Party," from #13.) Although Clowes's post-Y2K comics are widely regarded as his most formally innovative, he's been exploring the medium's storytelling possibilities since his earliest work.
Highlight: In Eightball #4's "I Love You Tenderly," Clowes's stand-in Lloyd Llewellyn talks about things that move him, including a terrifying 1964 Topps baseball card. People often describe the faces of Clowes's characters as "distorted" or "deformed," but as a comparison of the drawing and card shows, his approach can be uncannily photo-realistic. "Look carefully at the world around you," his comics seem to counsel their readers. "You'll realize it's a genuinely strange place full of strangely expressive, odd, and disturbing faces." Like a documentary filmmaker, Clowes merely preserves this reality.
1991
Eightball #5, #6, and #7 are released. Clowes creates art for the Sub Pop Video Network Program 1, which includes the first image of "Punky," the company's Clowes-designed mascot, a "grinning idiot" in the tradition of Mad's mascot Alfred E. Neuman:
Six full-page strips (most of which feature the characters Zubrick and Pogeybait) appear throughout the year in the humor magazine National Lampoon. At Chicago's Earwax Cafe, Clowes begins an ongoing informal 'jam' with a rotating cast of cartoonists that includes Terry LaBan, Gary Leib, Doug Allen, Archer Prewitt, Chris Ware, and others that results in over a hundred improvised minicomics, less than half of which were xeroxed and distributed. Lout Rampage!, which collects material from Eightball and elsewhere, appears. Clowes wins Harvey Awards for Best Letterer, Best Continuing or Limited Series, and Best Single Issue or Story for Eightball #3. He is nominated for Eisner Awards for Best Continuing Series and Best Black and White Series for Eightball.
Eightball #5
"Why Do People Spit?"
"Shit Happens When You Party Naked" (Like a Velvet Glove ch. 5)
"Daniel G. Clowes in Just Another Day . . ."
"Playful Obsession"
"Paranoid"
Eightball #6
"Where Do Wiseguys Come From?"
"A House Is Burning Out of Control" (Like a Velvet Glove ch. 6)
"The Doctor Infinity Story" (Pussey! ch. 4)
"Marooned on a Desert Island with the People on the Subway . . ."
Eightball #7
"Needledick the Bug-Fucker"
"When Grand-Dad Shaved from the Rain Barrel" (Like a Velvet Glove ch. 7)
"Art School Confidential"
"Chicago"
Highlight: "Playful Obsession" exaggerates the manic libidinal logic of Harvey Comics' characters such as Richie Rich, Little Lotta, and Casper. While Harvey's Little Dot, for example, gets excited when she spots a dot, Clowes's Little Octagon engages in a torrent of sexual 'self-abuse' upon seeing an octagon. It may appear that Clowes is simply mocking these comics and their one-dimensional characters. Yet he has often described himself as "an obsessive compulsive type." When it comes to cartooning, Clowes insists on creating every mark on the page by himself by hand. In a way, he's not all that different from Little Dot.
Fun Facts: The female protagonist of Clowes's film Art School Confidential is named Audrey by her parents, after Harvey's "Playful Little Audrey."
Fun Facts: The names of Clowes's Zubrick and Pogeybait are slang! — Zubrick (idiot, penis), Pogeybait (candy; relates to jailbait).
Facts: At Earwax, Clowes traded drawings for sandwiches. Cartooning is not lucrative.
1992
Eightball #8 and #9 are published. Clowes moves from Chicago to Berkeley, California after a brief stint in LA. The Supersuckers's LP The Smoke of Hell appears. He wins a Harvey Award for Best Continuing or Limited Series for Eightball.
Eightball #8
"Screeech" (Like a Velvet Glove ch. 8)
"Ugly Girls"
"Grist for the Mill"
"Dan Pussey Presents: Komic Kollector's Korner" (Pussey! ch. 5)
"Nature Boy"
"Give It Up!"
"The Headlamp"
"My Suicide"
Eightball #9
"Ink Studs"
"Smile!" (Like a Velvet Glove ch. 9)
"Fuckface"
"Dan Pussey in The Artist's Life" (Pussey! ch. 6)
"Zubrick and Pogeybait"
"Eightball"
Highlight: In "Nature Boy," Clowes continues his exploration of the disturbing and revelatory power of dreams, a subject that drives the uncanny plot of Like a Velvet Glove Cast in Iron, which Clowes will conclude in '93. The Death-Ray (2004/2011) features a distressing dream about "nothingness" that echoes Clay Loudermilk's mystical dream in Like a Velvet Glove. Clowes's "The Gold Mommy" (Eightball #14, 1994), though not explicitly a dream, relies on dream-like random associations for its outré narrative about an aimless and passive Clay Loudermilk type. The lassitudinous title character of David Boring (2000) is plagued by dreams of an "eerie boy," the ghost offspring of his intimacy with the oddly-named Wanda Kraml. Perhaps "Saint Sebastian," the patron saint of passivity, could be considered the muse of some of Clowes's dreamy male protagonists.
Fun Facts: "The Headlamp" is the last Eightball comic to adapt the work of David Greenberger, who asked questions of nursing home residents and transcribed their answers in his zine The Duplex Planet. (Other Duplex Planet-inspired comics appear in #1-6: each story's title is the question Greenberger asked, e.g., "Where Do Wiseguys Come From?" [EB #6].) Though Eightball includes adaptations, Clowes avoids full-fledged collaborations. In Modern Cartoonist (1997), he agrees with his hero Nabokov, who said "there is nothing in the world I loathe more than group activity, that communal bath where the hairy and slippery mix in a multiplication of mediocrity."
1993
Eightball #10, #11, and #12 are released. The first Ghost World chapter appears in #11. Like a Velvet Glove Cast in Iron, which collects episodes from Eightball #1-10, is released. Clowes's first New Yorker illustration appears. He is nominated for Eisner Awards for Best Short Story for "The Artist's Life" from Eightball #9, Best Penciller/Inker Black & White Publication, Best Humor Publication, and Best Writer/Artist.
Eightball #10
"Grip Glutz and Shamrock Squid"
"Shutupshutupshutup" (Like a Velvet Glove ch. 10)
"Dickie: Disgusting Old Acne Fetishist"
"Young Dan Pussey's Glamour Date"
"Zubrick's Pal Pogeybait"
"A Message to the People of the Future"
Eightball #11
"The Party in Color"
"Velvet Glove"
"The Fairy Frog"
"The Happy Fisherman"
"Why I Hate Christians"
"Ghost World" (Ghost World ch. 1)
"Ectomorph"
Eightball #12
"Glue Destiny"
"Hippypants and Peace Bear in Question Authority"
"King Ego"
"The Origin of Dan Pussey" (Pussey! ch. 7)
"Garage Sale" (Ghost World ch. 2)
Fun Facts: The Complete Eightball includes the first English language reprinting of "Glue Destiny," the only Eightball short-story comic not included in a Clowes anthology. (It was reprinted in German and Spanish translations in 2000.)
Fun Facts: The ever-randy Grip Glutz is a 'blue' version of TV's wholesome adventurer Clutch Cargo (whose cartoon Clowes watched as a child), just as Clowes's Blue Bunny (from Ice Haven) is a 'blue' version of Bugs Bunny.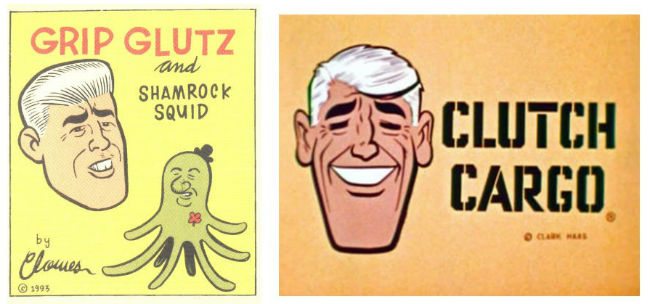 Did You Know?: Glutz is slang for slut.
1994
Eightball #13 and #14 are released. Clowes's "The Party" is reprinted in Douglas Rushkoff's The GenX Reader. His art adorns Coca-Cola's OK Soda cans, merchandise, and promotional materials; the soda is test marketed in numerous US cities and, a commercial failure, is discontinued shortly thereafter.
A collection of every Lloyd Llewellyn story, The Manly World of Lloyd Llewellyn: A Golden Treasury of His Complete Works is published. Clowes's first work for Hustler magazine appears. He is nominated for an Eisner Award for Best Short Story for "The Origin of Dan Pussey" from Eightball #12.
Eightball #13
"Buddy Bradley in Who Would You Rather Fuck: Ginger or Mary Ann?"
"Blue Italian Shit"
"Cool Your Jets"
"Punk Day" (Ghost World ch. 3)
"Anomalies and Curiosities of Medicine"
Eightball #14
"The Gold Mommy"
"On Sports"
"The First Time" (Ghost World ch. 4)
"The Death of Dan Pussey" (Pussey! ch. 8)
"The Sensual Santa"
Highlight: "Blue Italian Shit" introduces Clowes's Rodger Young, who returns in "Like a Weed, Joe" in Eightball #16. Clowes has described these stories as "emotional autobiography," narratives that, while not literally true, capture the emotive force of the cartoonist's adolescence. Many critics see the Rodger Young stories as marking an important shift in Eightball, away from comedy toward introspective, character-focused narrative. While this is generally true, I think we can see this approach in earlier works such as Velvet Glove and the final Lloyd Llewellyn comics.
Fun Facts: In 1999, the San Antonio Express reprinted Clowes's graphic (as in 'dirty pictures') Freudian take-down "On Sports" to protest the building of a sports arena.
Fun Facts: The title-page design of Anomalies and Curiosities of Medicine (1896) inspired the first panel of Clowes's one-page "Anomalies and Curiosities of Medicine." This comic about people with extra eyes is the last adaptation to appear in Eightball.
Fun-Facts: In the pre-Eightball years, Clowes created two short adaptations of writing by comicdom's greatest real-world villain: 1950s anti-comics crusader Fredric Wertham. Clowes was one of the first 'comics industry figures' to say that the man was wrongly demonized by fanboys. Like Jack Chick, Wertham realized the potentially life-changing power — for good or ill — of the humble comic book, a cheap concoction of ink, newsprint, staples, and cartoony pictures.
1995
Eightball #15 and #16 are released. Pussey!, a satire of the superhero comics industry, appears. Clowes changes his wedding plans so he'll have time to create art for the Ramones animated/live-action video, "I Don't Want to Grow Up":
Eightball #15
"Caricature"
"Hubba Hubba" (Ghost World ch. 5)
"Feldman"
Eightball #16
"Squirrel Girl and Candy-Pants"
"Like a Weed, Joe"
"MCMLXVI"
"The Norman Square" (Ghost World ch. 6)
"Immortal, Invisible"
Highlight and a Mystery: "Caricature" is widely regarded as a classic of the modern short-story comics form. It features Mal Rosen, a down-trodden, travelling caricaturist who, like many contemporary cartoonists, struggles to 'make it' in a world blind to the beauty and possibility of cartoony lines on paper. Given Clowes's interest in word games, we might ask: is "Mal Rosen" an anagram for "Loser Man?"
Did You Know?: Clowes's Halloween story "Immortal, Invisible" takes its name from the Bible!: "Now unto the King eternal, immortal, invisible, the only wise God, be honour and glory for ever and ever. Amen." (1 Timothy 1:17 — KJV.) (Perhaps Clowes knew the phrase from the Christian hymn "Immortal, Invisible, God Only Wise").
Highlight: Above I said that "Pussey! is a satire of the superhero comics industry." Though this is true true, it's more complicated. Many forget that the graphic novel also lampoons the world of art/alternative comics, singling out the "Comics as Art" pretentions of Fantagraphics founder Gary Groth and Maus cartoonist-RAW editor Art Spiegelman:
1996
Eightball #17 appears. Orgy Bound, a collection of material from Eightball, is released. Clowes is nominated for Eisner Awards for Best Short Story for "Caricature" from Eightball #15, Best Single Issue for Eightball #16, Best Graphic Album: Reprint for Pussey!, Best Humor Publication, Best Writer/Artist Humor, and Best Lettering.
Eightball #17
"Gynecology"
"A Smile and a Ribbon" (Ghost World ch. 7)
Highlight: Like many Eightball comics, "Gynecology" owes a debt to classic American pulp fictions, especially the purple-prose narration found in comic books, smut paperbacks, and 1960s TV mystery/horror shows. In particular, its opening recalls the type of narration often found at the start of a Rod Serling Twilight Zone or Boris Karloff Thriller episode.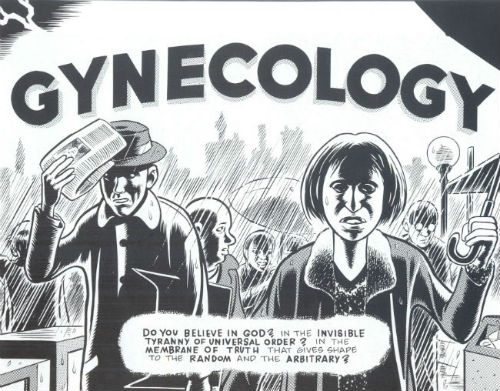 1997
The graphic novel Ghost World, which collects stories from Eightball #11-18, is published. Clowes wins Harvey Awards for Best Writer and Best Letterer, both for Eightball. He begins a script for the Ghost World movie with Crumb director Terry Zwigoff (the movie was released in 2001 and nominated for an Academy Award).
Eightball #18
"October" (Ghost World ch. 8)
"Black Nylon"
Modern Cartoonist [a 10-page pamphlet insert]
Did You Know?: Clowes's slice-of-life masterpiece Ghost World was almost a science fiction tale! If you don't believe me, check out the cartoonist's initial notes: "Doric columns, under-populated public plazas, space-aged togas, a Creation of the Humanoids atmosphere." Clowes's upcoming Patience may be his first graphic novel-length foray into sci-fi, but we shouldn't forget his 2009 "The Christian Astronauts," a disturbing cartoony riff on a Lost in Space-esque intergalactic family of adventurers.
Highlight: A dense and cryptic Freudian superhero tale, "Black Nylon" can be read as a sequel to Clowes's early comic, "The Battlin' American" and as a precursor to his graphic novel The Death-Ray (2004/2011), which also theorizes the disturbed psyche of the male caped crusader. Freud (or someone who looks an awful lot like him) appears throughout later issues of Eightball. The "Father of Psychoanalysis" could be considered the series' mascot and philosophical guiding light.
(Is that Freud — or a Freudian impostor — peeking through the cover of Eightball #18? Could he be holding a Magic Eightball toy?!)
*
In 1998, Clowes's Eightball underwent a radical transformation. No longer an anthology, issues #19-21 (1998, 1999, 2000) serialized the graphic novel David Boring. Leaving black and white comics behind him, his post-Y2K issues were devoted to full-color single stories: Ice Haven in #22 (2001) and The Death-Ray in #23 (2004), the series' last hurrah.
As the home of Clowes's first six award-winning graphic novels — comics that helped garner him a 2011 Pen Center Award for Outstanding Body of Work in Graphic Literature — Eightball earned a place in the pantheon of Great American Comics. In this new millennium, thanks to artists like Clowes, cartoonists finally have a little more cultural cachet than badminton players. Or so we non-badminton-playing comic-book readers hope.
____________________________________________________________
Ken Parille is editor of The Daniel Clowes Reader: A Critical Edition of Ghost World and Other Stories. He teaches at East Carolina University and his writing has appeared in The Best American Comics Criticism, The Believer,  Nathaniel Hawthorne Review, Tulsa Studies in Women's Literature, Comic Art, Boston Review, and elsewhere.