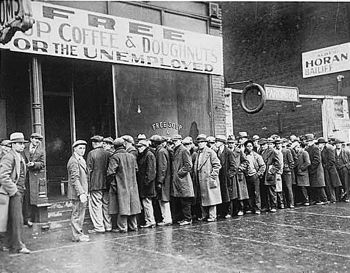 These have been trying times. It is probably not too much to compare our recent internet problem's effect on readers as akin to that of the Great Depression on our ancestors. Reports continue to trickle in from loyal followers, anxious about the missing hours of TCJ.com. Some people—you may know them—are still unable to access their site from their computers, or at least are unable to do so while sitting at their work cubicles. For some, despair has begun to set in.
But like those Depression survivors, TCJ.com readers are showing a surprising, even inspiring resilience. At first, the messages we received were ones of dismay, even panic, but as time went on, something strange began to happen: across the globe, people who were joined together by nothing more than a shared interest in a minor art form began gathering into groups, sharing laptops and iPhones, and excitedly reading favorite stories from the site to each other. According to reports, TCJ.com reading parties have started sprouting up spontaneously in homes, bars, churches, and community centers across the country. Will "bowling alone" finally become a thing of the past? Who knows? But if you know someone unable to read TCJ.com on their own computer, why not invite them over to share in the fun?
Such as:
The third installment of Ryan Holmberg's epic and essential "What Was Alternative Manga?" column. Today's topic is Takao Saito and the "Gekiga Factory." There's nowhere else you can learn this stuff in English.
The hardest working man in comics reviewing, Rob Clough, talks about Melvin Monster: Volume 3.
And Dustin Harbin's latest diary comic!
Also, there is news on the print Comics Journal front, along with a big back-issue sale. Here's Mike Baehr with the word:
We are victims of our own success! Demand for The Comics Journal #301 is greater than we estimated and advance orders for the issue exceeded what we printed, so we have gone immediately back to press for a second printing. Since we couldn't fill all the orders from the first printing and didn't want to short any one segment of the market — comics stores, bookstores, subscribers — we decided to wait until we receive the second shipment before releasing the book, resulting in a 3-4 week delay, pushing the release to early July. It's been delayed so long already, what's another month? The lucky dozens who have managed to buy advance copies from us at MoCCA and TCAF will tell you, it's worth the wait!

This also gives you some extra time to get on board with a money-saving 3-issue subscription, which also gets you access to the online TCJ back-issue archives at TCJ.com!

And speaking of back issues, to help the wait for the new issue pass a little bit faster, save up to 50% off all TCJ back issues, Special Editions and Library editions through next Wednesday, May 25 2011!
Go here for more information.
Elsewhere on the internet, the aforementioned Rob Clough's efforts can not be contained within this site. He's got a slew of reviews up on his own blog, including takes on Joe Ollmann and Pascal Girard, Aaron Cockle, Colleen Frakes, Joe Daly, Steve Seck, and minicomics out of the Center for Cartoon Studies.
I forgot to link to this rather perverse Mother's Day webcomic written by Paul Slade, drawn by Hans Rickheit, and based upon one of the great David Attenborough's nature stories.
1-800-Mice cartoonist Matthew Thurber will want to know about this: apparently, you can now read the entirety of Elfquest for free online.
Via Tom Spurgeon comes links to two recent stories about the first manga books restricted under the new Japanese legal situation.
Via everyone, there's finally a trailer for the upcoming animated Tintin film. Attention Dapper Dan.
I really am going to stop posting TCAF reports, but I'll put in one more, just because Kevin Czap has written the one thing I've been missing this time around: an old-fashioned haul report.
Finally, the US government is now recognizing video games as a legitimate art form, allowing them to be eligible for NEA grants. I couldn't remember offhand, but maybe some of you readers can: has a cartoonist or graphic novel ever been awarded funding from the NEA?