So after you made The Fragile Heart of Moe, then you started Comix India?
After I made the documentary, I thought I should start trying to write comics myself now. This is 2008, while editing the film. So I started a forum online, called Comics Discussion Board of India (CDBI), a deliberately bureaucratic-sounding name. It was a forum to gather Indian comics enthusiasts online, to talk and show their work. Then I got to know people through the forum, it was a way to make some friends. At the time I didn't know anyone who was into comics. I asked them, How about starting a comics magazine? A few came forward, amongst them Kailash Iyer. The two of us started Comix India together. I put up a website and called for submissions, got a few of them. Kailash edited them, put the graphics together. Then I contacted Pothi, an online publishing platform doing print-on-demand, which was new then. They were very enthusiastic. But anyone can publish with them. It's like vanity publishing.
Why did you go that route?
Because it's very difficult to raise funds to publish comics. It's almost impossible. I personally have no money for that. And even if you publish, distribution is very very difficult. The distribution scene in India is basically a mafia. You really need to be an insider. Even small publishers that put out a lot of books are unable to crack it. In fact, I spoke to a lot of people, some publishers, if they were interested in a monthly comics magazine. Most of them declined. It's not viable, they said.
How many issues have sold?
Very few. It really isn't viable, at least in this form. I don't know the real numbers, but with sales from all six volumes put together, maybe 500 total. It's pretty much an underground thing, not mainstream at all. But I am quite happy with it. I didn't expect anything more. I'm just happy that there is a tangible product.
So the artists for the first couple of issues were people you knew through the discussion board?
Yes. I did a search through blogs. A lot of Indian illustrators, especially those who graduate from design schools, they do short comics on blogs. So I started looking at their comics, and sending them mailers asking for submissions. A few responded. That's how it happened.
I understand that Comix India operates according to a shared profit principle. Sounds like this doesn't amount to very much.
It's nothing, it's just a token thing. The profit per sale of each book is equally divided between the contributors. It's paid out by Pothi, once a year. But it's a system that can work, even if it goes mainstream, if we had a set print-run. I think it would be a workable idea that way.
As founder of the magazine, maybe it's hard for you to answer this, but who have been your favorite contributors to Comix India?
I can't even remember most of them! I have to check. [Takes my copy of issue no. 1.]
I was very impressed by this guy, Dr. L Prakash. He's a convict. This was done in prison. When I was looking for people to contribute, I came across a website with a comic by him. It gave a very graphic and sensational description of his incarceration. It also said, I am doing this work and I want do something like this, showing pages of his comic. He had drawn it in prison, given it to an assistant or somebody who scanned it for the website.
Apparently he's an actual doctor. In the story, he treats one of his fellow inmates for injuries.
I think he was involved in some sort of embezzlement or other financial fraud, that got him in jail. There was an email address on the website. I sent an email and got a very excited reply saying, I would like to contribute to this magazine, and it's a very good thing that you are doing, things like that, which was exciting. So I asked him to do something new for Comix India. This is what he came up with.
If I am not mistaken, he only contributed to the first two issues.
That's right. That's because I was personally involved only with the first two issues. Since then, I haven't been so involved, so that link is gone. But this is the kind of thing that I would consider an original, grassroots expression. This man's story is very intense. It says something about Indian society today. This is something I find very relevant, especially when expressed in comics form.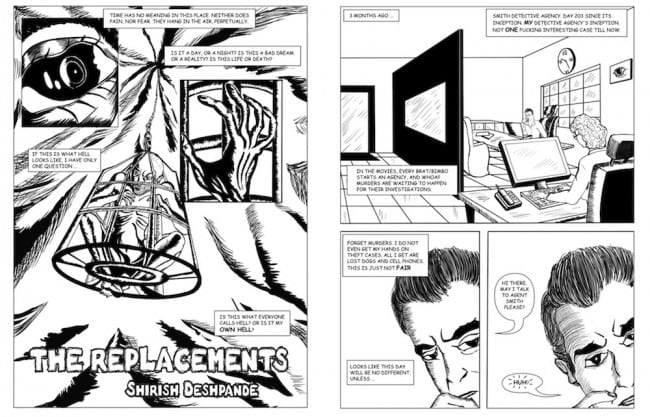 This artist also struck me as someone with an interesting vision. Shirish Deshpande. Looks like he has been drawing comics for a while.
He lives in Pune. He's an IT engineer, I think in the software industry. I've never met him. I've never met most of the people in Comix India, not even Kailash Iyer [the co-founder].
This one is also interesting, Throwing off the Bowlines by Pratapaditya. This comic is about two generations, father and son, and the son is not into politics, while the father was in the 60s. But they are both touched in different ways by the Assam liberation movement in northeast India. How did you find this person?
He just contacted me one day saying he'd like to contribute. He's from Srishti School of Art and Design in Bangalore. He edited the last volume. Quite a few of the contributors have come from that school. Seems like word got around there.
I like Somesh Kumar too. It's a personal work about growing up in the 80s. It resonates with a whole generation of Indians kids who grew up then in small towns, being exposed to new modern culture, at odds with village life, showing the contradictions, while also reflecting on his relationship with his father.
How do you think Comix India has evolved? The first issue was in March 2010.
Initially the idea was that each volume should have a theme, and the submissions would match that theme. Later we felt that this wasn't working. I thought it would challenge people to be creative. But then I realized that actually it was working the other way around, making people feel constricted rather than opening up. Recently that's been abandoned. I am not involved so much anymore, being busy with other things now, like finishing my own book. But I want to get involved again. I want to take this magazine to the mainstream. Right now I am unable to get there.
Would you have enough contributors?
I think we could get enough if we started a regular magazine. But I have been unable to convince possible investors. I'm confident that it can be done, maybe not monthly, maybe bi-monthly. Six issues should be possible, small office, one computer. Even if it doesn't go in that direction, it will continue in the present way.
Is your submissions policy restricted to Indian artists, or to people living in India?
No. There was one person, Domen Finzgar, who is Slovenian, and doesn't live in India. I don't know how he learned about the magazine. There have been a couple of entries like that, but the others weren't chosen for publication.
Initially what was the submissions to acceptance ratio?
In the beginning, we were asking people to send stuff. And whoever sent something, got in the book. By the time of the fourth volume, we rejected some, but just a few. That's still the case. For every volume, at most fifteen submissions. Not much. The rejections are why the book's gotten slimmer. The goal now is to improve the quality of the work, and not just publish first-time amateurs. The current editors, Kailash and the others, wanted to send a signal that the bar is being raised. But I'm not so sure if that's the right attitude at the moment. I think we should allow for more amateurs for a longer time, for a few more years even, if required.
I reread the first issue today, after reading it when it first came out. There's one submission by a guy, Gokul Gopalakrishnan, who draws three panel strips while working as a traffic cop. I imagine this is one of those artists you found online or through your discussion board. In the story, he gets an email from you urging him to do something longer. As a writer or artist, getting that invitation, and the pressure that goes with it, can be inspirational, pushing you to do something different or more substantial. So I can understand the benefit of keeping the magazine open to amateurs at all levels, giving them a place to see their names in print, and nurturing their growth.
Certainly, it gives them a boost. I think we should keep encouraging artists in that way. Hopefully I will have time to get back into it, maybe edit the next volume. I really want to see this continue. It's really the only magazine of this sort in India.
And if someone wants to submit, how do they do that?
Online. Go to the website. The instructions are there.