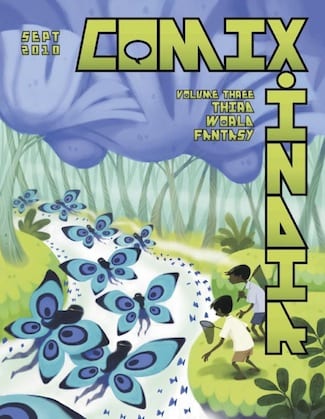 A few years ago, I had the honor of talking about Garo in New Delhi, at the Yodakin bookstore in Hauz Khas Village. The occasion was the release of the third issue of Comix India, India's first and most prominent amateur comics magazine, or dōjinshi – calling it by a Japanese name, as you will see below, is entirely justified.
Comix India was founded in 2010 by Bharath Murthy, a documentary filmmaker, cartoonist, comics historian, and manga fanatic. I cannot remember how I learned about the magazine; it's not available in bookstores; one has to order it online through an Indian print-on-demand publisher. However, if you do just a little bit of net searching in the vein of "alternative Indian comics," it will come up. The content is wildly varied. Some established artists appear in the magazine's pages. In the first issue there is a short by Orijit Sen, doyen of Indian graphic novelists, and a 22-pager by Appupen, pusher of wordless down-with-the-system stories.
But the rest is largely "first-timers," as Bharath describes them. Subject matter runs the gamut: struggling as a young artist, teen romance, Hindu fantasies, Mumbai noir, high school horror, village India versus city India, life in prison – the broadest slice you might imagine, in graphic styles just as heterogeneous.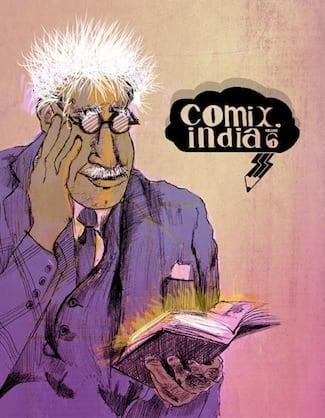 What hooked the manga scholar in me was Bharath's "A form of writing: an essay on the comic," a McCloudian intro to the medium and his own interests, published in Comix India no. 1. There's a hefty segment on manga, and it wasn't the usual. He had apparently been to Tokyo and met a few artists. I was curious. I arranged to meet him. He was giving a talk about manga in Delhi and asked me to piggyback with a lecture of my own. I interviewed him too, stupidly without a sound recorder. Now I am back in India, living in Mumbai – for "personal reasons" that do not include gurus or NGOs. I had to redo the interview.
Bharath presently lives in Pune, where he teaches at the venerable Film and Television Institute of India. On a recent weekend, I yanked myself away from writing and translation work, put myself on a train southbound, and holed up in Bharath's pad until 2 AM with a litre of one of India's finer scotches.
Currently he's working on finishing up a travelogue in comics form covering India's ancient Buddhist sites. Chapters have appeared in Comix India and the completed project is due out next year from Navayana, a respected publisher named after the Dalit Buddhist movement, publishing books on related political issues, including graphic novels like the award-winning Bhimayana and A Gardner in the Wasteland. We talked about that too. But as I set to transcribing, I realized I had enough just on his manga-related background and Comix India. Hopefully the Buddhist material, which is fascinating, in the future.
In addition to introducing Bharath and Comix India to a wider audience, I think the following interview also offers a valuable alternative portrait of the making of an Indian comics writer and editor. Outsiders assume that every Indian kid growing up read the ideological edutainment of Amar Chitra Katha, and indeed many did. In many people's minds, ACK = Indian comics, at least prior to the rise of domestically produced graphic novels in the last decade. But in talking with Bharath, one realizes how much more varied exposure to comics could be in late twentieth century India. How, even when it comes to Indian comics for kids, ACK had anything but a monopoly.
Bharath has promised to keep a close eye on this post during its first week up. So if anyone has further questions, he should be around to answer in the comments section below.
(cont'd)